You would think that with American's goldfish sized attention span, we would have forgotten about Netflix's 13 Reasons Why and the big stir that it caused among parents in April. But it's ripple effect is still going strong.
For those of you living under a rock, 13 Reasons Why is a Netflix show about a high school junior who commits suicide. Parents of teens, tweens and toddlers have been freaking out for weeks that this show is a manual on suicide, a pied piper that will show them how to seek revenge from the depths of the grave. (I'm still not sure why the toddler moms are freaking out…guess they just wanted to jump on the bandwagon.)
I'm here to set you straight. I just finished watching 13 Reasons Why this week.
I didn't want to talk about this show until I saw it for myself. And since it's a huge 13 hour story, I could not safely comment on it until I watched to the bitter, dreadful end. I should also point out that I'm a member of the Netflix Streamteam, a collection of bloggers who receive free goodies in exchange for our honest feedback on Netflix family fare. But that's not why I'm writing this. If I was just posting to say, "what an awesome show–Netflix knocked it out the park again" I would have done that weeks ago. I held off because 13 Reasons Why doesn't fit into my blog theme of fun and games for St. Louis area kids.
But. You should know something about me.
Mitch isn't the only kid in this house. You see him a lot on the blog as we craft and explore parks.
Mitch is actually my youngest kid. He just turned 10 and he still thinks it's pretty cool to be on my blog. Of course, he also thinks my 12 year old Pontiac Aztek is a cool car. He might be a little eccentric. He's an artist, after all.
My other son is 18. He does NOT think it's cool to be featured on his mom's blog. So I leave him off the internet unless he's doing something that really makes me proud or I need a teen perspective, like last Halloween when he went Zombie hunting with me at the Darkness–not something you do with a 4th grader.
Yes, I'm intrigued by–and had to watch–13 Reasons Why because I'm also the mom of a high schooler. Not because I'm worried my laid back Eagle Scout would take his own life, but because I'm concerned with all the crazy drama that he must be seeing at school. What if one of his friends is suicidal? Would he be able to identify it? Would he do the right thing? Would he even know what the right thing is? 
Maybe we should talk about this stuff? 
Parents Need to Watch 13 Reasons Why
Is this show an accurate portrayal of high school? Geez, I hope not. Writers know real life is incredibly boring, so to make a compelling story they have to heap a world of trouble on their main characters. Poor Hannah, the girl who commits suicide, isn't just the new kid at her school who's sexually harassed after having a compromising photo (totally innocent) passed around school. She's the victim of rape. And also the victim of a billion little things, ordinary things, that could go wrong to anyone. She sees her parents fighting about money, loses friends to high school drama, has falling grades, is worried about college. She has terrible school councilors. Her parents don't connect with her. And she feels unworthy of the one decent guy who loves her.
Yes, there are 13 crappy things that happen to Hannah. Any combinations of these could happen, is probably happening right now, in your kid's high school.
But this show isn't just about Hannah. 
It's also about Clay. The geeky good guy, the school tutor and member of the honor board. The guy who's afraid of asking a girl out on a date. A lot of the story is seen through his eyes as he listens to the tapes that Hannah left behind. As he copes with losing a girl he had a crush on, both a friend and the one who got away. As he tries to find justice for Hannah, to make her abusers pay for what they did to her. 
As he starts to slowly lose his grip on sanity.
As he becomes the bully himself.
Maybe it's because I have boys, but Clay's side of the story hit me hard.
13 Reasons Why is not…
…a manual on suicide. The horrible deed happens about 12 and a half hours into a 13 hour series. I'm sure Google can get you all kinds of horrible things faster and with less pain in a couple minutes. And face it, this is not the first time your high schooler is going to hear about suicide.
In fact, when Hannah finally does it, it's bad. They show it. It's graphic. She cries in pain. It's not some triumphant climax to glory. It's gross. I looked away.
I would hope that anyone who watches this show would see beyond the revenge story of the first episode to see the 12 episodes of pain, confusion and grief. The horrible mess this girl leaves in her wake. The things left undone. The things that could have been fixed.
The show is not a suicide story. It's a tragic love story.
13 Reasons to Wake Up
I hope the people who watch this show can see that you shouldn't drink too much. That you shouldn't lie about people. That you shouldn't spread gossip or throw someone under the bus to hide your own truths. That you can talk to your parents and your friends and they want to help you. That it's ok to be gay. That if one person can't hear you, someone else will. That you should be there for your friends, that you shouldn't cover for drug dealers and bullies just because they're popular.
That if you're a parent, you should listen to your kids, stick up for them and see what's going on in their world.
Netflix did a survey and found that 80% of parents watch their kid's shows just to find something in common to talk about. And you know what? Most of the teens agree. After all, isn't it easier talk about some made up person on TV than yourself? Think about it.
13 Reasons Why was not made for kids…not really.
And here's my last nugget of wisdom. 13 Reasons Why was not made for your kid, your tween or even your teen. Netflix gives this series a solid TV-MA rating, which is material they consider suitable for adults over 18. Just because the show takes place in a high school doesn't mean it's a teaching aid, and it sure doesn't replace your guidance.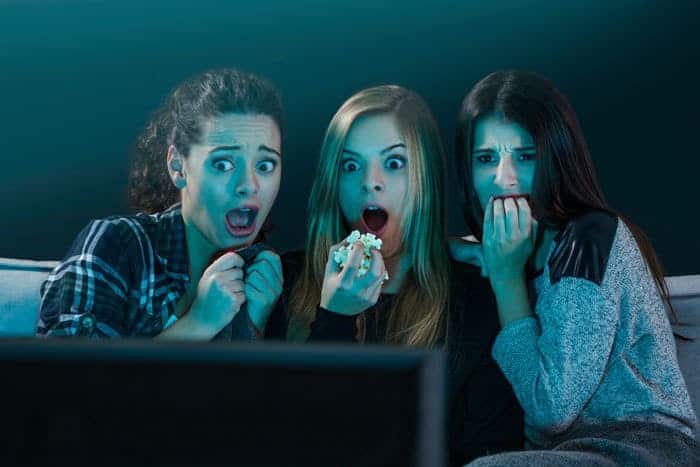 I've sat down with my teen and watched shows with way more violence than 13 Reasons. Kingsmen, Deadpool, Hot Fuzz, heck, the entire Lord of the Rings trilogy. We are not a society that's afraid of blood. Anyone who's afraid of their teen watching a movie character die is not being honest with themselves. They're afraid of talking about life.
If you're worried about your kid watching 13 Reasons Why, sit down and watch it together. It's a sad story, but it's told well. The writing is tight, and the use of backflashes draws the story out like the best mystery you've ever watched. You may have seen some spoilers here or elsewhere, but you will still be surprised. The suicide scene is, yes, pretty bad, but it's because by this time we are so invested in Hannah that you want to save her, to reach through the screen and scream NOOOO! There are two rapes in this series, and they aren't…hardcore…but they are tragic. Over all, the story is solid and worth watching.
I asked Ryan, my teen, if he wanted to watch it with me during summer break. He took a pass. He said it sounded way too depressing.
I'm ok with that. We'll watch something else.