Ways Kids Can Show Kindness This Holiday Season
When kids start thinking about Christmas, they tend to think about all the things THEY might get from Santa. But let's turn that around and teach our kids that Christmas is about GIVING to others. It doesn't have to be hard, just show a little kindness!
Here's a few simple ways kids can help spread the joy of the holidays:
Bake Cookies: Bake some fun treats and give them to a neighbor who might need a pick me up, or drop them off at the local police station or even your school's teacher's lounge. You'll get an A+ for kindness!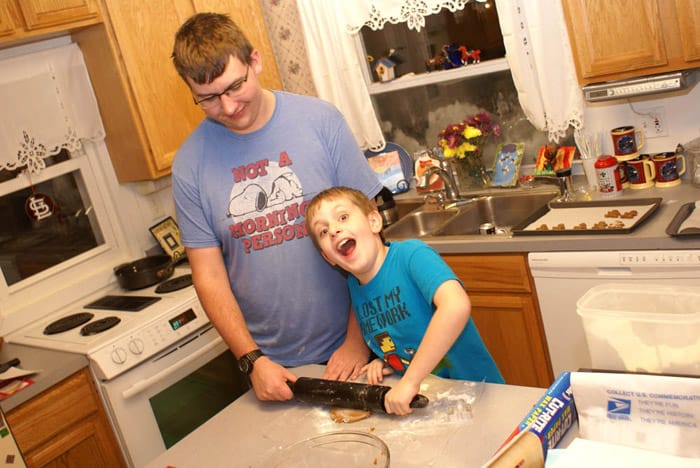 Save that Change: It seems like every store has a red kettle and a bell ringer outside. Why not make a point of saving your change and then letting the kids drop it into a kettle when they run errands with you? It's a great way to show that if everyone gives a little, some people are helped a lot. Just make sure they don't try to jump in the kettle themselves…
Feed the Birds: Show your local wildlife a little love and make a festive bird feeder to hang in your shrubs. You can string Cheerios on a fuzzy stick, then hang it on your shrubs. Or get out the unflavored gelatin and make a cookie shaped feeder like this one.
Feed the Humans: Every November I help my kids do Scouting for Food with our Boy Scout unit. Keep the love going and donate food directly to your local food pantry! You can find a local food pantry at the website for St. Louis Area Foodbanks and put together a donation box to deliver. 
Donate some (gently) Used Toys: Turn that messy closet into a blessing for others! It's a always a great idea to clean out the kid's closet before Christmas. Not only are kids making room for new toys that Santa might be bringing, but they are helping families that might not be able to afford new toys. After they fill up a box, you can drop the toys off at the Salvation Army, Goodwill or your charity of choice.