Mitch is still making cardboard machines 10 months after learning about the wonders of duct tape at the Magic House's Camp Make It last summer. I've already signed the kid up for another session in June, and I'd like to invite you to join us!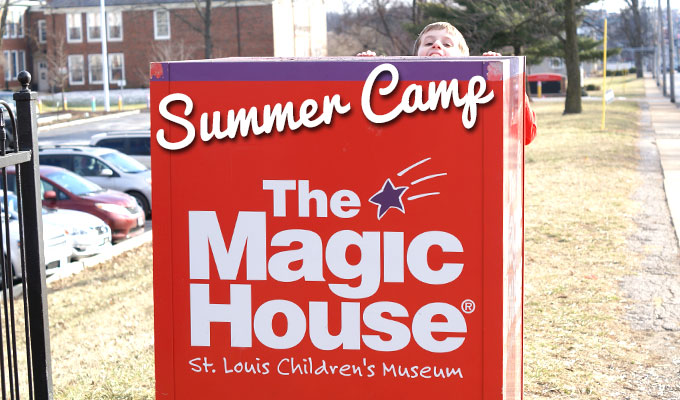 Summer seems like miles away, but the best time to get your kids signed up for a really fun camp is right now!
This year I've partnered with the Magic House to let you know all about their awesome summer camps–and why not? Mitch had so much fun last year he was really upset that it only lasted one week.
So this year, we're doing TWO weeks! He's going back for another week of Camp Make-It, the STEM camp for inventors, and we're adding a week of Camp Artist.
Magic House brings the AWESOME
There's a reason to pick the Magic House for summer camp, and that's the AWESOME staff. The staff at Mitch's camp were so helpful, cheerful and great with kids. You expect the very best from the Magic House, and they deliver. 
Look, I'm all about doing traditional camp in the woods with the bugs, mud and s'mores, but camp at the Magic House is something special. And it's not just the air conditioning. The Magic House is all about creativity, science and wonder. You'll get the kids away from their screens doing super fun stuff with no worry of sunburn and bug bites. Mitch will be doing a mix of traditional scout camps and creative STEM camps this year, so he's gonna have some fun–and maybe learn something too!
Camp Magic House
The Magic House has camps for kids from 4 to 11. Kids under 8 can do half day camp, and older kids get to spend the WHOLE day at the Magic House creating and having fun. Each session is week long. 
Last year Mitch did Camp Make-It, an inventor camp for kids from 9 to 11. The session was a full day, so I dropped him off at 9am picked him up a 4pm. He brought a sack lunch each day. They would spend most of the day in one of the special classrooms building the COOLEST stuff, then had free play time in the Magic House.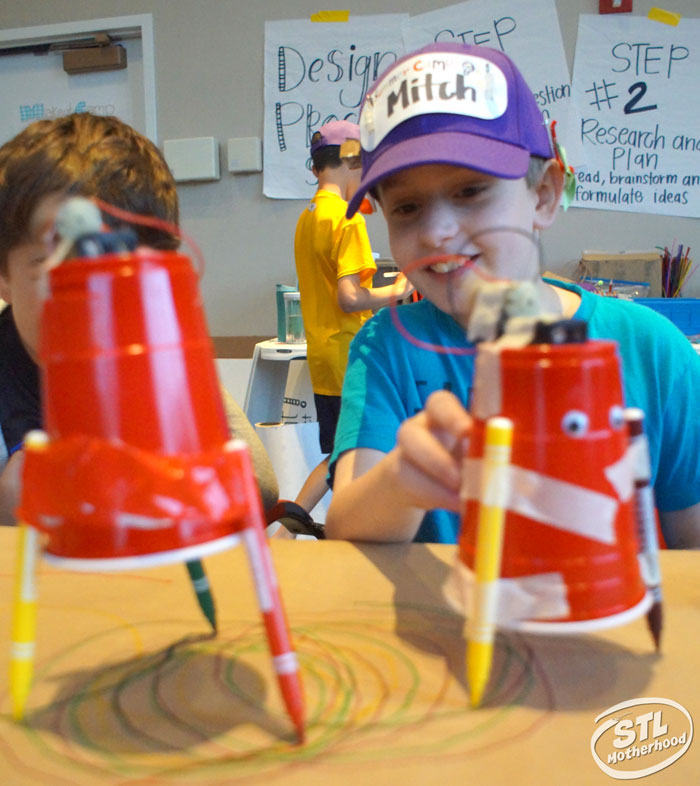 I don't know what awesome lessons they have planned for Camp Make-It this year, but last year Mitch made a simple robot, a catapult, dropped eggs off the second story balcony and made arcade games from cardboard boxes. They made a different contraption every day.
This year I'm sending him back to the Make It-Camp and adding a session of Camp Artist. The camp description says he's in for a week of making creative, frame worthy masterpieces, so I'm pretty jazzed.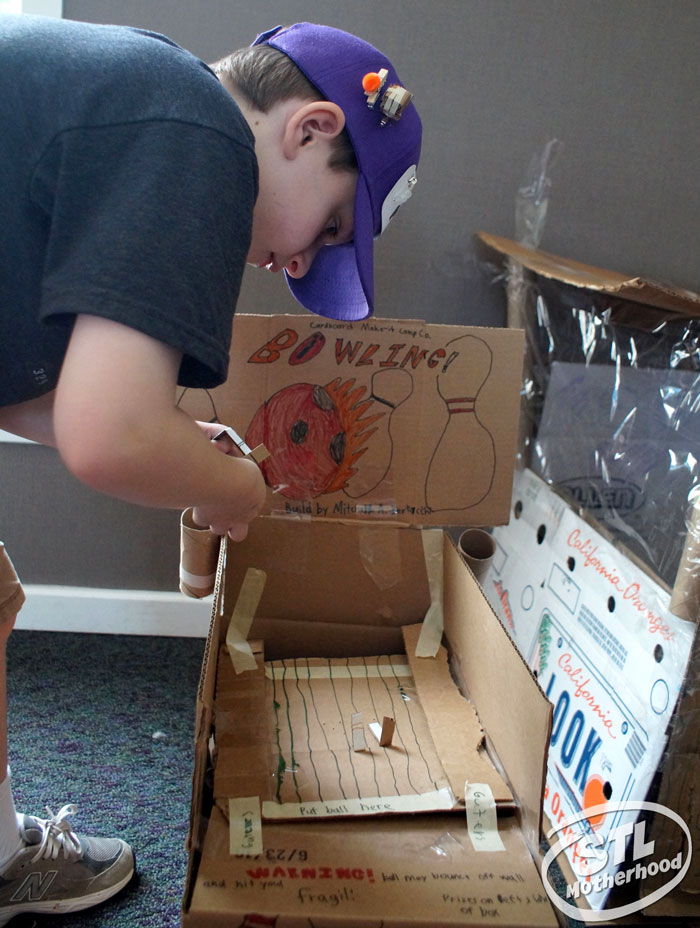 If you have younger kids you can sign up for camps exploring storybook adventures, the five senses, fantastic feats and more. Young campers are split into two age groups: 4 & 5 and 6 to 8. You won't need to pack a lunch for the half-day camps, and the Magic House will provide a snack. You just drop off and enjoy a little mommy free time.

Sign up NOW
(updated for 2018)
Summer Camp sessions are held from June to August (with older kid session in June and July). Space is limited–they host small camp groups so everyone gets the attention they need. 
Camps are $125 for half days and $225 for full days, with a discount for members.  Sign up now before all the slots are filled up!
Camp Magic House
516 S. Kirkwood Road, St. Louis, MO 63122, 314-822-8900 
magichouse.org/camp