It finally feels a bit like spring today, so I'm gonna start talking parks and playgrounds.
When I started this blog, I had the idea to share all the amazing free places to go with your kids in and around St. Louis. Playgrounds are a huge asset to parents looking for a free outing–and we have many cool parks to choose from!
Don't just stick to your local park–try a new one out from time to time.
Faust Park in Chesterfield is what I would consider a "destination" park. It's so darn good it draws more than just the neighbor kids.
It happens to be on the same property (more or less) as the Butterfly House, so you've probably seen it. Why more or less? The park is operated by the county, but the Butterfly House actually belongs to the Missouri Botanical Garden. The Carousel is run by it's own group, and I'm not even sure what entity runs the Historical Village.
But never mind that, your kid is just going to have fun here.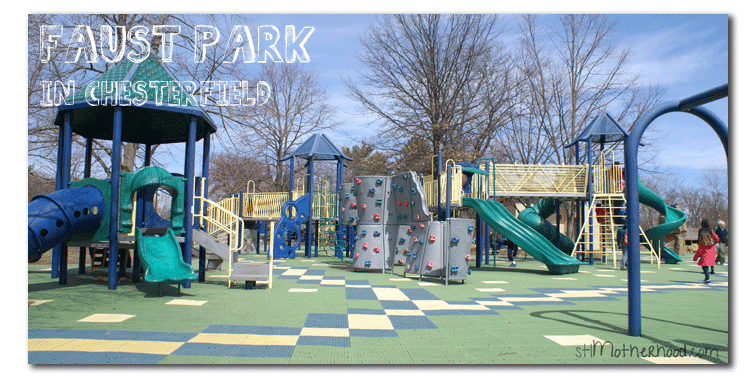 Faust Park playground has EVERYTHING you need in a playground. The equipment is relatively newish–my oldest is 14, and it was over hauled sometime between his pre-school days and the arrival of little brother in 2007. They have plenty of room for all the crowds of kids who show up, picnic benches for the field trippers, shade trees for the moms to sit under and a bathroom right next to the equipment. There's even a soda machine, if you're so inclined.
Between the playground, the Butterfly House, Carousel and the Historical Village, you've got a good day's worth of activities.
Bonus! Last summer Faust Park was added to the Food Truck route, so we'll keep an eye out for news on that this season. You could come for the butterflies, play a while and stay for dinner.