Be just like Steve with this super awesome "Diamond" Minecraft helmet! This helmet is soft, comfy to wear and great for Halloween costumes or anytime dress up fun.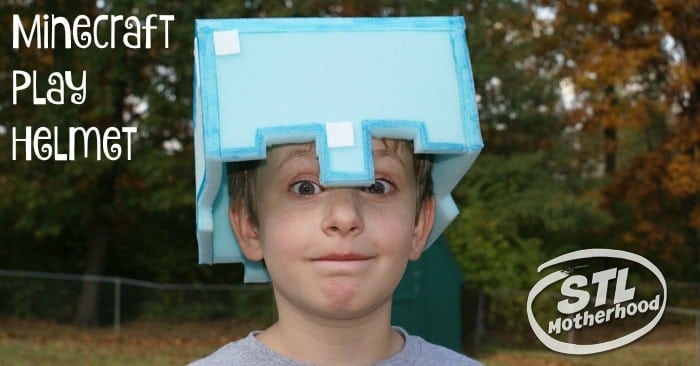 This will be the third year my son will dress up as a Minecraft character. First he wanted to be something spooky, so he picked a Creeper. The next year we recycled his creeper head and made him an Enderman. This year he wants something totally different–a Steve! So we're making him some foam Minecraft armor. Each costume we make is designed to be comfortable to wear and move around in–the previous two costumes were based on sweat suits. This year we're going with 1/2 inch cushion foam, which is sold in packages and by the yard at fabric stores. 
Our foam came from Hancock Fabric, which is currently running a sale. We got a package with 24 x 72 inches of foam, enough to make the helmet AND some chest plate. Chest plate will be posted tomorrow! The foam is normally $18, we picked ours up for $10.79. Are you in St. Louis?? We went to the Hancock in Kirkwood. I've also seen small rolls–white–in the craft department of Walmart, and I'm sure any decent fabric store will carry this foam.
*A mom's full disclosure on costumes with cardboard heads: Every year I ended up carrying around Mitch's costume head. We made the cardboard heads as comfortable and super cool as possible, but for some reason little boys like to be able to see when they jump around. And the heads get hot. He would wear the head for photo ops and to greet neighbors on Halloween, but most of the time I was carting his head around! This year we will avoid headless costumes by only making a helmet! 
In a perfect stroke of luck, cushion foam happened to be nearly the same color as Minecraft Diamonds! But you can always spray paint it if you rather have iron or gold armor.
Materials for a Foam Minecraft Helmet 
1/2 inch cushion foam
White felt
Box cutter or utility knife
Scissors
Light blue Sharpie Marker
Low melt hot glue & glue gun
Scrap cardboard for cutting surface
Ruler
Template
The template we made fits both me and my son, a 3rd grader. If your child's head is smaller you can either scale it down, or insert extra strips of foam to the inside for a perfect fit.
We used a Blue Sharpie Marker because Mitch wanted a DIAMOND helmet, and it will be used for highlights, as well as tracing the template. If you plan to paint your helmet, go ahead and use a black marker. You don't want any black marks showing on your finished helmet, so use care when cutting. Blue marks will be colored over later.
First, here's the template: Minecraft Diamond Helmet Template
The helmet is 8.5 inches square on the top, so not all the edges will show on your printable when you use 8.5×11 computer paper. This also means you have less to cut! Print the template and cut out.
Place the foam on a clean work surface. Arrange the template with the sides close together and make use of those edges! Trace the template with the BLUE Sharpie Marker. Remember to make TWO sides.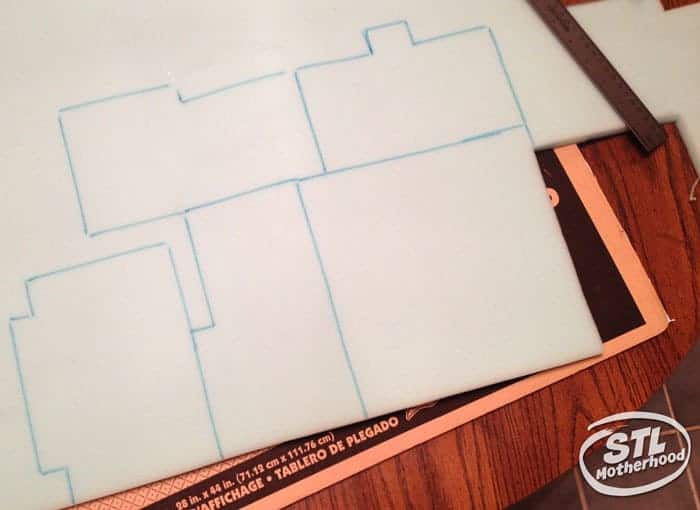 Place scrap cardboard under the foam to protect your table and carefully cut the pieces apart with a sharp box cutter. You'll want a VERY sharp, fresh blade for this to avoid tearing the foam. You can use scissors, but it will be difficult to keep your edges clean.
Practice putting the helmet together without glue. Is everything straight? This is the best time to make adjustments. Please note that the front and back panels are inset, you won't see the edges.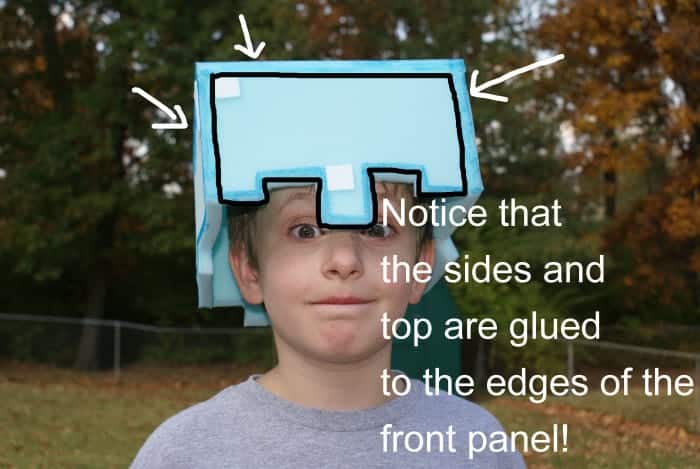 Heat up your LOW melt glue gun. Don't use high melt for this project, you'll just melt the foam. 
Run a bead of glue along the edges and stick together. Glue ONE edge at a time. Press the foam together while it cools. You'll have a few moments to wiggle the pieces into place, then it will be a permanent bond. Low Melt glue does NOT need any time to cure. You can wear this helmet seconds after it is glued together!
Once the helmet is glued together, use the light blue Sharpie to color the edges of the helmet. This will camouflage the rough edges and make it look more authentic. 
Cut small squares (about 3/4 inch) from the white felt. Hot glue in place, creating the Minecraft highlights you see in the game. We used a Steve action figure as our model.
Now that you have the helmet, how about some chest plate to go with that?