The St. Louis Science Center is a must see destination for families with kids. Where else can you dig for dino bones, explore space, make a tornado, feel an earthquake and pretend to be a byte on the information super highway? Oh, and did I mention…it's FREE!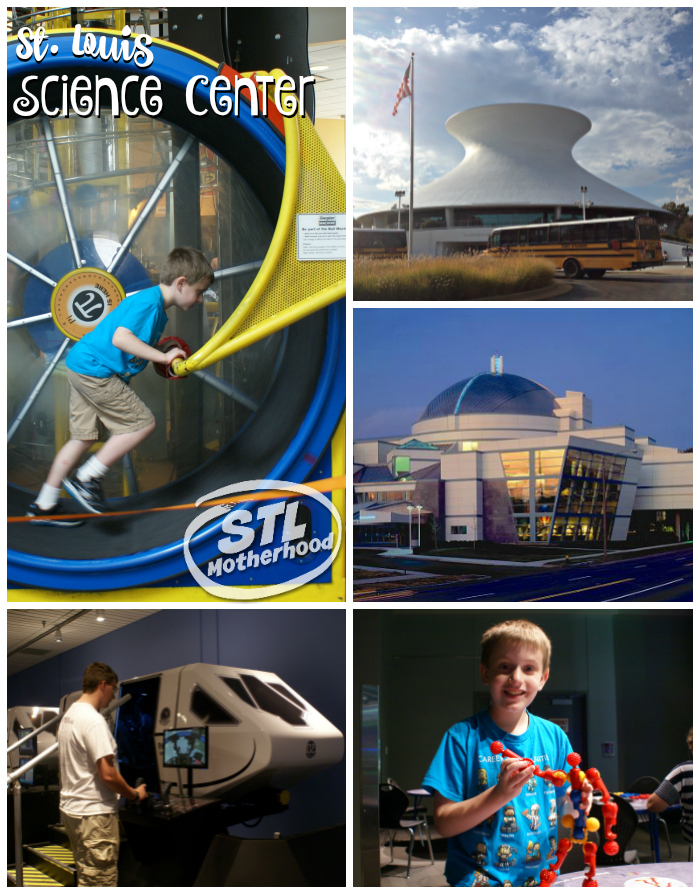 The Science Center is actually two buildings–the "old" Planetarium and the "new" museum. The James S. McDonnell Planetarium was built in 1963, in Forest Park. A second building was added in 1991 on the other side of Hwy 40. The two are connected by a tunnel through the park and a pedestrian bridge over the highway. In true Science Center style, the walk between the buildings is an adventure all it's own. You can peek through windows on the floor at the highway, use a telescope to check out the scenery or look for speeders on the highway!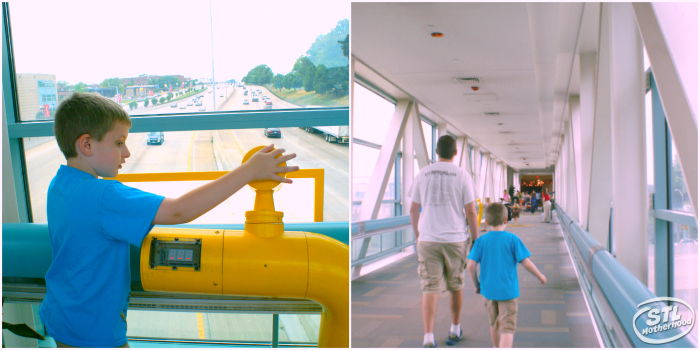 The St. Louis Science Center has plenty of FREE things to explore. It's a great place for families because kids of all ages will learn science tidbits without even knowing it. Got a kid crazy about dinosaurs? Check out the animatronic dinos and "dig" for fossils in the main gallery. Is your child a budding architect? Then head over to Structures near the pedestrian bridge to build with super cool blocks and see how building are made to withstand wind and earthquakes. Do you just love to get your hands on science? Then check out the Maker Space where kids can do all kinds of experiments!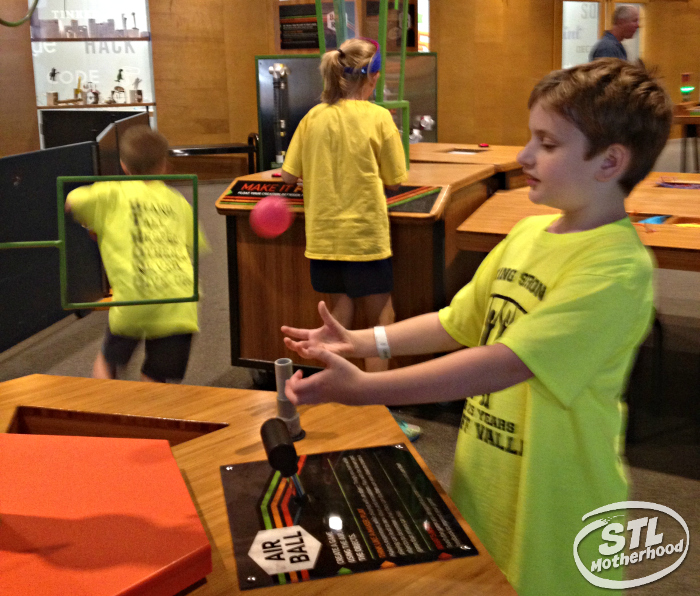 There's so much to do you can spend the whole day without spending a dime! And best of all, the St. Louis Science Center is always adding and refreshing exhibits, so there's always something new to find for families who return year after year!
Money saving tip: parking at the main lot is $10. BUT if you park in Forest Park (next to the Planetarium) it's free!
But, if you want to take your adventure up a notch, prepare to buy tickets for the Discovery Center (for kids 3 to 7), the OmniMax theater (eye-popping educational films), and the Planetarium (star shows and a space exhibit.The Science Center also hosts traveling shows that set up in Boeing Hall and charge admission. We've seen pirates, robots, dinosaurs and all kinds of things in there!
Need help planning your visit? Download the SLSC Mobile App for free before you go–it will help plan your visit with maps and information on exhibits.
Why is the Science Center free? The St. Louis Science Center is part of the Metropolitan Zoological Park and Museum District, which is supported by a property tax of about 28 cents per $100 assessed valuation (as of 2011) from St. Louis City and County residents. If you live in the city or county and have a home valued at $100,000 (if my math is correct) you've already paid $280 to support the Science Center, the Zoo, the Art Museum, the Missouri History Museum and the Botanical Garden. So feel free to enjoy a free visit–you paid for it!