Three years ago I took a trip to a shelter to find a new family pet. What I found at the shelter broke my heart–dozens of dogs locked up in concrete pens, hoping to find a forever home. I wanted to herd them all into my car and take them home, but I only had room for one.
A shelter worker put George, a dog I had spotted on their website, in an outside pen for a meet and greet. George was just a puppy, maybe 10 months old when he landed in the shelter. He was woolly from lack of grooming, super shy and he didn't bark like the other dogs. I asked what his problem was–there had to be a hideous problem, right? Why else would a Standard Poodle, a desirable breed for a family pet, end up in a place like this?
According to the shelter's records, George was given up by a farmer for the ultimate crime of…chasing a chicken.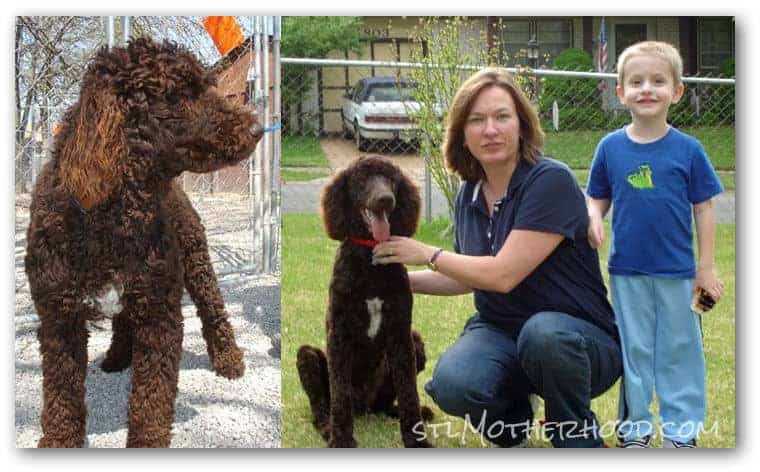 So that's our little rescue story. I adopted George on the spot. We brought him home, gave him a new, more fitting name: Chocolate Mousse. It was a pun of course, a big fluffy brown dog the size of a moose.

Other dogs aren't as lucky as Mousse. Instead of being dropped off at a shelter where they have a chance of connecting with a new family, other unwanted animals are simply abandoned. On the street. Or the woods.
That's where Stray Rescue of St. Louis comes in. They rescue abandoned pets, neglected and abused animals who've been dumped on the side of the road, stranded in a parks or left chained in a dark alley. They get them to a vet and find them a foster home for training. As a no-kill organization, pets from Stray Rescue seem to understand that they have a second lease on life. In return for a little affection and attention, these remarkable animals reward their new owners with a love and loyalty unmatched anywhere.
Become a Stray Rescue Junior Rescuer
Stray Rescue is hosting a free Junior Rescuer's event at SLU's Museum of Art. There will be crafts, games and a scavenger hunt through the museum. All they want to do is teach a little compassion for our furry companions. Junior Rescuer's Day will be Saturday July 12 from noon to 3pm. The event is held as part of the Urban Wanders exhibit at the university museum.
The museum is located at 3663 Lindell Blvd. on the Saint Louis University campus.
Urban Wanderers is an unusual art show featuring the works of local and national artists–and rescued pets. Each piece, from photos to sculptures, depicts a Stray Rescue dog or cat. Oh, and sometimes the animals help out too. The art will be auctioned off and proceeds will benefit Stray Rescue of St. Louis.
"The theme throughout the Urban Wanderers art exhibit is one of hope, showing that the majority of these companion animals survive the very harsh city streets to have the most loving, attentive, gentle and playful personalities," said Randy Grim, Founder of Stray Rescue. "In an effort to share this hope, we're having a day of activities and education giving Stray Rescue a platform on which to involve and teach the next generation, the community, care and compassion of companion animals."