There's another E. Coli break out, and this time it's not from romaine lettuce or ground beef…but Grant's Farm. Could the cute cuddly goats that our kids love to pet be part of the problem?
If you know anything about my family, you know that my youngest is totally ga ga for goats, especially the pygmy goats at Grant's Farm. Whenever we go to the farm he has to spend some time petting, feeding and generally adoring those fluffy little creatures. It's been like that since he was old enough to toddle into the goat pen with them!
What is E. coli STEC?
FIRST, please note that not all bacteria is bad! According to the CDC Escherichia coli (E. coli) bacteria normally lives in the intestines of people and animals.
Most E. coli are harmless and actually are an important part of a healthy human intestinal tract. However, some E. coli are bad: they can cause illness like diarrhea, fever, stomach cramps and vomiting. E. coli can be transmitted through contaminated water or food, or through contact with animals or people.
The most common form of E. coli that causes illness is called E. coli O157. It's also known as Shiga-toxin producing E. coli, and since that is just way too much to type, it's abbreviated to STEC.
How do you get sick from E. coli?
Most of the time people get sick from E. coli because they ate undercooked hamburger or unpasteurized milk. We've even seen it contaminate lettuce. A whole lotta lettuce.
STEC, that bad form of E. coli, is naturally found in the intestinal tract of totally healthy farm animals like cattle, sheep and goats. Deer and elk can also be carriers.
To be blunt: STEC can be found in animal poop. And since farm animals don't care where they poop, it can easily transfer to an animal's fur…and your kid's hand when they pet the animal.
So if your kid pets a farm animal–like a friendly, healthy goat–but doesn't wash their hand before grabbing a handful of snack crackers…well, you get the picture.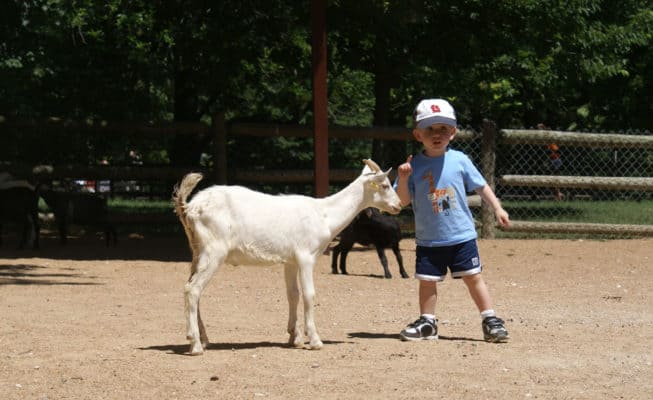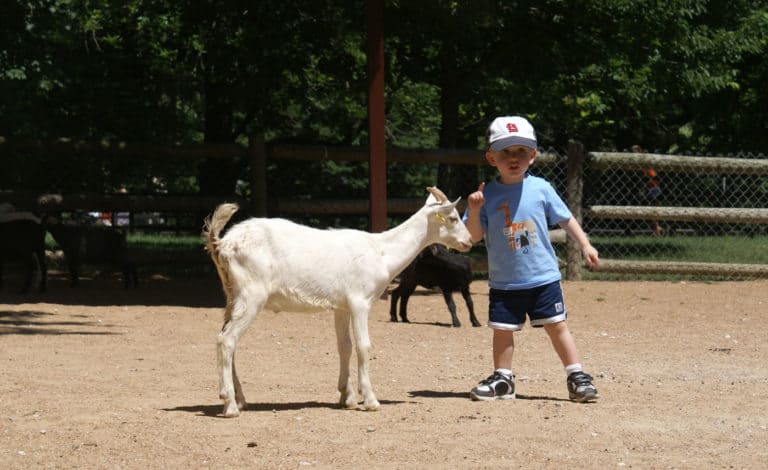 E. Coli at Grant's Farm
On June 21, 2019 we got some disturbing news that the Missouri Dept. of Health was looking into 5 cases of E. coli STEC that could be linked to Grant's Farm.
News reports aren't saying how old the people are who were infected. The CDC says that anyone can get infected with STEC, but very young children and the elderly are more likely to get seriously ill.
STEC lives in the guts of ruminant animals, including cattle, goats, sheep, deer, and elk. Grant's Farm hasn't announced if the E. coli cases are linked to petting the goats, but this is the most common animal that people have close contact with at the farm.
Outbreaks like this are rare. The CDC tracked 100 outbreaks of illness around petting zoos and fairs from 2010 to 2015.
E. Coli Symptoms
Symptoms for E. coli STEC infections are severe stomach cramps, diarrhea (often bloody), and vomiting. If there is fever, it usually is not very high.
The incubation period–the time between touching the bad bacteria and getting sick–is generally 3 to 4 days. It can be as short as one day, or as long as 10.
How to Avoid Getting sick from E. Coli
I read details on a case in North Carolina from 2005. The report said that kids who got sick did things like take sippy cups or pacifiers into the animal pens, sat on the ground–likely in animal droppings–or were thumb suckers.
Basically, you're at risk if you're coming into contact with animal poo and sticking your fingers right into your mouth. Gross.
It's actually very simple to avoid getting E. coli from petting zoo animals: WASH YOUR HANDS. (And don't touch the poop.)
Oh, and fun fact. The CDC also says not to share your food with the animals…
The St. Louis County Public Health department says you should wash your hands with warm soapy water for 20 seconds after contact with animals and before preparing or eating food. If you can't find a sink, you can use hand sanitizer (which Grant's Farm provides).
Hand Washing Stations
Grant's Farm provides an outdoor hand washing station right next to the pygmy goat pen–next to the First Aid station on the above map– plus there are three restrooms inside the farm and lots of hand sanitizing stations.
There's 5 restrooms all together if you count the ones at the main gift shop and the Clydesdale barn area.
Hand Sanitizer is good too!
Though hand sanitizer isn't great for removing general dirt, it's great for getting rid of germs.