Today's Recipe and a Craft is a super simple, no cook homemade ice cream and fairy houses that you can make from the dairy cartons! 
Every summer the kids will remind me that we have an ice cream maker in the basement that we should really use. And even though it's quicker to just buy ice cream from the store, there's something magical about making it yourself. I've tried a few no cook recipes recently, and this one is hands down the best ice cream ever. It's incredibly simple and calls for heavy cream and half and half, which are perfect containers to recycle into fairy houses.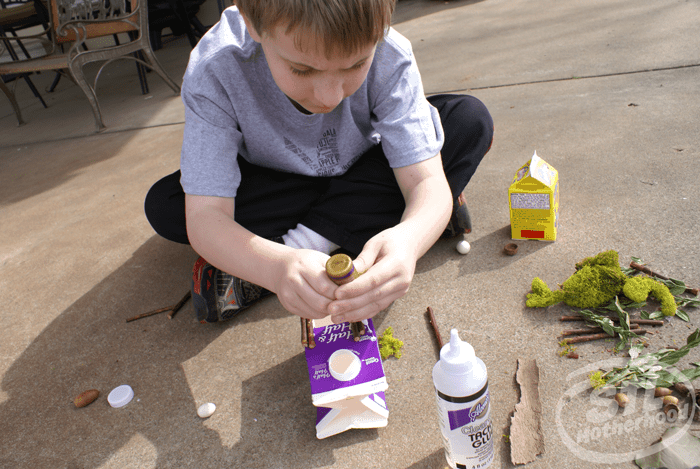 …and if you're thinking, OMG I can't possibly eat all those calories, then you shouldn't be thinking about home made ice cream. Seriously, if you're gonna go to the trouble of cranking this out yourself, you need to use the real thing. You want low-cal? Go grab a half pint of ice milk.
Anyway, we first made these cute fairy houses when Mitch was younger and the tooth fairy was a regular visitor. Yes, my boy played with a fairy house and thought it was cool. Of course our fairies were LEGO dudes…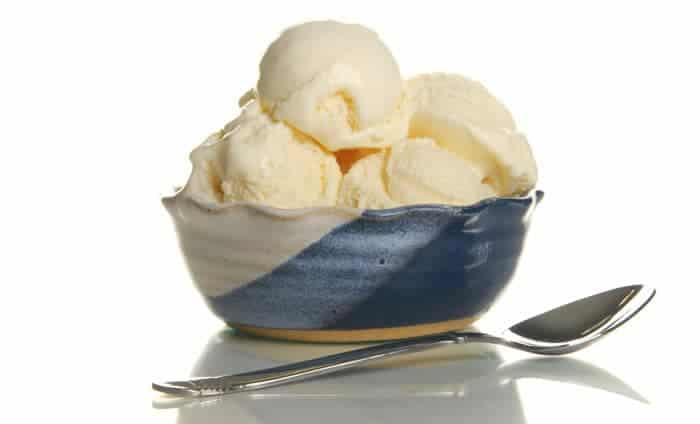 Magically Simple No Cook Vanilla Ice Cream Recipe
2 Cups Half & Half
1 Cup Heavy Whipping Cream
1 1/2 Teaspoon Vanilla
1/2 Cup Sugar
Ice Cream Salt
Mix all the ingredients in a bowl using a hand mixer, or break out your stand mixer if you feel like it.
Pour the ingredients into your ice cream maker and follow the directions for your device to set it up. Mine said to layer a "tray of ice cubes" with a 1/3 cup of ice cream salt, then repeat until you've reached the top. Then add a cup of water, place and lock down the motor then plug it in.
My ice cream maker is pretty loud…it was a wedding present from the 90's, so maybe if you've got a newer one yours will be more quiet. I put mine out on the back porch and let it annoy the neighbors while we played Minecraft.
You'll need to let the machine run for 40 minutes, which will get you to a nice soft serve consistency. You can let the kids gobble that up if you're in a hurry, or transfer the ice cream to a plastic container and stash it in the freezer for at least an hour. The longer you can keep your mitts off the ice cream the harder it gets.
This recipe made a little more than a quart of ice cream. I poured it into a 6 cup Ziplock container, but there was some sampling before the ice cream actually made it into the freezer. It's not quiet as dense as store bought ice cream, so my family of four (which includes a teenager) finished it in one sitting. 
Dairy Carton Fairy Houses
Save the Half & Half and heavy cream containers to make into fairy houses! Rinse them out then while your ice cream is churning you can take a quick poke through the yard to look for crafting materials. If your yard doesn't have enough dead sticks and moss, you can always take a hike through a local park or cheat a little and grab some of your things at a craft store.
We went into detail on fairy houses here, but the idea is simple. First you cut doors and windows into your carton. Then you glue sticks, twigs, rocks and bark onto the carton to form a rustic house. Any kind of glue will do, but tacky glue or hot glue will work faster.
We used some playground sand to fill in the gaps between the sticks so none of the carton showed through.
Paint a House instead 
If it's too dang hot to go looking for twigs and bark for a fairy house, you could make your cartons into houses with paint or construction paper. These are great for making cities to go with a train set or Hot Wheels, as well as LEGO people.
Red Ted Art has some great directions for milk carton houses here.