What do you get when you combine a small zoo, a historic place and a bit of corporate good citizenship? Well, if you're in St. Louis…you've got Grant's Farm! This is one of our favorite places to visit with the kids and I'm sure it will be yours too!
What is Grant's Farm?
I have to admit, Grant's Farm is an unusual tourist attraction! It's basically a mini zoo run by Anheuser-Busch as a gesture of corporate goodwill. The farm is named after President Ulysses S. Grant, who's family once owned the property. In 1903 the land was acquired by the Busch family, who thought it would be a lovely retreat from their city home. Eventually Busch built a mansion, a German style barn and a deer park. In the 19th century it was trendy for the wealthy to play at being farmers–it's pretty interesting stuff if you dig into it. I'm thinking he had some of the most pampered cows in town.
So how did this playground of the rich and famous become a beloved public attraction? In the 1950's Anheuser-Busch was headed up by Gussie Busch, a real "man of the people." He owned the Cardinals, he built the first Busch Stadium and he was one heck of a promoter. He knew how much his friends loved visiting his animal collection, so he decided to open it to the public.
Grant's Farm been open to the public for well over 60 years now. It's changed a lot, but mostly for the better. The future of Grant's Farm is up in the air as Gussie's grown children debate how to run the Farm in modern times. But that's a story for another time.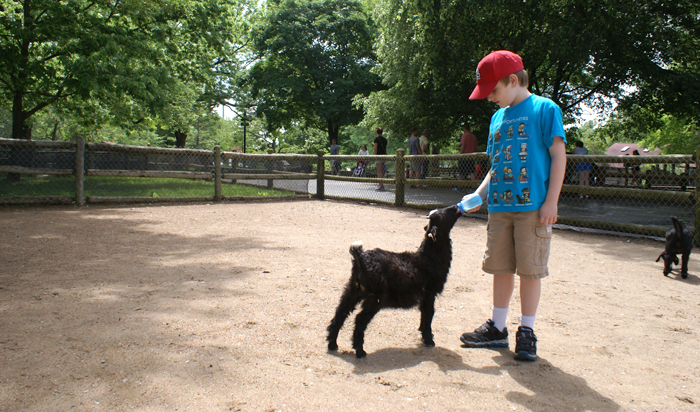 History Lesson Over…Grant's Farm Today
Grant's Farm has animal shows, a tram ride through the deer park, goats, camels and lamas to pet and of course, a barn full of Clydesdales. In the past couple years they added camel rides, parakeet feeding and a candy shop! You can also do a behind the scenes Clydesdale Tour or see the old Busch Manor House (for an extra charge). Farm is still sponsored by the brewery, so there's a hospitality room for the adults to get two free beer samples.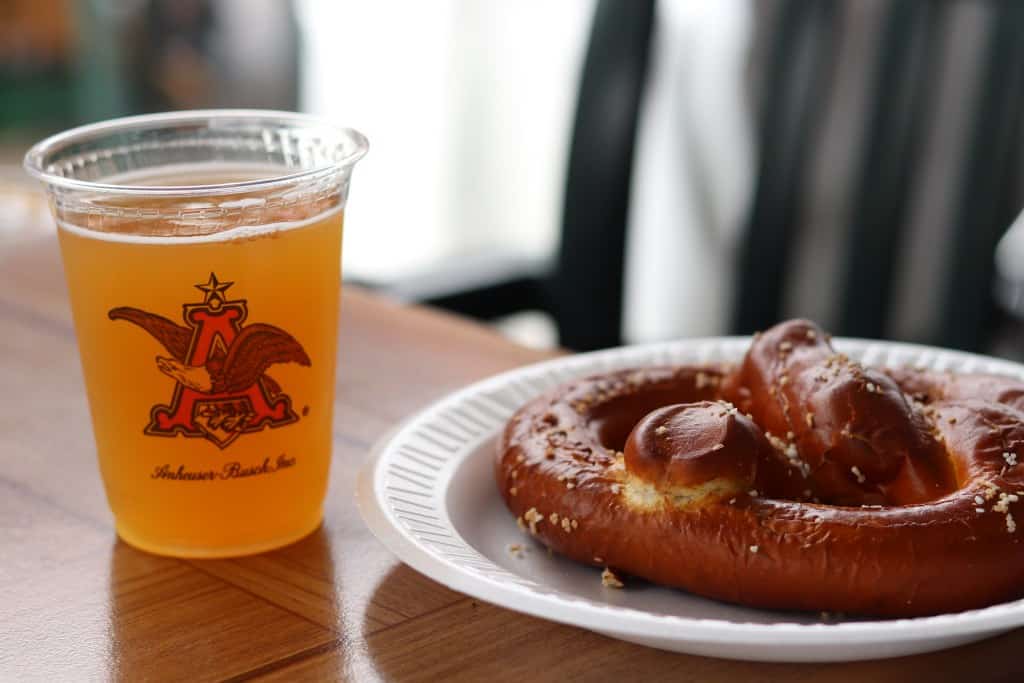 You can also buy lunch, snacks and ice cream in the beer garden. It's super fun. Doesn't that pretzel look delish? My friend Jen took it, which reminds me–Grant's Farm is the ultimate place for a play date! Let the kids get some fresh air, pet the goats, then all gather around a patio table for sno-cones. (And yes, a beer for mom.)
Entrance is Free
Park entrance is free, but it's $15 pay to park your car in the lot…pretty cheap if you think about it! If you're into cycling, you can enter the park through my favorite bike trail: Grant's Trail. There's a free rack for parking your bicycles. Just don't park at the National Historical Site next door–the park rangers will get you.
It's $6 to ride a camel (per person) and they can handle one adult and a kid, or two kids. You can take your own photos or they will sell one to you for $5. The regular camels are still there, so bring your camel quarters. And your camera.