There's lots of places to get a photo with Santa during the Christmas season in St. Louis–did you know that some of them are TOTALLY FREE?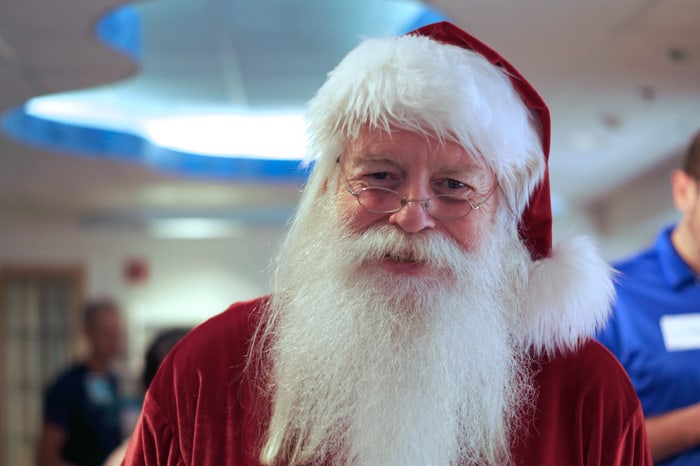 –>FREE Photos with Santa<–
Gingerbread Village Party
Nov. 30, 4-7 pm
The Chase Park Plaza (main lobby) • 212 Kingshighway Blvd, St. Louis
Check out an awesome St. Louis Gingerbread Village (complete with 5 foot chocolate Arch) while chatting with Santa and Mrs. Claus. Listen to carolers while sipping champagne (for the adults!) or hot cocoa and snacking on fresh cookies. BYO Camera.
Dec. 1-2, 2 to 4pm
Frisco Park Caboose • Becket Memorial Dr., Valley Park
Children can bring a letter for Santa, or write one on the spot. BYO Camera; Reindeers will be on hand Sunday.
Dec. 7, 2-4:30pm.
Old Town Florissant • Rue St. Francois, Florissant
Visit with Santa and Mrs. Claus, crafts, cookies, hot cocoa, balloon animals, face painting and a tree lighting ceremony. Buy a photo or BYO Camera.
Dec. 7, 10am-Noon
Westport Plaza • Indoor Pavilion • 111 West Port Plaza Drive
(Toy donation requested.) Visit with Santa and get a free photo. There will be balloon animals, face painting and a goodie bag for kids. Must be in line before noon.
Cookies with Claus
Dec. 7, 9am-Noon.
Des Peres Lodge • 1050 Des Peres Road
Meet with Santa, kids will get a holiday cookie. BYO Camera.
Dec. 14, 11-6pm
New Town Hall • 3420 Civic Circle, St Charles
A Christmas bazzar starts in the morning. Then visit with Santa, make a craft and enjoy cookies & hot cocoa at 4pm. Tree lighting aroun 5:20. BYO Camera.
Santa at Bass Pro
Nov. 16 – Dec. 24 (see website for times)
Bass Pro Shop • 1365 S 5th St, St Charles
Get a free photo with Santa, play some games and do a free craft. Kids can write a letter to Santa and get an email back.
Every Sat. Until Christmas @11am-1pm.
St. Charles Harley-Davidson • 3808 West Clay Street, St. Charles
Santa swaps his reindeer for a Harley! Free photos. Come early and get a LEGO Harley.
Dec. 5 & 12 @5-7pm; Dec. 13 11am-1pm
Kirkwood Train Station • 110 W. Argonne Drive, Kirkwood
Visit with Santa at the decked out train station. Santa will bring real reindeer on the 12. BYO Camera.
Here's my complete list of where to find Santa in St. Louis! (This list includes events with tickets, admission fees or required photo packages.)
Is your kid scared of Santa? Here's tips on getting a good holiday photo without the big guy.