People have been talking about the live action remake of Beauty and Beast since the first casting call…and lately the chatter got a little mean. In case you've been living under a rock, you've heard that the new Beauty and Beast features Disney's first gay character and Belle is all independent and modern. You might be feeling annoyed that Disney is playing politics with a classic story. 
So let me set you straight. 
(Bad pun? Sorry.)
I'm a Movie Reviewer Now
I had the honor of attending an exclusive media only preview of Beauty and the Beast at the Ronnie's IMAX. I'm currently on the list of Disney film bloggers so I'm getting a lot of inside scoop on their films. Maybe you saw my review of Rogue One?
But first a little backstory…Disney's animated Beauty and the Beast came out in 1991, during a big revival of their animation studios. I remember the hype, because that year I was a college student. There was a lot of talk about ground breaking computer animation and the film made a huge splash on the awards circuit. But in the 90's I was more interested seeing sci-fi like Star Trek VI and the Rocketeer–not cartoons.
So I missed out on Beauty and the Beast during it's first run. In fact, I missed the whole princess craze–the only cool princess for me was Princess Leia. When I had a family, I was blessed with two boys who are completely uninterested in princess films. Seriously, I didn't get to watch Frozen until it came out on DVD. I know I watched Beauty and the Beast at some point, maybe on TV, at a friends house or just through cultural osmosis. 
Beauty and the Beast 2017
The film is not one of those Hollywood reboots where they turn the story on it's head and flip all the roles. Here's what the director had to say about creating a live action version:
"There have been some recent movies that have been top to bottom reinventions or stories as seen from another character's point of view or something," he says. "This is not that. What we wanted to do was bring the story more into reality, not create a new story.

He continues, "It is an honor to have a chance to create something that is both reverential of the original and somewhat of a modernization at the same time, but it is also intimidating. This is a story that has lived in many forms and in many languages, and to have an opportunity to work with state-of-the-art technology and an amazing cast is such a blessing. I hope that, because this movie is so loved, we'll be able to answer questions that fans may not have even realized they had about Belle and about the Beast specifically, and how they came to be who they are today." ~Director Bill Condon 
He also mentioned in the PR release that he was reluctant to reboot the film because the animated move was perfect. But technology has caught up with the storyline and Disney can now make completely realistic talking teacups and princes who are furry beasts. The Beast is a completely digital character, with actor Dan Stevens doing all his acting inside a motion capture suit–on stills no less! I wish I had a photo of that to show you, but Disney isn't releasing too many on set photos yet. I'm sure it will come out later.
Emma Watson as Belle
Emma does a fantastic job with Belle. It didn't take long for me to forget Hermione and believe in this new 18th century French inventor's daughter. 
There's been a lot of talk of how Emma's Belle would be all modernized, not wear a corset and be more adventurous. I'd like to remind people that back in 1991 Belle was already a modern princess–a regular girl who saves the prince from his curse, not a damsel in distress. Sure, they tweaked a few things for 2017. Belle wears proper footwear now–she in boots, not slippers, when she rides her horse. And at one point, she needs to get to her father fast, so she rips up her dress and rides in her bloomers. 
I think Disney could have given us a little more inventing, but Belle obviously knows her way around the workshop, handing her father the right tool before he knows what to ask for and inventing a contraption to wash clothes so she can spend more time with her books.
Emma's Belle is a great role model for our kids–boys and girls. You're gonna love her.
Now about LaFou
I didn't see the articles popping up about LaFou being gay until AFTER I saw the film on Tuesday, and honestly, I was surprised. As far as I can tell, LaFou is pretty much the same guy he was as a cartoon, but less of a buffoon. Gaston is a war hero in this version and LaFou his aide-de-camp and eager to please Yes Man. There's no romance between these two, though obviously LaFou idolizes his hero. Gaston wants to marry Belle and LaFou is all about helping him get what he wants. LaFou not played as a fop or even flamboyant, he's just the sidekick who stokes his boss's ego.
Beauty and the Beast doesn't reveal the gay card until the movie's end. There's a new character in this version, Madame Garderobe, an opera singer caught up in the Beast's curse and turned into a wardrobe. She had the magical ability to throw around fabric and provides Belle with her iconic yellow ballgown. What does that have to do with being gay? No much, but during the big battle between the villagers who've come to destroy the Beast and the castle furniture, Garderobe entangles three rough looking men in dresses and makeup. Two of the men are frighten by the magic and run away…the third guy looks totally thrilled with his new look, smiles a thank you and skips off.
It's like Bugs Bunny doing drag. Big deal, a dude in a dress. 
Ok, ok, but what does this have to do with LaFou, you ask? I hate to spoil it, but I feel the need to deflate this NONISSUE. So, spoiler alert: 
In the last big dance number…LaFou dances with a dude. 
Yep, Disney's big ground breaking gay character comes out of the closet in the last scene to dance with guy. It's a clever move, as LaFou is a character so perfectly ordinary that he blends in with the story, and yet the studio can say, hey–we put a gay dude in our movie! 
Let's move on, shall we?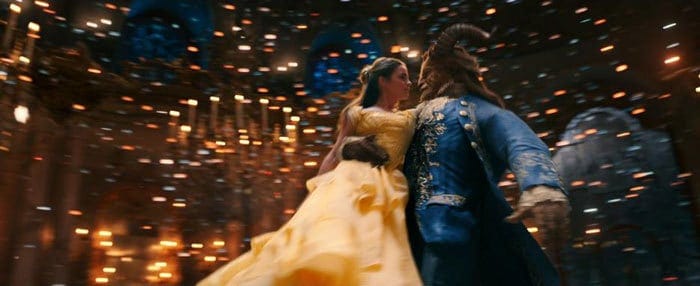 The Music
If you're a big fan of Beauty and the Beast, you're going to want to know about the music. Since I'm not that familiar with the original, I'll tell you what the press release has to say about it.
The score from Beauty and the Beast 2017 is largely the same as the animated version. The don't cut any of the songs–they actually added back some lyrics from "Gaston" cut from the cartoon. They also don't take any music from the Broadway production, which the director said didn't fit their film.
This film has three new songs to go along with the expanded story. The Beast gets a new ballad for when he lets Belle go back to her father called "Evermore." The furniture gets to sing "Days in the Sun" where they reminisce about being human. And Belle's father sings "How Does a Moment Last Forever" where he's building a music box in memory of his beloved dead wife.
The Moms
I've got a pet peeve with Walt Disney and his need to drive characters by killing off their moms. I'm not sure if the original got into the why of Belle's missing mom, but this movie shows us that both Belle and Beast lost their moms in to tragic illness. There's flashbacks to show what happened to them both, so grab a tissue. Dang it, Disney… 
Should You See Beauty and the Beast?
Of course you should! Disney is on a roll with their live action films, and this Beauty and the Beast makes the cartoon look like dull Saturday morning snooze fest. Even though my boys said they didn't want to see a princess film, I'm going to drag my youngest to the theater when it opens March 17. Yes, it's a musical, but there's lots of action, scary wolves, fight scenes and all sorts of awesomeness. Emma's Belle is a character any child can admire: she's adventurous, smart and loves her daddy. She does all the rescuing in this film armed with simple courage and big stick. 
If you have little ones you might want to avoid the IMAX. It was pretty dang loud when I saw it, and I was dazed for about an hour afterward. The film is still PG, but the live action wolves are pretty scary and there's a lot of roaring going on. The violence seems to be the same as the cartoon, but since it's live action it's a little more vivid. There's no blood, no cursing and no skin. It's classic Disney.
The upside is because this film is live action older kids will want to see it too. If you have a teenage girl who wore a Belle dress to tatters, take her. She'll love it.