This post is for my blogger friends. If you're here for Minecraft advice or a cool craft your boys would like, please check out my menu for more ideas.
Blogging is tough because they're always changing the rules. What was good advice last year is garbage today. But you know what always works? Good photos.
I just completed a course on Pinterest that told me the way I was formatting photos was horrible. Nobody's going to repin that crappy little square photo, I don't care how nicely it fit in your blog! I need new photos! Bigger photos! TALL photos! 
I used to make my main blog photos landscape, so they would fit neatly inside the blog. But it would seem those make Terrible (with a capital T) images for Pinterest. And if we're going to get people interested in visiting our blog from Pinterest, we need BIG eye-catching photos that fit the column format that Pinterest uses. 
This means that I need to go back into my old blog posts and create fresh new images so the content that's still good…the stuff that's still evergreen and fresh…can shine again on Pinterest. 
But I don't want to take new photos. Or even track down the original files and reformat them. It's ok…I know a cheat. A workaround, if you will. And I'm here to share.
Picmonkey to the Rescue
I'm a big fan of Picmonkey–even through I have a copy of Photoshop Elements. Sometimes…sometimes you just need simple.
Plus, I like the fonts.
Anyway, here's how to use Picmonkey's collage feature to rescue your old posts and make them Pinworthy again. Let's start with this old post of mine on pool noodle catapults. Though my kid would love to make another one of these catapults, it's snowy outside and I don't have any leftover pool noodles in the garage. We're going to make do with photos in the post.
Oh, and I'm too lazy to look up the original photos. This is going to be quick and dirty, folks.
Here's the original main photo, formatted landscape to look pretty on my blog. It's 700 pixels wide to match the column width of my blog, but only 429 pixels tall. It's current enough that my watermark logo is pretty similar, so I wouldn't have to worry about my branding. The font is last year's favorite, but I'll could leave it alone–it's still decent. This could work if I could collage it with something else from the post…but I'm not seeing anything I really want to combine this with. Hmmmmmm.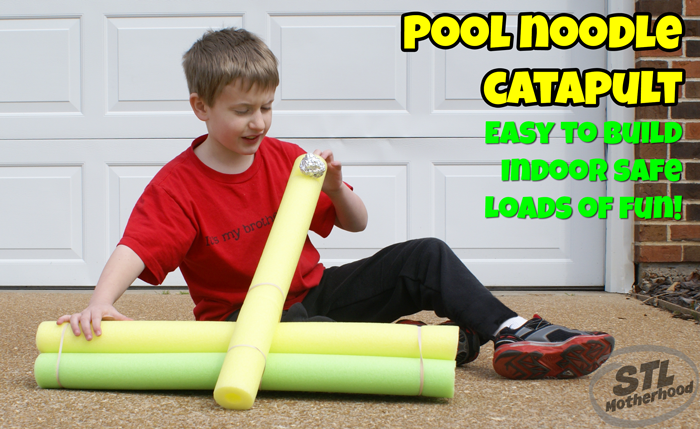 What about this photo? It's smaller, but I didn't think to watermark it…and I didn't write on it. Perfect! Let's grab it.
I looked in my wordpress media library and thankfully found the photo under "pool noodle-e1427652297769.jpg" which is a pretty terrible file name for Pinterest. We'll rename it later. I also discovered that I cropped the photo inside WordPress, so when I hit "restore original" I was rewarded with a wider photo. I don't know what I was thinking back then!
So, now we just need to right-click and copy the photo back to our desktop. Yes…I just pirated my own photo, but it IS my photo. I think it will be ok. I won't press charges.
Now head over to Picmonkey, select collage and load your one photo to salvage into a new Pinterest image. For these re-pinning projects, I like to pick the "ducks in a row" layout and pick two squares. One for the photo, and one for my text. I'm going to rotate the layout to vertical and set the size to 700×1000 pixels. This size fits the width of my blog, and it tall enough for Pinterest. You could go taller or wider–do whatever fits your own blog and still gives you a nice TALL photo.
Now, click "Edit" at the top of Picmonkey to edit the collage.
Add text in the white space. You'll want to really fill the space with text, so think big. I'm using my new "signature" style fonts from Picmonkey. It really speeds things up if you stick to TWO fonts for all your blog photos–and it creates a style that will be recognizable as your own! 
I also love to use the color picker to find the perfect color when placing fonts on huge white spaces like this. I picked the brightest red from my kid's shirt.
The last step is to add your water mark–I've got mine saved on the desktop of my computer so I don't lose it! 
Save again, and this time name it something SEO worthy for Pinterest. Go ahead and type it like a sentence–its easier that way. I'm using "pool noodle catapult."
The finished pin is maybe a little fuzzy–the photo is being stretched too much or copied too much. But it's still better than what I had before, I didn't have to dig through my archives and I got it done in just a few minutes. I can now reload this photo into my blog post and pin. 
Bonus points: Did you know that what you type in the alt text field will appear on Pinterest as the description?? So go ahead and add a really good Pinterest description, full of keywords, but in an casual style…like you're talking to directly to your reader. Don't use hashtags–they don't work on Pinterest and look lazy. 
For this pin I stuffed the following into the Alt Text field: 
A great pool noodle catapult project your kids can DIY! Simple to make and safe enough for indoor use. Teach some STEM today!
Double Bonus Tip:
Notice the pinable image for this post? I used the exact same technique to turn a landscape stock photo into a TALL Pinterest worthy image.