I flipped through Pinterest, looking for a fall craft I could do with a seven year old boy. The level of craftiness out there is plain daunting. But, if you squint a little, you can see how many Pinterest crafts can be simplified so that a kid could make them…and make them well.

Mitch is seven and quite the artist. He loves crayons, markers, tape, Glue Dots and googly eyes. He's completely taken over my kitchen dry erase board and he has a portrait from the district art show displayed in his school library. (But don't tell him he's all that, he's starting to get a big head.)
Whenever I need crafting help for the blog, I call Mitch over. The other night I thought it would be fun to copy a pumpkin craft I saw on Pinterest. Here's the inspiration, from Saved by Love Creations. It's so pretty and rustic, but I wondered if we could copy it well with safety scissors and fuzzy sticks. 
We used some leftover orange scrapbook paper that I had already distressed by crumpling and smudging with a brown ink pad (it was supposed to be for a Cub Scout scrapbook, but I found something better). I just can't bring myself to rip a book like the original paper pumpkin…even a bad one. I don't even have a music book to tear into.
Now that I found supplies,  I asked Mitch to draw a pumpkin on a piece of plain paper. The pumpkin he created was a bit more detailed and way smaller than I really wanted, but that's what happens when you're dealing with a junior artist. Next, I cut out the pumpkin–sans stem–and we traced as many copies as we could on the orange paper. Each pumpkin was folded in half in the same spot. I did this by folding the template, flattening it out and then placing it on top of each copy to fold again.
Next we used rubber cement to glue the back of each pumpkin half to the back of another pumpkin half. We used rubber cement because it dries much faster than white glue–and one thing kid crafters do NOT have is time for glue to dry.
I was thinking about going over the edges–to cover up the white paper core–with a brown ink stamp or marker. But Mitch insisted it didn't need it. Oh well, it's his craft. We finished off the pumpkin with half a brown fuzzy stick–he gave it a curl by wrapping it around a pencil. He was able to just poked it into the center of the paper pumpkin. I've also seen these finished with a twig or cinnamon stick.
Because Mitchell's original drawing was asymmetrical we got a kinda haphazard finished product. But I think that makes it even cuter. What do you think? Good enough for Pinterest?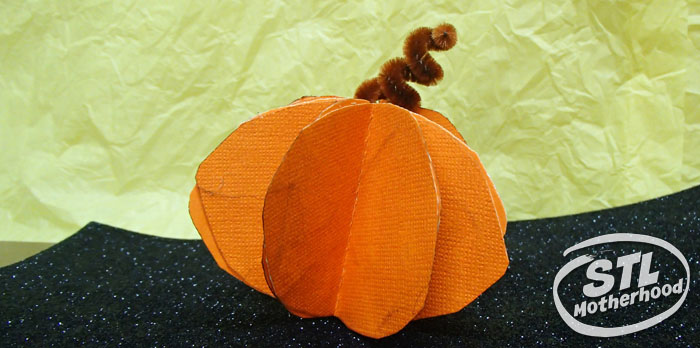 Here's another fun Halloween craft: a spooky (dry) snowglobe!
Looking for more paper crafts? We've got plenty of fun right here!