Everyone loves a perfect summer vacation! Kids are off school, grown-ups can leave the office behind and everyone frolics in the sun for a while…but wait. There's a catch. 
There's always a catch, isn't there?
See, mom is still on duty. She's always on duty. 
If you're ready to take a real MOM vacation, away from the kids, toys, grocery shopping, dishes and all that jazz…but don't have the money to jet away to the Caribbean with your girlfriends, I've got a few tips. It's time to take a Mommy Staycation.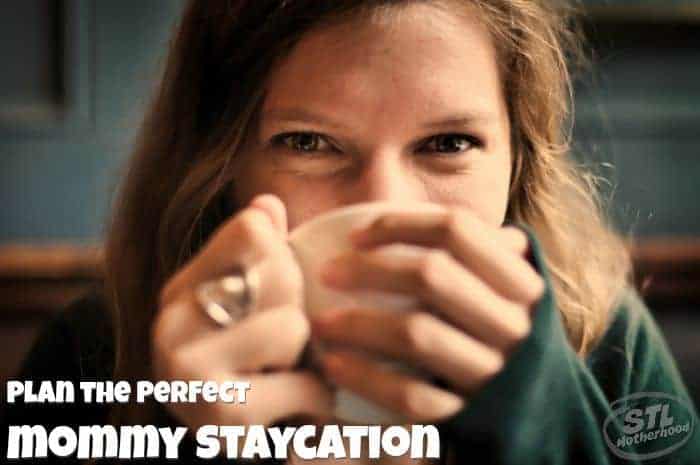 Let's Plan a Staycation…for Mom.
Step One: Get the kids–and dad–out of the house.
This will take some planning–when I planned my mommy staycation it took weeks to set up. I sent the family off on a camping trip without me! This required advance booking for the campsite, and working around the hub's work schedule and the kid's activities. 
If your family isn't into camping, there are other options: sending them to an amusement park on the other side of the state or perhaps visiting HIS far away relatives without you. Of course, if you're feeling generous you could just send the kids to grandma's house for the weekend and make it a Mommy & Daddy Staycation. 
Step Two: No Cooking, no dishes, no cleaning. 
If there's any housework that absolutely has to get done, do it before the start of your staycation. This is a break from the mom routine, don't ruin it with vacuuming! Stock up on paper plates and plan on ordering out. Or call up some girl friends and eat out. Remember, you're on vacation!
Step Three: Relax!
Congrats, you've got the house to yourself! Feel free to sleep in, have a nice long bubble bath and blast YOUR favorite tunes on the stereo. Now's the perfect time to watch those movies that have been collecting dust on the DVR, read a good book without interruption or catch up on an old hobby. Or you know, just surf the web all afternoon.
ProFlowers asked me to write this post to go along with their #MySummerStaycation campaign about the perfect dream vacation…a post about finding "a temporary sanctuary from the constant running, screaming, and "I'm bored's." Naturally, all I could think of was a weekend on the couch without anyone interrupting me, no running to the megamart and absolutely no cooking. My dreams are pretty small. I'm actually writing this post during my Mommy Staycation–it just so happened that the camp out was already scheduled, and it was my hub's idea that I sit this weekend out and stay home. Soak up the quiet. And brace for the school year.
Here's a shot of the tropical flowers that Proflower's sent my way to inspire #MySummerStaycation dreams. Beautiful, aren't they? I don't know if a vase of flowers is as good as a tropical vacation, but they sure did put a smile on my face! Why not order yourself a gorgeous bouquet yourself? You deserve it, mommy.