Ah, summer.
Time for backyard BBQs, hometown carnivals, art festivals and FIREWORKS.
Oh, yeah…The Fourth of July is almost here! Are you ready?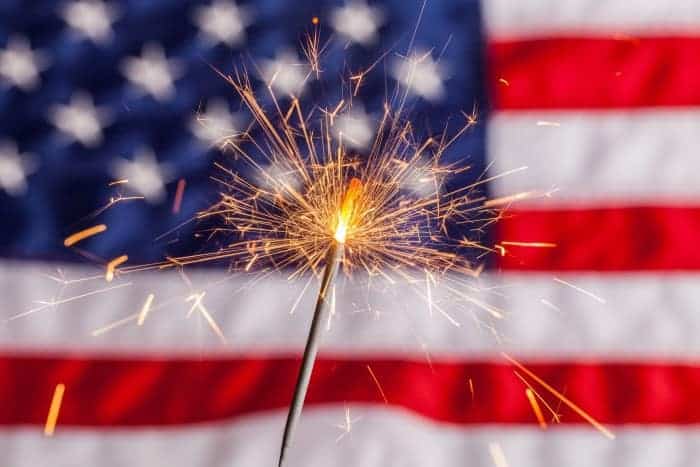 Every year we pile into the family SUV and trek out to grandma's house…in a rural county where fireworks are legal. Sure, you could stick around the suburbs and watch the pros light off big fancy displays, but what's the fun in that? I'd much rather gather around a big field in our lawn chairs and watch the my boys light off  the pyrotechnics.  Besides, there's no traffic standing between my lawn chair and mom's kitchen, where a nice cobbler is waiting for our post-show dessert. 
I decided to do some prep work for our annual Fourth of July BBQ by heading out to my favorite treasure hunting store: Here Today. I love Here Today because not only are they a local chain with deep St. Louis roots, but they always have some unexpected gem waiting in the aisles. (This post is sponsored by Here Today, who sent me and Mitch out on a shopping trip to see what great bargains we could find!)
Today's awesome find is a toss up between this fab wine glass and this equally awesome t-shirt. I just love cute wine glasses, and this one was only $4. I'm really happy that it's actual glass–my last set of fun wine tumblers from the big box store were plastic and the dishwasher made short work of them! I'm equally happy with my new blinged out t-shirt full of St. Louis love. It's not a tissue thin shirt either, but a nice sturdy 100% cotton tee. It was $19.99, marked down from $29.99.
You can also get the shirts in patriotic red and blue!

If you're looking for cute decor for your Fourth of July party–or just feeling extra patriotic this time of year–Here Today has lots of little goodies, like these signs and mason jar candle holders. The sign shown is just $2.99 and the candle holders (which have a wire support for  a tea light) are marked down to $4.99.
Of course Mitch wanted to check out the toy section! There were a lot of summer boredom busters, from art sets and bubbles to instant snow and water guns. Mitch latched onto a race track set with a Ford Shelby Cobra. During the rest of the shopping trip he educated me on the racing abilities of the Mustang, no doubt gathered from his time playing Xbox racing games. It's obviously time for Mitch to get back to basics and play with some gravity powered cars!
As often as I've shopped at Here Today, I was surprised–well, not really–that we found more goodies for Mitch outside of the toy aisle. They have a huge selection of gear for Cardinal fans, and tucked between the bright red coffee mugs and license plate holders was Matt Holliday in LEGO-like form. He's a collector's item now in his old Cardinal's jersey, but we don't care. We still love him. And Mitch loved rubberbanding him to a Hot Wheel and sending him flying down that new race track…I mean seriously…he's a Yankee now.
I got a bottle of sangria for that new wine glass from Here Today's large wine and beer department and made my way to the check out. Whew! I had a cart full of treasures…then Mitch saw it. 
A display. Of. Fidget. Spinners. 
Oh they have them in every color and shapes we haven't seen before. I let Mitch pick one–ONE–spinner to add to his collection. Treasure hunt complete!
If you want to do a little treasure hunting yourself, and you live around St. Louis, then you're in luck! There's eight locations of Here Today all around the Metro!