Play dates are awesome! Your kid gets to have all their friends over, they play, they scream, they make a HUGE mess in your house. Ok, maybe play dates aren't so awesome? If you dread hosting a play date, you're doing it wrong. Lemme help you with that!
When my boys were smaller I belonged to a local moms club and got a ton of experience planning simple and fun play dates. Most of us were on a budget–and nobody wanted the mess of having 30 preschoolers at their house! We were all stay-at-home moms in search of our Tribe, so we figured out how to have the most fun (for both moms and kids) while spending the least amount of money.
If you're looking for your mom tribe, my friend Jen (@AndHattieMakesThree) and Kate (@TheBejuledLife) started an onlilne group called Moms Together STL that's dedicated helping St. Louis area moms find meaningful connections. You can join them on Instagram or Facebook!
I offered to help Jen and Kate with their first Moms Together STL play date, and called on my friends at Here Today to provide some goodies to keep the kids entertained so the moms could sit back on a park bench and relax.
(This post is sponsored by Here Today.)
Now, let's talk play dates, shall we? Play dates don't need to be elaborate–but they do need a little planning if you want to make your get together memorable and stress free.
Top 5 Tips for the Perfect Play Date
1. Gather your friends
Decide if the play date is for your kids…or for the moms. No, seriously. Deciding who you're inviting (and why) will factor into the time, date and location of your perfect play date. You don't want to invite a pre-teen to a stroller baby event, or toddler to a game of laser tag. 
2. Pick a Location
Look, I know it sounds cheap to just invite a bunch of kids out to your house, but Don't. Do. It. Your pint-sized guests are guaranteed to pull out every single toy your children own, break a couple,  spill juice boxes on the carpet and rub peanut butter on your cat. If you don't own a cat, they'll borrow the neighbor's. I've seen it happen.
Instead, take your play date to a park! Why? Simple: no clean up before or after! Playgrounds are also great because the kids can be contained in one area, so the moms can relax and chat with each other while keeping an eye on the kids. You could take your play date to the Zoo or Magic House, but then you'll have to be on the move the entire time!
In St. Louis we have tons of local parks with great playgrounds. Here's six of my kid's favorite parks, and here's a whole website dedicate to St. Louis area park reviews! You probably have a great park down the street.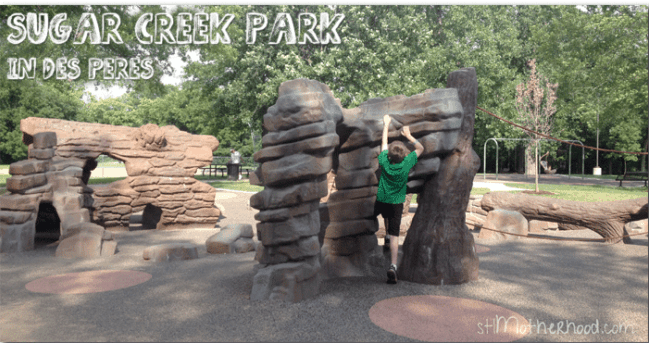 Sugar Creek Park is ideal for a play date–there's unusual play equipment, a splash pad, bathrooms, paved trails and a pavilion. 
3. Bring Snacks
You don't want hangry kids, so make sure to bring some snacks to share! There's no need to go all out: a box of cheesy crackers, pretzels or fruit snacks will fit the bill. 
4. Entertainment
For a PERFECT play date, you'll want to bring some outdoor play things to entertain the kids. A fun activity can keep the kids in one spot for a long time–and moms less time chasing their kids around. 
Mitch and I shopped at Here Today to look for some great deals on outside toys and found lots of ideas: bubbles, sidewalk chalk, balls, foam planes and more. Everything was priced at a great value, so it was easy to bring enough to share.
5. Unwind and Play Time
The most important tip for the perfect play date is to RELAX and have fun. Shut down that mom helicopter and let the kids run around and play! We had to improvise at the first Moms Together STL play date because it RAINED. And you know what? The kids still had a ton of fun because the moms were perfectly fine with letting the kids just run through the rain and jump in the puddles. 
It was the perfect play date!