The St. Louis Zoo is a top attraction for kids in St. Louis–and recently recognized as a top destination in the country, too. During those spooky days leading up to Halloween, the zoo really delivers family friendly fun for tiny goblins and ghosties.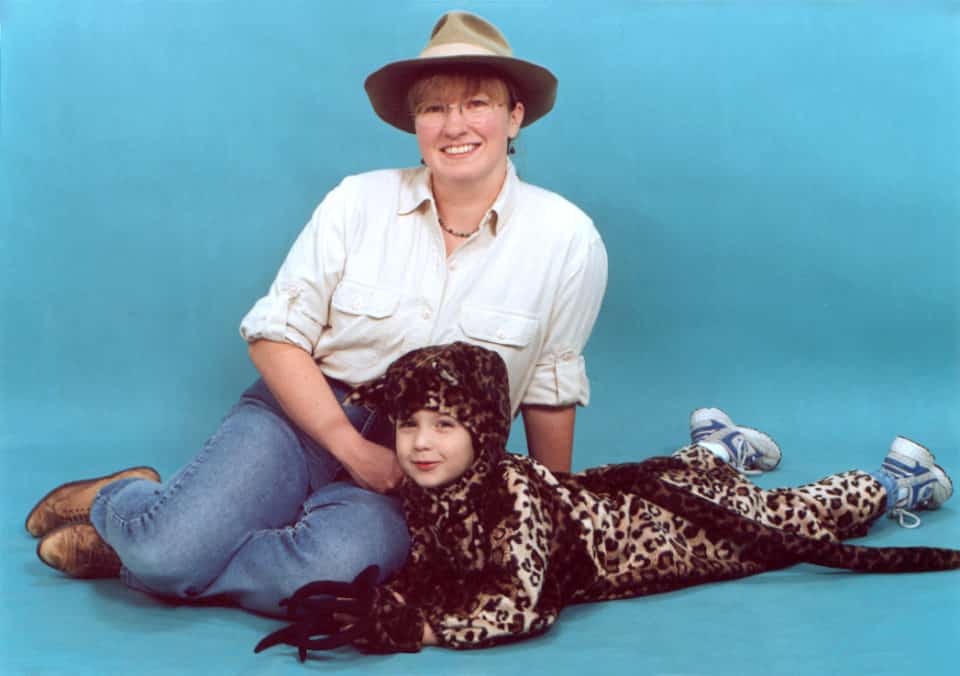 The Saint Louis Zoo updated it's Halloween events for 2019. This year the evening event is simply "Boo at the Zoo" while the daytime events are "Halloweekends".
Boo at the Zoo in St. Louis
Boo at the Zoo in St. Louis is a great way to celebrate Halloween with kids who are too young for haunted houses but still want a little spooky fun.
This is a ticketed event, but since your admission includes parking it's a pretty SWEET TREAT. See what I did there?
Please note this is NOT a trick-or-treat event, but everyone is welcome to show off their finest NOT SCARY Halloween attire. This means kids 12 and under can show off their full costumes, while those over 13 need to keep their faces fully visible. That's no heavy face paint and no masks for teens & adults.
It's not that the zoo wants to squash your fun, they just want to avoid idiots frightening the little kids or getting confused with the costumed entertainers.
When is Boo at the Zoo at the Saint Louis Zoo?
This awesome Halloween event will run from 5:30 to 8:30 p.m. nightly, from October 15-30, 2019.
Please note that the zoo will close at 4pm for daytime visitors from Oct. 15-30. This will give the zoo time to reset for Halloween. So if you're planning on visiting the zoo during late October either come early to enjoy regular zoo offerings, or wait until 5:30 when it gets (slightly) spooky.
PLEASE BE AWARE that 8:30pm is when they shut down for the night...and not a moment later! One year we were unable to visit all the attractions because they started shooing guests out the door at 8:30.
Parking and Admission
Parking is FREE during Boo at the Zoo! Both the North and South Lots will be open and free during Boo at the Zoo.
Admission is $7 for members and $8 for non-members. Children under 2 are free. There is a $1 discount for children 2 to 12 in costume.
I highly advise getting your tickets in advance. I've seen huge lines for tickets at the door! So speed things up and get your tickets before you go. (There's no costume discount online, but you'll save plenty of time. It's a bargain.)
What will you see??
Every year they change up Boo at the Zoo a little bit, so it's never the same event twice!
There will be TONS of Halloween decorations and twinkle lights–I really encourage you to see the zoo after dark. It's SO beautiful–and just the right amount of spooky for little kids.
Plan on walking a pumpkin maze, riding the cobweb draped Scare-ou-sel and play games in the kid area.
Note: the carousel and 4D theater are included with your admission.
Bits of the zoo will be transformed into a Ghost Town, a Fairyland and a Pirates Cove. So bring a good camera–there will be lots to see.
Animal Exhibits
Not all of the zoo is open during Boo at the Zoo–we have to let the critters get their beauty rest!
Four animal exhibits are open during the event. Slither into the Charles H. Hoessle Herpetarium to catch sight of turtles, tortoises, frogs, toads, lizards, snakes and more. For a little more hocus pocus, check out the Emerson Children's Zoo and meet some awesome animals up close. Don't be alarmed if you discover the naked mole rats have left their costumes at home! Catch a glimpse of sea lions and harbor seals taking a nighttime swim as you walk through the Holekamp Aqua Tunnel at Judy and Jerry Kent Family Sea Lion Sound. Meet stingrays and sharks at Stingrays at Caribbean Cove presented by SSM Health ($2/person admission).
Entertainment
Get pumped for some spooktacular entertainment by Juggling Jeff, Chef Bananas and Enchanted Events character singalongs. The approximately 20-minute acts, which do not include animals, feature music, juggling, magic, comedy and more on stage at the Lichtenstein Sea Lion Arena. Shows are offered at 6:30 and 7:30 p.m. and are free with admission to Boo at the Zoo. Entertainment acts vary nightly. Tickets will be handed out on a first-come, first-served basis at the show ticket booth.
Grab a Snack–or Dinner!
Boo at the Zoo takes place during the dinner hour, so why not eat here? The zoo's cafes are open with regular fare, while Candy Crossing and Starbucks will have fall treats and drinks.
Instagram Contest #STLZooBoo
You know you're going to take THE cutest photos while you're here, so be sure to enter their Instagram contest. Just use hashtag #STLZooBoo for a chance to win tickets to the Zoo's winter Wild Lights event and a $75 Zoo gift card.
Details available at instagram.com/stlzoo and stlzoo.org/boo.
Halloweekends Daytime Event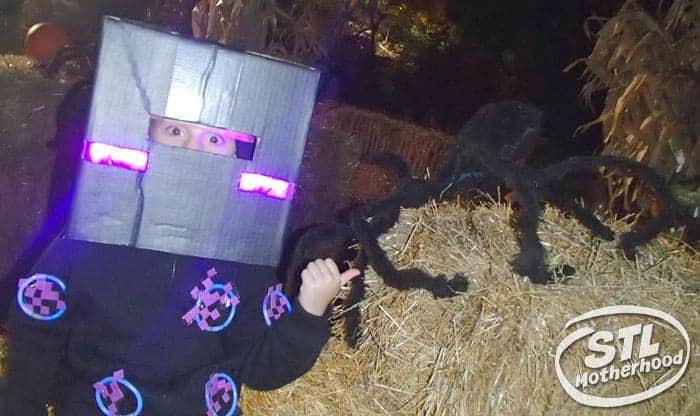 The St. Louis Zoo"s daytime event is now called Halloweekends. Instead of being a one day event, we get FOUR days of fun!
Like the evening Boo at the Zoo everyone is welcome to wear their Halloween costumes. Just keep it not scary, and anyone over 13 must keep their face uncovered.
When is Halloweekends?
Saturday & Sunday, October 19-20, 9 a.m. to 4 p.m.
Saturday & Sunday, October 26-27, 9 a.m. to 4 p.m
This event is FREE. There will be costumed characters around to meet the kids and fall themed food.
There's a $2 discount on Adventure Passes for kids 2-12 in costume.
Members will get a 20% discount off retail purchases and $10 off a plush toy adoption package for kids in costume.
Keep your eyes open for special Pumpkin Stomp & Chomps at animal exhibits–when the animals are given pumpkin treats to explore and eat.
Can I stay the WHOLE DAY?
I get it, the Saint Louis Zoo is super awesome and it takes a while to see the whole place. And maybe you REALLY want to see all the animals AND some twinkle lights.
If you arrive at the zoo before 4pm, you can stop at the welcome desk and buy your evening Boo at the Zoo tickets. You'll be given a sticker to wear.
But at 4pm security will move all guests with a sticker to the Lakeside Cafe while they reset the zoo. Anyone without a sticker will be asked to leave or pay for Boo at the Zoo tickets.
You'll need to take a break at the Lakeside Cafe until 5:30pm. If you're planning on eating dinner at the zoo anyway, this is the perfect time.