Updated 2020
Because 2020 is such an awesome year (insert eyeroll here) the Saint Louis Boo at the Zoo has made some adjustments to keep families safe AND entertained this Halloween.
Saint Louis Boo at the Zoo 2020
You'll need to get your 2020 Boo at the Zoo tickets IN ADVANCE. Tickets are not available at the gate. Tickets so go on sale (yes, this is a paid event) October 1, 2020.
There will be TWO TIMED SESSIONS each night. The first session is from 5 to 6:30pm and the second is 6:30 to 8pm. The event closes promptly at 8:30pm.
Insider info: once you're in the Zoo you can stay for as long as you like. So if you think you'll want a little more time to explore all the sites, book the FIRST session.
Ticket prices for 2020
Zoo Members: $7.95 per child (ages 2-12); $8.95 per adult (ages 13+)
Non-members: $8.95 per child (ages 2-12); $9.95 adult non-members (ages 13+)
Children under age 2 are free
Free parking is available on both Zoo parking lots during the event. Proceeds from the event help the Zoo provide the highest quality care for its animals.
Note: The Saint Louis Zoo is still FREE during the day, but you do need to get a FREE timed ticket in advance so that the zoo can limit crowd sizes. If you're not sure your kid wants to see spooky stuff, a daytime visit is a nice compromise — all the decorations are still out to enjoy.
The Zoo closes for all visitors at 4 p.m. on the days of Boo at the Zoo. Doors re-open at 5 p.m. for the ticketed event.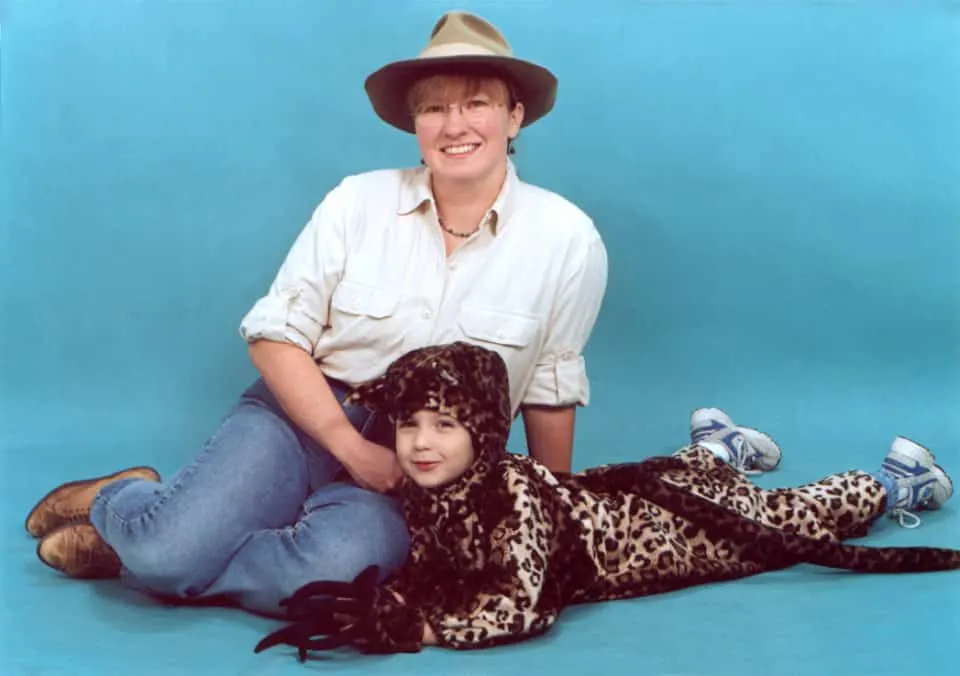 The Saint Louis Zoo updated it's Halloween events for 2020. Like last year the evening event is simply "Boo at the Zoo" while the daytime events are "Halloweekends".
Boo at the Zoo in St. Louis
Boo at the Zoo in St. Louis is a great way to celebrate Halloween with kids who are too young for haunted houses but still want a little spooky fun.
This is a ticketed event, but since your admission includes parking it's a pretty SWEET TREAT. See what I did there?
Can I wear a Costume?
YES! There's no trick-or-treating at Boo at the Zoo, but everyone is welcome to show off their finest NOT SCARY Halloween attire. Let's keep it family friendly folks.
2020 is throwing a bit of a wrench into Halloween costumes. Everyone over 9 needs to wear a mask that covers your nose and mouth, so NO ONE can wear a traditional, covers the whole face type of Halloween mask. No double masking!
Also new this year: no face paint. (I don't get it either, but let's just roll with it.)
It's not that the zoo wants to squash your fun, they just want to avoid idiots frightening the little kids or getting confused with the costumed entertainers.
When is Boo at the Zoo at the Saint Louis Zoo?
This awesome Halloween event will run from 5:30 to 8:30 p.m. nightly, from October 16-30, 2020.
Please note that the zoo will close at 4pm for daytime visitors from Oct. 16-30. This will give the zoo time to reset for Halloween. So if you're planning on visiting the zoo during late October either come early to enjoy regular zoo offerings, or wait until 5:30 when it gets (slightly) spooky.
PLEASE BE AWARE that 8:30pm is when they shut down for the night...and not a moment later! One year we were unable to visit all the attractions because they started shooing guests out the door at 8:30.
What will you see??
Every year they change up Boo at the Zoo a little bit, so it's never the same event twice!
There will be TONS of Halloween decorations and twinkle lights–I really encourage you to see the zoo after dark. It's SO beautiful–and just the right amount of spooky for little kids.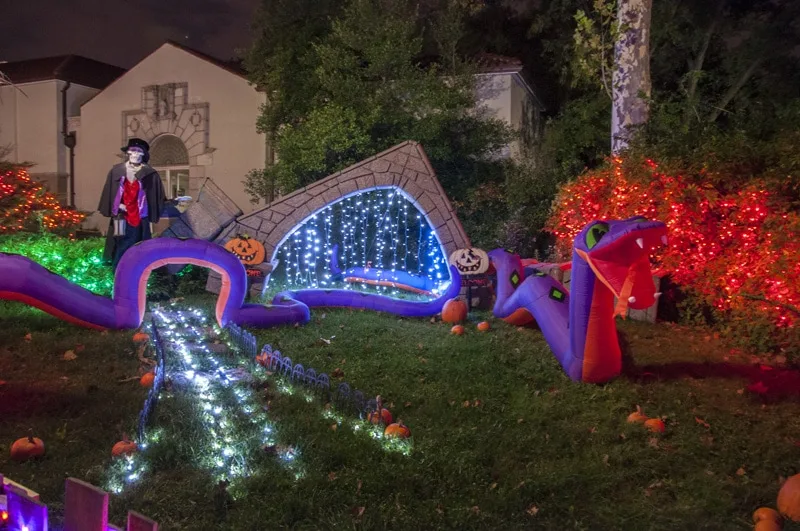 The Zoo is decorated with fun photo opportunities at Candy Corn Lane, the Witchy Walk, Ghost Town, Pirates' Cove, Fragile Forest Fairyland, Skeleton Picnic, Glowing Jack-o-lantern Tunnel, 10-foot-tall Magic Dragon and Serpents of Historic Hill, and much more.
Animal Exhibits
Not all of the zoo is open during Boo at the Zoo–we have to let the critters get their beauty rest!
Three animal exhibits are open during the event: Slither into the Herpetarium to catch sight of turtles, tortoises, frogs, toads, lizards, snakes and more. Spiders, centipedes, beetles and other invertebrates await you at the Bayer Insectarium. Meet stingrays and sharks at Stingrays at Caribbean Cove.
The carousel, or rather Scare-ousel and Stingrays are included with your admission.
New for 2020: Ride the Zooline Railroad in the Dark!! $3.95/members; $4.95 non-members
Bring a good camera–there will be lots to see!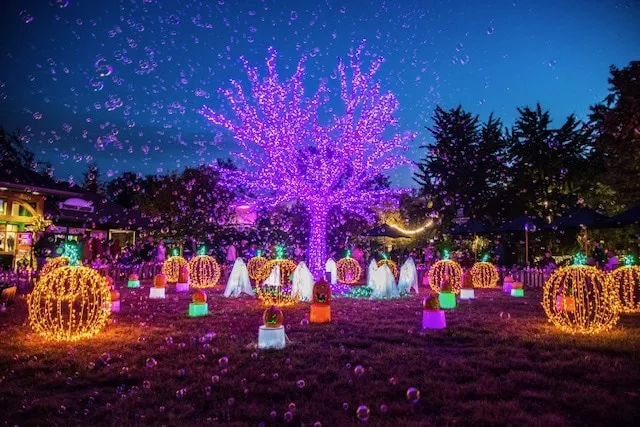 Grab a Snack–or Dinner!
Boo at the Zoo takes place during the dinner hour, so why not eat here? The zoo's cafes are open with regular fare, while Candy Crossing and Starbucks will have fall treats and drinks.
Instagram Contest #STLZooBoo
You know you're going to take THE cutest photos while you're here, so be sure to enter their Instagram contest. Just use hashtag #STLZooBoo for a chance to win four tickets to the Zoo's winter Wild Lights event and a $75 Zoo gift card.
Details available at instagram.com/stlzoo and stlzoo.org/boo.
Halloweekends Daytime Event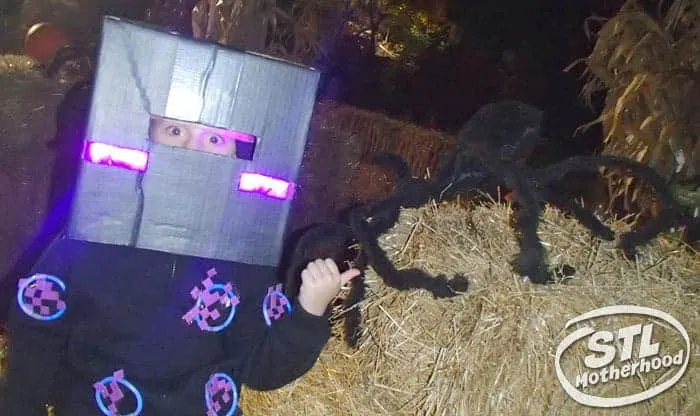 The St. Louis Zoo"s daytime event is now called Halloweekends. Instead of being a one day event, we get FIVE days of fun!
Halloweekends is FREE, but you still need that 2020 timed ticket.
Daytime Parking Fees still apply ($15 per vehicle)
Like the evening Boo at the Zoo everyone is welcome to wear their Halloween costumes. Just keep it not scary, and only wear a nose/mouth face covering.
When is Halloweekends?
Saturday & Sunday, October 17-18, 9 a.m. to 4 p.m.
Saturday & Sunday, October 24-25, 9 a.m. to 4 p.m
Saturday October 31, 9 a.m. to 4 p.m
This event is FREE. There will be fall themed food, plenty of daytime decorations and the animals will be getting pumpkins as part of their enrichment program.
There's a $2 discount on Adventure Passes for kids 2-12 in costume.
Members will get a 20% discount off retail purchases and $10 off a plush toy adoption package for kids in costume.
Keep your eyes open for special Pumpkin Stomp & Chomps at animal exhibits–when the animals are given pumpkin treats to explore and eat.