The Moonlight Ramble is BACK baby–save the date on Aug. 17, 2019 for the most unusual family ride of the year!
The Moonlight Ramble is a night time bike ride through St. Louis proper on a Saturday night as close to the full moon as possible. It's a charity ride, not a race, and its been going on for half a century!
This year will be the 55th ramble and is hosted by Hubbard Radio (KSHE 95) and St. Louis based Big River Race Management.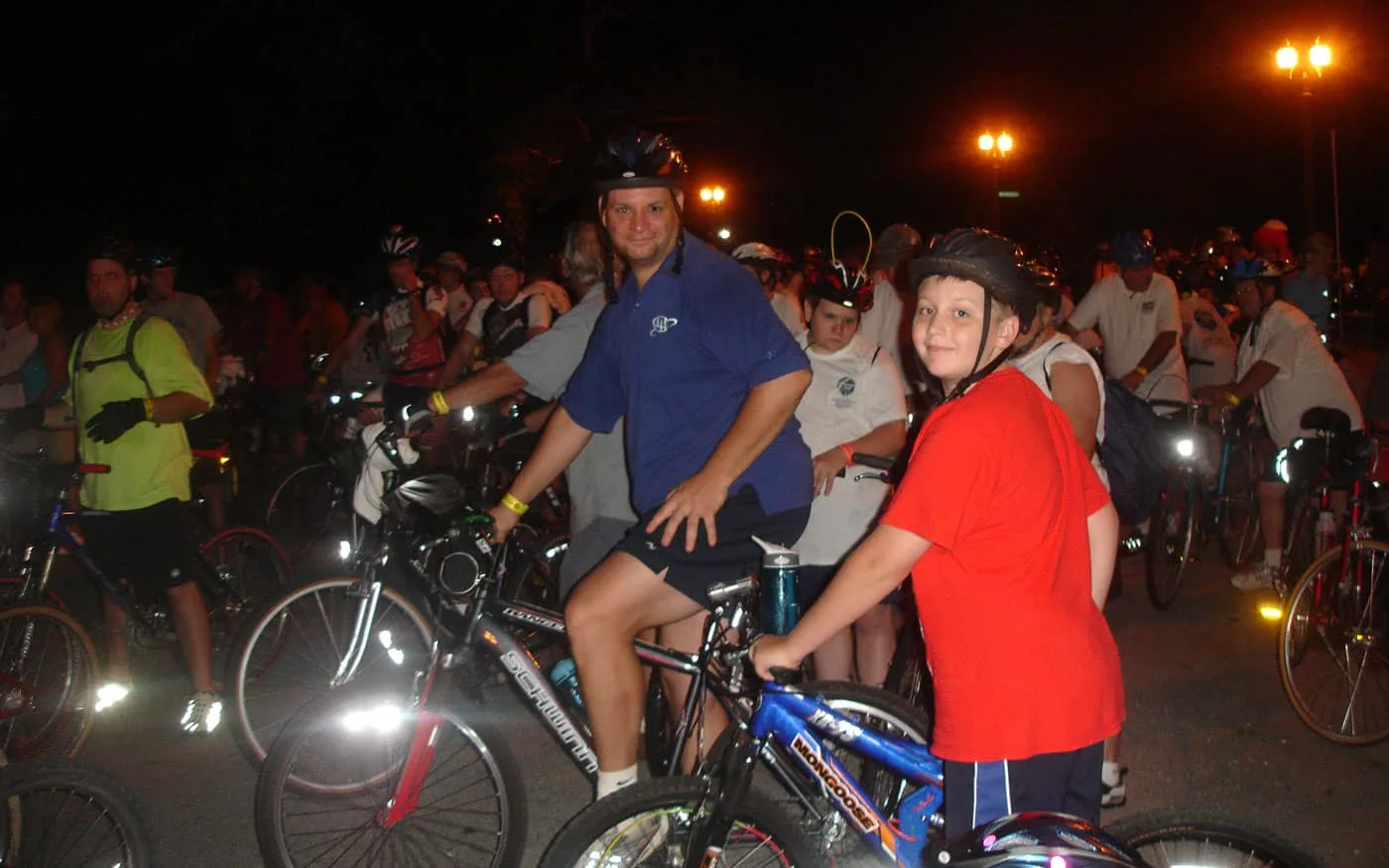 My family has been doing the ramble off and on for nearly two decades. We've done it with a baby in a trailer, with a kid on a tag-a-long, and even a couple times with an ancient Schwinn tandem from the 1960s!
And it's always been fun. Ok, sometimes it was exhausting, especially when I wasn't in shape for a 20 mile jaunt up and down St. Louis hills. But now I make my hubs do the short ride!
This is part of our Summer Bucket List!
>>> Click here for More Fun Ideas! <<<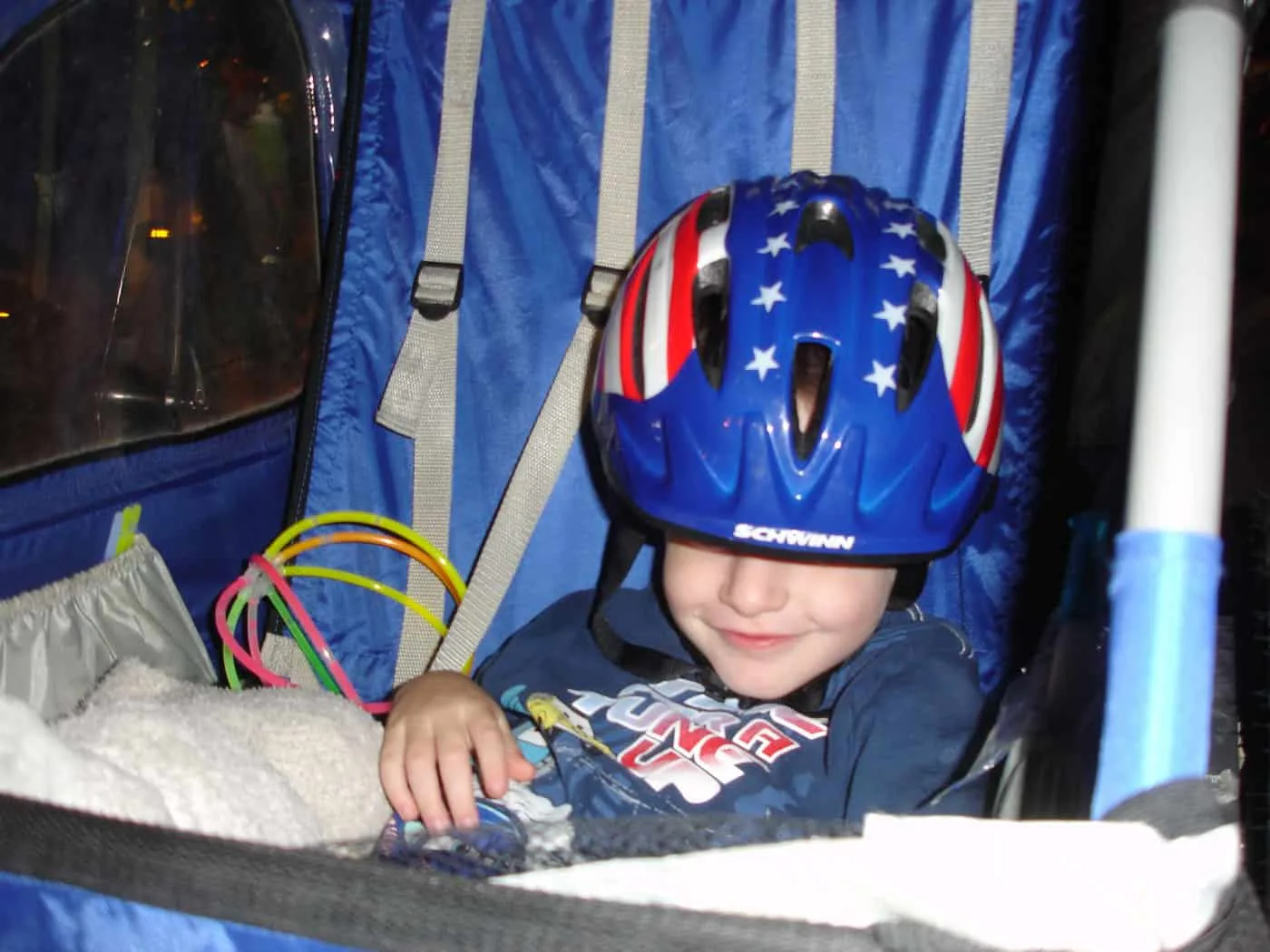 Why wasn't there a Moonlight Ramble in 2018?
If you're wondering what happened to the race last year, you need to be following the big corporations that back our local radio stations.
The race was started in 1964 for Dick Leary, a ride leader for the Ozark Area Council of American Youth Hostels. It became a charity ride to support the Gateway Council of Hosteling International in St. Louis.
The event got too big for the Hostel, so Emmis Marketing (the people behind KSHE 95 a few other radio stations) stepped up and saved the day. Or night. I'm guessing it's because our beloved KSHE was always at the bike ride so it seemed like a great idea. Emmis promised to not only keep the Moonlight Ramble going, but to make sure it always benefits a charity.
Well…in 2018 Emmis sold it's St. Louis radio stations.
KSHE's new owner was unprepared to host such a large event right after moving to St. Louis…so they put it on hold. Thankfully they also looked for some help from the local racing community and tapped Big River Race Management to organize the event.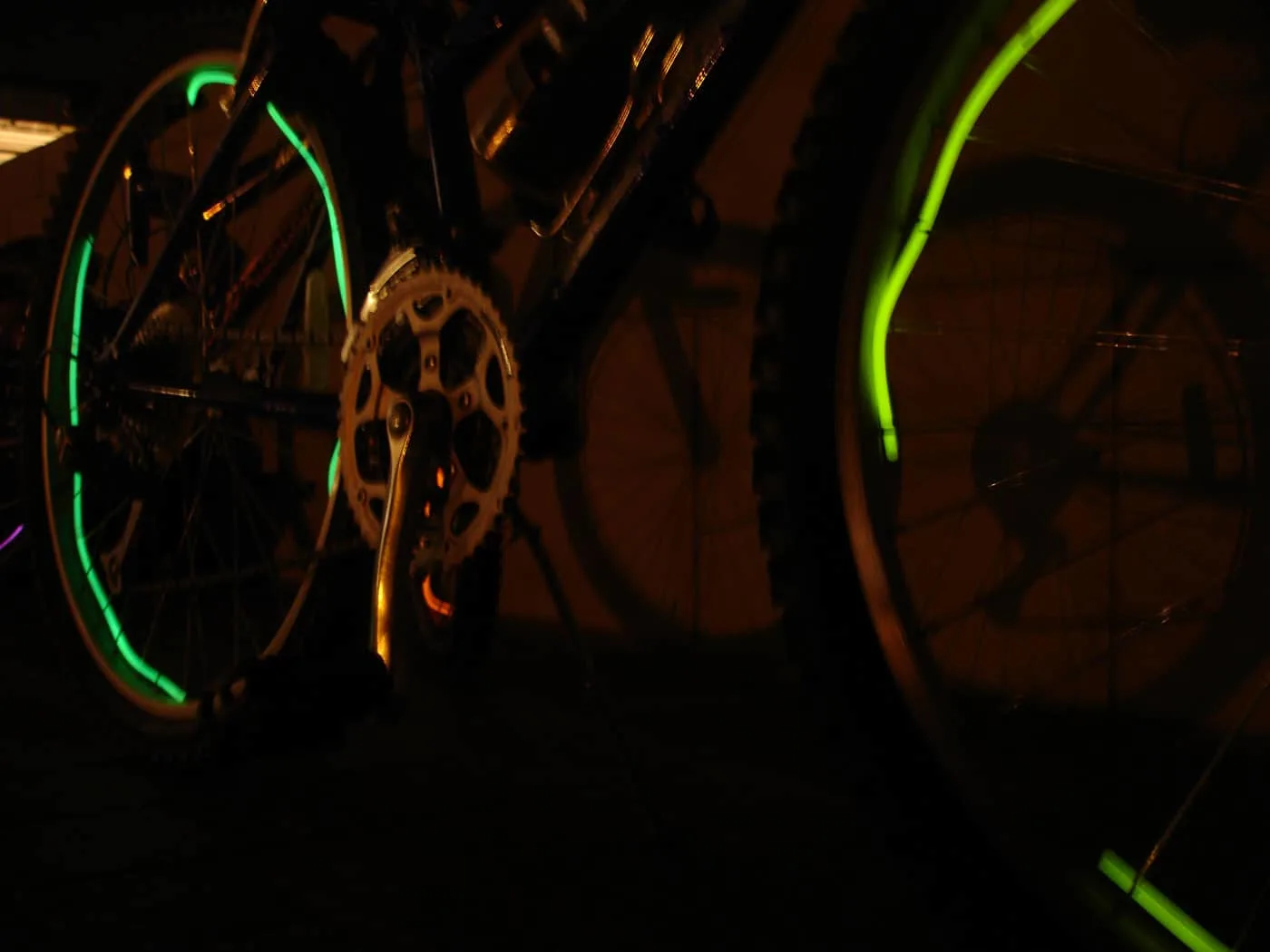 New Owners, New Charity
The Moonlight Ramble has alway been a fun ride that supports a charitable cause. I'm happy to say that this year's charity is St. Louis Bicycle Works, a fantastic operation that teaches kids how to safely ride and maintain a bike. When kids sign up for their free course, they earn a bike at the end.
Bicycle Works also runs a shop where they refurbish bikes for anyone to buy–and help support the BWorks project!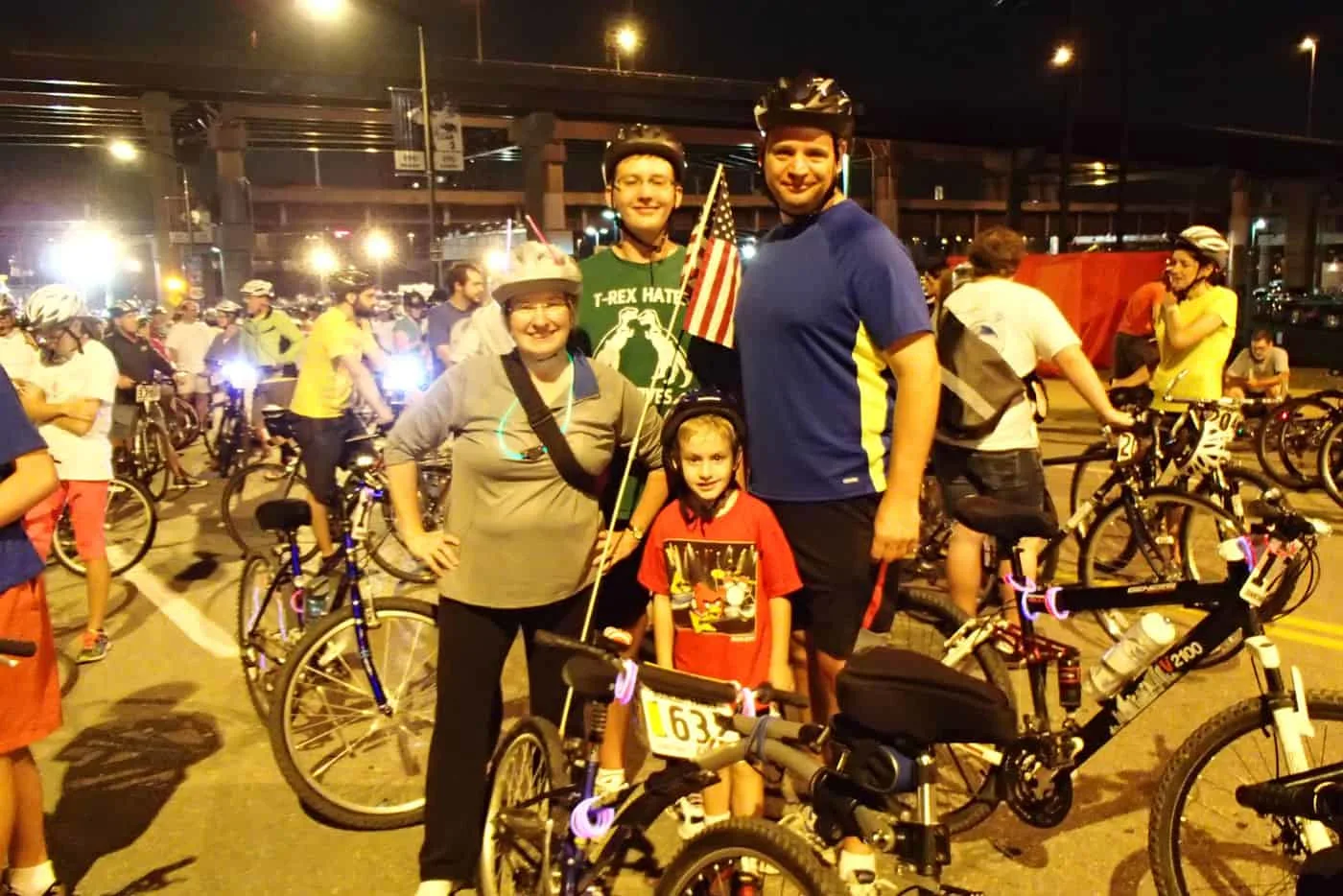 If you haven't Rambled before, here's a few tips for taking your kids to the bests night ride in the city!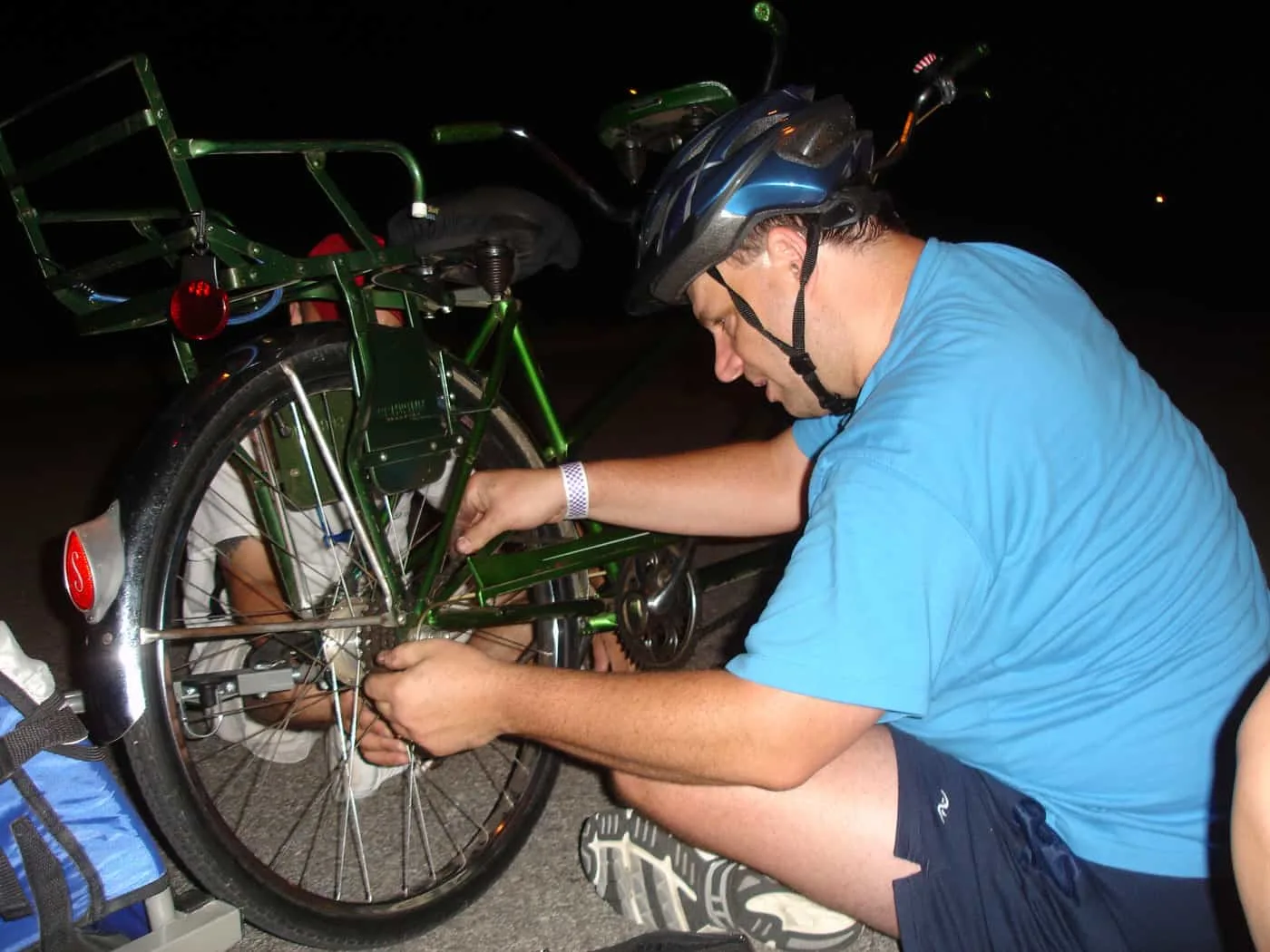 New Start Time for the Moonlight Ramble
The ride starts at 10 pm, with festivities and packet pickup starting at 7pm.
You need to start the ride before 11pm. The race management team can only close the route to car traffic until 1am.
It used to start at midnight, which put a lot of people driving back home at 3am. Great if you're a college kid, a little rough if you're a middle aged mom.
This ride is great for stroller babies if you have a bike trailer–I know Mitch snoozed through several rambles!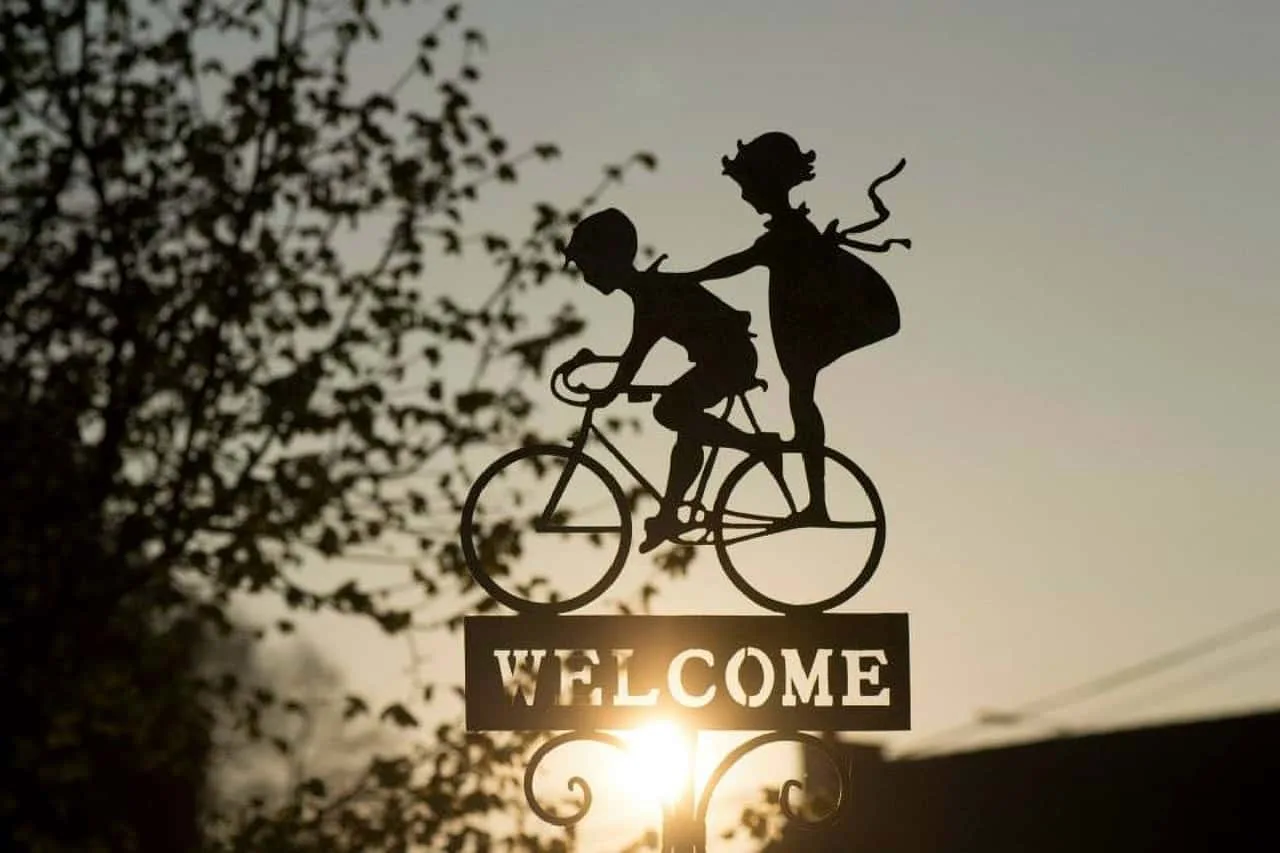 The Moonlight Ramble can be LONG
The route is always broken into a short and long loop. This year the long loop is 18.5 miles and the short loop is 9.5 miles. There's usually a rest point in the middle. This is NOT a ride for kids on training wheels.
You don't have to register for the long or short ride, you can pick that night…or when you see the "short route this way" sign!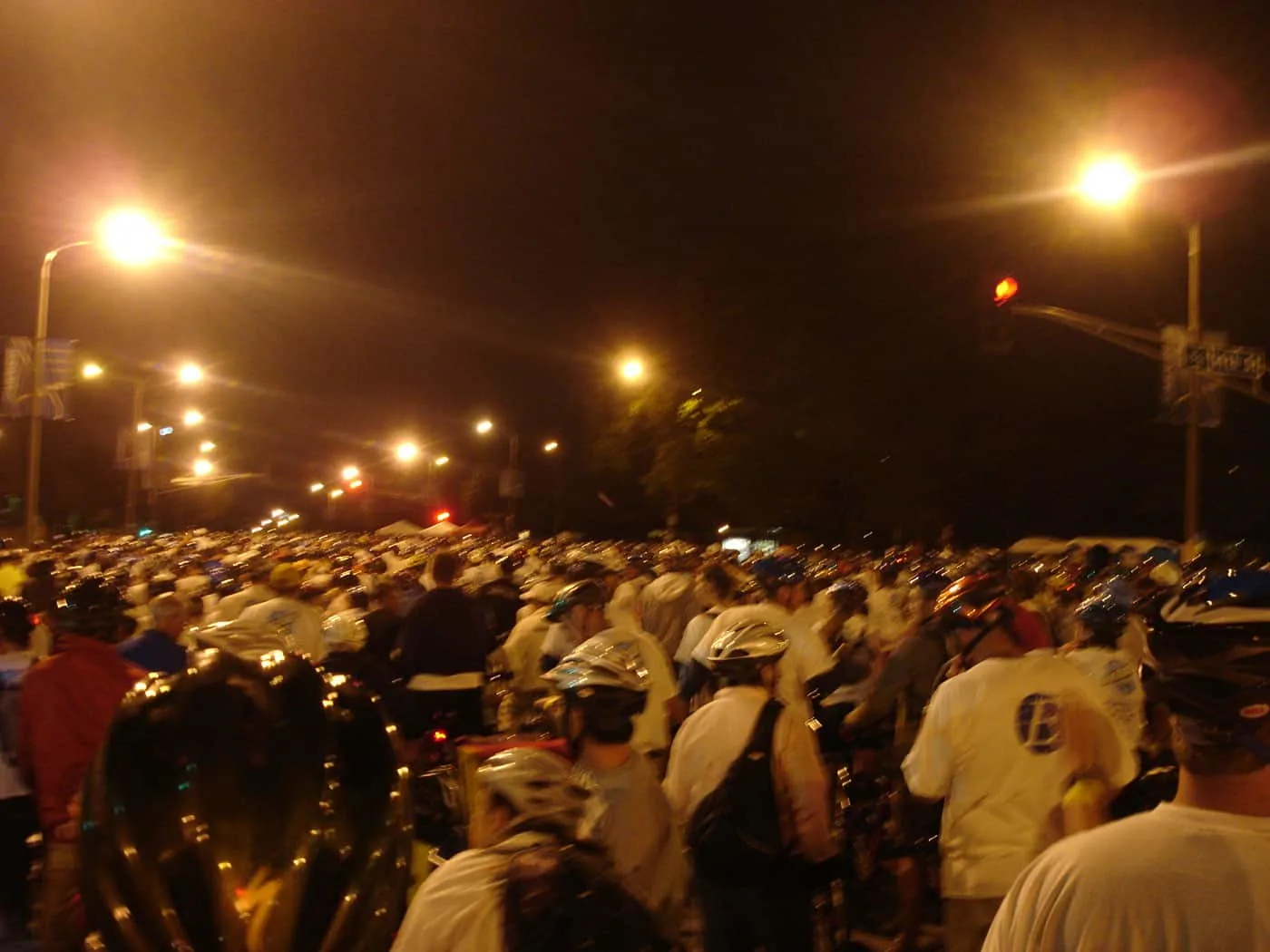 The Moonlight Ramble is POPULAR
The Ramble averages 10,000 or more riders every year. Granted, it's had a rough couple of years with rain delays and cancellations. Just assume that people will be excited to ride again and they're all gonna show up.
Ramble organizers release riders in waves to break up the crowd, but expect the first couple blocks to be fender to fender. If you're bringing kids practice defensive biking and keep the kiddos close. After the first ten or fifteen minutes of peddling the riders are scattered out and you can have a nice casual ride. The fast riders streak ahead and the family groups tend to fall back. It works out.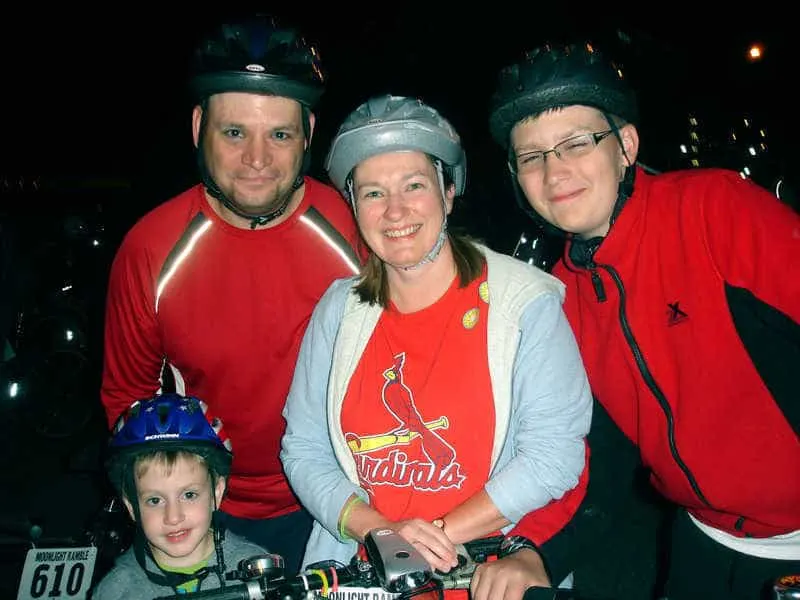 The Moonlight Ramble is FUN
Many riders deck out their bikes with flashing lights, glow sticks and bells. You might even see a few costumes. The ride is for fun and it shows. We've seen college kids with boom boxes strapped to their fenders and family groups with so many glow sticks they look like UFOs.
The Moonlight Ramble is WELL ORGANIZED
This was especially true after Emmis took over the ride, and I expect that having a professional race management team at the helm will be even better.
You can order your tickets online and pick up your numbers and t-shirts ahead of time.
Big River Race will still run a support staff to help riders along the route, so if you have a break down on the route there should be help. We've also seen TONS of very helpful, friendly riders on the course in years past.
After the ride there will be an after party with a free beer for people over 21 and snack/beverages for all.
The Moonlight Ramble is SAFE
Riders are required to wear a helmet and abide by St. Louis bike laws–lights and reflectors on those bikes! There's always been volunteers to help with traffic along the route, so I expect that to be the same.
Most riders are very courteous–this is the Midwest after all. We never know the route until it is posted (secrecy keeps out the ride crashers!) but they always choose wide decent streets.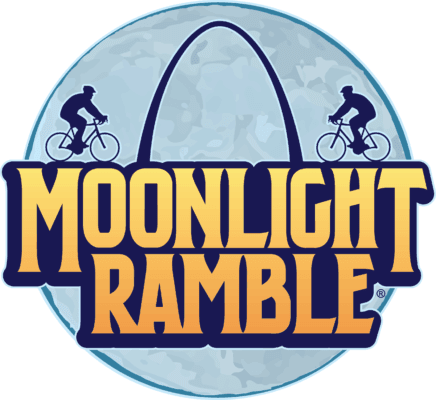 Need more info? Ready to sign up? Here's the Moonlight Ramble's website. What are you waiting for?