I was super excited when I learned that Sky Zone had opened a second location in Fenton, much closer to my house than the first St. Louis Sky Zone in Chesterfield. My kids have had a lot of fun jumping around the trampoline park, and with one practically in the backyard it's so easy to drop in and have some fun jump time anytime!

Sky Zone gave me an offer I couldn't refuse! They asked if I would like to review a their birthday party package. The only problem? It wasn't anyone's birthday! So we invited Mitch's Cub Scout den out for a party on Sky Zone. Ten third grade boys is a pretty good test market, wouldn't you think?
Note: For full disclosure, yes…the party was free. But my opinions are totally my own. Also, I brought a new camera to the party, which turns out had a focusing issue. As in, it wouldn't focus on anything I pointed it at! I didn't notice how off it was until I got 300+ photos loaded into my computer! Yikes! So, I do apologize if this post is a little lacking in quality photos of the actual party. You might see a photo from another time Mitch jumped at Sky Zone…or some stock photos. Whoops!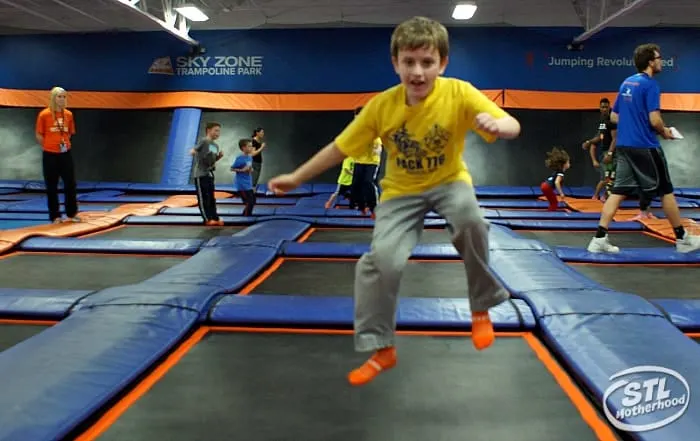 Have a Jumpin' Good Time at Sky Zone
First, a little background on Sky Zone. It's an awesome trampoline park, with franchise locations all around the country. Each franchise is independently owned and therefore a tiny bit different. So check your location for exact times and prices. They all have the same top notch safety and cleanliness standards, and both locations in the St. Louis area have similar equipment. This party took place and is sponsored by the Fenton Sky Zone. Fenton Sky Zone has a free jump area, dodge ball courts, Sky Slam (with basketball hoops), Challenge Zone, and a foam pit you can bounce into. There's also a locker area, lounge, party rooms and a snack bar.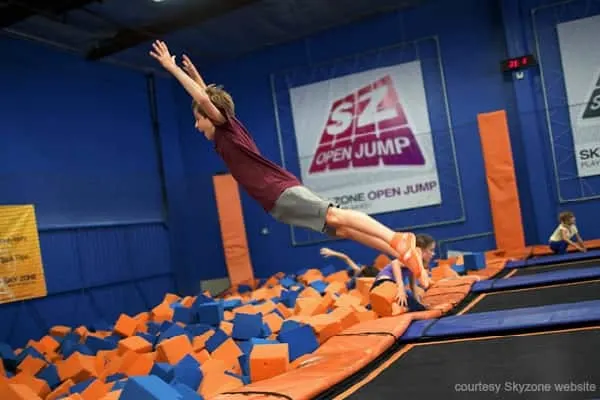 Safety First at Sky Zone
One of the things I love about Sky Zone is it's pretty safe. Obviously jumping around on any trampoline has risks, but these trampolines are tucked inside padded walls, with padded floors and checked (and cleaned!) every night. They have staff on hand who supervise the jump zones to make sure kids are following the rules and taking turns. Safety rules are posted, they're running on video monitors around the facility AND a staff member looks your kid in the eyeball and goes over the rules before they're allowed in the jump area. Some of the rules are things you might over look, like having empty pockets! Ouch!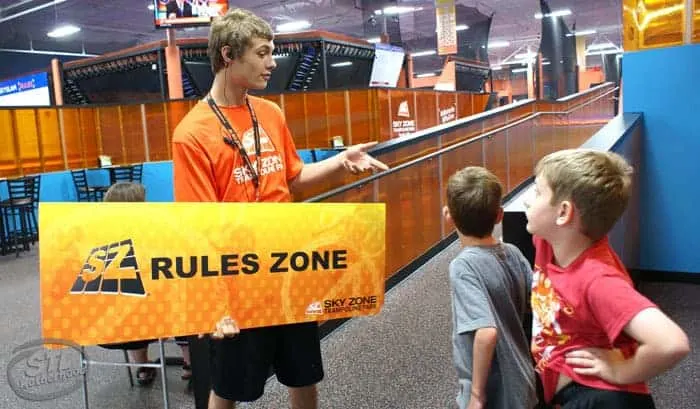 Also, everyone needs a snazzy pair of Sky Zone socks! They have grippy soles and only cost $2. They're yours to keep, so remember to bring them back next time you jump.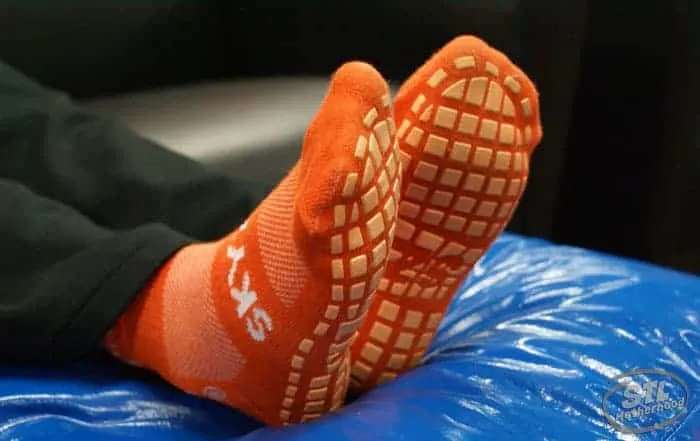 Party at Sky Zone
Birthday parties are awesome at Sky Zone! All you have to do is book the party, find a cake and come on over with your kid's friends! Sky Zone provides a host and cleans up the mess. How awesome is that?
There's three party packages: Jump Around (small), Super Jump (Medium) and Supreme Air (Large). The parties are based on how many guests you have: 10, 20 and 30 jumpers.
Each party package includes invitations you can send to guests, an hour of jump time, a party room, Pizza Hut pizza, soda and plates/cups/utensils/napkins for your pizza and cake. Your host will even cut the cake and serve it for you, so you can relax with your party guests! Oh, and feel free to bring ice cream or an ice cream cake–Sky Zone has a freezer they can tuck your goodies in while the kids jump.
The birthday kid gets a t-shirt and a couple free passes to come back another day!
Sky Zone socks are also included in the price, so if your guests don't have a pair there's no worries!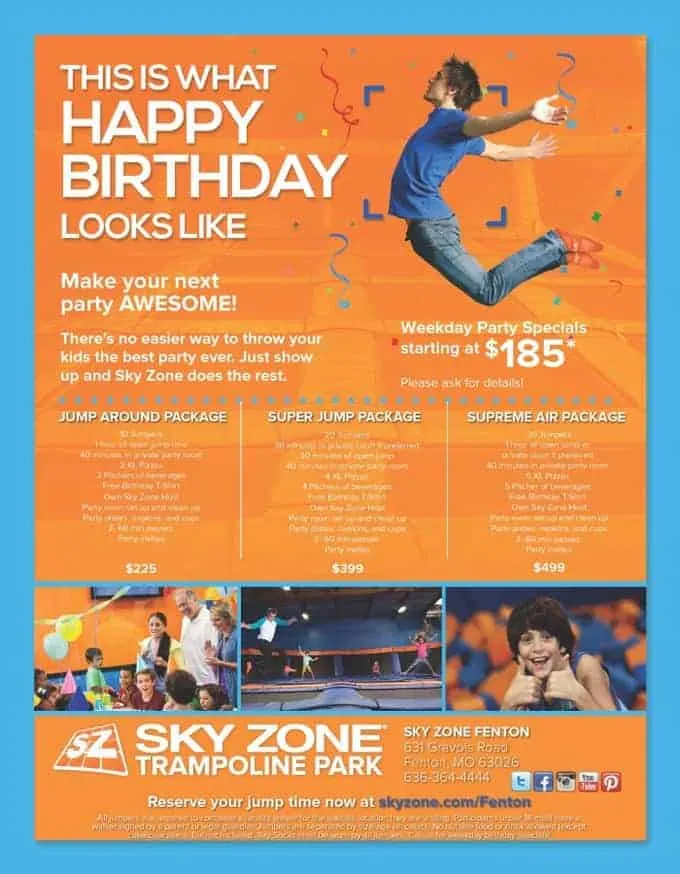 What age is a Sky Zone party for?
Sky Zone has no age limit…if your kid can walk, they can jump. Personally, I wouldn't do a toddler party at Sky Zone, but any school age kid is going to love this. And what's super awesome about Sky Zone is that teenagers love it, so Sky Zone is a great place to bring older kids who may have outgrown that arcade game pizza place.
And if you do have a toddler? Try the special toddler time when the whole place is reserved for little ones!
How did the party go?
Mitch and his friends LOVED the party! First, everyone checked in at the group desk, where the party child's name is posted on a big sign. (Ok, this time it was my blog's name….pretty cool!) Staff checked everyone in, made sure they had a wavier (you can do them online or at the desk) and socks. When it was time for our party, a host met us and went over the rules with the kids.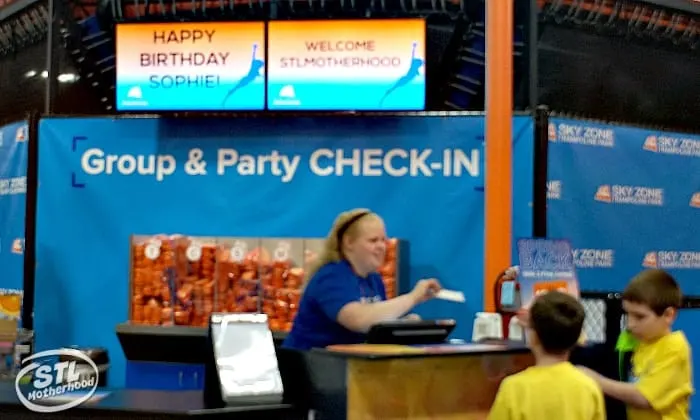 The then host walked everyone over to the jump area and the kids were off and jumping! We did a weeknight party and the place was hoppin'! Sky Zone can accommodate four birthday parties at a time and that night there was our party, another kid's birthday, a whole troop of Girl Scouts plus plenty of other kids who were there on Student ID night, where students get in for a discount!
If you book a larger party (20 to 30 jumpers) you have the option of having a private court reserved just for you! Our kids were happy to mix and mingle though. Most of them played dodge ball together, then ran over to the free jump, the basketball hoops and of course the foam pit area!
After an hour of jumping the kids were hot and sweaty and ready for a break!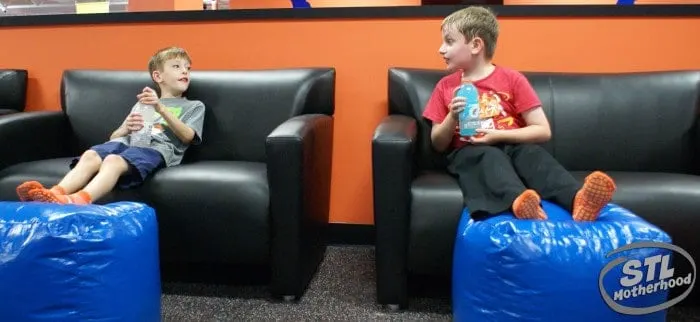 Our host collected the kids and led them to our party room. She served everyone soda and water, then broke out the pizzas! After that we had a cookie cake and ice cream that our den leader bought along for the occasion.
Are you ready to have your next big party at Sky Zone? Go ahead a book that party now! Not ready for a party? That's ok! Prices start at just $10 for 30 minutes of jump time when you're just ready to get the wiggles out. Sky Zone has plenty of special events and super deals! Check out their calendar here, or learn about promos here. It's also a great way to put the fun back in your organization's FUNdraiser! Call up the manager for details!