Mom, can I get a sword? Please! Please mom, pleaaaaase??
Tip #1 plain wooden swords are cheaper than painted ones and whack your best friend just as heartily. 
Look at that, I haven't even made through the intro and you've already got your first tip on how to survive ENJOY the STL Renaissance Festival, going on Oct. 7-8 and Oct. 14-15 in Wentzville's Rotary Park.
Mitch and I had a blast wandering the t. Louis Renaissance Festival last weekend! We were offered free tickets in exchange for sharing our story with you, so we brought along one of Mitch's best friends…and I lived to tell the tale! It's not easy adventuring through the Medieval woods of far off Saint Charlesland with two ten year old boys in tow. Especially when the very first vendor you cross is selling…
Wooden. Swords.
The sword merchant had a collection large enough to arm every child–and several grown ups–at the fest, from daggers to full-sized katana. There was even a few Thor worthy hammers to boot. I think the daggers started at $5, with pricing going up with the size and level of decoration. I convinced Mitch the plain sword was better because he could paint it later and wrap it in duct tape. The boys settled on $12 swords, which were about in the middle of the price range.
Holsters were an extra $5, so I made the young squires carry their blades in hand the rest of the day. They didn't mind and defeated every tree and make believe pirate in the woods.
Note: I know you put a sword in a scabbard, not a holster, but theses were simple one-sized fits all leather blade holders on a string. I'm sticking with holster on this one.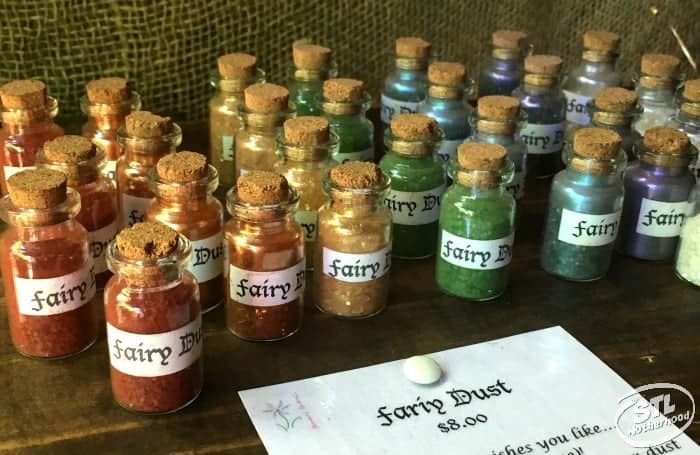 Tip #2 Bring plenty of Cash, for the bars of cyberspace doth not reach far into the woods. 
Ah hem, I was really getting into character there. Some of the vendors accept CHIPPED debit or credit cards, but the cell signal at Rotary Park is pretty weak. I ended up paying for those wooden swords with cash, and at $12 a pop that could have bought quite a few rounds of deep fried Oreos.
Be warned though, MOST of the food and drink vendors DO NOT take plastic. The coin of the realm is most certainly CASH, and you'll save yourself a lot of waiting if you plan accordingly. They have a couple ATM machines at the festival, but the lines grew insanely long around lunch time as festival goers ran out of easy coin.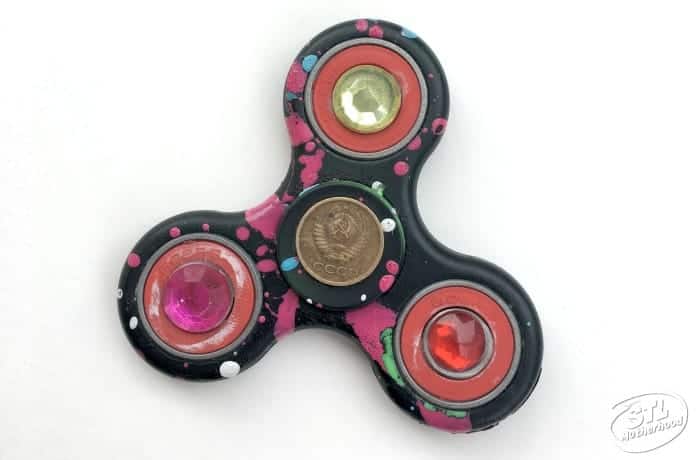 Food and drink were about what you'd expect at a festival, but not as crazy as stadium prices. I didn't take very good notes, but soda was around $3 a bottle, beer and wine $5-6 a glass, and funnel cakes were a steal at $4.50. And no, you can't bring a cooler–but you can get your hand stamped and walk back to your car for a tailgate picnic if you're on a tight budget.
There were also small fees to play games, and the petting zoo (operated by an animal rescue) was asking for donations in exchange for holding their more interesting friends.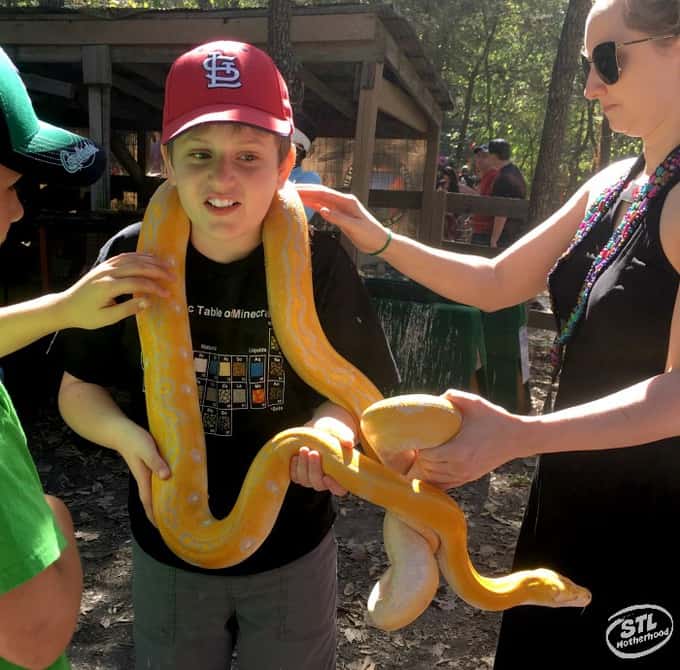 Mitch and his friend opted to hold Goldie the python. They also had some smaller snakes and a kestrel, plus sheep, goats and ponies to pet.
Tip #3 The Mermaids and Unicorn aren't real.
Yeah, I know you were hoping right? But they are hilariously fun. We had a great chat with a pirate outside the mermaid pond, and good chuckle at Magic the Unicorn. Bring your camera, because these places are excellent photo ops.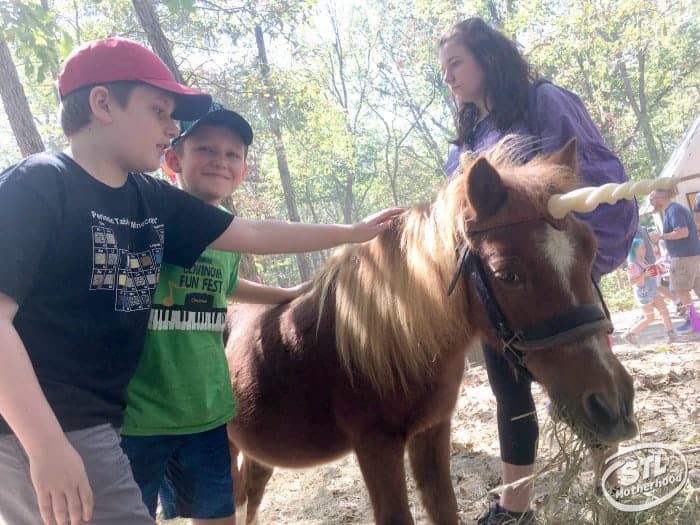 Tip #4 Bring a Bag
You're bound to pick up a few trinkets as you wander the faire, and I came sadly ill equipped. I started searching the merchants for a nice bag for my own souvenir and could only find one place. Guess what the vendor also sold? Wooden swords.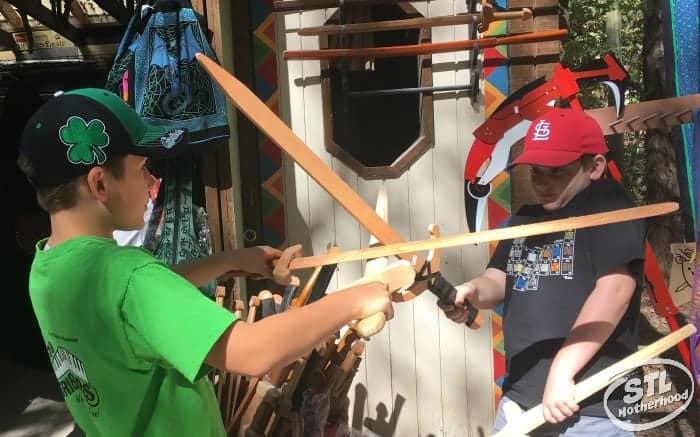 Tip #5 Wear your walking shoes. Or hiking boots.
The St. Louis Renaissance Festival is very popular, so if you don't get there early expect a bit of a walk through an open field converted into a parking lot…then more walking around the festival itself. The Fest tries it's darnest to look like a Medieval village in an ancient forest–which means a lot of meandering around mulch paths. Take your hiking shoes, not your sandals.
Tip #6 Dress accordingly
Visitors to the fair are welcome to dress in costume, but its not required. I have friends who went in "full garb" and had tons of fun. We saw barbarians and fine ladies, a fairy, a few elves and hordes of pirates. If you are the costume sort, remember that prop weapons are ok, but anything metal needs to be peace-tied. And no firearms of any era.
A huge number of merchants sold costume pieces, so if you feel like buying a fancy hat, a bodice or a cool pair of elf ears you won't be disappointed. There's also lots of affordable fantasy style jewelry if you want a souvenir you can wear in the real world.  
There's also a spot in the German camp where kids could try on pieces of real armor…the guys liked that a lot!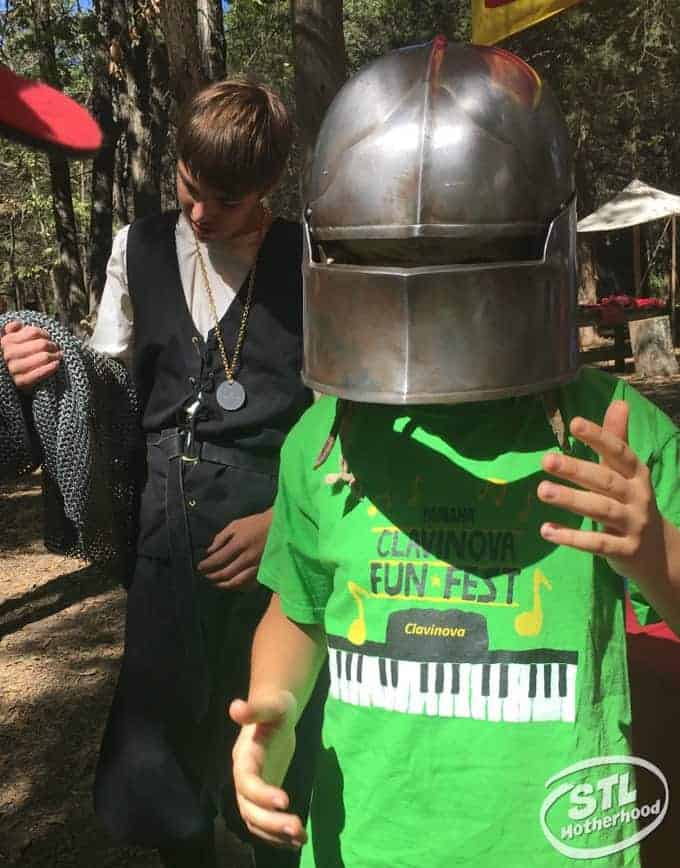 Tip #7 Take a Break, see a Show
There are lots of little stages scattered around the festival where comedy acts, jugglers and singers perform. These shows are included with your admission, so sit down and enjoy a few! They're also a great way to take a break without missing any of the fun. 
Tip #8 Plan ahead for the Jousting
Jousting is the biggest–and most popular–live show at the festival and something you do NOT want to miss. We found out the hard way that showing up a few minutes before a tourney will not work. You need to plan ahead and get to the jousting arena at least 20 minutes before the show. Have part of your crew hold down seats while someone makes a beverage run and you're set!
They host jousting three times a day, at 11:30am, 2:00pm and 4:00pm. I'm assuming that they have a running story line throughout the day, but don't quote me on it. Before the show a herald divided the crowd into two groups, one to cheer on each Knight. Favors (ribbons) were handed out to a few women in the audience to award to the knights on cue. 
Each knight showed off their skills with a lance, then took a few runs at each other. Once a knight was unseated from his horse they fought on foot with swords. It was heavily choreographed, but still pretty awesome–and convincing to the kids!
Tickets
Tickets to the St. Louis Renaissance Festival are 
Adult – $18.95
Senior – $15.95
Child (5 – 12) – $11.95
 Parking is free, and dogs are welcome to this event. You can order your tickets in advance online, or buy them at the gate.