Last night I bribed my teen to play with his little brother. "I'll give you 2 bucks," I texted to him. "And a cookie."
My kids are 8 and half years apart, a vast difference that's both a blessing and a curse. On the one hand, its way easier to raise a second child when the first one is old enough to fend care for himself. I never had to change two sets of diapers, juggle two car seats or two high chairs. By the time my little guy was out of diapers, my older kid was able to babysit.
The bad part? They've never been playmates. Not really. Ryan has always considered himself "too old" to be Mitch's friend. He's a brother, a protector, a supervisor. But a playmate? Nope. Nope. Nope.
It's always been hard to find thing things that interest both kids–and now it's just getting worse. Today, Mitch is 9 and Ryan is 17. They bicker a lot. Ryan thinks deserves more respect as an "adult" and Mitch can't get the concept of boundaries or personal space. These days when I ask Ryan to "babysit" his brother, I just plead with him to keep his door open and not let his brother set himself on fire, m'kay?
Summer vacation is here and I've been collecting ideas for things they can do together. They won't be under the same roof forever, and I want to make some good memories! I don't want Mitch to look back on childhood and wonder why his brother never played with him.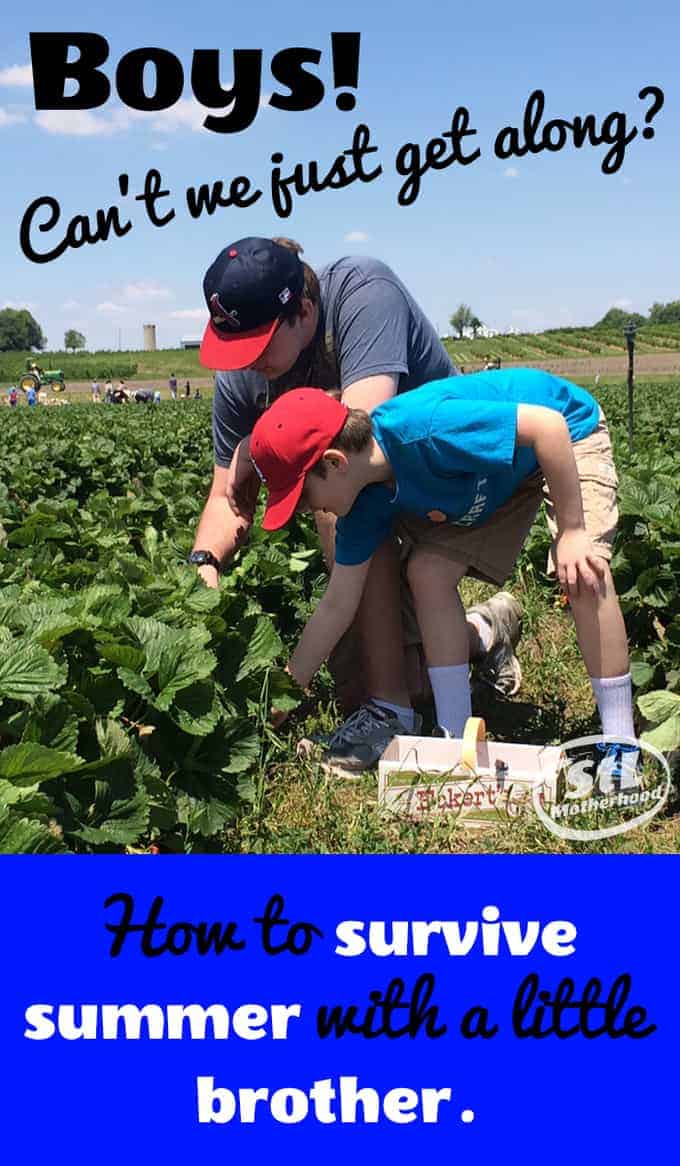 Summer Fun Together
The trick is to find activities that ANY age can do. You don't want to embarrass the teen with kiddie games and you don't want a younger child frustrated that he's too little for something.
First, we went to Eckert's for strawberry picking. Both kids love a trip to Eckert's–fruit is way more interesting when you pick it yourself. Plus, I always treat them to ice cream…and you never get too old for that!
Next, I think it's time Mitch learns how to play laser tag. It's a game for older kids, and the boys will love to duke it out on a virtual playing field. I'll just have to find a time when the teens aren't hanging out–I certainly can't ask Ryan to let his brother tag along with his high school friends!
Speaking of toy gun fights, I'll get the boys to break out their Nerf guns for a little…target practice. Yeah, that's what we'll call it.
Yesterday I bought a stack of batteries and asked Ryan to fire up his old Wii. It's just been gathering dust since it been replaced by way cooler–and blood thirsty–Xbox titles. I think I should get a few happy hours of family game time out of it. They spent a half hour last night whacking each other with Wii swords, and laughing about it!
Today I've been flipping through Netflix titles, looking for shows and movies we can all enjoy. In the summer I love to watch a flick with my kids while we eat our lunch. I could have Ryan pick out a movie he enjoyed when he was Mitch's age, like Looney Tunes Back in Action or How to Train Your Dragon. Or maybe I could work on their Sci-Fi education and we can start watching classic Star Trek episodes and movies! And now that Mitch is interested in race cars, I think they'll be happy to bond over episodes of Top Gear.
Summer is starting to look up!

Hey guys, you know I'm a big fan of Netflix, but I just want to remind you that I'm a member of the Netflix Stream Team and this post was sponsored in part by Netflix.