I tried Instacart for the first time last week…and it's a game changer.
Instacart is a 3rd party grocery delivery service that came to St. Louis a few months ago. I didn't pounce on it right away, because, lets face it…having someone else pick up your groceries sounds like a huge luxury for this middle class momma. I'm not exactly living in Ladue, ya'll.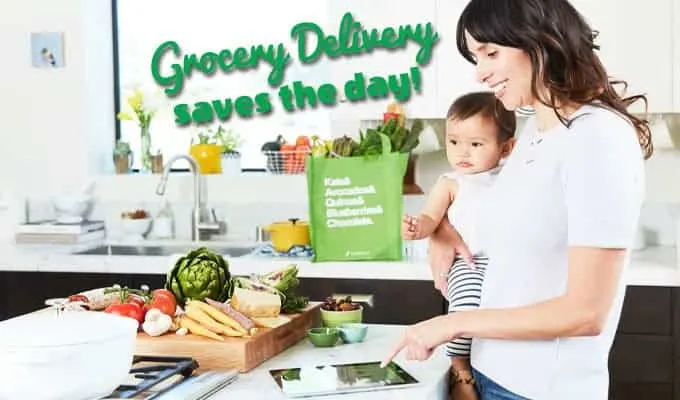 Plus, I'm not THAT organized. To use a shopping service like Instacart, or even Walmart's curbside pickup, you have to have a real live shopping list planned out. You can't just tell Instacart's app, "I want tacos!" Which is pretty much all I have written down before hitting the store. It might explain why I go to Walmart looking for chicken and walk out with craft supplies, a couple t-shirts, chew toys for the dog…and if I'm lucky, actual stuff to make dinner.

But my editor at St. Louis Magazine asked for a piece on grocery delivery services, so I researched all the ways you can get groceries delivered locally. I've known about Walmart's free pick up service for a while, but since it doesn't include my local store I've been hesitant to try it. They've added more stores, but it's still about 5 miles farther than I normally shop. I can't seem to wrap my head around planning a shopping trip and not getting my stuff until 5pm the next day. Though I'm sure my husband would appreciate me being able to find groceries without adding a side of glitter and paint.
I tried Instacart
Instacart was the winner because it promised a 2 hour delivery window with a low a $10 minimum and free delivery on my first order. I figured I could pull together a shopping list for tacos and spaghetti pretty quick. They work with Schnucks and Shop N Save in my area, so I pick Schnucks in order to get a loaf of their awesome bakery bread. I was disappointed that I couldn't add a bottle of wine to my list–for some reason Instacart won't handle liquor.
Note: I actually put my shopping list in BOTH Schnucks and Shop N Save to see who had the better prices. I was shocked to discover Schnucks was a couple bucks cheaper.
I placed the order at 8:30 in the morning, figuring it might get here around 10:30 am.
PING! my phone lights up. It's Instacart. My order is now being handled by Cynthia. Cynthia the speed demon who's gonna get my shopping done and delivered in a HOUR.
This is where I'd like to say I got all sorts of Important Work done while Instacart handled Taco Tuesday, and how I wrote a whole blog post, folded the laundry and did the dishes.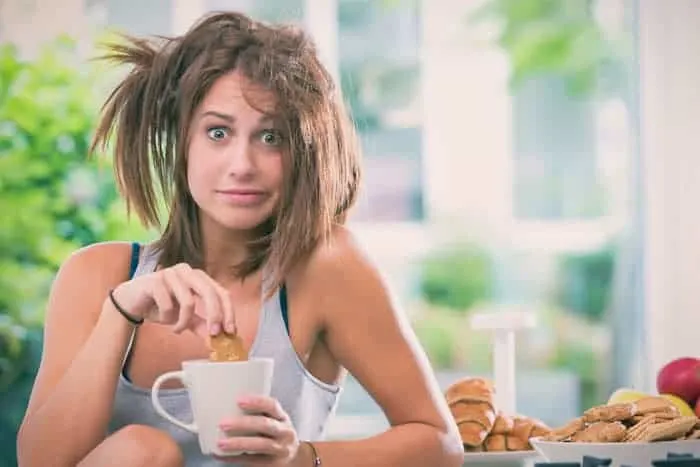 In reality, I managed to drink my coffee, brush my teeth and change into real clothes. In the time it took Cynthia to pick up my groceries…I managed to make myself presentable.
In my defense, I was preoccupied by the app. The Instacart shopper scans items as they go in the cart…and the app shows each item as it's ticked off my list. Then I got a text letting me know "refried beans with green chiles" is out of stock, but could I substitute with plain? Why sure Cynthia, go right ahead.
A mom could get used to this.
Tip Your Shopper
Next the app showed my shopper–who also is the delivery gal–on a real time map as she sped to my door. I was able to greet Cynthia as she walked up my driveway with the groceries. She was cheerful and as I tried to tip her, she pointed out that it wasn't really necessary (but thank you!) and that I could also tip from the app if that was easier.
I told her I didn't see a tip option, so she let me know it would come with the receipt. She also gave ME a tip: the 10% Instacart service fee goes straight to corporate and that you can actually reduce or wave it. She said a lot of people think it's the tip for your shopper, but it's not.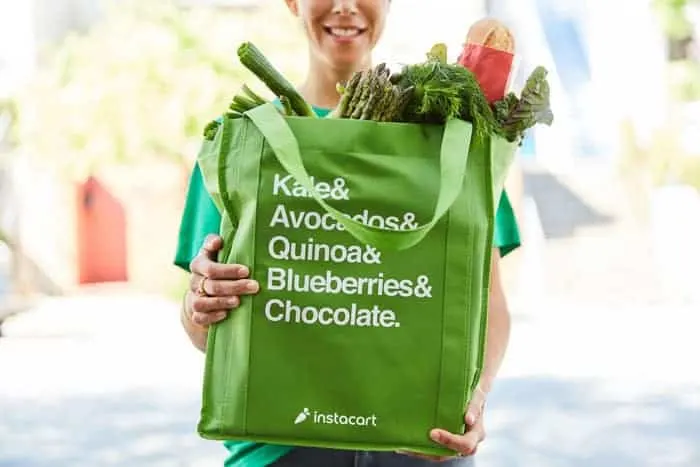 So What's This Gonna Cost Me?
We basically have two services in St. Louis for grocery pick up or delivery: Instacart and Walmart. Instacart handles Shop 'N Save, Schnucks, Whole Foods, Straub's and Costco. Sorry Dierberg's, you know I love your field fresh produce and cheerful clerks, but a delivery service stuck in the 90's isn't going to cut it in the 21st Century. (In case you didn't read my StlMag write up Dierberg's uses a personal shopper who takes orders over the phone. They don't even have a website.)

Hiring someone to get your groceries might sound like a huge luxury few can afford, but it might just save you money. If you're an impulse buyer or a recreational shopper like I am, sticking to a list could save you a lot of money. And besides…Walmart is free.
Walmart also doesn't deliver, but the convenience is pretty handy if you have the organizational skills to line up your groceries in advance. You go to the Walmart website, tell them where you are, put just about anything they sell in a virtual cart, pay online, schedule and boom. A clerk wheels your groceries out to your car. Your kids don't even have to unbuckle and best of all…Walmart will let you buy booze. Just make sure you have your ID for them to check.
Instacart is a 3rd party system, so they need to support themselves too. Their website says they offer "average in store prices" meaning they don't mark up the price, but you might miss out on a daily special. The stores are responsible for keeping Instacart's database up to date, and I honestly don't know how often they do that. Delivery fees range from $5.99 to $12.99. You can get the cheap rate by ordering more that $35 worth of goods and taking "regular delivery." The highest rate is if you order under $35 and want your stuff in an hour.
There's also a 10% service fee, but Instacart allows you to reduce it all the way to zero. Sources say this fee goes to corporate, not directly to the drivers/shoppers. Instacart says the fee is used to pay commission. It's a gray area in my book, because shouldn't Instacart just tell us how much it takes to deliver groceries??
So let's say $6 for same day delivery and a $5 tip is $11 bucks. That's not bad considering you didn't have to wander the aisles fighting with your kids over the merits of Cheesy Poofs.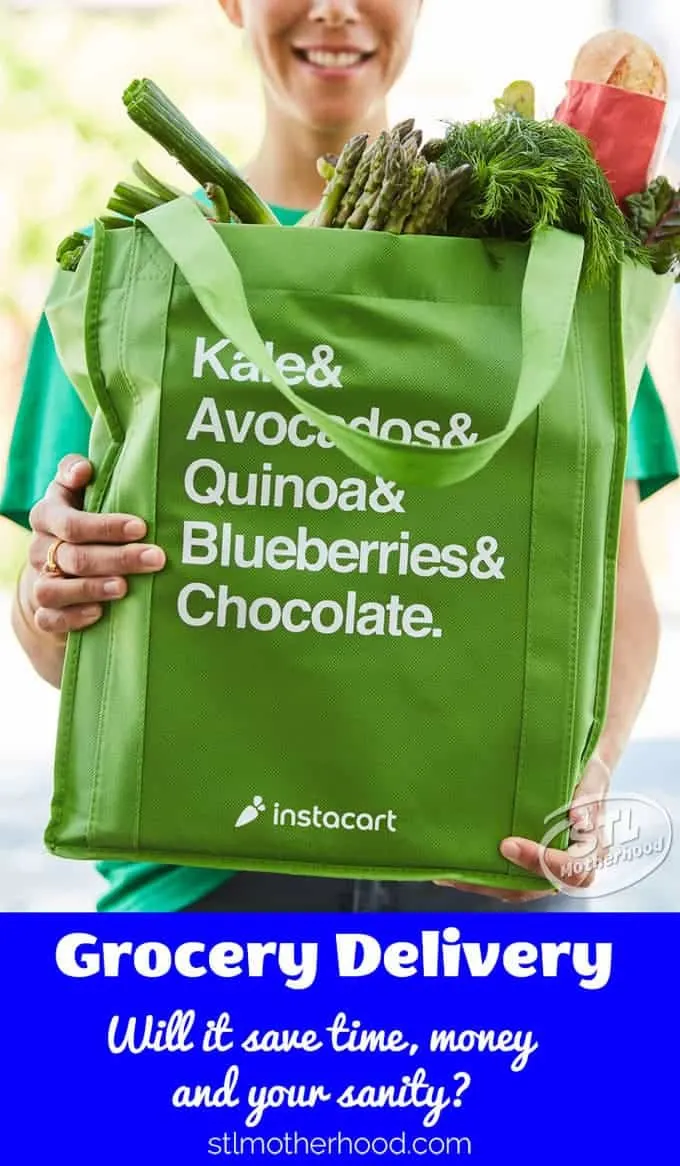 Bottom Line: If you're on a strict budget, stick with Walmart. They don't take coupons, but you know they'll be be cheaper than other stores on a lot of prices and the service is free. If your a regular at Schnucks or Whole Foods, then live a little and take the delivery option. Your time and sanity is well worth the extra luxury of not leaving the house.