Ask my boys what their favorite part of the holiday season is, and they'll say COOKIES! We've been baking up a storm around here! We've made armies of gingerbread, trays of Minecraft cookies and oodles of my Granny's classic pizzelles. We even made no bake cookies by jazzing up store bought cookies! All these wonderful cookies HAD to be shared, so I invited my friends over for a cookie exchange.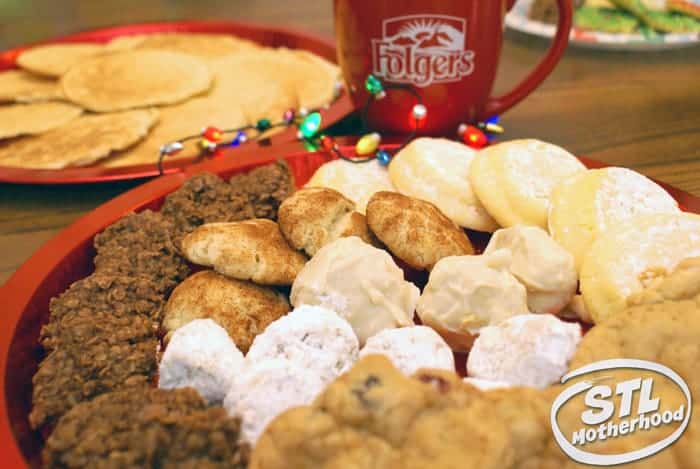 Heads up, this post is sponsored by Folgers Perfect Measures, because nothing goes better with cookies than perfect coffee. My opinions are always my own. Want to try some for yourself? Here's a coupon for $1.50 off Folgers Perfect Measures!
Tips for a Perfect Cookie Exchange
A cookie exchange is the perfect way turn a batch of yummy cookies into a VARIETY of cookies. Everyone bakes their favorite cookies, then trades them with friends. Easy peezy. I made pizzelles, an Italian cookie that you prepare in a device kinda like a waffle iron. My friends brought chocolate chip, wedding cookies, chocolate oatmeal, snickerdoodles, lemon balls and more!
I'd never hosted a cookie exchange before, though I remember doing them with my Girl Scout troop years ago. How hard can it be? Actually, it's pretty easy, so long as your party prep doesn't involve washing–and shrinking–all your curtains. But that's another story…
Invite your Friends
Give your friends plenty of time to prepare–at least a couple of weeks! No one wants to bake cookies at the last minute. If you're feeling formal, you can send out invitations and remind your guests to bring copies of their recipes for sharing as well. Personally, I did all my inviting via text–we're modern mommies!
Your party doesn't need to be very large! We kept our cookie exchange to a handful of best buds. We usually meet up at the gym to gossip and work off cookies while walking the track, but every now and then we need a change of pace. For your party, invite enough people to have a good variety of cookies!
You can tell we were having fun with our cookie exchange. I told my friends that I would need a few photos for a blog post, and one friend stole my camera and told me to get on the other side of the lens. I'll have to bring Carmella along on blog adventures more often!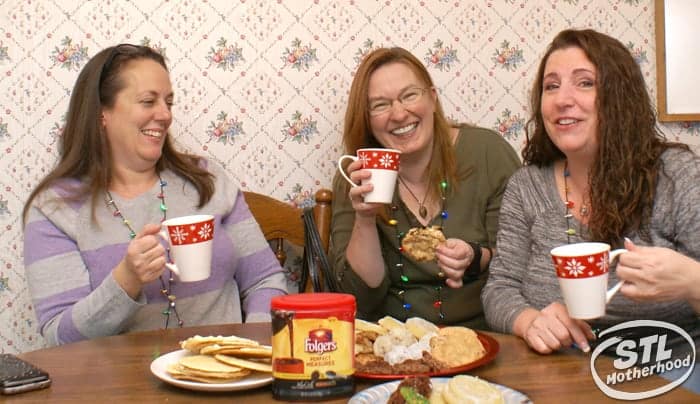 Find Your Favorite Cookie
You'll want to share a cookie that you're good at baking, not some experimental recipe that may not turn out well. (Of course, if you follow step one, no one will care what your cookies look like, so long as they taste good!) I decided to tackle my grandmother's pizzelle recipe out of nostalgia for Christmas Past. What I didn't remember is how hard it is to get that darn dough measured out uniformly. A lot of my cookies weren't exactly Pinterest Perfect, but the boys didn't seem to mind eating the "mistakes" before the party. I probably should have just made sugar cookies, but I was trying to impress my friends. Silly me.
A note on quantity: we went crazy and baked a dozen cookies for each friend to take home, which was a ton of cookies to bake. If you're inviting a large number of people you can just ask for a dozen to share and a dozen to sample. After all, someone is going to need to eat all those cookies…but all of us have teenage boys at home, so that really wasn't a problem.
Cookie Trays
You'll want to show off all those yummy cookies, so get a few holiday themed trays for display! You don't need to spend a lot on pretty trays–I found some awesome ones for a dollar at a discount shop. We used the same trays later for Mitch's Cub Scout Cookie Exchange!
When your guests arrive you can use the trays to display all the cookies on a table–at least the ones you plan on eating right away.
Paper Plates and Napkins
No one wants to do the dishes after baking all those cookies! So go ahead and buy some festive paper plates, napkins and maybe even a table cloth.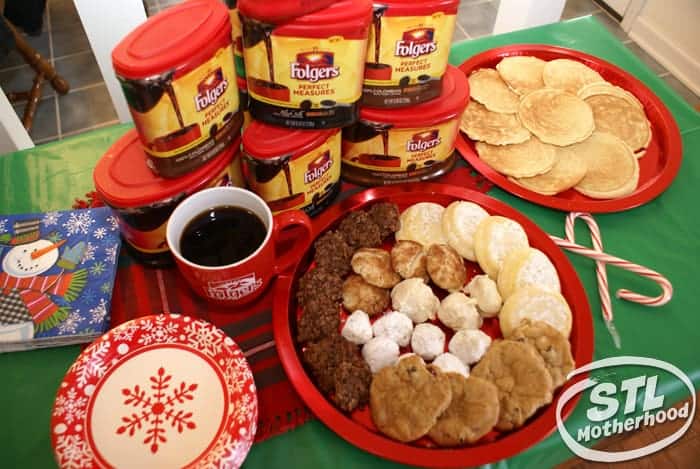 Bags or Tins?
You'll want to make sure all those cookies make it home in one piece…and still remember what each cookie is! I collected a pile of inexpensive cookie tins for my friends to pack up their cookies (you can find these at Walmart and dollar stores). My friends all brought their cookies pre-packaged in zip bags, so we just needed to swap bags. Bonus points: print your recipe on a card to send home with the other bakers!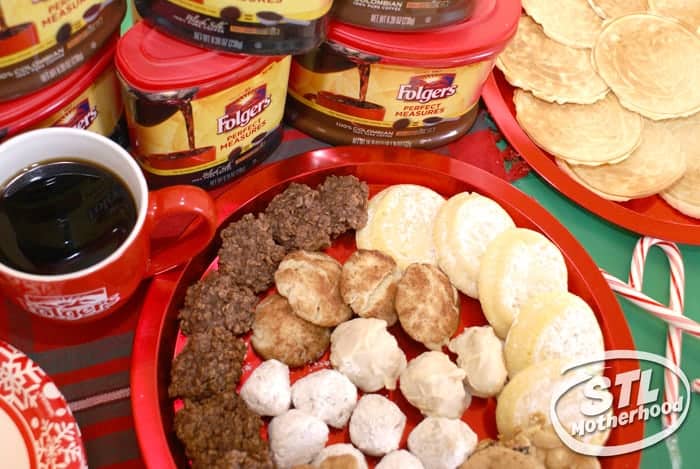 Beverages
You can't have a cookie exchange without sampling the cookies, so remember to provide a variety of beverages for your guests. We had eggnog, soda and coffee, of course! Folgers sent us a variety of Perfect Measures coffee to try out with our cookies. Perfect Measures are just that–pre-measured scoops of coffee so that every pot of coffee is just the way you like it, perfect! Now if they just made a perfect measure of my grandmother's pizzelles recipe, I'd be set.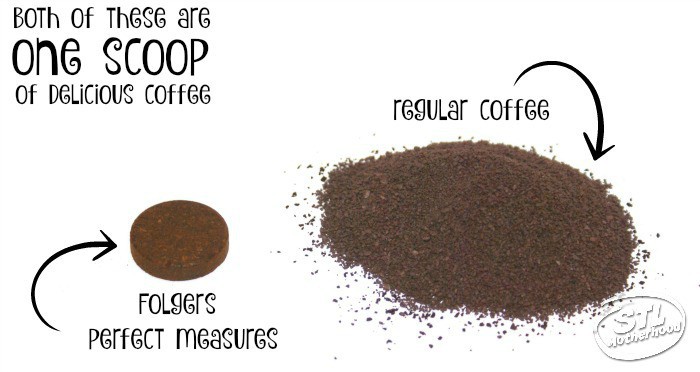 Folgers Perfect Measures are our little secret for now… They are only available in St. Louis, Kansas City and Indianapolis. Folgers has plans to roll this out nationwide in the near future, so everyone can have a perfect cup! Great news for my St. Louis readers: you can find Perfect Measures just about anywhere–I've spotted them in Dierbergs, Schnucks, Target and Walmart. They come in all the flavors too. Our favorite is Black Silk, but you can also get Classic Roast, Breakfast Blend, Colombian and Decaf.
Folgers would love it if you try their new Perfect Measures coffee tabs–so here's a $1.50 off Perfect Measures just for you!!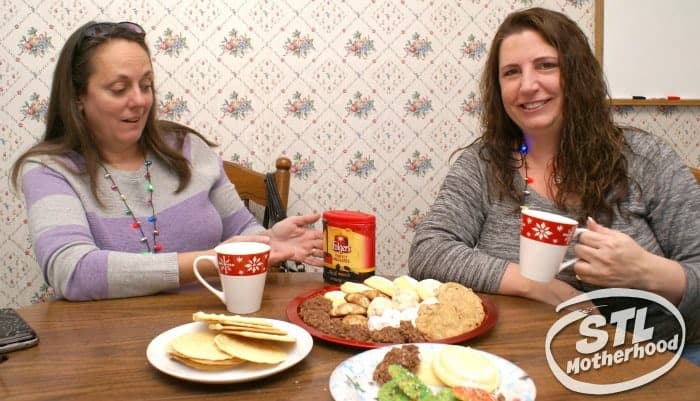 I had to show off the Perfect Measures to my friends, who hadn't seen coffee tabs yet. It is, after all, a pretty new concept. We're not exactly how Folgers does it, but the tabs contain nothing but 100% coffee.