The holiday season is busy enough as it is without adding extra baking to the mix. Save yourself some time and hassle with these no bake cookie hacks!
My mother-in-law is one of those ladies who bakes up a storm for the holidays. Not only will she tackle a Christmas turkey with all the fixings, but she'll bake hundreds of cookies! Every holiday she'll fill a spare refrigerator full of cookies. Chocolate chips, sugar cookies, dainty things sprinkled with powder sugar, old family recipes. I'm sure she has the extra fridge just to store cookies!
I'm not that enthusiastic about baking, but I do enjoy whipping up a batch of sugar cookies with the boys, and my teenage son is quite the Master Chef when it comes to chocolate chips…if I can drag him away from the Xbox long enough.
This year I'm having a cookie exchange with some friends, so I've been brushing up on my mad baking skillz. So far, I've thrown out a bowl of bad cookie dough, had a batch of home made icing go wonky and cursed at trays of Minecraft creepers. (They tasted better than they looked, so that's something.) Our gingerbread men were excellent, but my helper kept making "icing mistakes" so he could eat them now instead of later.
All these baking fails got me thinking about semi-home made cookie hacks. We start with store bought cookies and gussy them up with icing and sprinkles! This is quick, festive and you don't even have to turn your oven on! The kids get to have a tray of assorted cookies at Christmas, and I get my sanity back.
No Bake Cookie Hacks
The first thing you need is delicious–and plain–store bought cookies. I studied the cookie aisle and found four different kinds of cookies that work perfect for hacking: Grasshoppers, Fudge covered Coconut Dreams, Sandies (all Keebler) and Nabisco Lorna Doones. The Sandies and Lorna Doones are plain shortbread cookies, Grasshoppers and Coconut Dreams are Girl Scout cookie copy cats.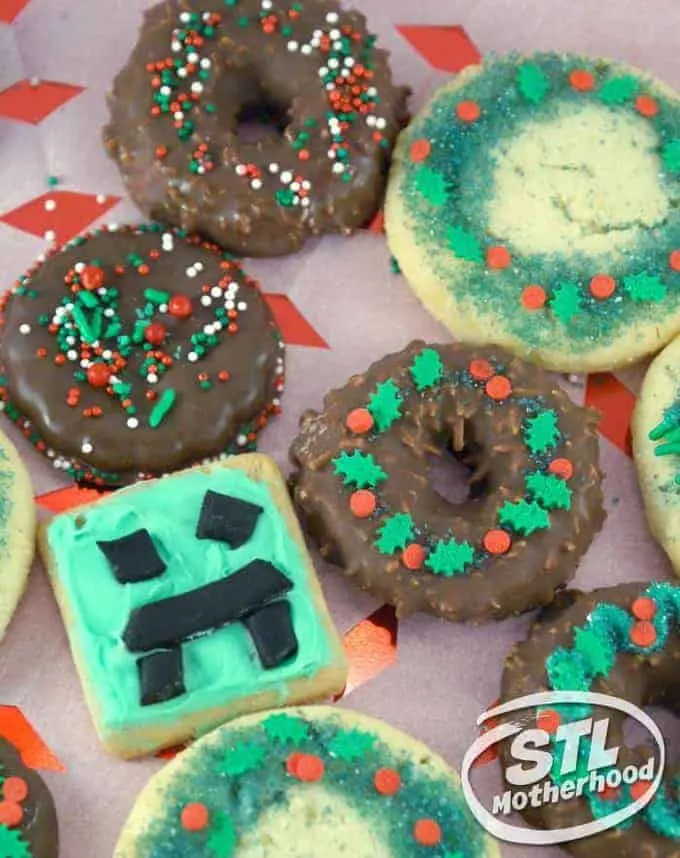 You'll also need:
Frosting (store bought and green is perfect)
Light corn syrup
Assortment of holiday sprinkles
Green sugar
Black fondant (for Minecraft cookies)
Food safe paint brush
Plastic sandwich bag
These are so simple! Basically, the frosting or corn syrup are used as a glue for sprinkles!

For Christmas wreath cookies, paint corn syrup in a circle on the cookie — or the whole thing on Coconut Dreams, which are already wreath shaped. Add holly shaped or green and red sprinkles! Dust with green sugar to coat the rest of the corn syrup so the cookie is not sticky. Tap the extra sprinkles off and place on a festive cookie tray!
For frosting decorated cookies, place a glob of frosting in a sandwich bag then cut a tiny (TINY!!) hole in one corner. Now you can pipe the frosting on to the cookie. Go around the edge for a wreath, or make stripe patterns and call it an ornament! Sprinkle the frosting with colorful sprinkles while it's still wet, and gently tap any bigger sprinkles into the frosting to make sure it sticks.
Minecraft Creepers: Use the square Lorna Doones as a base. Spread evenly with green frosting. Roll out a thin layer of black fondant and cut out small squares with knife. Place the squares on the frosted cookie in a creeper face pattern.
PLEASE NOTE: Learn from my mistakes people! At first I wanted to use chocolate covered cookies, melt them a little and THEN stick the sprinkles on. It sorta worked, but the sprinkles didn't stay put and you have a very small window of opportunity while the icing is melty but not falling totally off the cookie. The syrup trick totally works, and you don't have to rush.
Feel like a laugh? Watch my Periscope from this afternoon when I try to decorate cookies for streaming video.
This post is part of the 12 Days of Blogmas Giveaway!

12 Days of Blogmas Giveaway
We're giving away a $230 Amazon gift card…woo hoo!!! H
osted by Julie from
Girl on the Move Blog
and Joanna from
Motherhood & Merlot
, so head over to their blogs to check out a linky party and see ALL the great holiday posts!