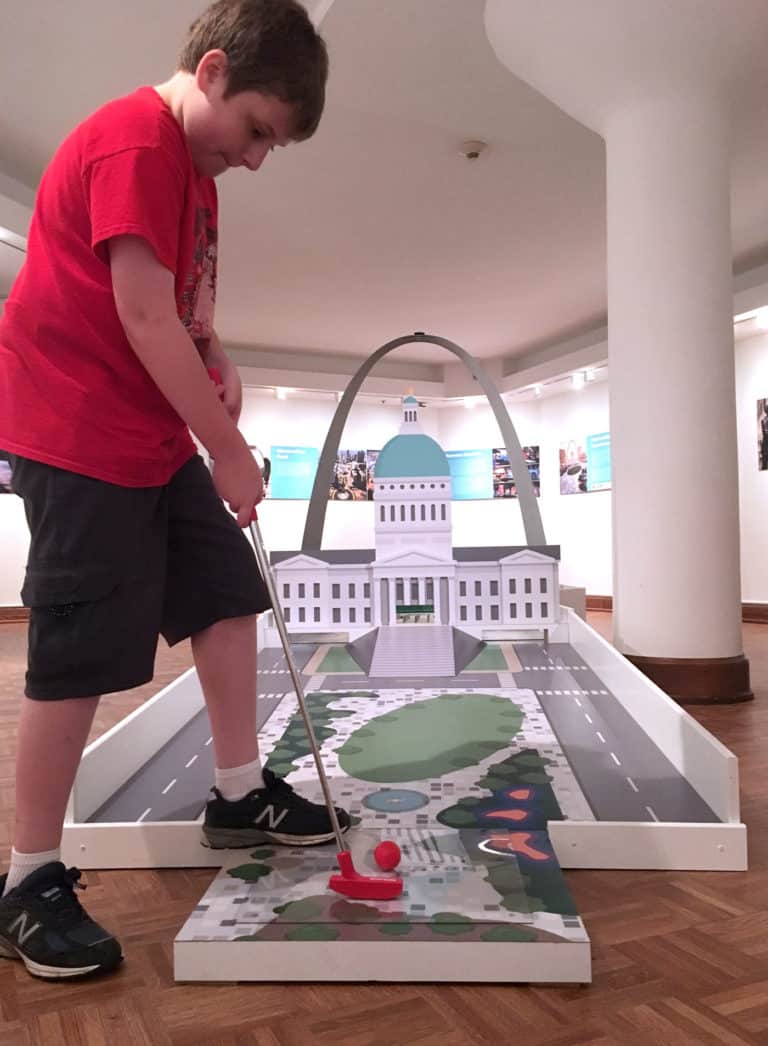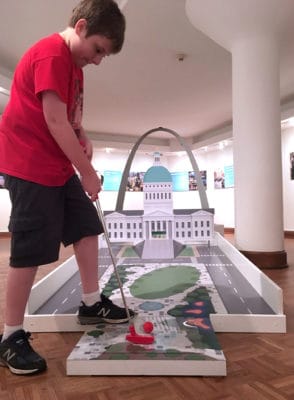 Last year the folks at the Sheldon Art Galleries did something completely different. They made a one-of-a-kind interactive art display called Golf the Galleries!
Mitch and I were invited to a media sneak peek of last year's exhibit and we were blown away! This is the perfect mashup of art and classic summer fun–a mini golf course designed entirely by local artists! And bonus: it's indoors, which is totally awesome for those sweltering St. Louis summers.
(Golf the Galleries will open for the second season June 1, 2019)
Looking for more summer fun? How about 57 Splash Pads in the STL Metro?
Golf the Galleries
Like 2018, there will again be Nine Holes of golf in Golf the Galleries, each designed by a local artist or architect firm. Here's what we found last year while playing through nine holes of St. Louis art.
Warped Tour
This crazy hole was designed by Andy VanMeter and Cannon Design–the architect firm currently overhauling the Power House over by Union Station. They normally build slightly bigger things like hospitals and schools, so this was probably a fun project for them!
Distortion
Arcturis put together an optical illusion mini golf hole! It's harder than you might think. Who's Arcturis? Oh, just a little firm that designed the GROW building at the St. Louis Science Center.
Mate in Four
Can you tell this hole is from the World Chess Hall of Fame? Yep, you can golf through a chess puzzle! Take time to read the walls too, you might pick up some chess tips.
Alice
This Alice in Wonderland themed hole was designed by Natalie Pinson, a local interior designer. Can you believe that most of this installation was made from recycled bits of other projects? Look closely and you'll see dozens of fabric flowers, a fabric covered tree and other found objects. This one has TONS of details!
Over the Moonbow
This black light hole was Mitch's favorite! It's set up by local artists Ashley Kaemph and Chris Goodin who recommend you wear something with splashes of white so you'll light up too!
Serengeti Park
I was looking forward to this part of the exhibit because it's made by cardboard artist extraordinaire Justin King. During Spring Break we rushed to South Grand to check out his (short lived) cardboard duck. Here you can catch a selfie with a monkey and golf under an elephant. Just don't let your kids climb the display–it's only cardboard after all.
The Gateway Green — A Hole in One for STL
Golf through the new Gateway Arch National Park! This hole was set up by Switch, who seem to know a little something about our favorite landmark. You'll play this hole from Kiener Plaza, through the Old Courthouse and then into the new entrance to the Arch for a hole in one!
Anthropocentric Landscape
Ok, I dropped the ball here and didn't get a good photo of the packing peanut volcano metaphor for the environment. I'm not sure it was working when we played through — you're supposed to get an eruption of packing peanuts when you get a hole in one. It's by local artist B.J. Vogt. I'll see if I can get a nice Boomerang when we go back with friends!
Swimming with the Houska Fishes
The final hole is super bright and colorful obstetrical course of whimsical pop-art fish and flowers by local artist Charles Houska. This one is sure to appeal to the kids!
2019 Exhibit Preview
Designers are getting their portions of the golf course ready right now! You can expect to see:
Decisions, Decisions by Andy VanMater, Cannon Design. (returning artist) This hole will feature a mechanical elevator to raise the ball!
Lollipop Lane by The Wilson School in Clayton. Prepare yourself for a hole designed by a 6th grader! Every year kids from this school do shoebox sized golf courses, but this year one student was picked to make a full sized design.
36.9, -89.6 by Kelley Van Dyck Murphy. This one will represent a farmscape in the form of carpet squares.
Kraken's Cove by Justin King. (returning artist) Golf the KRAKEN. Need we say more?
The Little Foxes by Ryan Marshall. Golf the Fox Theater with a hole designed by a none other than a theater scene designer and puppeteer. This should be awesome!
Pinwheel Dreamland by D. Lohr Barkley and Elisa Sugar. This hole will feature pinwheels that will activate when you sink the ball.
Pixel by Christner, Inc. A team of architects are designing this hole to look like a digital golf course coming to life.
The Mat, the Tapestry and the Magic Carpet, by Constance Vale. A Professor of Architecture will wow us with a spatial experience that takes the ball in very new directions.
Perpetual Check by the World Chess Hall of Fame. (returning artist) We'll get a whole new chess themed display from the experts.
Times and Tickets 2019
The exhibit opens for play on June 1 at 10 am and will stay open until August 11.
Tickets are $10 for adults and $6 for kids, with a $2 discount for Sheldon Members. Only the kids want to play? Viewing the exhibit is free, you only pay if you want to play.
When Can I play?
Mon-Fri: Noon to 8pm (last tee time at 7pm)
Saturday: 10am to 3pm (last tee time at 2pm)
Sunday: 11am to 4 pm (last tee time at 3pm)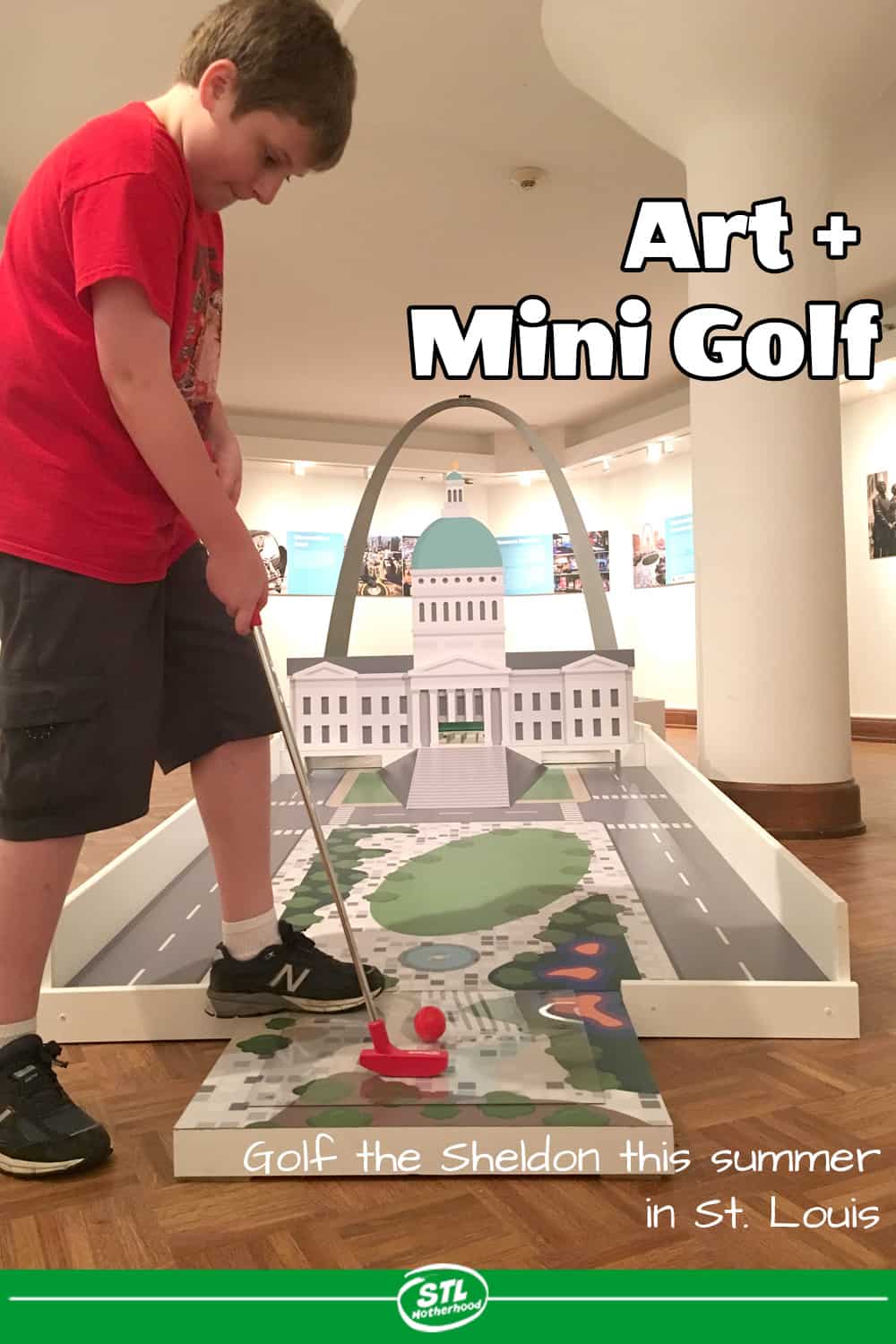 Where's the Sheldon?
The Sheldon Concert Hall and Galleries is located at 3648 Washington Boulevard, St. Louis, 63108, in the Grand Center Arts District, near the Contemporary Art Museum, The Fox and Powell Hall. Parking on the Sheldon's lot is FREE when there are no concerts.
This is part of our Summer Bucket List!
>>> Click here for More Fun Ideas! <<<