I've want to share this cute little popsicle stick flag that Ryan did years ago. It still hangs on my bulletin board today!
Popsicle Sticks — or crafts sticks — are the perfect crafting medium for so many kid crafts! We have sticks in all sizes, but this craft uses average sized sticks.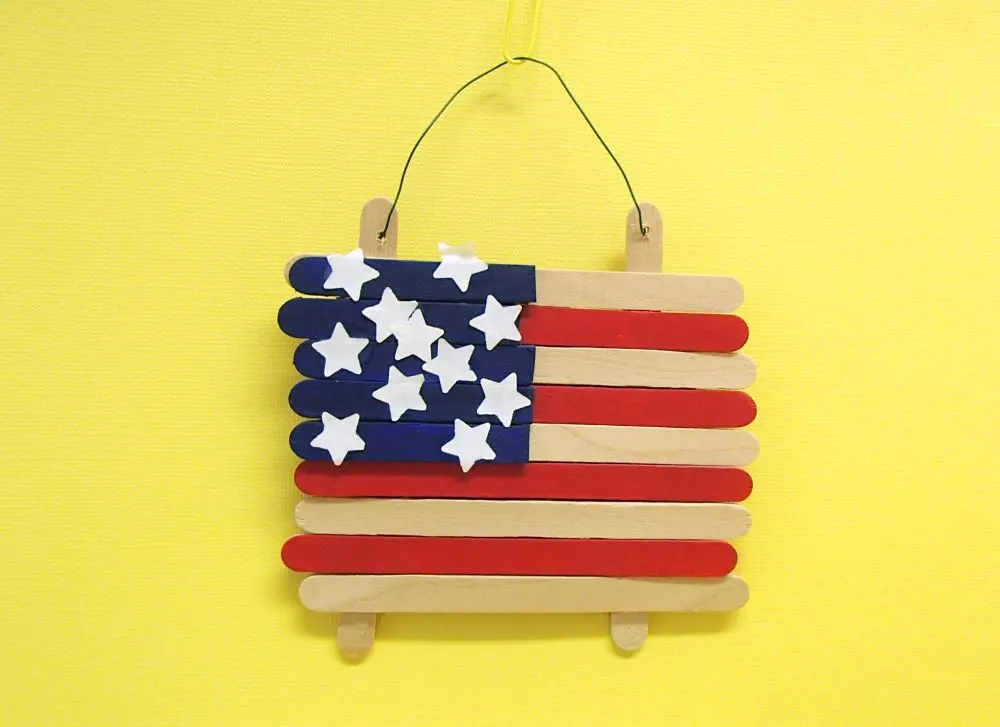 This flag was originally done by a preschooler, but you can level it up to any age by allowing your young crafter do more of the prep work.
For example, when done for a group of preschoolers, we painted the sticks in advance and just let them glue it together. Older kids will want to do more of their own painting! Older kids can also use a low-temp glue gun to assemble their craft.
I don't have any photos of my preschool kiddo making this first popsicle flag. So I asked Mitch to make a new one for the blog! Mitch was seven year old when he made this version, it's a little more sophisticated.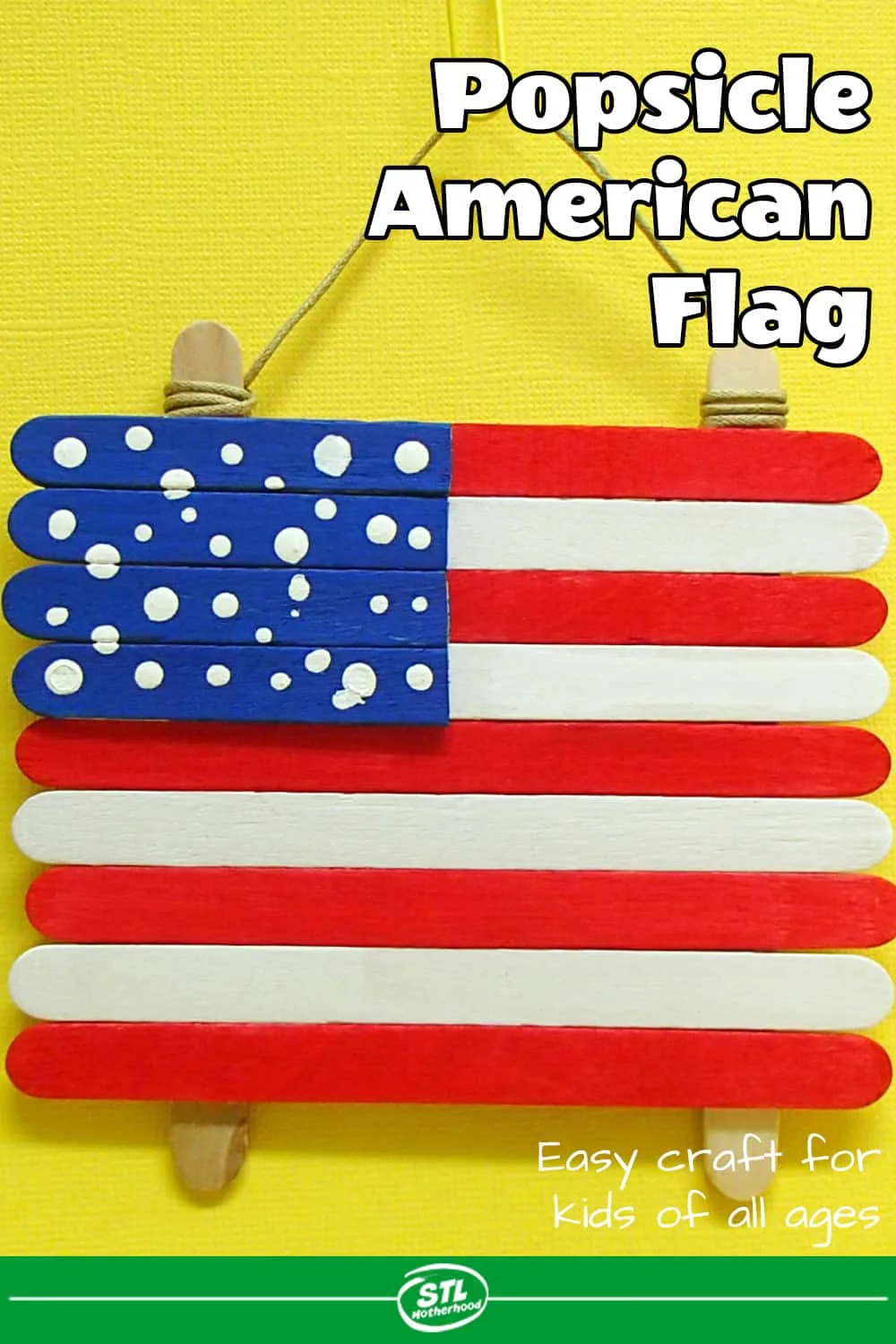 Popsicle Stick American Flag Craft
The one Ryan made as a preschooler was super simple, and was done as a craft for a dozen kids at a MOMS Club meeting.
If you have no patience for drying paint, you can also color the sticks with markers, or maybe even crayons! I'm thinking the Color Slicks we have from Crayola would do a good job.
The directions below are for the "polka dot" stars, but you can still use star shaped stickers if you have them!
You can also opt to leave the white sticks unpainted for a more rustic look.
*Note on paint brushes: I think all kids should have "decent" paint brushes. Those crappy plastic bristle brushes are horrible to control. You'll still want cheaper brushes–in case they press too hard or forget to rinse–and brushes with plastic handles are great if you "forget" them in a glass of water.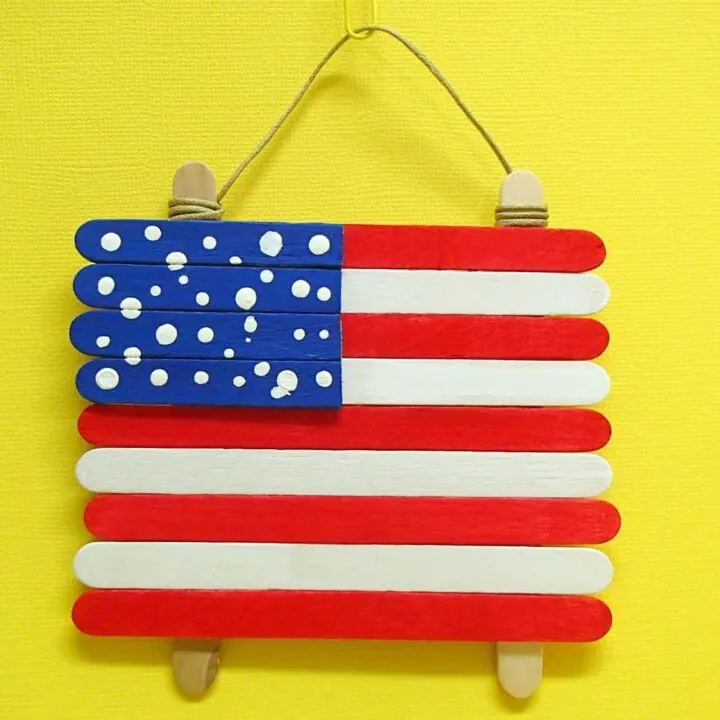 American Popsicle Flag Craft
An adorable flag craft you'll want to keep for years!
Materials
14 Popsicle style craft sticks
Red, White and Blue Paint
Elmer's Glue
Craft Wire or string
Tools
Craft or Utility Knife
Paint Brushes
Instructions
Cut 3 sticks in half (for the field of blue stars). Lightly score the stick--don't try to cut it all at once, or it might split. Should be done by a grown up.
Paint the half sticks blue-you'll only need 5 half sticks to make it like we did.
Paint four sticks red.
Paint five sticks white.

After the sticks are dry, start a frame with two vertical sticks. Place the red and white sticks on horizontally. Use white glue to secure them.
Layer on five blues sticks (remember, these should be cut in half) in the corner. Glue in place.
Add white dots to represent stars. Mitch dipped the handle of his brush in white paint to make neat little dots.
Wrap a piece of string around the top of the vertical sticks to make a hanger. Secure string in place with glue.
Notes
A real flag would have 13 stripes, but it loses the rectangular shape if you try that with Popsicle sticks. Besides, there's no way we're getting 50 stars on this sucker either. It's a craft, not something we're running up the flag pole.
The mom who set up this craft when we did it as a group had drilled holes in the vertical Popsicle sticks first. I can not for the life of me remember how she did that. Perhaps a Dremel tool?
If you can't think of a way to put holes in it either, I would suggest skipping the wire hanger an gluing a piece of twine or yarn to the back. Or you can glue a strong magnet to the back. Go ahead and get creative!