Grab your beads and get ready to party with the butterflies at Morpho Mardi Gras!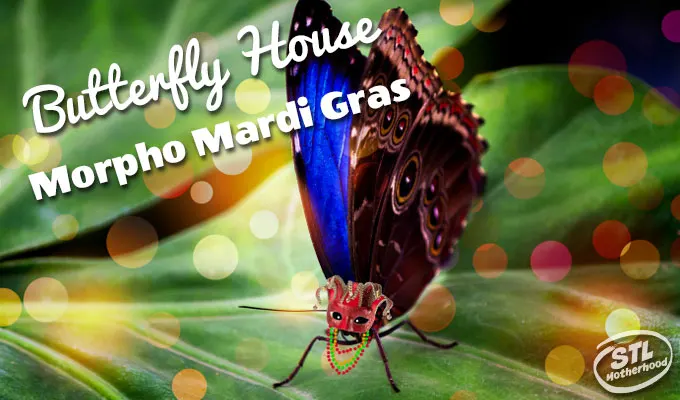 For as long as I can remember the Butterfly House has been hosting March Morpho Mania. The event–where they release a few thousand extra blue morpho butterflies into the conservatory–has been wildly successful. So successful that they decided to extend it! Now we get two months of Mardi Gras morpho butterflies from February 1 to March 31.
For the Kids
There's always something extra for the kids, and this year they get to make their own Mardi Gras masks!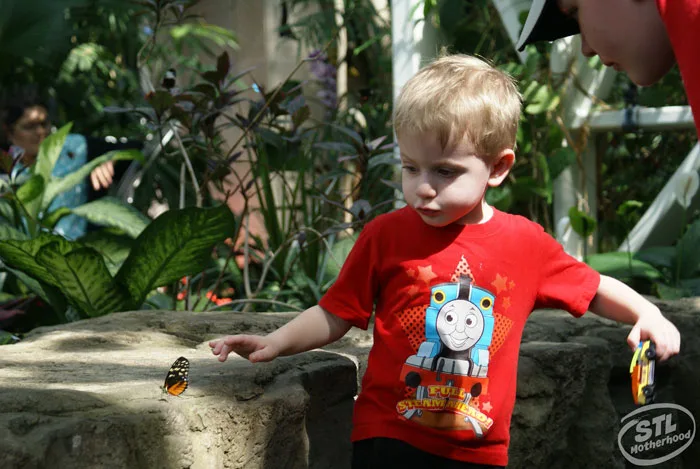 Butterfly Adoptions
I'm not sure if they're still doing butterfly adoptions this year, but I will check before Mardi Gras season hits!
Ok, this isn't cheap, but they are now offering Butterfly Adoptions! There are three price levels:
$50: You'll get an adoption certificate, a plush butterfly to take home and 2 tickets to come back and visit again.
$75: You'll get the adoption certificate, a plush butterfly to take home and 2 tickets. AND you get to release a REAL butterfly into the conservatory.
$30: They'll put a newly hatched butterfly in a mesh cage and you can release it into the conservatory.
(Check out photos of our butterfly release here!)
For the Parents
Mark your calendar for Friday Night Flights, a special adult happy hour. There will be live jazz, food and wine! It's only two nights, so you better hurry!
Tips for Visiting the Butterfly House
The Butterfly House does NOT allow strollers indoors, but they provide a parking corral by the entrance.
The conservatory is kept at a tropical 85 degrees with heaps of humidity. It's like stepping into a St. Louis summer, so rethink the heavy sweater.
There's a coat closet in the exhibit hall. Use it.
Bringing a "real" camera? The wild winter temperature swings from the car to the conservatory can fog up your camera. Keep it as warm–tucked inside your coat–while walking from the parking lot, or you'll spend forever waiting for it to acclimate.
Morph Mardi Gras Hours and Admission
The Butterfly House is open from 10am to 4pm, but they will still be closed on Mondays like normal. Tickets are $8 for adults, $5 for kids & seniors and free for little ones under 2. If you're a member of the Missouri Botanical Garden, congrats–you get in free.
St. Louis City/County residents enjoy free admission on the first Tuesday of every month from 10 a.m. – 12 noon.
You can get a $1 off coupon from Drury Hotels here.
Where is the Butterfly House??
The Butterfly House is located inside Faust Park in Chesterfield at 15189 Olive Blvd. It's not far from the Chesterfield Mall.
St. Louis Carousel
Save time to visit the carousel next door–it's almost a hundred years old! Rides are just $2.