The Butterfly House in Chesterfield is one of the top children's attractions in the metro St. Louis area. It's home to a couple thousand butterflies plus a few bugs and spiders. Don't worry, the bugs are behind glass! But the butterflies are fluttering loose in an 8,000 square-foot green house for you and your kids to explore.
After visiting the Butterfly House, you'll definitely want to make your own paper pet butterfly!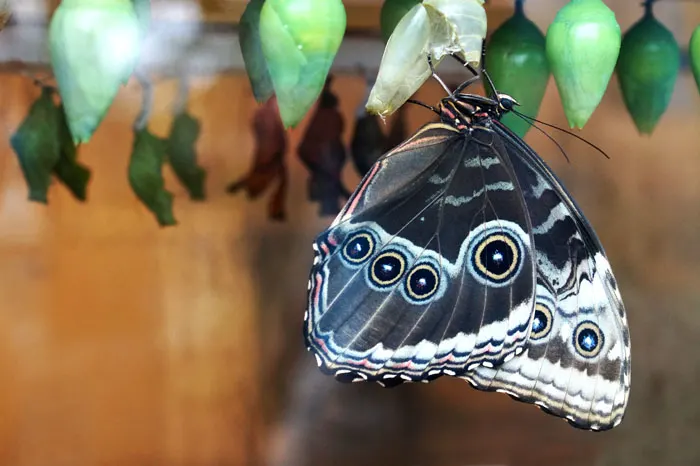 The Butterfly House is in Faust Park
The Butterfly House is run by the Missouri Botanical Garden but it's located in St. Louis County's Faust Park. Also in Faust Park is a 100+ year old carousel your kids can ride, a historical village and one really nice playground. Plan to stick around for a while and maybe pack a picnic!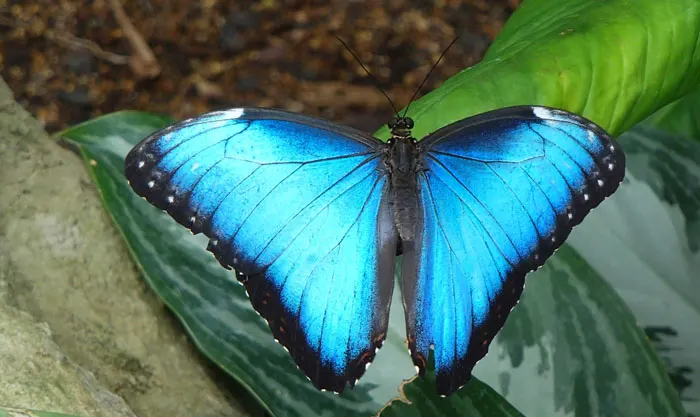 When you go visit please remember that the Butterfly House is a tropical wonderland. All. Year. Long. Walking into the butterfly's conservatory is like stepping into a blast of muggy St. Louis summer! You might wilt, but the butterflies love it!
What's to see at The Butterfly House?
The Butterfly House is part bug zoo and part learning museum. It's great for all ages of kids!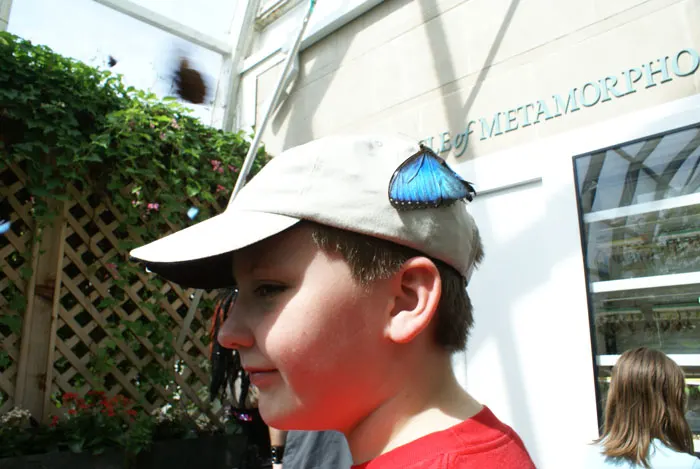 The Butterfly House is a Tropical 85 Degrees year round!
The main feature is the HUGE tropical conservatory–a green house for butterflies! It's home to about 2000 free flying butterflies at any given time, from up to 80 species around the world. Since most butterflies live in tropical climates, the conservatory is kept at a muggy 85 degrees.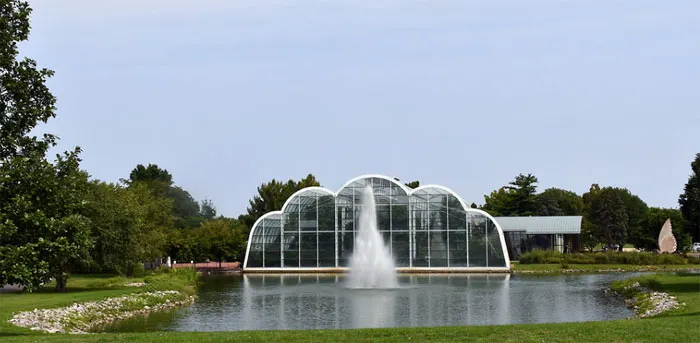 Inside this fabulous green house is 150 tropical plants, a waterfall and pool and lots of butterfly feeding stations. The paths can be narrow and some are made of rough stones.
Note on Wheelchairs and Strollers
The Butterfly House does NOT permit strollers inside the conservatory–in fact, they'd prefer you park your stroller in the provided parking area outside the doors. The place is just a bit too tight to accommodate all those stroller babies and there's a concern that butterflies could hide in a stroller and sneak out!
Wheelchairs, on the other hand, are perfectly acceptable and the whole facility is handicap accessible. You can even borrow a wheelchair if you like.
Exhibit Hall & Theater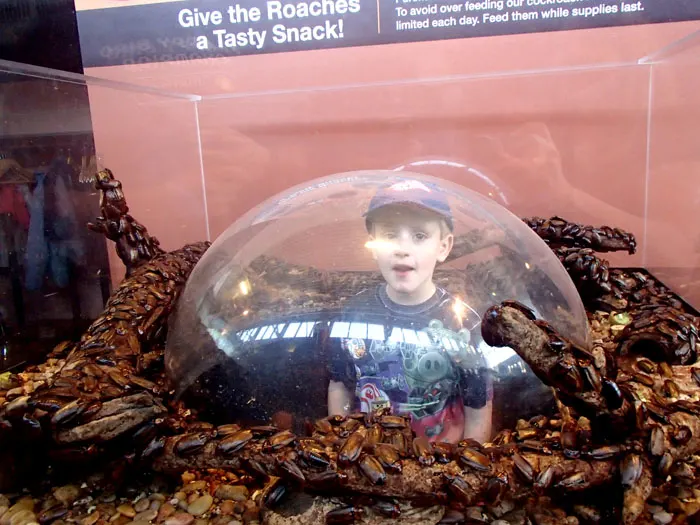 The main indoor space is an exhibit area with live bugs on display (behind glass), information on butterflies, a learning lab with a cozy reading nook and a theater that constantly runs a film called The Butterfly Effect. And don't miss the immersive dome display of Orange-headed Cockroaches that your kids can crawl into and get a bugs eye view of giant roaches. Ewwwww!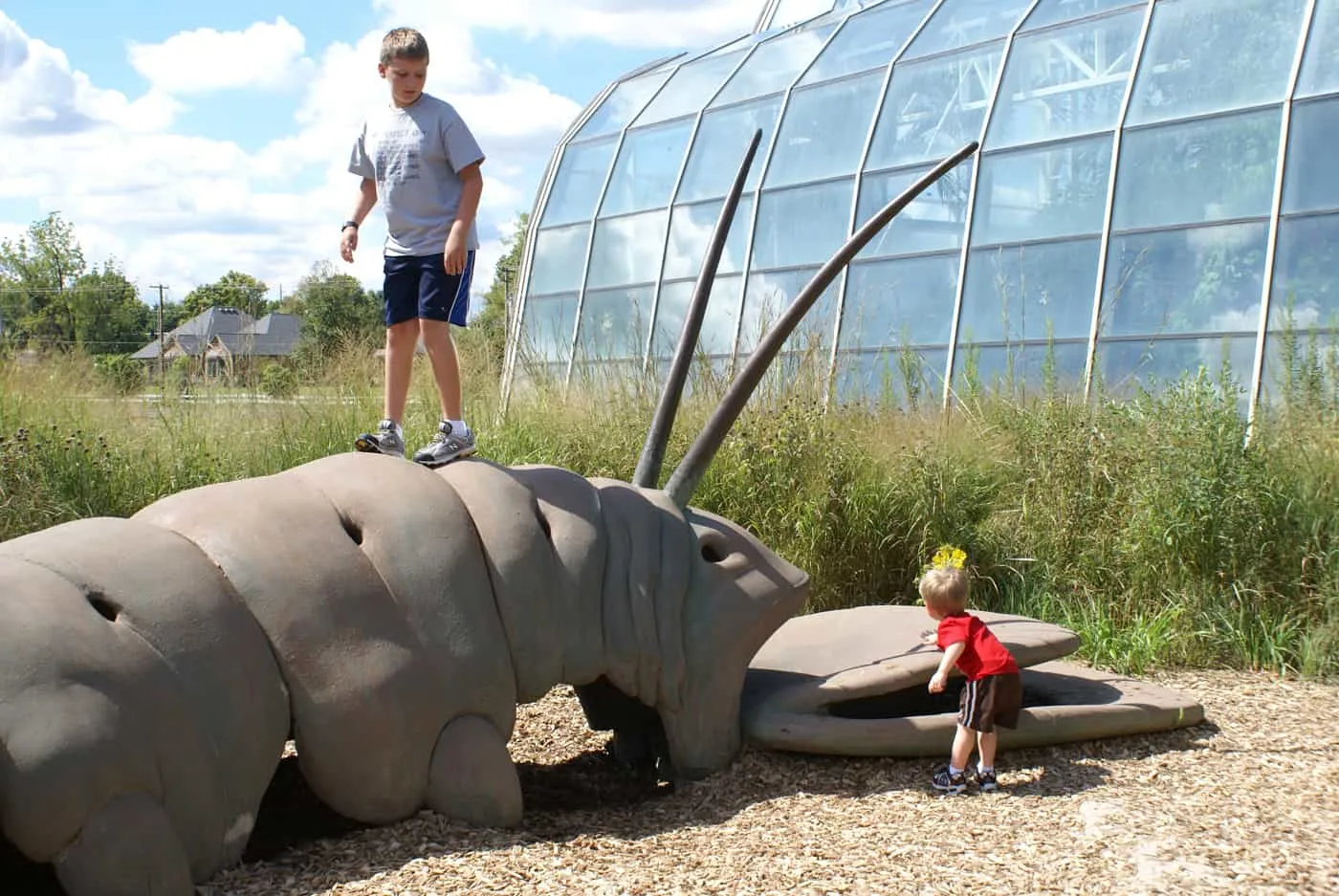 Native Butterfly Garden and Sculptures
There's more to see OUTSIDE the Butterfly House! When you walk up to the building you'll notice two enormous sculptures–The Mysterious Monarch and Lopatapillar. Both were made for the Butterfly House by St. Louis artist (and City Museum founder) Bob Cassilly. Like all of Cassilly's work, they're made for kids to explore, so go ahead and let them climb the caterpillar and pose by the butterfly for some awesome photos.
Behind main building is a Native Butterfly Garden to explore with lots of examples of butterfly friendly plants you can put in your own garden. You'll also find the Nature T.R.E.K. sensory trail filled with shapes, colors, smells and textures for kids to apply all five senses.
Tips for Visiting the Butterfly House
The Butterfly House does NOT allow strollers indoors, but they provide a parking corral by the entrance.
The conservatory is kept at a tropical 85 degrees with heaps of humidity. It's like stepping into a St. Louis summer, so rethink the heavy sweater.
There's a coat closet in the exhibit hall. Use it.
Bringing a "real" camera in the winter? Wild temperature swings from the car to the conservatory can fog up your camera. Keep it as warm–tucked inside your coat–while walking from the parking lot, or you'll spend forever waiting for it to acclimate. Camera phones don't seem to have the same problem.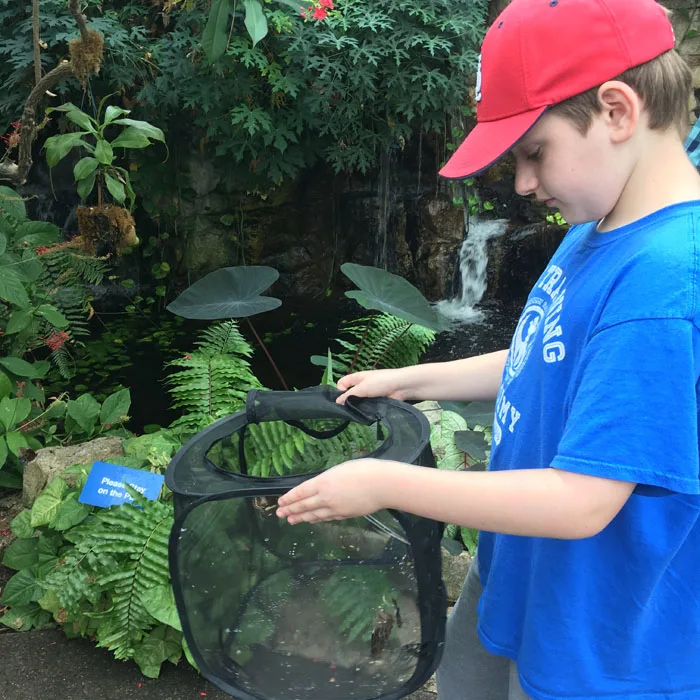 Butterfly House Birthday Parties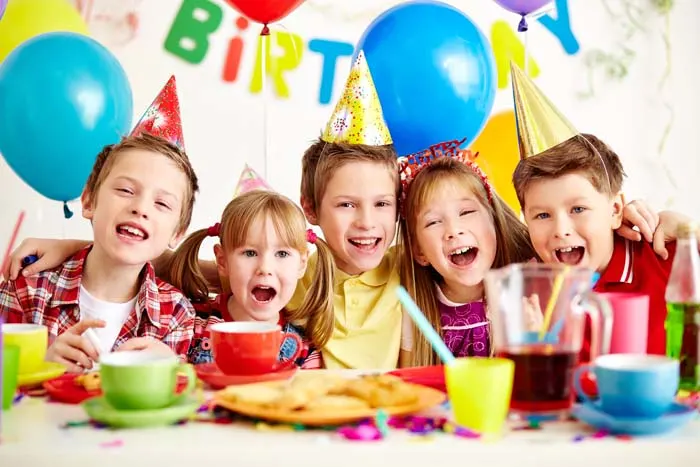 Did you know you can host a one-of-a-kind kids birthday party at the Butterfly House? Currently there's three themes: Bug Safari, Silly Sprouts and Fairy Flutterbye, all appropriate for kids up to 8 years old. You'll get admission to the Butterfly House for your guests, an hour of staff led activities, a cookie to decorate and a juice box for all the kids, plus a special gift for the birthday kid. Oh, and they include all your paper products, so just need to show up and have fun! Click here to see more details on having your kid's next party at the Butterfly House.
Earn Scout Badges & Patches
Got scouts? The Butterfly House can help your kids earn both Girl and Cub Scout badges! They have programs to cover the Daisy Clover's Petal, Brownie Bug Badge, Junior Gardener Badge, Tiger Stories in Shapes, Bear's Critter Care and Webelo's Into the Wild achievements.

Butterfly School
If you want to help your kid learn more about butterflies, or if you're a homeschooler or teacher planning a field trip, check out the Butterfly School! It's a free online resource from the Butterfly House with all kinds of science lessons and even art projects.
Butterfly House Hours and Tickets
The Butterfly House is open Tuesday to Sunday from 10am to 4pm. Last admission is at 3:30 (but you'll want more time than that!) They're also open on some holiday Mondays: Labor Day, President's Day, and Memorial Day.
Check here for current hours and holiday closings at the Butterfly House website.
Admission is $8 for adults, $5 for kids under 12 and free for kids under 2. Seniors get a $1 discount. Missouri Botanical Garden members get in free, and Drury Hotel offers a coupon here.
Love to be Local: St. Louis City and County residents can get free admission on the first Tuesday of every month from 10 a.m. – 12 noon. Proof of residency is required–so bring your driver's license in to show.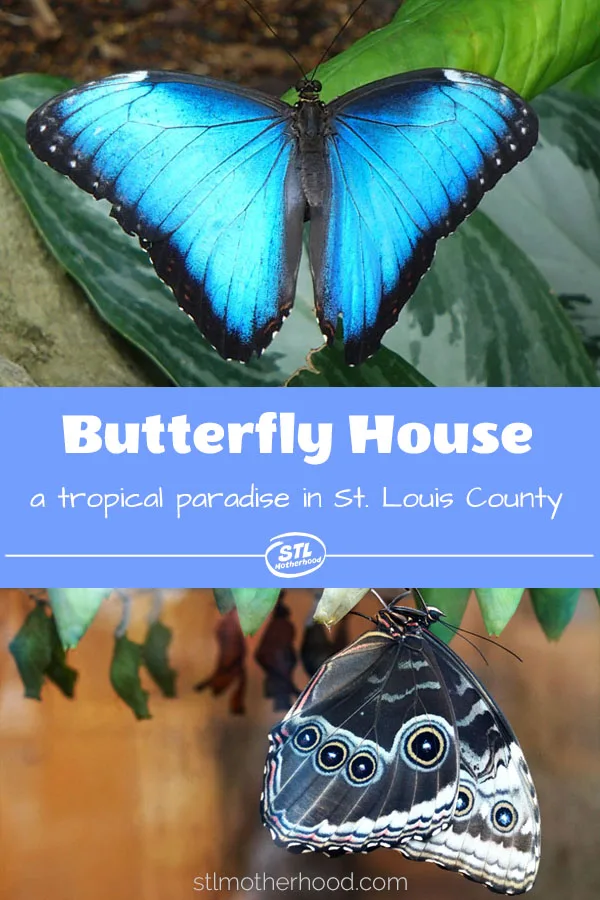 This is part of our Summer Bucket List!
>>> Click here for More Fun Ideas! <<<