Sometimes you need to label your stuff, or more to the point, your kid's stuff. Otherwise you're never seeing it again. Like that jacket that never came back from camp or the lunch box that disappeared at school.
If only there was a way to put your kid's name on these things….hmmmm.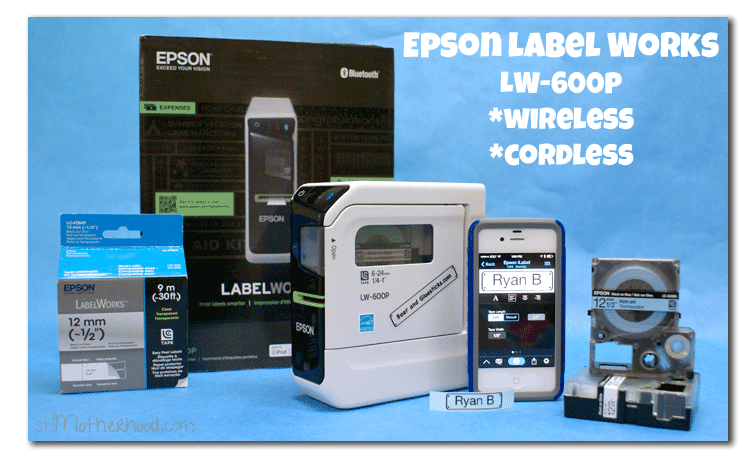 This post is sponsored by the Epson LW-600P. I received one of these puppies to review, along with a cassette of iron on label tape. Opinions are my own.

The Epson LW-600P is a totally cool, totally portable, totally WIRELESS label printer. It's not even fair to call it a labeler, because it's like a tiny little Epson printer you can stash in your purse–and it runs on AA batteries! You can sync it via Bluetooth with your iDevice or Android and print out labels ANYWHERE. Just download the companion app (free) and design labels on your phone or tablet.

By the way, it also comes with a USB cable to hook to your regular computer and a power cord. However, the batteries seem to last a good long while.
LabelWorks label tape has all the "ink," so you don't have to worry about changing ink cartridges. Sadly, this means you're limited to the color of the label tape, but that's the only draw back I found to the LW-600P. Tapes come in different widths, from 1/4 inch to one inch. You can get regular black ink on white labels, or shake it up and get clear labels, glow in the dark labels, fluorescent labels and iron on labels. They even make ribbons to run through the LW-600P! Check out all the colors they offer here!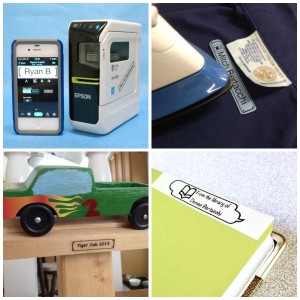 Unlike old-fashioned labelers, the Epson LW-600P comes with a boatload of fonts and several pages worth of pre-loaded icons and frames. The app also has templates for a lot of business uses–with a wide tape you can print up to 6 lines of type! It can make barcodes and QR codes for you too.
The app is pretty easy to use. Mitch was able to print several labels right away. We labeled a few books, some storage bins, a shell collection, his Pinewood Derby stand, a shirt, and even the labeler.
Because the app is running on your phone, there's a fun "preview" function that uses your camera. Point your phone's camera at the item you want to label and it will superimpose the label on the view screen. I'm not sure how often I would need to preview a label, but since I really like the clear tape it might come in handy to see how it will look before I print it.
I was able to find clear label tape at the office supply store, but I'll have to order the glow in the dark stuff online. If you sign up for the Epson newsletter you'll get coupons, and they always offer free shipping.
The Epson LW-600P retails at $99, and tapes start at $17 for 16 feet of tape at the Epson store. But if you shop around online, you can find the tapes cheaper…or just wait for that sale!