Need a place to play that's inside? Got a kid who loves trains? Then here's where you need to go: The Frisco Train Store in Valley Park.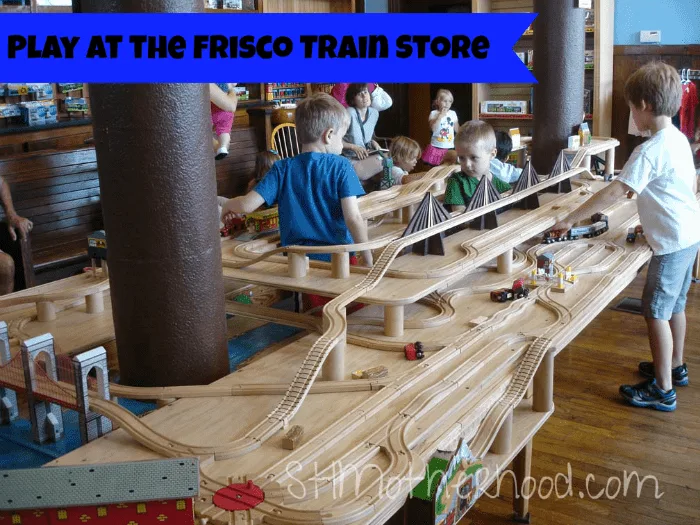 Formerly the location of the Whittle Shortline Railroad, the Frisco is basically the same store–but under new management. Current owners/operators Kristen and Tom Berry have spiffed the place up, added new train tables and trains to play with and tons of great merchandise to buy for your mini-railroad enthusiast.
The Frisco's main feature is a 15 foot train table with four layers of track and bridges that kids love to explore. The table is in the middle of the store and kids are invited to come play for free. There are also a couple small train tables (like what you'd put in your own house) and a play kitchen set.
There's plenty of seating for parents and Frisco provides free Wi-Fi for customers. Just ask the Berry's for the password–you'll find them minding the store every day.
The Frisco currently offers coffee, cold bottled drinks (soda, juice, water) and snacks like cookies and chips. The Berry's are adding a kitchen to the store and will offer sandwiches and fresh baked goods in the near future.
If you want to have a
train themed birthday party
, the Berry's have also remodeled the upstairs party rooms. You'll have access to another huge train table and a free play room where kids can set up their own track. The birthday child also gets to leave a hand print on the wall upstairs.
Details on birthday parties here!
The store is open from 10 am to 5pm Tuesday to Saturday and on Sundays from noon to 5pm. They are closed on Monday.
Can't make it during the day? Then save the date for the second Friday of every month for
"Frisco Fun Nights"
when the store stays open to 8pm. There's a $5 admission price for kids (parents are free). Your kid will get train cookie to decorate, juice and access to the upstairs party rooms.