Minecraft Monday's are back and today I've got an awesome crafty project you can do with your kid in MINUTES to really snazz up their room! It's a Minecraft inspired toy cubby that will organize their treasures with just a hint of blocky goodness.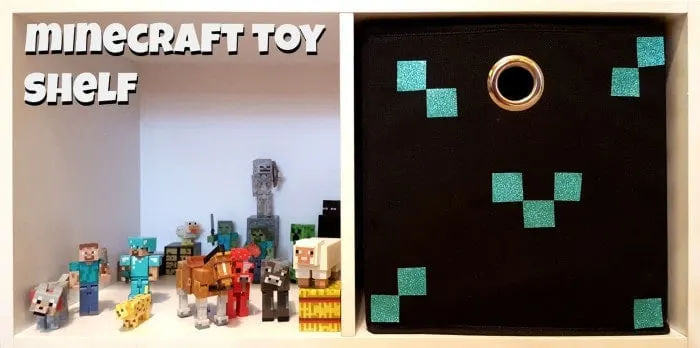 If you've read this blog for any length of time, you know that Mitch is really…really…in Minecraft. And so am I! But what you don't know is that Mitch is also a huge pack rat who can't keep his room under control.
Since Mitch's bedroom is the smallest, we don't have a lot of space for furniture that just takes up space. Now that he's reading chapter books, he really needs a proper bedside table to hold a lamp, book and his alarm clock. It would be nice if it could also store some of his LEGO creations…toys, Minecraft figures, Hotwheels, rocks he picked up at the creek, a rubber butterfly, his coin collection… You know, all that stuff that little boys hold dear.
I've been thinking about making him a Minecraft bedside table, but didn't want to go to a lot of trouble in case he all of a sudden gets tired of Minecraft. Also, I didn't want to look like a lunatic that decorated her kid's room after a video game…
This Minecraft Toy Shelf fits the bill! It a gussied up cube-style bookcase, with fabric storage bins decorated in Diamond Ore style. I used glitter tape to made the diamond pixels, making this project super quick and super easy!
And here's the best part–I picked up the shelf unit at Micheal's when storage items were 50% off! This unit was found in the scrapbooking aisle, as were the fabric bins. Cube bookcases are pretty popular right now–you can find them in a variety of shapes and sizes, from 3 cube towers to 16 cube wall units. You can get them at craft stores and big box stores too.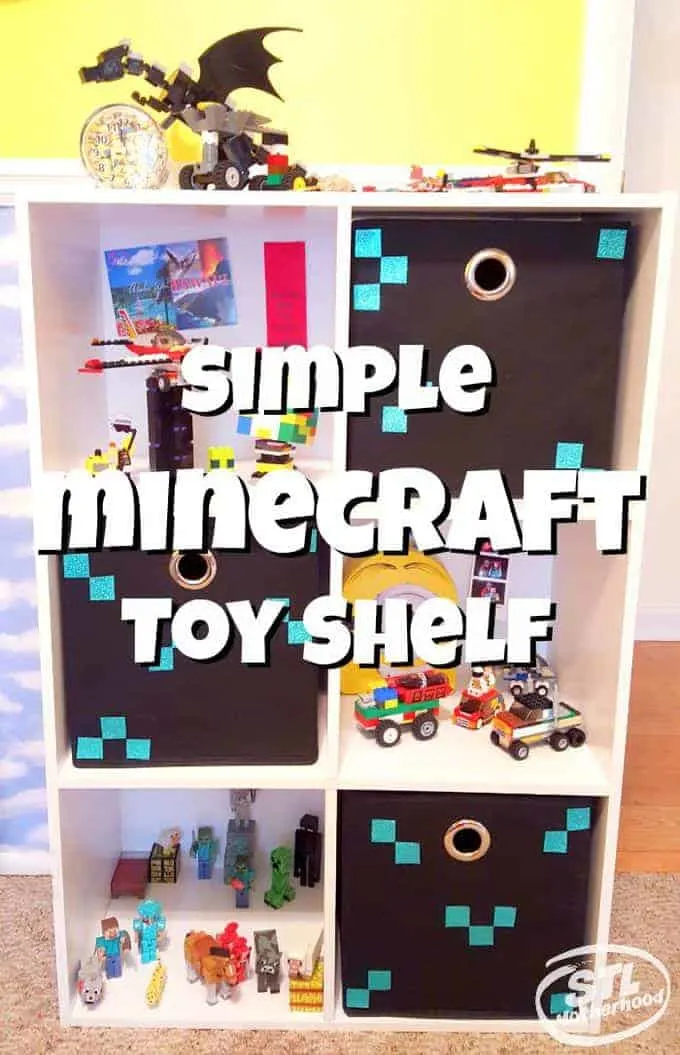 We cut one-inch squares from the glitter tape (also found at Micheal's) and placed them randomly around the fabric bin. Please note, this Minecraft "inspired" not a true copy of a Minecraft diamond ore block…which is just way more trouble than I wanted to deal with right now. If you really wanted replicate a diamond ore block, you'll need white, gray and two shades of blue! Not to mention three shades of grey for the stone portion of the block.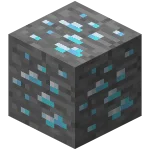 If your kid is a stickler for details, you could decorate the fabric bin with paint…but then you'll take more than the 15 minutes we spent putting stickers on Mitch's shelf. Who knows, maybe we'll peel off the glitter tape and redo the shelf in paint one day!
We brings me back to the really awesome part of this project…because the bins are decorated with stickers, its a low commitment. If you get tired of the look, just peel off the stickers and try something new!