Fireflies are the ultimate friendly bugs of summer and we love them. We love watching them twinkle in the trees out back and we love to chase them through the yard. We love to see how many fireflies we can catch in a jar–but our part of suburbia seems to be short on lightening bugs these days.
So we decided to make our own.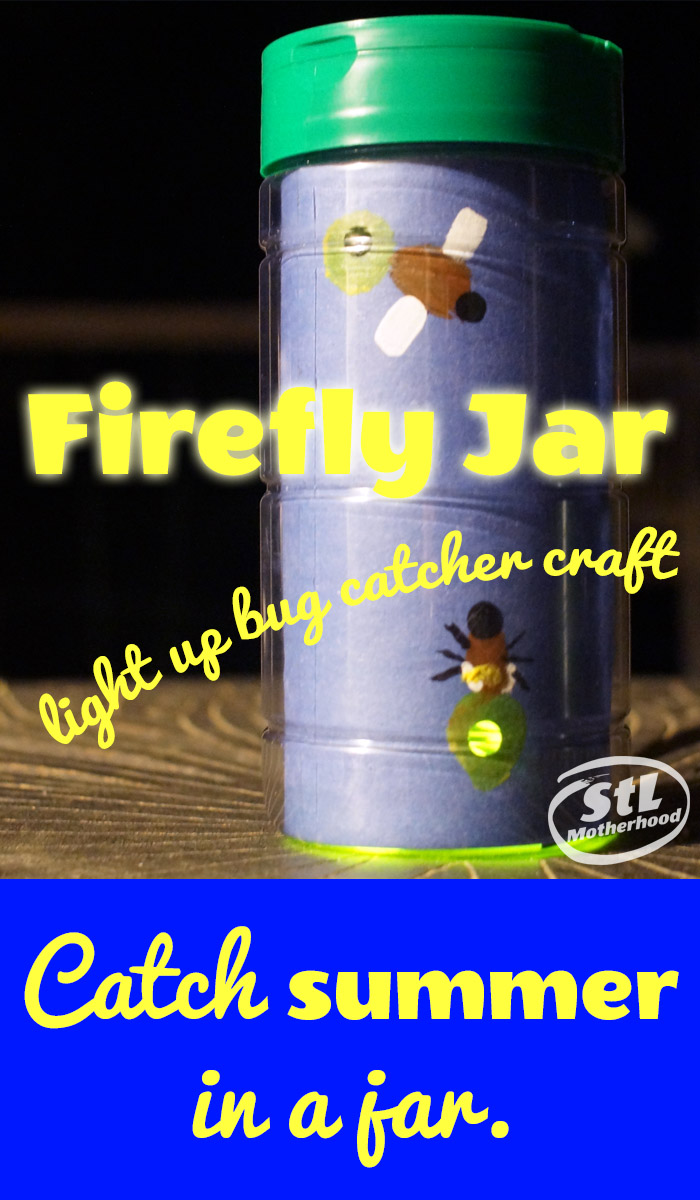 We decided to make jars full of fake fireflies. I was thinking it should be easy enough to make glow in the dark bugs, but finding the right combination of kid-friendly craft and actual light up firefly action was more difficult than I thought!
First we tried to make bug models from pipe cleaners with tissue paper wings. They were dipped in glow paint–I hoped it would be a realistic glow. #FAIL. They were so ugly I didn't even take pictures. The poor things looked like mutant horseflies dipped in toxic goo. Next.
Firefly Jars
Mitch and I ended up making several different firefly catchers using recycled jars, construction paper, paint, fuzzy sticks and a hole punch.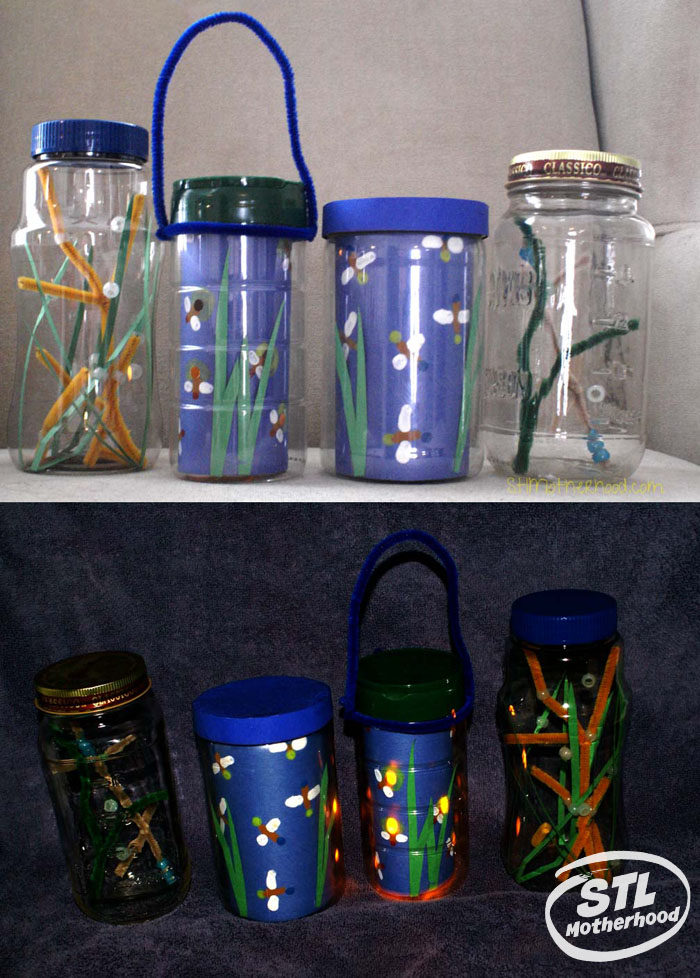 From left to right:
Glass pasta jar with fuzzy stick grass, glow in the dark pony beads.
Plastic peanut butter jar with finger painted fireflies (using normal and glow paint) and construction paper.
Plastic Parmesan cheese jar with finger painted fireflies on construction paper. Hole punched firefly butts and several battery operated tea lights inside.
Plastic peanut jar with fuzzy sticks and construction paper grass. Glow in the dark pony beads are on pipe cleaners AND on thread taped to inside of lid for movement.
But does it glow??
The best "glow" effect came from the jar using tea lights with holes punched into the paper. (That photo was taken in a dark room with no flash, just a long exposure.)
The pony beads are now on my growing list of glow in the dark toys that don't work well. They need to be "charged" in sunlight then only glow for a little while. So unless you want to admire your fireflies in a dark bathroom, I'd skip these.
The glow in the dark paint was equally annoying. It works when globbed on very thick and needs sunlight to charge–then intense darkness to enjoy. Again, great if you have the patience to let your craft sit in the sun for 15 minutes, then rush it into a dark room.
How to Make a Painted Firefly Jar
The painted fireflies turned out the best, so I'll give you a little more detail on those. You'll need dark blue construction paper, a clean plastic jar, paints and brushes–or your fingers! We used this kindergarten finger paint master piece as inspiration. 
Mitch has made the jars both ways, with finger paint fireflies, and more recently using a brush. It really doesn't matter how you do it, so use the method you like best! Little kids enjoy finger painting, but maybe yours likes to work with brushes.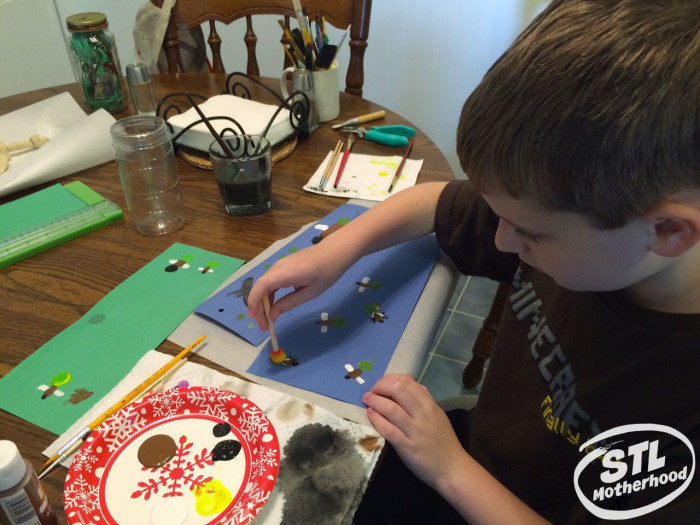 As you can see, crafting is a great way to use up those snowflake plates from last Christmas! Since Mitch didn't want to finger paint this time, he did a few practice bugs on scrap paper to see what brushes would work best and how big to make his strokes. He also added legs to a couple so they'd look like they were crawling on the jar. Once you have that figured out, cut a piece of blue paper the height of your jar. Wrap it around the outside to find the proper width–it will be just a smidgen too big when you put it inside, which is fine. Then paint away!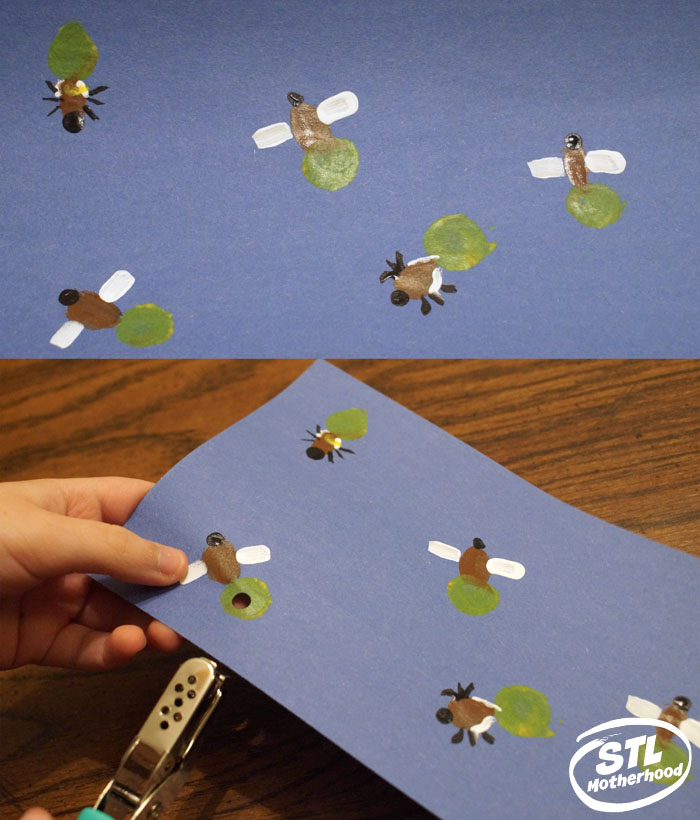 Punching holes in the fireflies is tricky if your punch doesn't reach all the way to the middle of the sheet. We did end up doing some strategic folding to get to the bugs in the center. Next time, I think it would be easier to punch the holes FIRST then make the bugs where the holes are!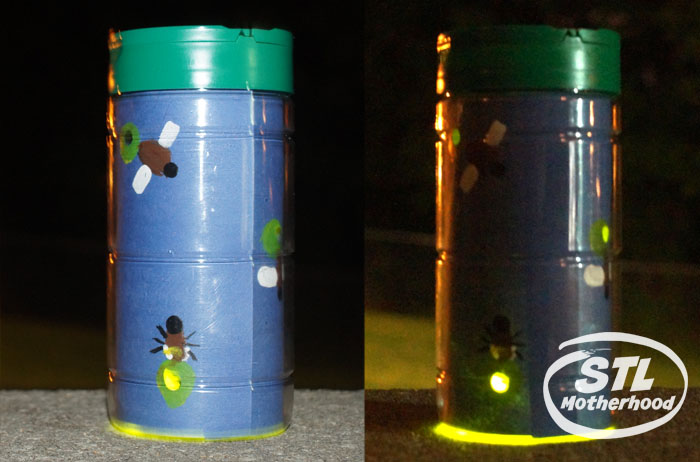 Finally, roll the paper up and place inside your jar. You can light it up with either a few tea lights or glow sticks!