Show that special someone how much you love them with a super cute sweetheart mini cherry pie! These individual sized mini cherry pies are perfect for celebrating Pie Day, Valentine's Day or anytime you just feel like a cherry pie.
You know how they say, "easy as pie?" If you used canned cherry pie filling and frozen pie crust it really IS easy. So feel free to let the kids help make these tiny little pies.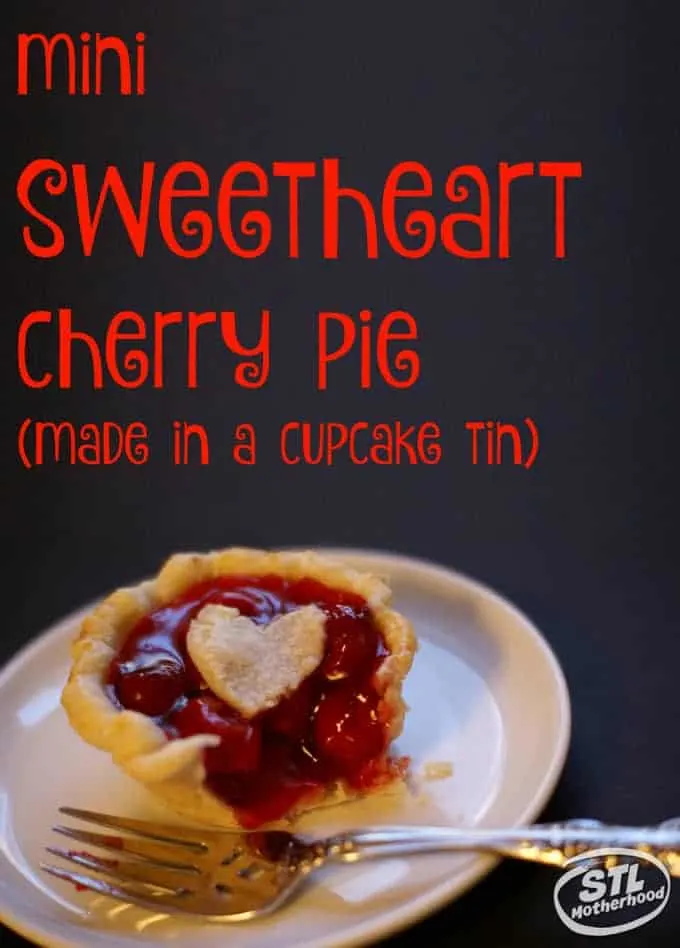 What You'll Need for Mini Cherry Pies:
Muffin Tin
One Can of Cherry Pie Filling
One package of (Frozen) Pie Dough
Egg
Pam
Knife or tooth pick
Rolling Pin (maybe)
Bowl or lid about 4 inches wide
Pastry Brush (or your fingers!)
Oven set to 350
A note on pie crusts:
I used to think it was cheating to buy a pie crust. My mom makes the best homemade pie crust ever, but her recipe is kinda hard to follow. It's goes like this: 2 globs of shortening, a couple scoops of flour, a dash of salt and 6 spoons of ice water. Its like she's a Pie Jedi, just feeling the dough flow through her. I spent most of my adult life trying to copy her style. Sometimes I nail it, other times I get a crumbly mess.
When I got an offer to talk about the ease of prepared pie crust on Show Me St. Louis last year, I was a little nervous. I'd never used frozen crust before! So I decided that in honor of Pie Day I'd educate myself on prepared pie doughs and see which one can truly masquerade as homemade.
In my search I found a box of Betty Crocker pie crust, hanging out by the cake batters and corn muffins. Betty Crocker is NOT sponsoring this post, I'm just sharing because dang it…this stuff tastes like my mom's pie crust and gave me no trouble at all. You just add water, stir it up and roll it out. Now that I think about it…Mom's cookbook is a Betty Crocker–so maybe that's why the crust was so perfect.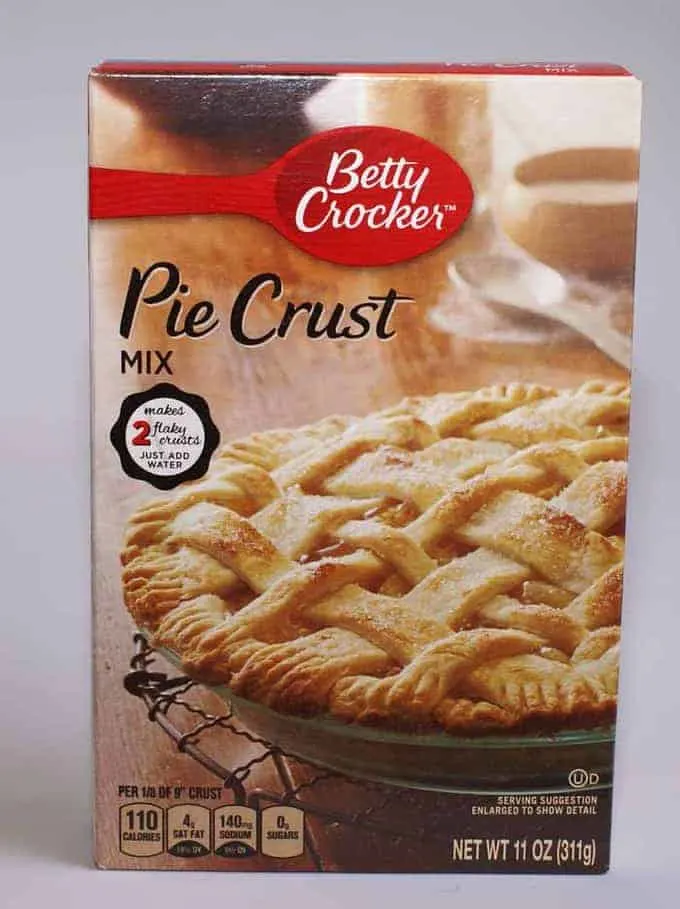 To Make the Mini Pies:
Preheat your oven to 350.
Thaw out your frozen dough or mix up the box dough. Or heck, if you're a Pie Jedi like my mom, just whip up a batch.
Find a bowl or small butter dish lid about 4 inches wide. I used my 64oz travel mug, which is 4.5 inches wide. Use the lid, mug or dish to cut 12 circles in your dough.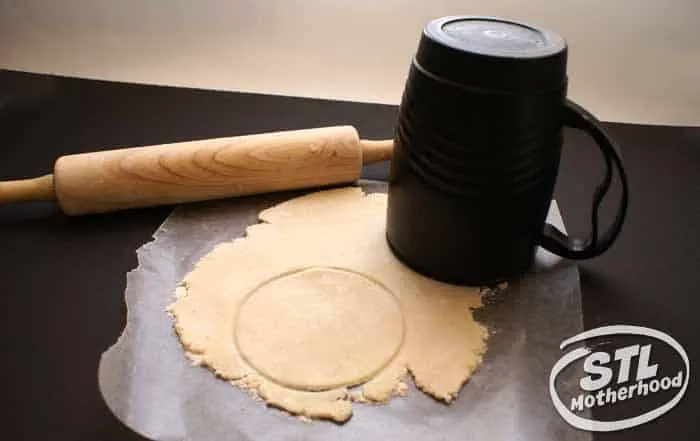 Spray the muffin tin with Pam or something similar. If you forget, you pie might be just a tiny bit harder to pry out–or not. We forgot to grease the tin on our first batch and they all came out more or less in one piece.
Press the circles into the muffin tin very carefully.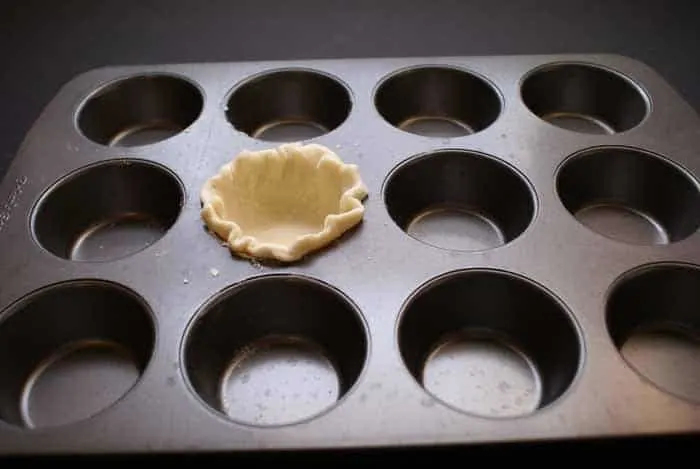 Divide a can of cherry pie filling evenly between all 12. You'll use a little less than a quarter cup in each.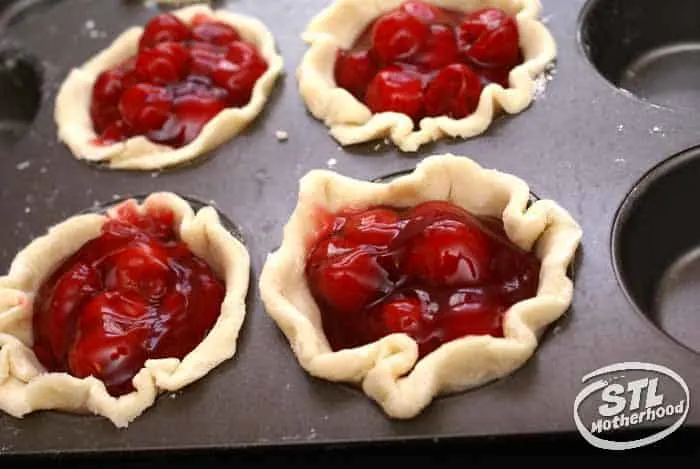 Take the left over scraps of dough, form back into a ball and roll out again. Use a tooth pick or knife to carve heart shapes in the dough. Place hearts on the pie filling.
Beat the egg with a fork in a little bowl. Use a pastry brush to spread a thin coat of egg on the exposed crust. If you don't have a pastry knife you can dab it on with your fingers (I did). The egg will make your crust turn golden brown.
Pop it in the hot oven for 25 minutes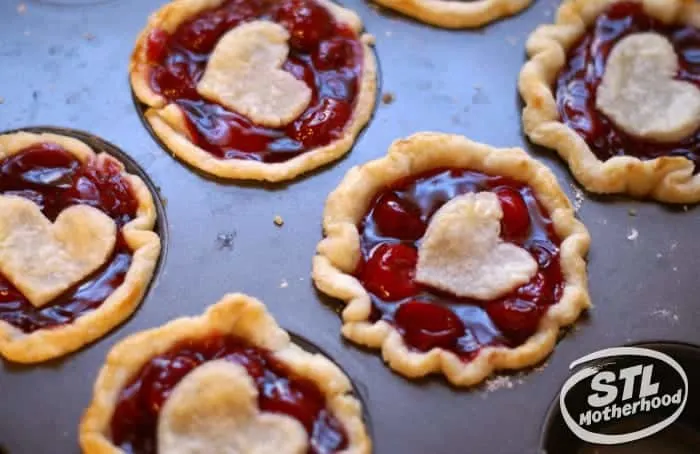 A note on pie filling:
Since I was doing pie research, I decided to buy a can of every cherry pie filling I could find at Walmart and Dierbergs. (For you out of town readers, Dierbergs is a family owned St. Louis grocery store chain. Not the most expensive store in town, but very nice. Realllly nice. They bag your groceries for you nice. I couldn't afford to shop here when we were newly wed. Heck, I still don't make a habit of doing whole grocery runs here… Anyway, what was I talking about? Oh, pie filling!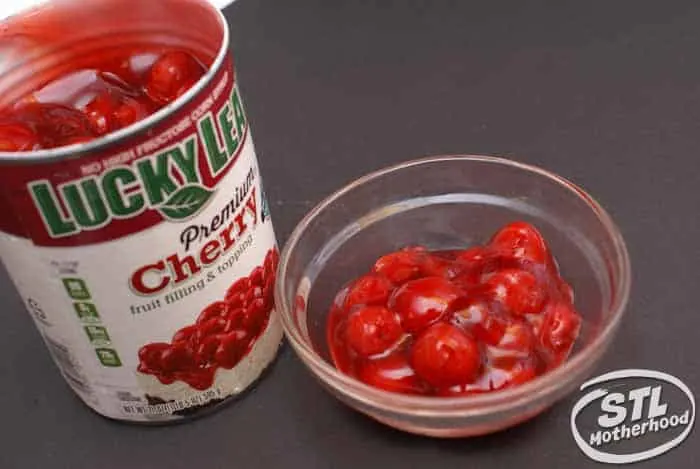 I'll do a full post on this later, but I bought 7 cans of cherries (and a bag of frozen) to experiment with for this recipe. We did a taste test, and I can say with clear conscious: DON'T BUY CHEAP CHERRY PIE FILLING. The two cans of cheap, house brand filling had more goo and fewer cherries. One even had a bit of a metallic twang. The best filling we tasted was Lucky Leaf Premium, which I found at Dierbergs. Next was Duncan Hines found at Walmart.
This recipe was inspired by Mini Pies in a Cupcake Tin, found at Tablespoons.