Update Summer of 2020
The St. Louis Science Center is limited to only 500 visitors in the building at one time– RSVP online before arriving to guarantee entry. Admission is STILL FREE. Stay as long as you like, however you may need to wait in line to get in.
The planetarium entrance in Forest Park is temporarily closed. Everyone must use the Main parking lot and entrance at 5050 Oakland Ave. Parking is free for members and $12 for non-members.
Hours have been adjusted: They are open Thursday from noon to 8pm, Friday to Monday from 9:30am to 3pm. Last entry is 7pm on Thursday and 1:30pm other days. CLOSED on Tue/Wed.
Masks are required for everyone over 9. If you can not wear a mask the Science Center is asking you to STAY HOME.
Cash is discouraged, please bring a card or other contactless payment (like Apple Pay).
The one way walking paths & one way stairs have been added to minimize guest contact. Elevators are limited to 3 guests or ONE family unit.
High touch exhibits will be cleaned every 30 minutes.
The OmniMax is open, but seating has been reduced.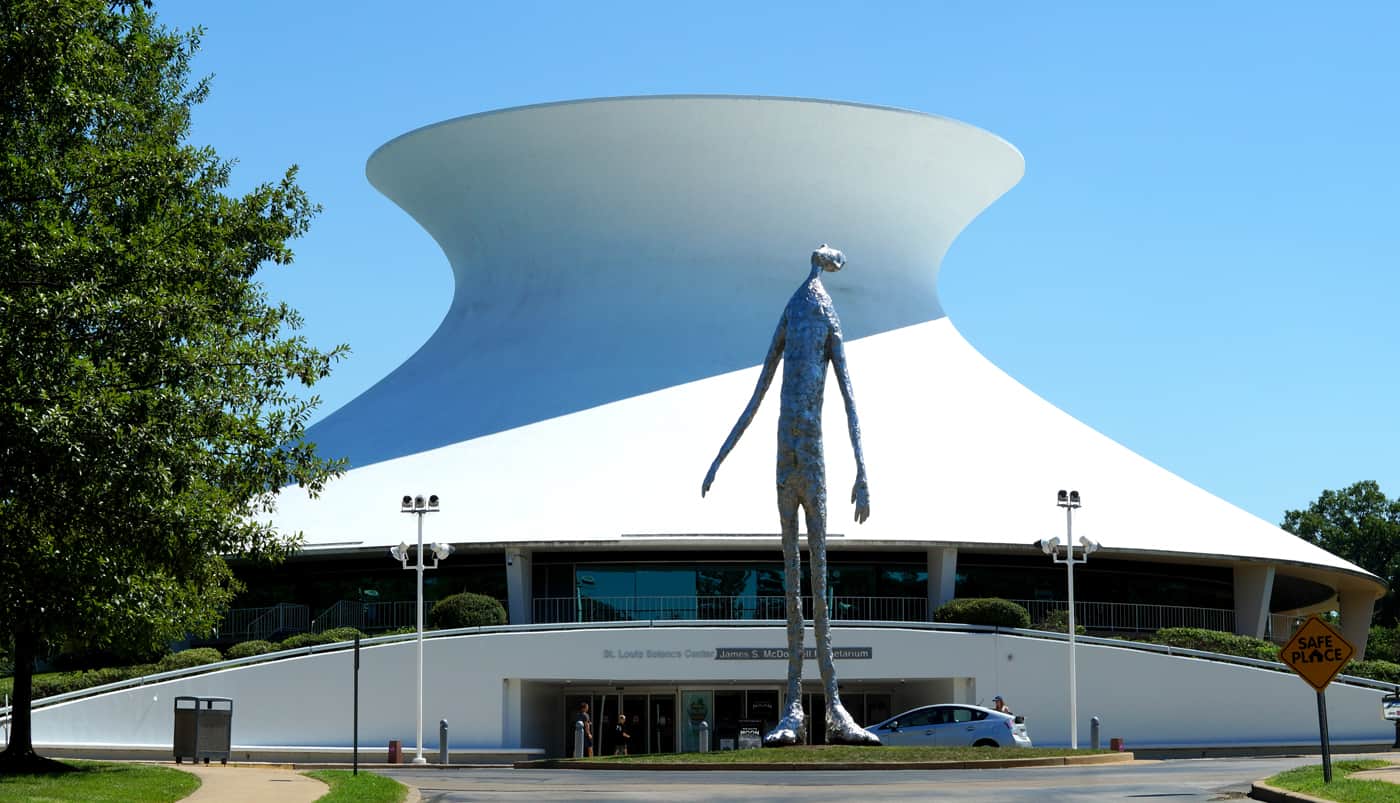 Think a visit to the St. Louis Science Center is going to cost a bundle? It doesn't have to! Our Science Center is a must see destination for families with kids. Where else can you dig for dino bones, explore space, make a tornado, feel an earthquake and pretend to be a byte on the information super highway? Oh, and did I mention…it's FREE!
Two Buildings, One Center
The Science Center is actually two buildings–the "old" Planetarium and the "new" museum. The James S. McDonnell Planetarium was built in 1963, in Forest Park. A second building was added in 1991 on the other side of Hwy 40. The two are connected by a tunnel through the park and a pedestrian bridge over the highway. In true Science Center style, the walk between the buildings is an adventure all it's own. You can peek through windows on the floor at the highway, use a telescope to check out the scenery or look for speeders on the highway!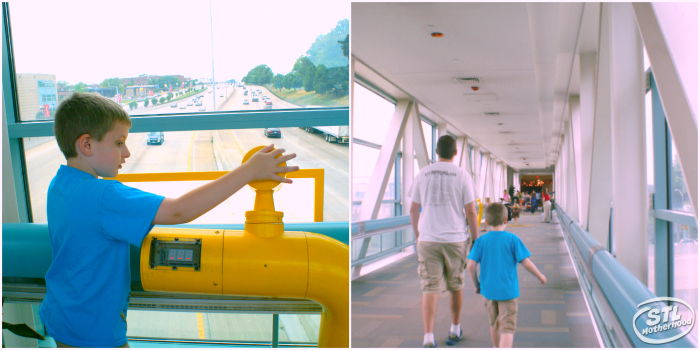 What's Free at the Saint Louis Science Center?
The St. Louis Science Center has plenty of FREE things to explore. It's a great for families because kids of all ages will learn science tidbits without even knowing it. Got a kid crazy about dinosaurs? Check out the animatronic dinos and "dig" for fossils in the main gallery. Is your child a budding architect? Then head over to Structures near the pedestrian bridge to build with super cool blocks and see how building are made to withstand wind and earthquakes. Do you just love to get your hands on science? Then check out the Maker Space where kids can do all kinds of experiments!
Admission to the Science Center is FREE.
Parking at the Forest Park entrance is FREE. (This entrance is temporarily closed.)
Main gallery exhibits are FREE
Science demonstrations are FREE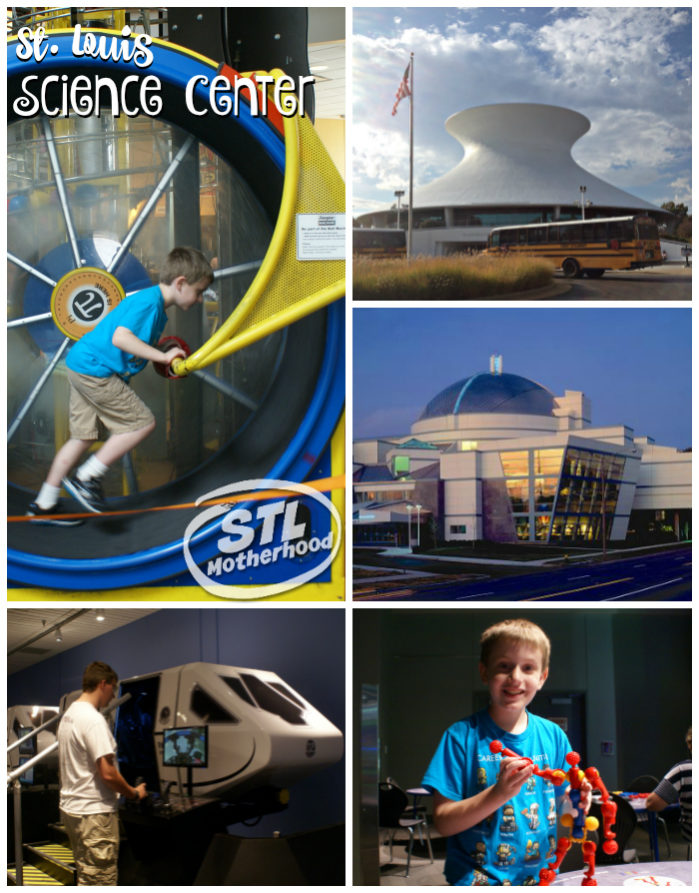 Yes, there are tickets to buy if you want to see a movie in the OmniMax Theater or visit whatever special traveling exhibit is currently on display. There's also a charge for the Planetarium star show, the Discovery Room for little kids and the flight simulators for big kids. Other costs you could run into (or try to avoid) is the Build-a-Bear store, the gift shop full of science toys and the café. There's also toy tractors to ride (for a fee) at the outdoor GROW exhibit.
That might sound like a lot, but seriously, most of the exhibits–and tons of hands-on-activities–are free. You can spend hours at the Science Center without spending a dime. And best of all, the Science Center is always adding and refreshing exhibits, so there's always something new to find for families who return year after year!
Psst: The Saint Louis Science Center is one of SEVEN family-friendly "children's" museums in St. Louis. What to know what the other six are? Click here!
Where is the Science Center's Free Parking?
SUMMER 2020 Update: the Science Center has temporarily CLOSED the planetarium entrance. Everyone must use the Main parking lot and entrance at 5050 Oakland Ave. Parking is free for members and $12 for non-members.
Free parking will return when the state allows museums to operate at full capacity.
The free lot is inside Forest Park at the Planetarium, at Clayton Ave and Faulkner Drive. This is the oldest part of the Science Center–the original building–and is connected to the new building by a tunnel and skywalk across Hwy 40/64. You can only access the tunnel from inside the Planetarium.
As you can see from the Google satellite image above, the free lot is pretty small. But it's worth the $10-12 savings to take a peek.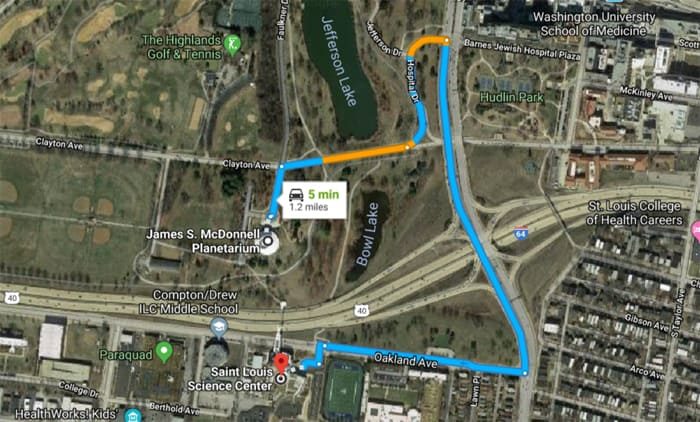 If there are no spots available inside Forest Park, you can get to the main lot in about 5 minutes. Just take Clayton to Hospital Drive, right on S. Kingshighway, then right again on Oakland Ave.
Bonus: Here's an interactive map of Forest Park with all it's cool stuff, parking and more!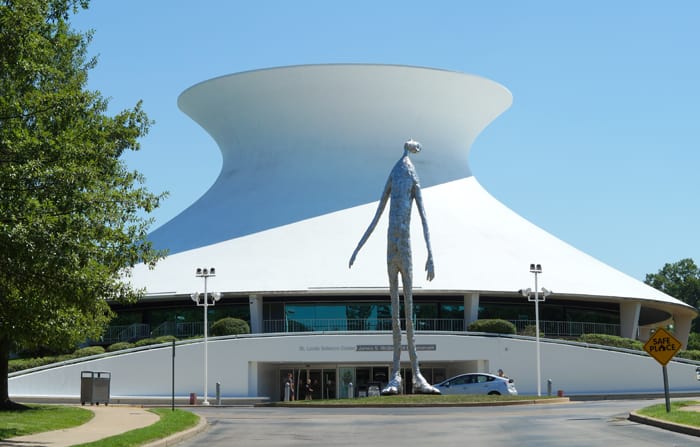 There's even links to all the statues and monuments in the park, like the Apotheosis of St. Louis (AKA King Louis IX front of the Art Museum), Senator Blair (who watches the park's western entrance at Lindell) and a Spanish cannon named The Inspector.
How can I save on Food at the Science Center?
There's no outside food allowed INSIDE the Science Center, but there are a couple places to purchase food. The Science Cafe and EZ Pizza offer meals year round, the Loft has theater style snacks year round, and the Fermentation Station (outside by GROW) is open seasonally. I can recommend the snacks–they're pretty huge and what we've tried was tasty–but most of the food is overpriced and reheated concession stand fare.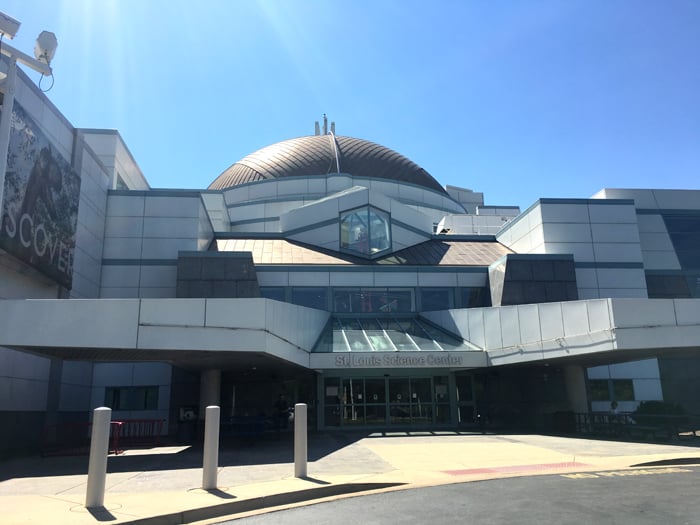 Your best bet is to pack a picnic, leave it in your car, and pop out to enjoy it after (or in the middle) of your visit. There are picnic tables by the Science Center front entrance and near the outside dinosaurs on the Planetarium side. There's also plenty of green space on Planetarium side to spread out a picnic blanket. Just don't wander onto the archery range.
Why is the Science Center free?
The St. Louis Science Center is part of the Metropolitan Zoological Park and Museum District, which is supported by a property tax of about 28 cents per $100 assessed valuation (as of 2017) from St. Louis City and County residents. So if you live in the city or county and have a home valued at $100,000 (if my math is correct) you've already paid $280 to support the Science Center, the Zoo, the Art Museum, the Missouri History Museum and the Botanical Garden. So feel free to enjoy a free visit!