If you've ever wanted to package up all the good things about St. Louis and give them as a gift…keep reading. This is awesome!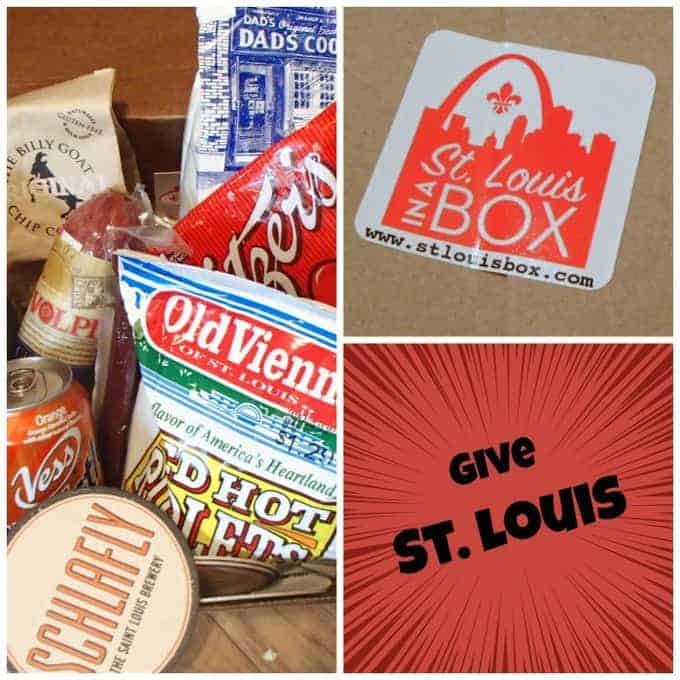 St. Louis in a Box allows you to "give the gift of the Gateway City." In a box, of course. It's a new service that allows you to pack up a care package full of St. Louis goodies and mail it to friends and family. It's a great gift idea for a family member that's moved away, or for your college kid who's feeling a little homesick.
Or you know, a Cubs fan.
We received a complimentary gift box to see exactly what's in a Box-o-St. Louis. Here's what I got in my deluxe custom box:
Dad's Scotch Oatmeal cookies
Old Vienna Red Hot Riplets potato chips
G&W Sausage Landjager beef snack sticks
Volpi Genova salami
Switzer's chewy cherry licorice twist
Billy Goat chips
2 Vess Orange "Whistle" soda
a Schlafly Brewery bottle opener and coasters
St. Louis Cardinals can koozie
an "STL" oval bumper sticker
Everything in the box was a classic St. Louis product. Of course what really shocked me was that someone could mail me two cans of Vess soda, a bag of cookies and some chips and everything would come out of the box in perfect shape! Not a problem at all.

There are two standard boxes to choose from, or you can pack your own. The Orginal Box has an assortment of St. Louis snacks and some Cardinals goodies; or the Stadium in a Box, with all Cardinals souvenirs and a bag of peanuts. Boxes start at $25 and $5 will ship the box anywhere in the U.S.–and if you're sending to a military APO / FPO shipping is free.
Custom boxes allow you to pick and choose your favorite items from their expansive list. Everything on the list, from cookies to BBQ sauce are shelf-stable, so they will arrive at your loved one's doorstep in perfect shape. They'll be adding gooey butter cake in the fall, when the weather won't melt your treats.
I really do like the custom box option! Say you're not a fan of Red Hots (gasp!) you can send Old Vienna PORK STEAK BBQ Chips! Yum! Toss in a River Front Times, a bag of stadium peanuts and you'll cure someone's St. Louis blues as soon as they rip into that box.
Head on over to St. Louis in a Box and send the city to someone you love. Or bookmark it for Christmas (or a birthday!) and you'll have your shopping wrapped up in a snap!