Fire! Snow! Slime! Eggbert! Yes, these are all things you're going to want at your next party. The kids will love it, they'll have fun, and they might just learn something.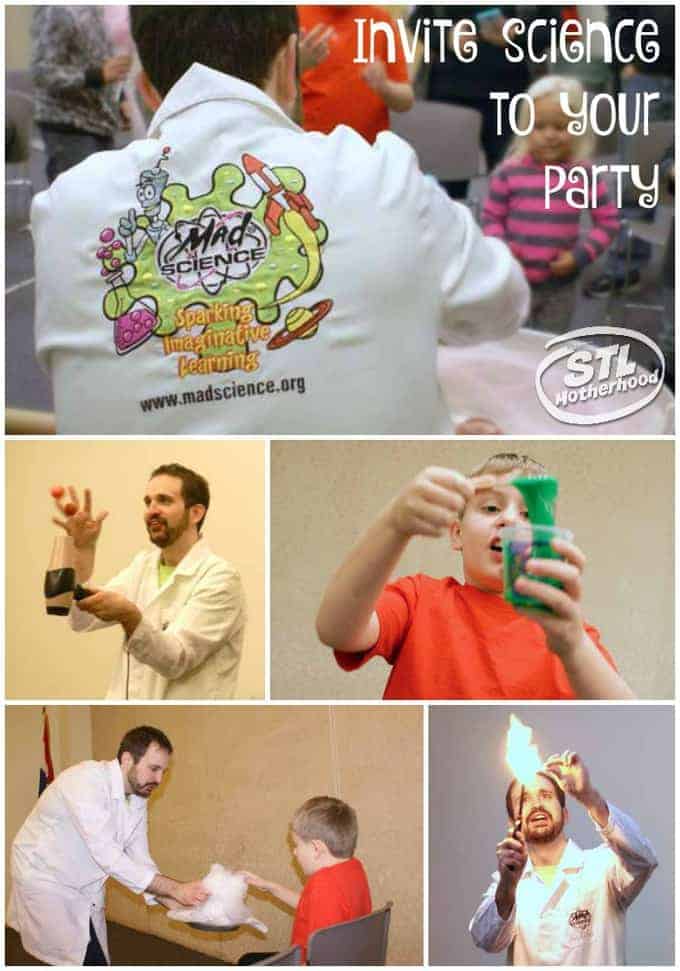 Mitch and I had the best time at a Holiday themed Mad Science party, where real live "mad scientists" show that science can be fun! Kinetic Kevin and Dr. Inferno amazed the kids with lots of cool science tricks, like how to get an egg in a tiny bottle, how to melt a Styrofoam snowman (without heat) and how to make bubbles with dry ice. Just so you know, Mitch and I were invited to a party thrown by Mad Science to show off their party options to blogger families. Our opinions are our own–and we had a blast!
The experiments at a Mad Science party are not boring demonstrations like you might remember from chemistry class. Kinetic Kevin was over the top funny and super excited to share science wonders with the kids. He had them laughing and eager to join in the fun. Many of the experiments allowed for the kids to assist, so they were very involved with the whole show.
Don't take my word for it, here's Kinetic Kevin in action, showing off some dino science for Fox 2.
What is Mad Science St. Louis?
Mad Science St. Louis is a party entertainment service. You can hire them to entertain at your house–or if you're having the party at a community center they're happy to entertain there! They have special holiday/winter themed parties right now, which means you don't have to wait for a birthday to throw an awesome kid's party! The holiday themed experiments are perfect for any holiday gathering. Parties start at $200 for 15 kids, which includes a hands-on experiment they get to keep. Check out their website to see additional experiments you can add on, like the science behind cotton candy.
They're available for birthday parties, assemblies, camps & workshops.
Age for Mad Scientists
Mad Science parties are geared for kids from 5 to 12. Personally, I think the older kids "get it" more since they've heard some of the science terms before in school. Mitch is 8 and he thought it was awesome. The Mad Scientists are very careful with their experiments, and all parties include making slime with non-toxic ingredients and paint.
Coupon
Book a Mad Science Birthday Party or Holiday Party and Receive $20 off! – Clip this coupon and save $20 off a Mad Science party! Cannot be combined with other discounts. Offer good until Dec. 31, 2015.
http://usfamilycoupons.com/coupon.php?regionid=75&bid=4247&dealid=2 [email protected]
For my KC Readers: Mad Science is also in Kansas City! But the coupon offer is just for St. Louis readers. Sorry!