Can't travel to China this summer? Then let the Magic House bring China to you! Yep, the latest, coolest traveling exhibit at the Magic House is Children's China: Celebrating Culture, Character & Confucius!
Mitch and I checked it out and had a great time!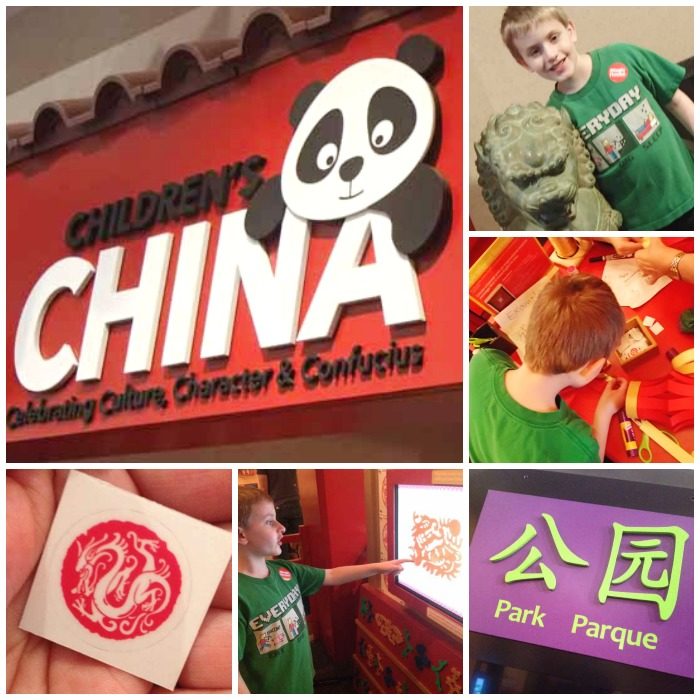 Children's China will show your kids what life is like in China today. There are tons of fun hands on exhibits for imaginary play: a classroom, a home, a market, a park and a restaurant! And don't forget the pandas! They're from China too, and the kids can learn about caring for these cuddly wild animals. During your "trip to China" you can learn a few Chinese words, experience traditional music and make a few cool crafts. Everyday there's also a Dragon Parade, just like you might see during Chinese New Year.
Mitch loved making a Chinese lantern and learning about the Chinese astrology signs. They had a neat touch screen set up so you could enter your birth year, read about your sign and "cut it out" with digital scissors. We noticed two other places where you can try your hand at writing in Chinese: in the classroom and in the park. And the kids really liked playing on the park exercise equipment–I think it was the most popular part of the whole exhibit!
Once again the Magic House doesn't disappoint! Go check out Children's China and do a little world traveling with your kids.
The exhibit is included with your regular admission to the Magic House, so make sure you leave time to see the WHOLE place!