Jingle bells ringing, jolly elves singing, hot hot hot chocolate…all while clickity clacking through Downtown St. Louis on the Polar Express! What a way to celebrate the holidays! We've taken Mitch on the Polar Express train a couple of times now and it's always pretty dang awesome. Magical even. And I'm happy to report that the Polar Express is rolling back into St. Louis Nov. 29. 2019!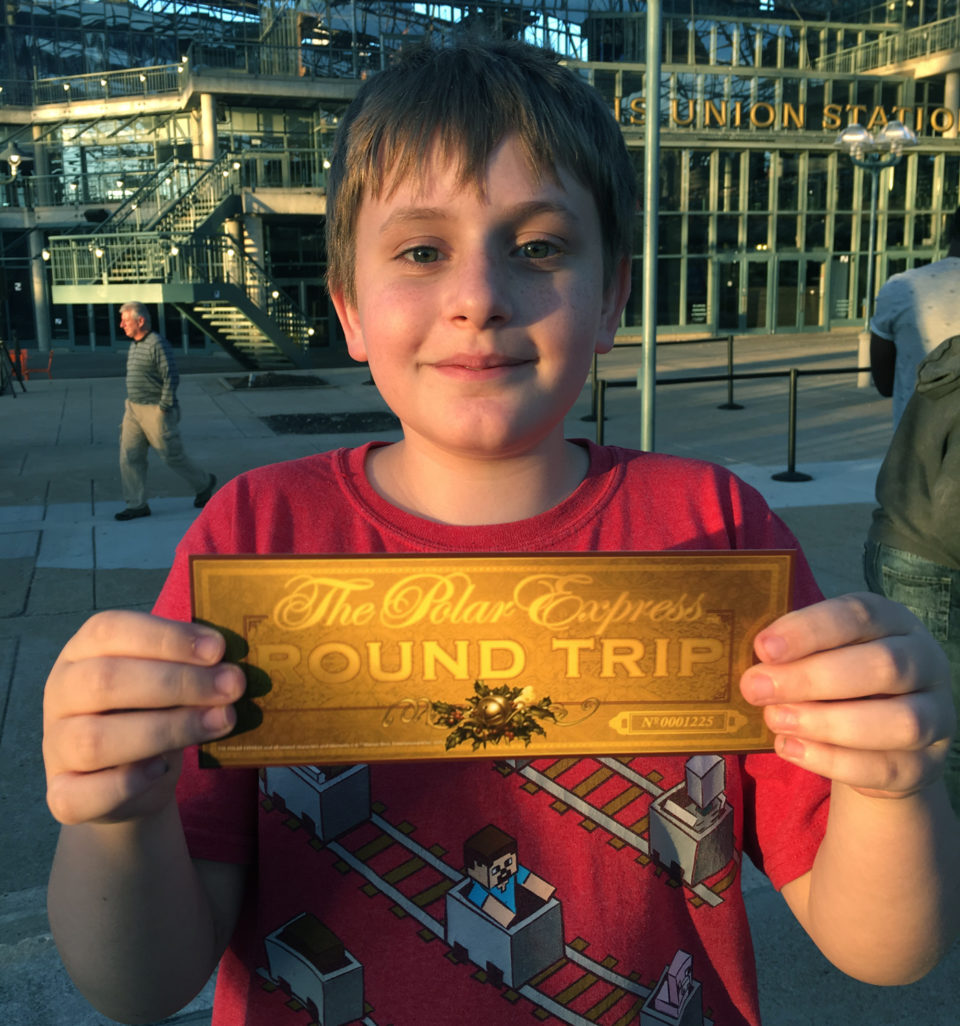 We are SO excited about the return of the Polar Express! Construction is wrapping up at the new St. Louis Aquarium at Union Station (set to open by Christmas) so things will way be different from pre-construction years. Let's sort out the details!
1. New St. Louis Wheel and Aquarium
The biggest difference this year is the whole St. Louis Aquarium project–it's almost done!!! The St. Louis Wheel is slated to open Sept. 30 2019, along with the new carousel, mini golf and the Soda Fountain.
The St. Louis Aquarium has not given an official opening date, but is planned to be open by Christmas.
This means you can plan for a whole day of entertainment when you plan your Polar Express trip! You can play mini golf, ride the carousel and have dinner (or just ice cream) at the Soda Fountain. The Soda Fountain will be serving up classic burgers, hot dogs and hot sandwiches.
2) It's always PJ Day On the Polar Express
I was told you could wear your PJs to the Polar Express, just like in the book. I didn't believe them…grown ups in PJs, oh my! Guess what I saw when we rode the Polar Express? Entire families in matching PJs. Not just one or two…loads of them! Just remember that the train is outside, so bring those warm shoes and coats! The boarding line will be in a heated tent, but you'll still be walking around the parking lot and around the train…so check the weather before you go!
3) Play Games while you wait
Due to construction, we'll be checking in at tent marked "Depot." You'll want to check in early because there will be fun and games to explore before your ride. Last year you could write a letter to Santa, play a couple games and get some really awesome photos, all while waiting in a heated tent.
The Polar Express has friendly elves to help you find your way. Don't just wander up to the train, they have a system.
Remember! The train boards about 30 minutes before departure! For example, we had 6:30pm tickets, but the friendly elves escorted us to the train around 6pm. If you come screeching into the parking lot at 6:15 for a 6:30 train you might miss it!
4) Fire and Ice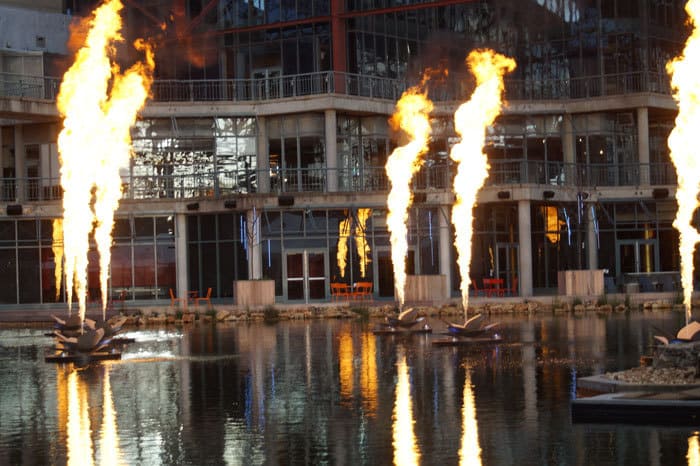 Have you seen Union Station's Fire and Ice show? It takes place right on the lake!
5) Dine at Union Station, it's Freakin' Awesome.
Don't pass up the dinner option! The Magical Meals show is totally optional, but we had a lot of fun when we did it! If you're going to drive downtown, you might as well have dinner, am I right? Dinner is served in the old Grand Hall, complete with a holiday light show on the ceiling that will knock your socks off. The train's Conductor will pop in for photos and make sure you leave in time to catch his train. Plan on eating first, otherwise the kids will be confused as to why Mr. Conductor is telling them to get back on the train.
We did the Magical Meal is really cool: fancy white table clothes, cloth napkins, china plates…the whole works. But at the same time it's an all you can eat buffet with burgers, corn dogs and mac & cheese for the kids, plus cookies, cupcakes and candy for dessert! Oh, and your totally encouraged to wear your PJs to this too, so the dress is pretty casual.
Don't worry mom, you don't have to eat burgers on nice china. There will be TWO buffet tables. The other one is for the grown ups!
Dinner includes Starbucks coffee, tea (hot & iced), hot chocolate, and juice. Soda is extra and you'll need to order that from the bar. (You could order other things from the bar too.)
6) Did I mention a Light Show?
If you haven't been to the Grand Hall lately, you're in for a real treat. The last renovation for the Union Station Hotel included a fantastic light show on the vaulted hall ceiling. Hidden lights project images on the ceiling, and it's all timed to music. You'll get to see a 3D holiday show all about the Polar Express Story.
7) Stay the Night
If you live out of town, or just want to make sure the kids get to bed on time, you can buy a hotel package that includes your train ride. The Union Station hotel is a Curio Collection by Hilton, so you'll have a nice relaxing stay.
8) Every Seat is a Good Seat
There are two ticket options for riding the Polar Express: Coach (starting at $35) and First Class (starting at $60). Tickets are cheaper on weekdays, so you can save money if you can head downtown on Wednesday. First Class seats are at dining tables, where as coach get comfy recliners.
All the tickets will include a souvenir golden ticket, hot chocolate, a yummy allergy safe cookie (it's peanut, dairy and egg free) and a gift from Santa. If you know the story, you know what the gift is… First Class tickets also include a souvenir mug. Oh, and don't forget the show! Every train car has costumed entertainers who will dance and sing with the kids! Towards the end of the ride, Santa will make an appearance and say hello to the kids.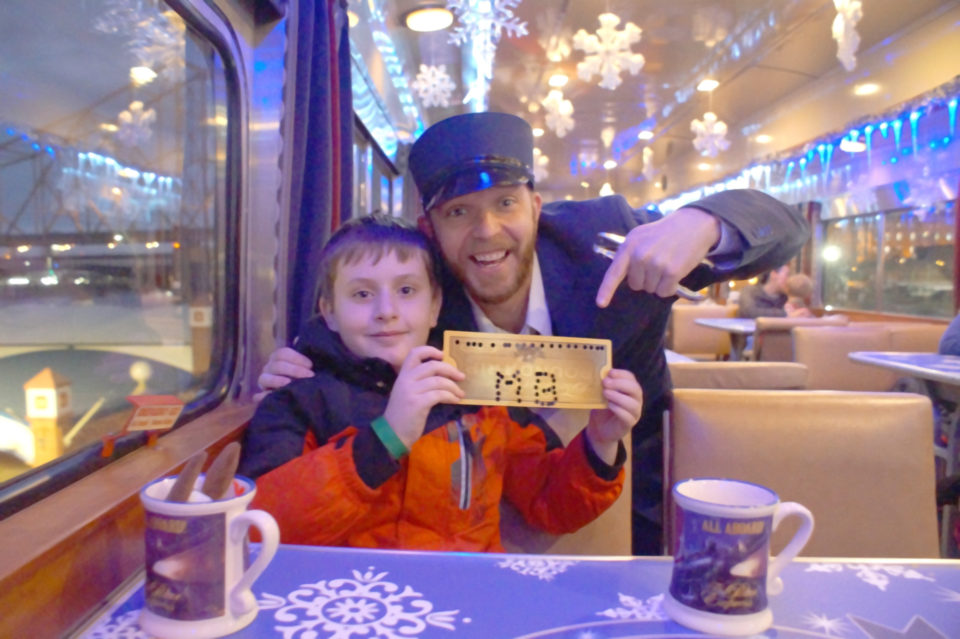 Children under 2 are FREE, but they have to sit in a lap.
9) Visit the North Pole in about an Hour
The train ride is about a hour long–and six miles. Now, you're probably wondering how they get to the North Pole in half an hour? Well, it's magic! Half way through the ride you'll see twinkle lights, a Christmas display and Santa himself waving to you from the town square. (Adults might notice a park sign for the Riverfront Trail behind the town.)
Much to my surprise, the train stopped and Santa hopped in! He greeted all the children, took pictures and had his elf give everyone a bell, just like in the book.
You Get What You Paid For
So, you might be thinking the tickets are a little pricey, but when you compare it to a trip to a Cardinals game, it makes a lot more sense. And unlike a game, this is entertainment for the kiddos. Every entertainer we met, from the "kid" in his PJs to the conductors on the train were top notch. While we were waiting for the train, the kid from the book wander up and complemented Mitch on his choice of balloon creation — a candy cane. (Never mind that the kid was probably a teenager, he acted the part well.) The elves–oh my. Have you ever seen a 6 foot guy elf? Skipping? He was channeling Buddy to the extreme! And once we got lost and Twinkle Toes stayed right in character as she steered us back to the waiting area. During our train ride, a Chef stopped at the table and introduced herself as Cupcake from Brazil and how she was hand selected by Santa to bake for the train. She taught Mitch how to say Santa Claus in Portuguese.
After everyone is served their hot chocolate and cookies, the staff slow it down for a moment and present the story book version of The Polar Express. They play a recording of the author reading his book to you while the Chefs walk around with large books and show the kids each page. It's pretty nice.
And then the dance party starts. They play Christmas tunes and songs from Frozen and the kids are encouraged to get in the aisle and wiggle. It's pretty silly.
The trains are booking fast, so go get your tickets NOW!