Jingle bells ringing, jolly elves singing, hot hot hot chocolate…all while magically touring the Polar Express! What a way to celebrate the holidays!
I'm happy to report that despite everything 2020 is throwing at us, the Polar Express is rolling back into St. Louis Nov. 20. 2020!
–> Tickets go on sale October 29, 2020 <–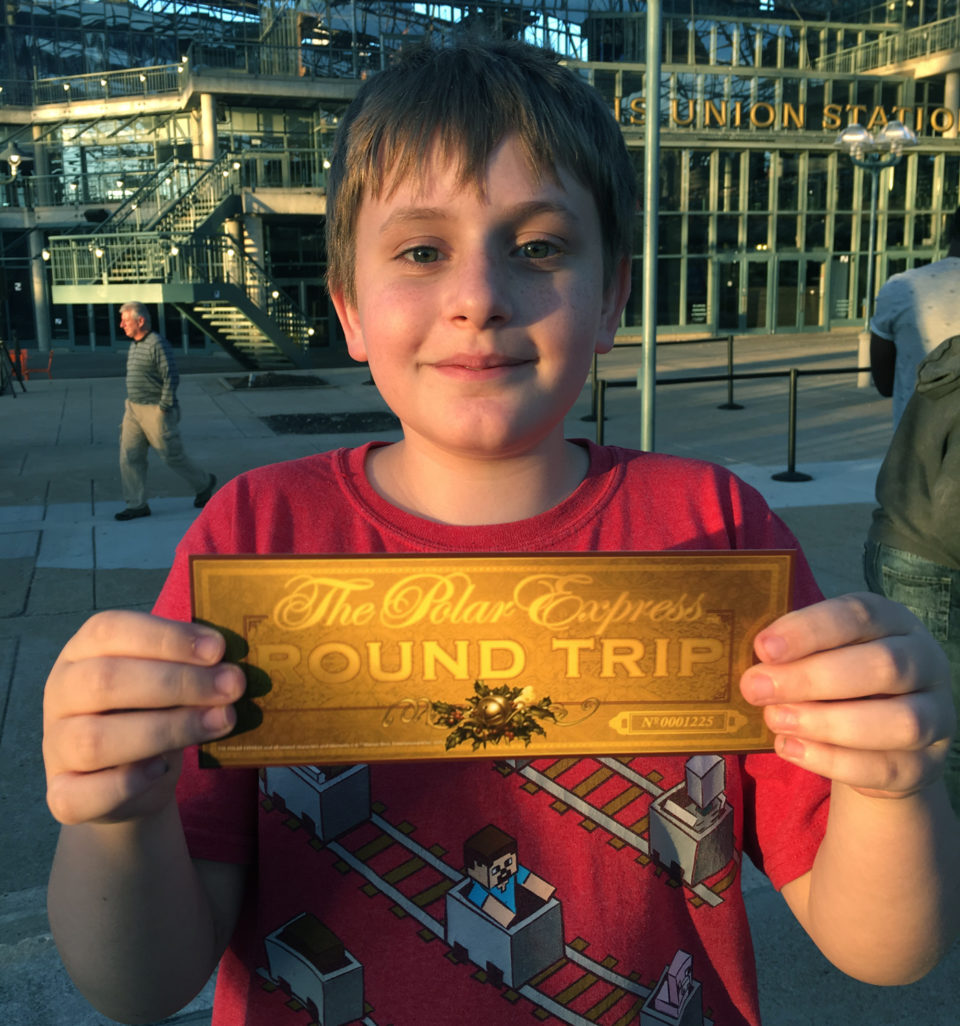 The Polar Express had to change a few things to keep everyone safe during the ongoing, errr, germ problem. (Look, I can't really name it, because Google will squash me harsher than a Millennial Mom with can of Lysol if I openly talk about…you know what. It's like Harry Potter and You-Know-Who.)
We've taken Mitch on the Polar Express train a quite a few times over the years and it's always pretty dang awesome. This year might be different, but it's still going to be good.
And don't we all need a little holiday cheer right about now??
1. The Trains are back. But they're not moving.
The Polar Express is a walk through tour/show for 2020.
This is the biggest change for 2020. If you've done the Polar Express ride before it was…well, a RIDE. Yes, there's a lot of pageantry involved, but at the end of the show, the train would travel through downtown St. Louis to Riverfront Park dressed up as the North Pole.
The Polar Express had to change to keep people farther apart. They could either limit how many people could see the show, or change the show.
You still get to see and do all the cool things — decorated train cars, dancing chefs, the Conductor and Santa himself. You'll just do it while moving through several train cars, while safely separated from other guests.
The "show" starts in a tent with several scenes that represent the little boy's home and set up the Polar Express story. Then you'll walk into a large room to talk to Mr. Conductor, the little boy and a hobo. These actors are every bit as good as previous years!
Next you'll walk through the train to get more of the story — the dancing chefs, some engineers and one of Santa's elfs when you "arrive".
I should point out there's one car that represents the wolves outside the train…they use life size wolf mannequins. A friend of mine's 5 year old thought they were scary!
When you're done walking through the train, you'll be directed to the North Pole where you can write a letter to Santa, talk to more elves and meet the Big Guy himself.
Guests are inviting to sit on a bench and Santa (in his mask) will stand behind you for a photo. Photos are $10 for a digital download, $20 if you want prints on the spot.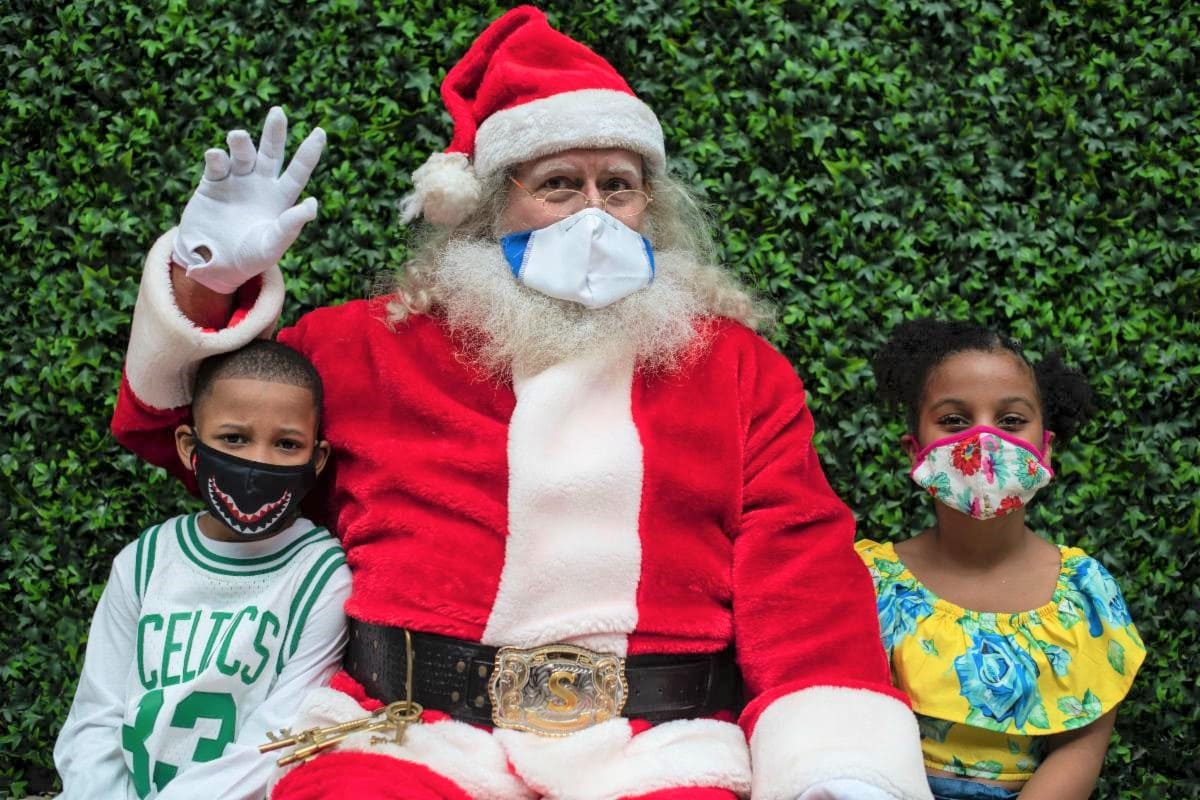 2) It's always PJ Day On the Polar Express
I was told you could wear your PJs to the Polar Express, just like in the book. I didn't believe them…grown ups in PJs, oh my!
Guess what I saw when we rode the Polar Express? Entire families in matching PJs. Not just one or two…loads of them!
Just remember that the train is outside, so bring those warm shoes and coats! Some of the event will be in a be in a heated tent, but you'll still be walking around the parking lot, to the train and through the Winter Market Plaza afterward…so check the weather before you go!
3) Winter Market
This year there will be a Winter Market in the Plaza near the lake and St. Louis Wheel. Here kids can play carnival games
4) Fire and Ice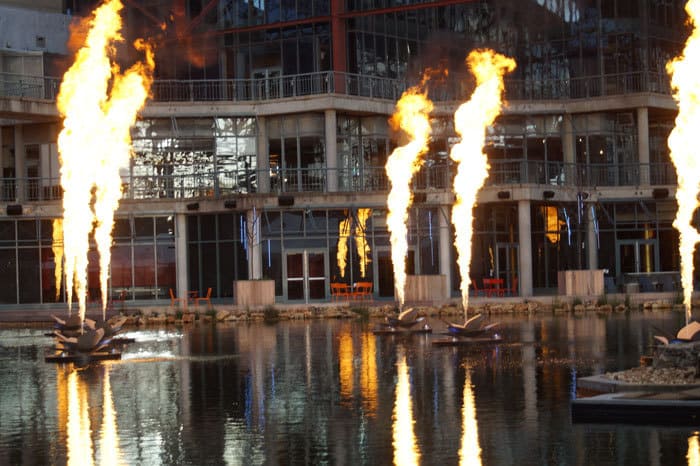 Have you seen Union Station's Fire and Ice show? It takes place right on the lake!
5) Pancakes with Santa at Union Station
New this year is Pancakes with Santa in Union Station Grand Hall. Everyone will get awesome pancakes topped with whip cream and strawberries in a silly Santa face. (And bacon. Don't forget the bacon.)
This breakfast event will happen on Saturdays & Sundays in December, with four time slots each morning from 9am to 10:45am. Families will be spaced apart to keep with social distancing guidelines.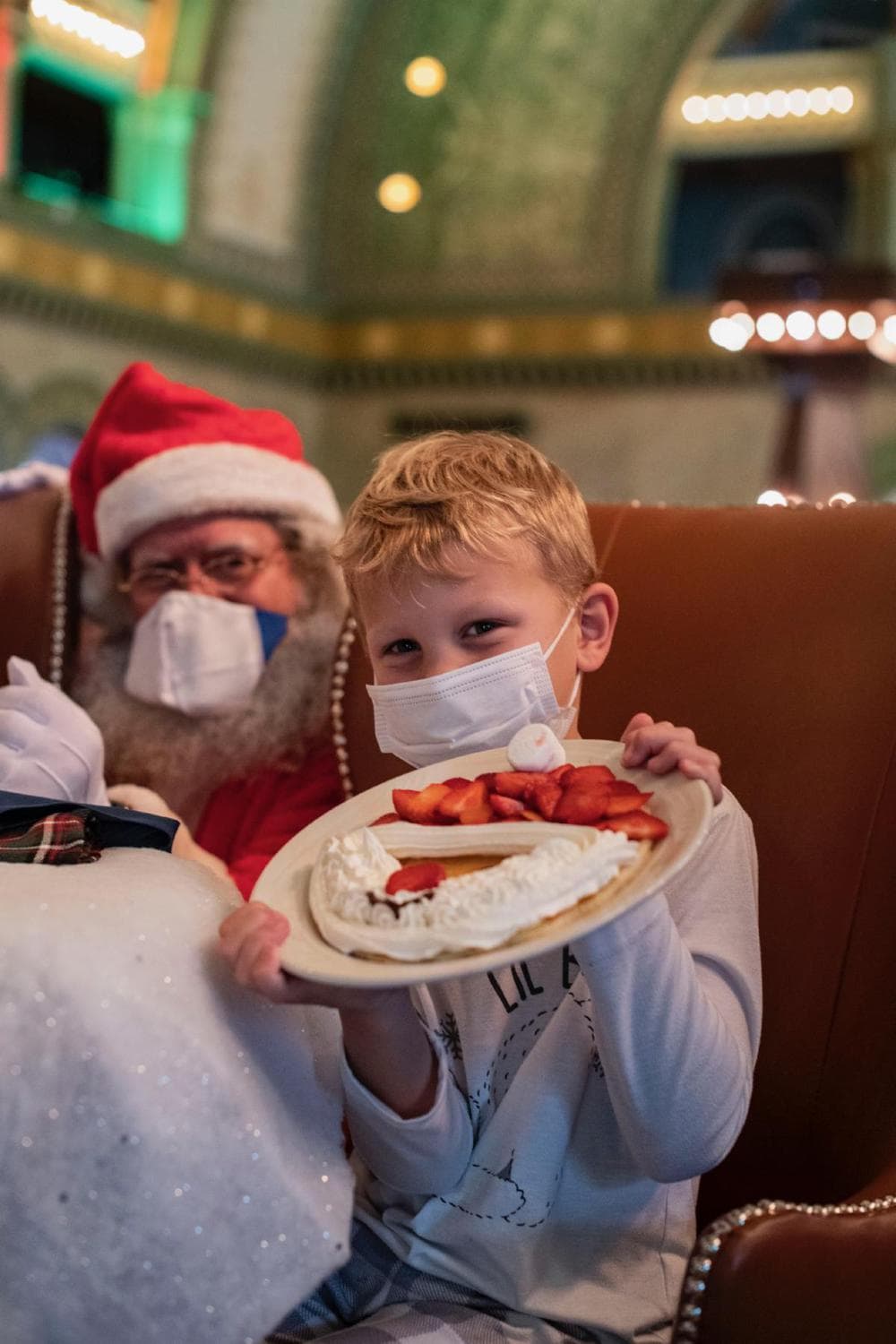 The best part? Santa will stop and visit with every child.
(And yes, masks are required.)
Pancakes with Santa replaces the usual dinner buffet offered previous years.
6) Did I mention a Light Show?
If you haven't been to the Grand Hall lately, you're in for a real treat. The last renovation for the Union Station Hotel included a fantastic light show on the vaulted hall ceiling. Hidden lights project images on the ceiling, and it's all timed to music. You'll get to see a 3D holiday show all about the Polar Express Story.
7) Stay the Night
If you live out of town, or just want to make sure the kids get to bed on time, you can buy a hotel package that includes your train ride. The Union Station hotel is a Curio Collection by Hilton, so you'll have a nice relaxing stay.
8) One Ticket, One Price
Because this year is a special walk through event (I'm sure the trains will be rolling once we have you-know-what kicked to the curb) there's only ONE ticket price: $30.
Everyone will get the SAME experience! No more worries if you're getting the best car, or the cool window seat.
You'll still get the whole show — singing, dancing, story telling. Plus hot cocoa and cookies just as before.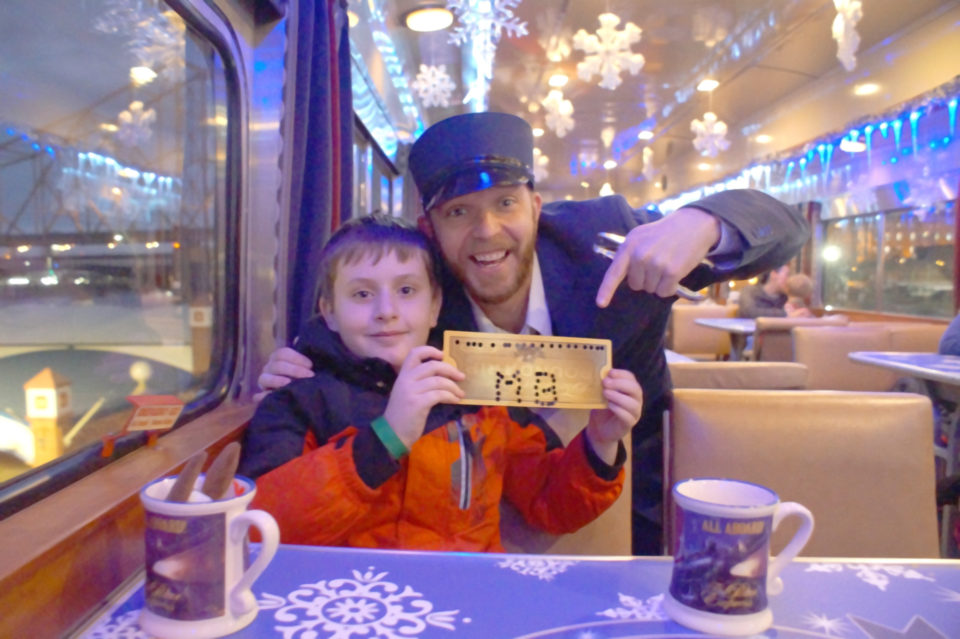 9) Timed Tickets
You'll still have to "stick to your ticket" because you'll need to start the experience at your boarding time. This is to keep families well spaced in 2020 style. Tickets will be available throughout the afternoon and evening every day the event happens.
10) Bundle and Save
This is the first year that the Polar Express comes to town after Union Station grand entertainment venue is finished. That means you can spend a whole day at Union Station's Aquarium, The St. Louis Wheel, the ropes course & carousel and all that cool stuff!
Tickets for The Polar Express Experience is $30.
Tickets for The Polar Express and the Wheel is $35.95.
Tickets for The Polar Express and the St. Louis Aquarium is $40.50 for kids and $44 for adults. (Your aquarium ticket is good for any time the same day.)
Are you a member of the Aquarium? Great! You get a discount!
The trains are booking fast, so go get your tickets NOW!