Bring out the holiday spirits with this adorable — and super easy to make — Popsicle Stick and Pom Pom Christmas tree! It only takes a few minutes to put together, especially if you use hot glue.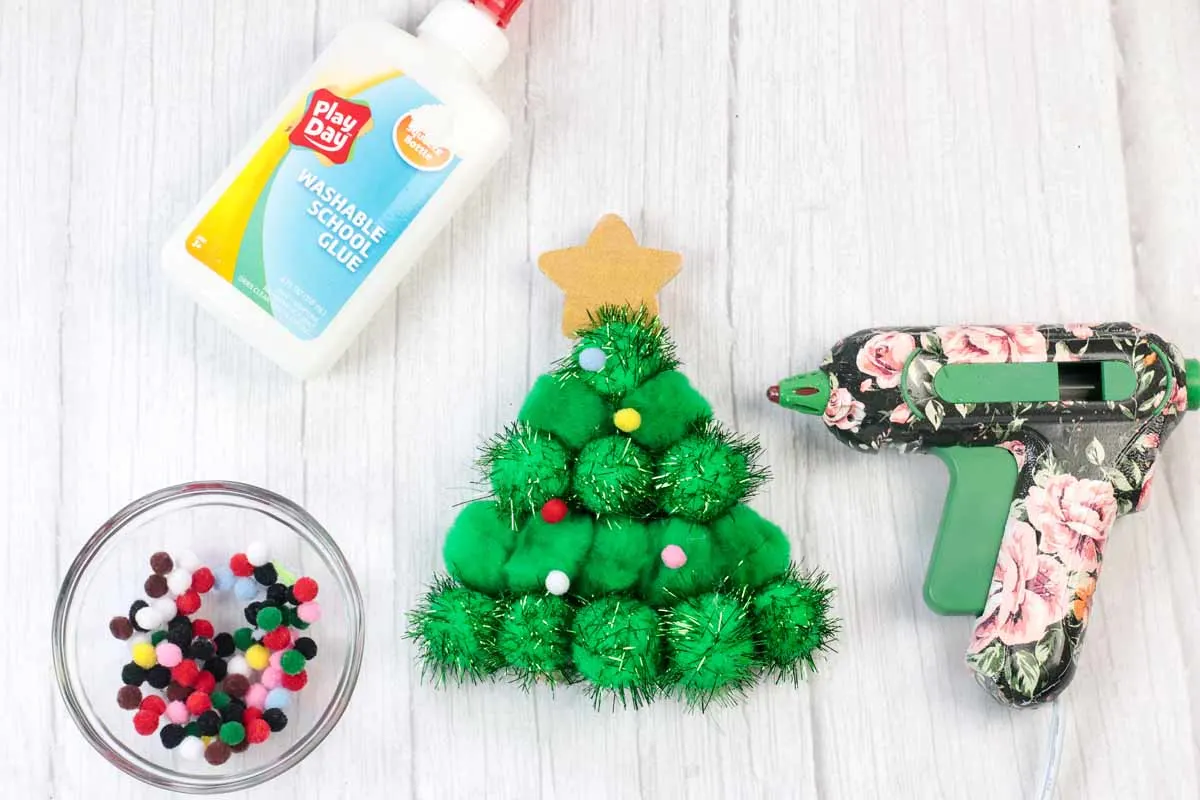 How to Make a Popsicle Stick and Pom Pom Christmas Tree
This is one of those really fun and simple crafts that looks SO awesome, even if your kid is all thumbs when it come to crafting. It's great for all any age crafter, too!
Younger kids will want to use ordinary school glue to stick their pom poms to the tree's popsicle framework. Older kids can speed things up with the use of hot glue.
This is NOT a good craft for glue sticks, you need something VERY sticky!
Check out Popsicle Stick Catapults too!
What kind of Pom Poms should I use to make a Christmas tree?
~This post also contains affiliate links (including links to Amazon) which may reward me in the event of a sale.~
You'll need at least two kinds of pom poms: larger green balls for the base of the tree, plus tiny colorful ones to make the ornaments.
You can add a touch of sparkle by mixing in Tinsel Pom Poms.
You can find pom poms in the kid's craft area of your favorite hobby shop, or online at Amazon.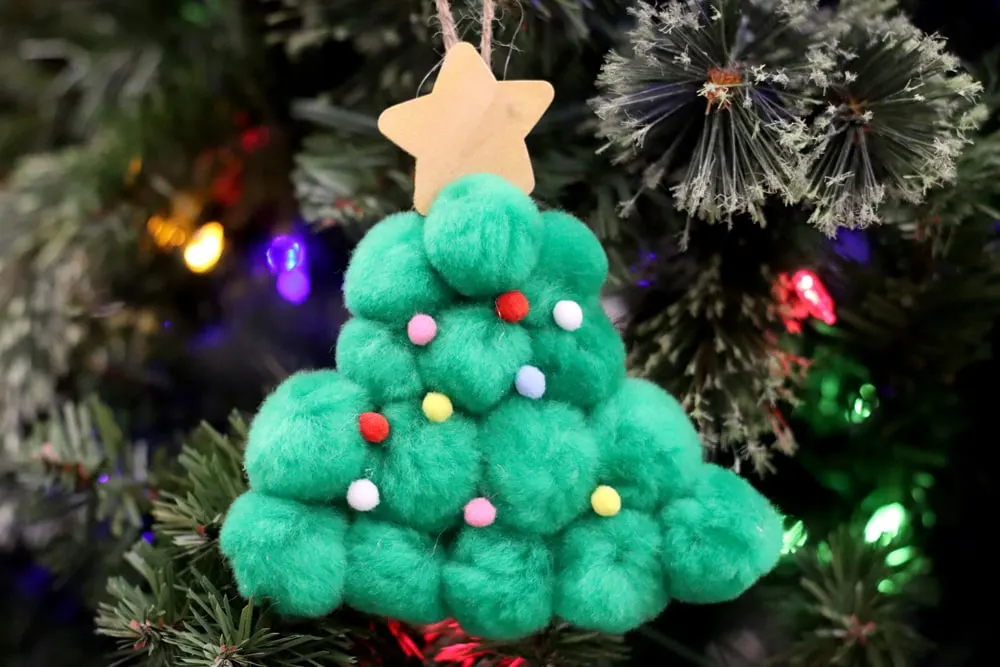 Where to Buy Popsicle Sticks and Wooden Stars
Don't want to eat a whole box of Popsicle Sticks to make a craft? No worries!
Popsicle sticks, also known at crafts sticks, are readily available in the kid craft aisle at Target, Walmart, Hobby Lobby and Michaels. They come in many sizes and even prepainted!
You can also add craft sticks at Amazon next time you're putting together a shopping list. There's no need to paint these as they will be hidden in the back of the craft.
Wooden stars are also pretty easy to find at your favorite hobby shop or online. Extra stars can be saved for an American Flag craft, or you can make ONE star from construction paper.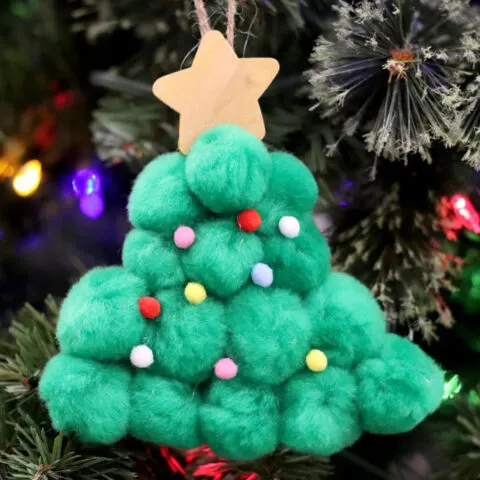 Pom Pom Christmas Trees
A super easy Christmas ornament you can make with the kids out of pom poms.
Materials
Green Pom Pom
Mini multi-colored pom poms
Craft or popsicle sticks
Wooden Stars
Gold acrylic craft paint
Ribbon or twine
White Glue
Instructions
Glue two crafts into a V shape to form your tree's outline.
Glue one more stick down the middle.
Paint the Star gold, set aside to dry.
Glue Star to the top of your tree frame work.
Glue large green pom poms to the sticks, filling completely.
Glue smaller multi color pom poms to to the tree -- these are your ornaments!
Allow glue to dry.
Tie a loop of ribbon or twine and glue to the back of the tree for hanging.
Notes
Older kids can use hot glue, which drys much faster!
Want a fuller tree? Use 4 or 5 popsicle sticks!