Craft classes are a great summer activity for the art loving child. Cheaper than a whole week of art camp, a class offers an afternoon of craftiness on the cheap. Our favorite creative toy store, Circle of Knowledge in Sunset Hills, is offering craft classes all summer long–so RSVP now!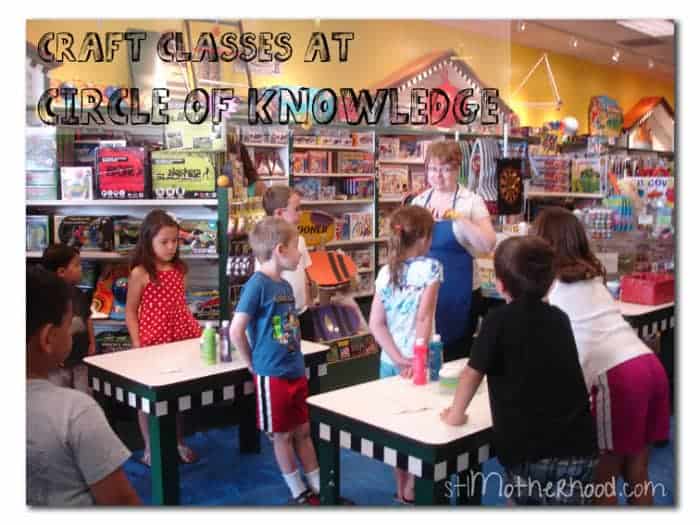 If you didn't get one of their calendars in the mail, you can find a list of classes at Circle of Knowledge's website. You can sign up for the class in person, or over the phone. Easy-peasy. Classes range from $4 to $10 and are for kids from 4 on up. There are several sessions for each class, from 10:30am to 7pm.
Mitch and I did a couple classes last year. Well, Mitch took the class and I just hung around and took pictures. Most of the crafts are easy enough for school age kids that you can just browse the shop while the kids play. You'll need to stay at the store–this isn't a drop and run kind of place.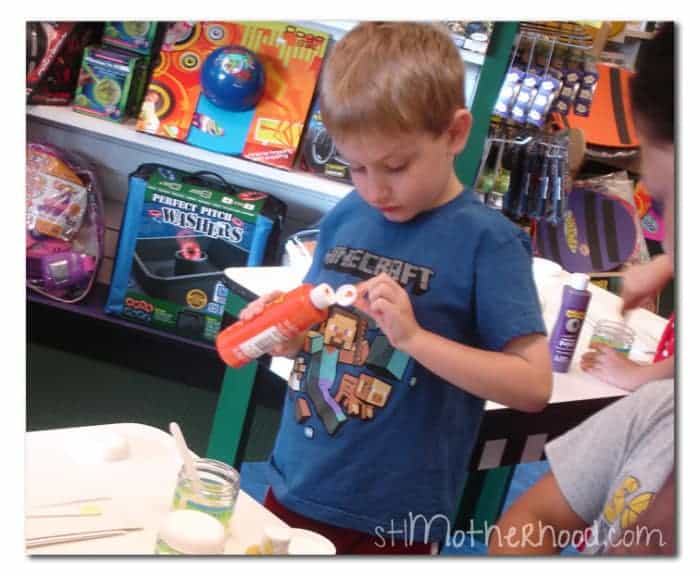 Mitch had a lot of fun last year doing these classes and he's eager to go again.
Wondering how they have a craft class in a toy store? Last year the shop placed several kid height tables in the center of the store! Circle of Knowledge already had a train table and other toys out for kids to "test" while parents did some shopping. I'm sure they're hoping parents will pick up a toy or two while they are waiting! It's brilliant marketing, and I don't mind it a bit. I try to steer Mitch towards a smaller toy or another craft kit–they have a great selection of toys you just don't find anywhere else.
This year they are offering classes on stepping stones, 3D art, simple mosaics, make a plate, monster cars and silly socks. There's also an open-ended creative class where the store will provide interesting odds and ends for the kids to create whatever they can dream up.
(This post is NOT sponsored–we just think this is a cool store!)