I don't know who manages to keep their crayons in the original boxes–the darn things just end up jumbled in a box. Or is that just at my house? It's time to round up those crayons!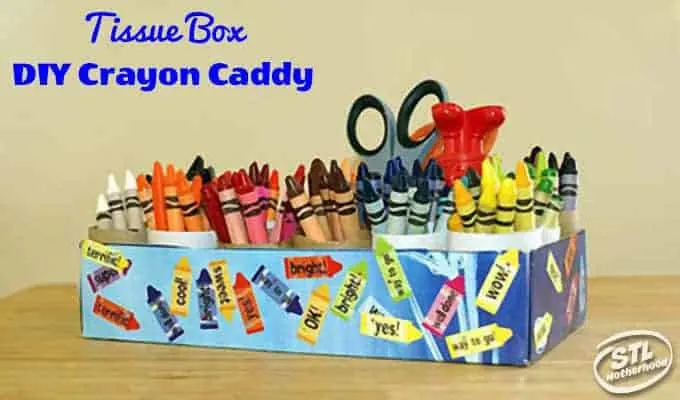 We found this crayon caddy idea somewhere a few years back and blogged about it on the old St. Louis Motherhood blog. The old blog company, who, like Voldemort, shall remain unnamed, changed formats a few times and screwed up my slideshow.
So I'm putting it here. Forgive me if the image quality is a little off–I've "recycled" photos from the old blog because I lost the originals. I'd remake the caddy with Mitch, but it's awfully cute to see his little pre-schooler fingers in these shots!
• You've got the crayons out…here's some free coloring pages to go with it! •
DIY Crayon Caddy
All you need is an empty tissue box, some paper tubes, scissors and glue. Stickers are a fun option to decorate the box easily. (We first did this craft when Mitch was a toddler.)
You'll cut the top off the tissue box and then cut the tubes down to size. Use a crayon for a height reference–you'll want the crayons to stick out the top a little.
Dip the bottoms off the tubes in glue. We poured the glue on a butter dish lid. It doesn't matter how neat it is, no one will see this later. Arrange as many tubes as you can in the box.
We got 17 tubes in our box, but I think the odd number was because they were two different sizes.
Let the glue dry. I put a heavy book on top of the tubes while it dried to make sure everything was smushed together good.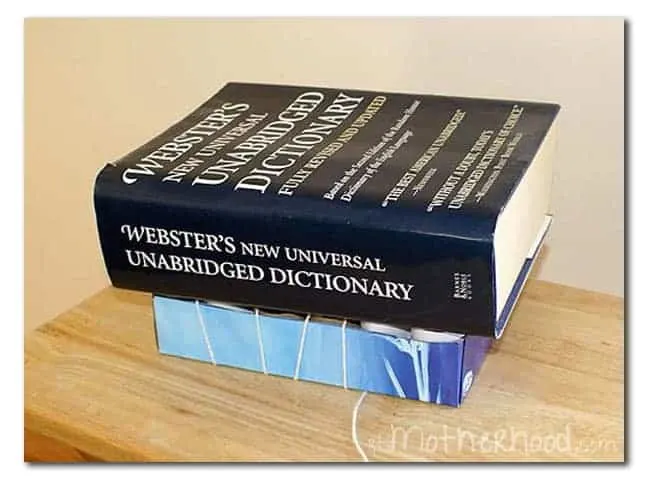 The last step is to decorate. We had some crayon stickers, which seemed pretty appropriate–and were just the right speed for pre-schooler fingers! If you're doing this with an older kid, feel free to break out the paint!
The caddy can also hold other toys or collections!