So you're new to St. Louis and you want to do something "authentically" St. Louis. How about a visit to Crown Candy Kitchen, a landmark, dare I say, drenched in local flavor. (Sorry, I couldn't help myself.)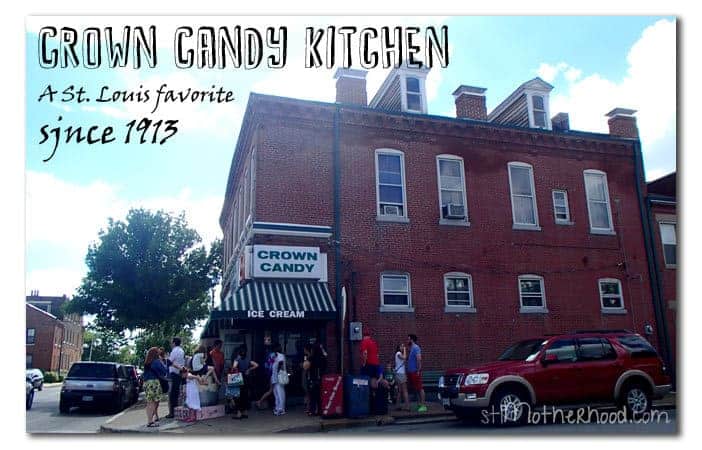 Crown Candy Kitchen is a century old restaurant that serves hand made ice cream, killer sandwiches and locally made chocolate. Locally, as in right there in the kitchen. It's run by the Karandzieff family, now in the third (and fourth) generation.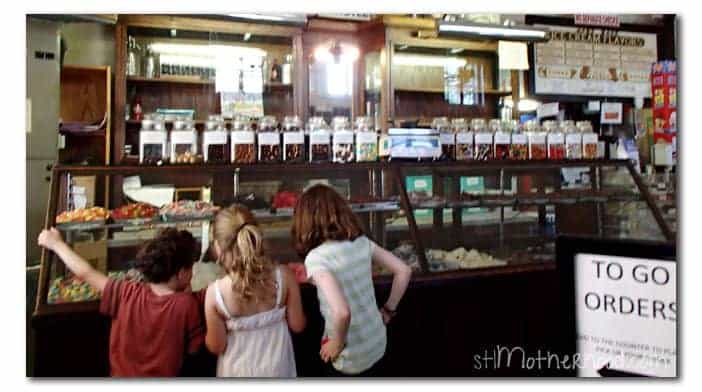 Crown Candy Kitchen has lines that stretch around the block because it's a tiny place. A hundred years ago I'm sure they were only expecting neighborhood kids and maybe people who took the street car. They've never expanded…and there's not as much seating as you would expect from a place constantly on the city's "Best Of" lists.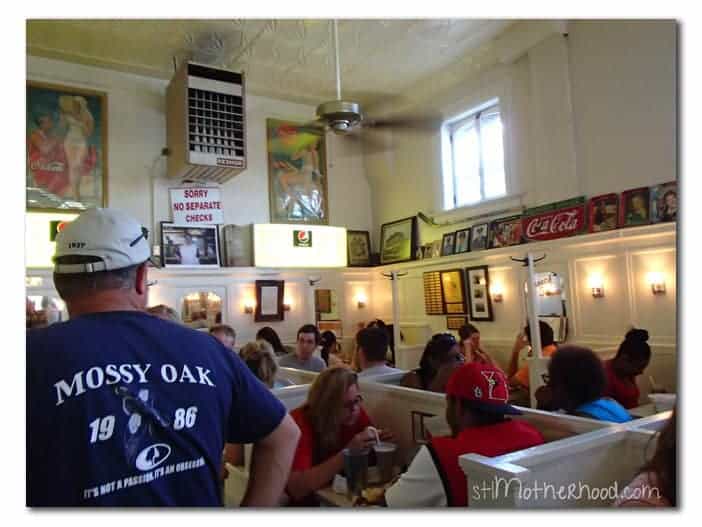 Read the signs people!
You'll notice a sign when you get inside that directs you to wait for a table or get in the To Go line. If you get your order to go, you can take it across the street to a picnic area, or just eat it in your car. Please pay attention to the signs, because many of the staff has been working here 10+ years and they don't take guff from customers. They know who their regulars are and who are the tourists. The day we stopped in, we watched with joy as a waitress lit into a couple who sat at a table with their TO GO ORDER. (What amazed me was that they had to be told more than once that people were waiting in line for those tables and they should kindly leave.)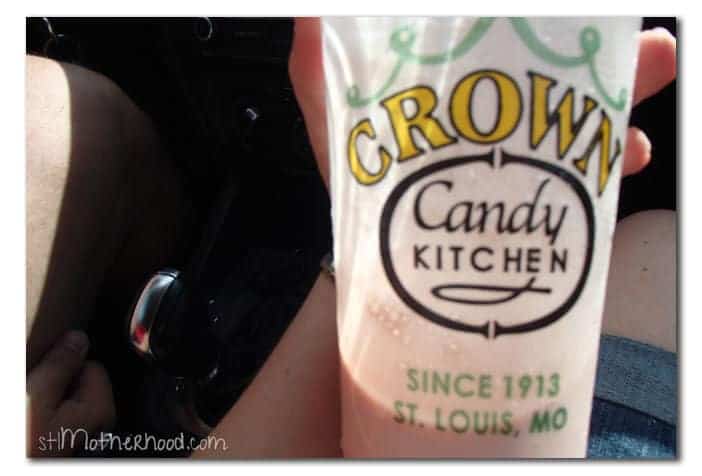 Menu at Crown Candy Kitchen 
So is it worth the wait? Sure! The ice cream and chocolates are made from scratch right there in the restaurant. It's simple fare, but oh so good. After all, they've been in business for a hundred years, they must be doing something right!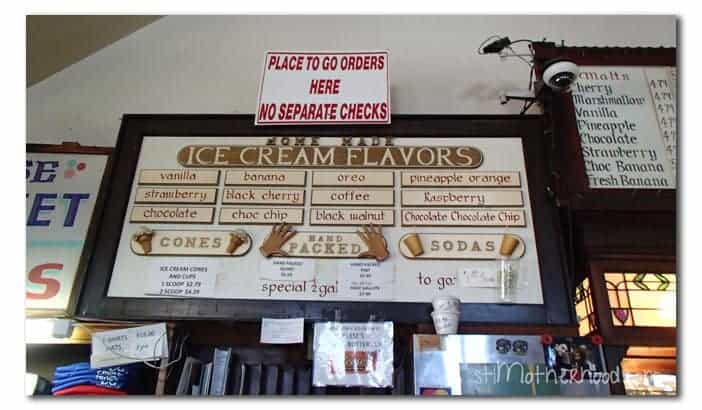 If you come for lunch or dinner, the menu is basic diner food. Well, maybe basic isn't the right word. Crown Candy Kitchen has been in the running for the Best Sandwich in America. The Food Channel has been by a couple times with Man vs Food, and food won. 
But is it safe to visit? It's in North St. Louis!
Part of the charm of Crown Candy Kitchen is that it hasn't moved or changed much in 100 years. People go to Crown Candy not just because the milk shakes are so darn good, but because the place hasn't changed in 50 years. Nostalgia is a huge selling point for Crown Candy Kitchen. If you want to know more about the family and it's history read this awesome story in St. Louis Magazine from last year's hundredth anniversary. I like this quote about people calling up and asking if it's safe to visit. To which one of the owners says:
"If we are having one of those mornings, we might say, 'Well, maybe not,'" Andy admits, the devil's gleam in his eyes. "Or they'll say, 'I'm bringing small children.' 'Well then, definitely don't come down, 'cause they get kidnapped all the time down here."
Now, obviously Andy is joking. But, unfortunately for Crown Candy, their corner shop is located in North St. Louis, an area that's more than a little scary for many suburbanites. But when it comes to Crown Candy, people don't seem to care. They line up out the door (it's a pretty small place) and wait their turn.
On the plus side, the immediate neighborhood around Crown Candy Kitchen is being transformed. That same article from St. Louis Magazine points out that urban developers are focusing on Crown Candy's draw and slowly rebuilding. We took the kids last Sunday afternoon and had no problems. The street was quiet–Crown seemed to be the only thing open–and families were swarming the place.
If you're not familiar with the area, I'd suggest you take Hwy 44/Hwy 70 and get off at St. Louis Ave. If you're coming from south, you'll drive by the Arch then jump off at the Madison exit. You'll drive about half a mile on a crappy looking side road, then turn left on Saint Louis Ave. Crown Candy Kitchen is at 1401 Saint Louis Ave, just a few blocks away.
Parking
This is the city, so it's just street parking here. There are parking meters for at least a block on each street. We were lucky and found a spot just out of range of the meters.
STL250 Cake
Yep, Crown Candy Kitchen has a birthday cake out front in 2014. We visited in late May, and this cake is already starting to see some wear and tear–it's placed right by the front door, so kids are climbing it all the time.