So you know how when you're hiking through the rain forest you really need a good waterproof backpack to carry all your tech with you? No?
Lemme back up a bit then.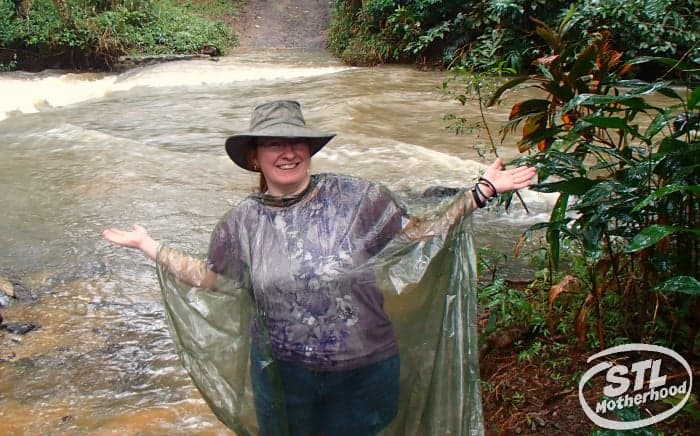 A couple weeks ago I was lucky enough to take a trip to Hawaii. It was just me and the hubs…and a bunch of people from his company. Believe me, we're not rich enough to go jet setting off to Hawaii on a whim, this was a trip that my husband worked his hinder off to earn. The company brought in travel agents to help us book fabulous tours during our stay on Maui, a magical island that still very wild. We flipped through the brochure of adventure tours and cruises available during our stay. Did we want to chase whales on a catamaran, zipline down a volcano or take a fabulous water fall hike? I nixed the zipline–the last time I did that I got mulch in places I can't mention. A hike through the beautiful rain forest it was! 
I imagined our hike would be something like this: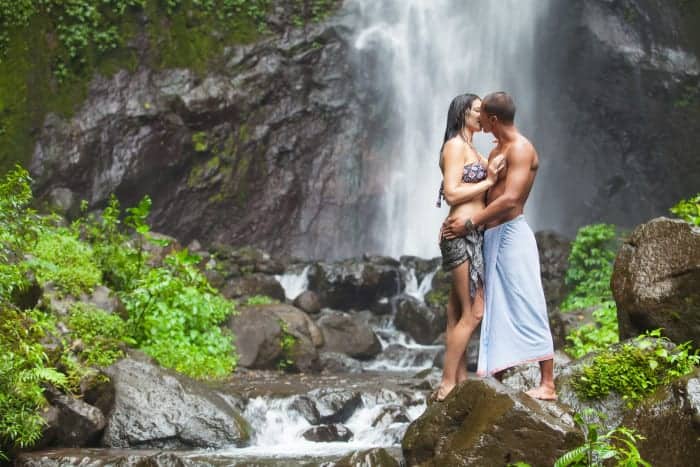 We doubled check the weather, which was a windy and cool for Maui, and decided to take a boat ride on the sunniest day and a hike when it was cloudy. After all, what's a slight chance of rain in a rain forest?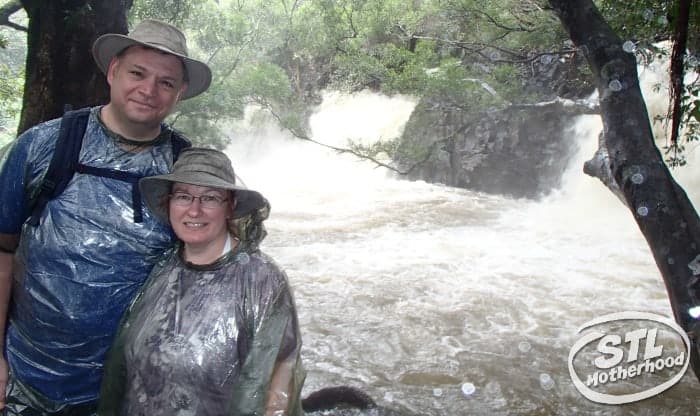 As luck would have it, it rained on our hike. And the rain triggered a flash flood that ripped through the beautiful streams and waterfalls, turning them into raging torrents. Our tour guide apologized that he had to cut our tour short–the trail was flooded and there was no way around it. So we hiked in the mud and rain, wearing silly ponchos that the guide kept in his van "just in case."
The ecbc Backpack
So what does all this have to do with a tech bag? About a month before the trip, ecbc contacted me and asked if I was planning a spring break trip and if I'd like to review one of their carry-on bags.
We don't fly a lot, so I wasn't sure that I needed a new carry-on, but I was curious about their product line and took a peek at the ecbc website. They have a terrific line up of luggage and on carry-on bags. One bag in particular jumped out at me: the Hercules Laptop Backback. It's carry-on size–perfect for a blogger on the go. I imagined I could use it to take my computer on blog conferences, band trips or just stuff it full of camping gear next time we head to Johnson Shut-Ins. After all, the bag is described as waterproof and "crafted with nearly indestructible Kodra nylon."
I told ecbc I was delighted to test out the Hercules, and they sent one free of charge. (Psst: that means they sponsored this post.) I imagined I would take it on the plane, grab a photo of it on the beach and be done.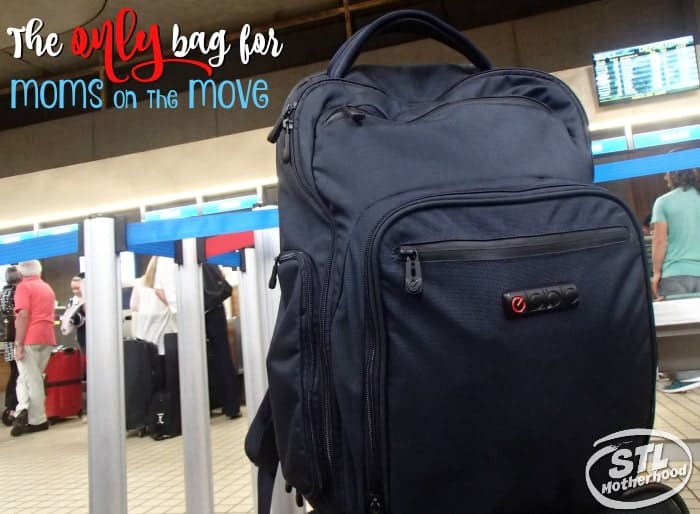 Hercules is Up to the Task
I firmly believe that your carry-on should hold all your essentials, just in case your checked luggage is lost. I stuffed the Hercules to the brim with a change of clothes, my swimsuit, a few toiletries and every piece of tech we had. See, the real selling point of ecbc luggage is their unique TSA friendly FastPass® System. Each bag has a special compartment for your computer and accessories that unzips to lay flat, allowing you to run the bag through TSA's scanner without unloading your gear. 
Since the Hercules is a backpack, it has pockets strategically placed throughout the bag so your devices and cords don't overlap in the x-ray machine. I packed a laptop, an ipad, my phone, a compact camera and all the cords to charge them up in that bag. Oh, and ecbc also makes a heavy duty power pack to keep your phones charged up–that was in there too. When we approached the TSA check point, I simply unzipped the bag and pushed it through the scanner. No problems! And no shoving your gear back into a carry-on while trying to put your shoes on before you miss your flight.
Once we made it to the gate, I just pulled my ipad from the bag and boarded the plane. We stowed the bag in the overhead bin with ease–no stuffing or shoving.
When we changed planes in Phoenix I was able to wear the backpack while we dashed through the concourse, keeping my hands free for my phone and boarding pass. We pulled the ecbc power pack from the bag for next flight–over six hours to Hawaii–and took turns topping off our devices. The power pack had enough juice to keep me playing Fallout Shelter all the way to Maui, quite a feat considering what a battery hog that game is!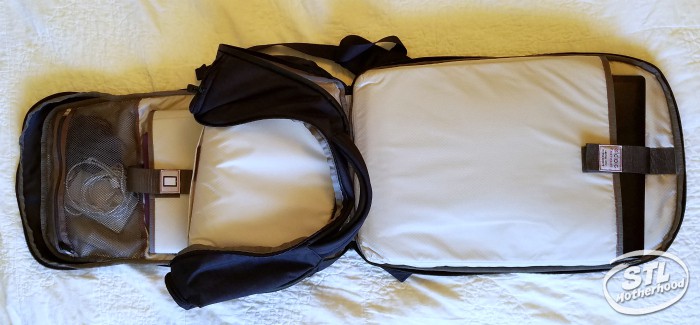 Backpacking Through the Rain Forest
After we booked our lush rain forest hike, I saw that "backpacks are provided" to carry your gear. We'd be lugging towels, lunches, a camera or two and some cash for souvenirs. I thought, why borrow a backpack when I brought the perfect bag from home? And, heck, it's waterproof! We smuggled a pair of hotel beach towels in the backpack and found our tour guide. At the trail head he handed out sizable boxed lunches and water bottles. The Hercules was big enough to carry everything for my husband and I, and he volunteered to play pack mule on the hike. We tucked both our phones in the outside water proof pocket, and the water bottles in the hidden zip out side pockets.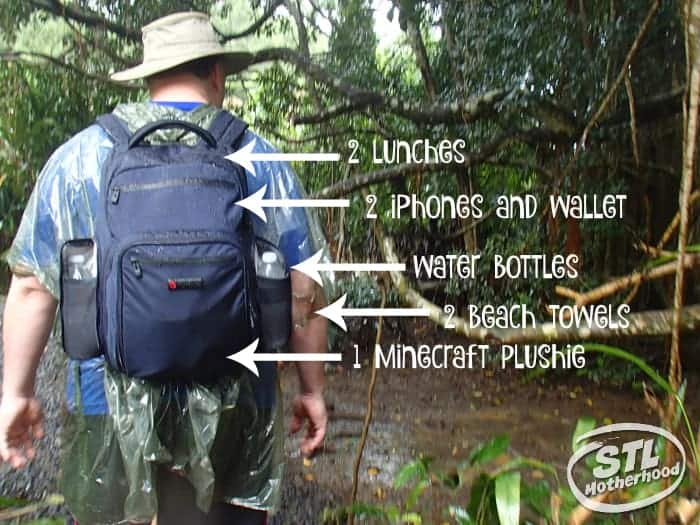 The rain kept us from seeing Maui's beautiful waterfalls, but it didn't spoil our hike. When we stopped for lunch we were happy to find our sandwiches and iphones nice and dry. So were the towels, but I didn't want to explain mud to the hotel, so we just perched on a wet log.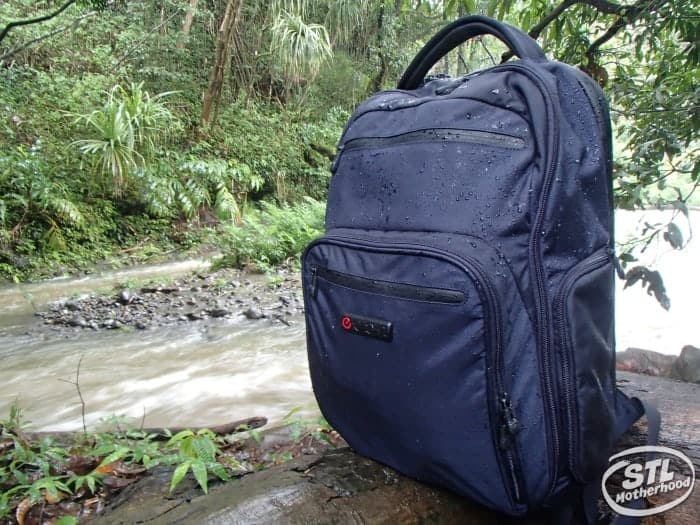 The trip was definitely memorable, and the ecbc Herecules did, dare I say, heroic service. We'll be keeping this one handy to haul gear anytime we're on the move. Oh, in if you're wondering why I brought a Minecraft plushy on my trip? It's 'cause Splody wanted to see the world, of course.