Have your kids asked you to take them to Go Ape, the zipline and ropes course combo strung through through the tree tops of Creve Coeur Park? No? They will.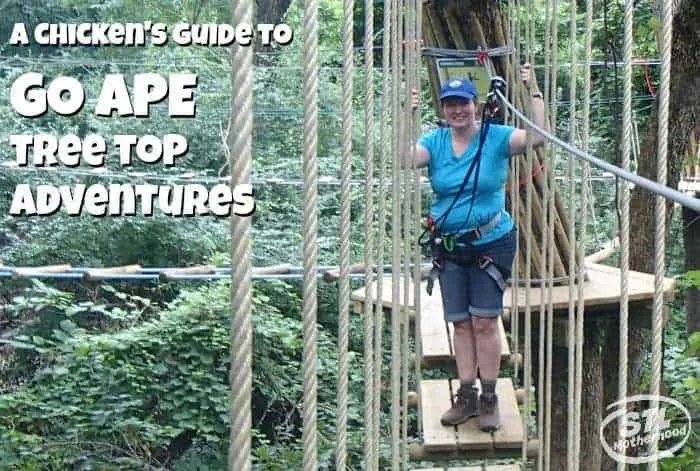 I've written this post so you're prepared when your kids demand that you take them on this totally wholesome, outdoorsy and fresh air activity.
You've been warned.
Tips to survive the Go Ape course with your dignity (and skin) intact.
Dress more like Indiana Jones than Lara Croft. Yes, both these completely fictional characters would be at home on any one of Go Ape's 39 challenges. Rope bridges without angry natives? Meh. Ziplines with a harness, what are you a sissy?
But seriously, consider what you wear. You're going to be climbing rope ladders, shimmying across obstacles and swinging from lines into big honkin' nets.
Don't wear any jewelry that could get snagged. If you (or your teen daughter) have piercings that can't be removed, Go Ape says to tape them over.
Long hair needs to be tied back.
Go Ape suggests hiking boots–but only bring them if you would be comfortable pirouetting across a wire cable in them like Croft herself. You can NOT wear open toe, slip on shoes or sandals. (Duh.)
Gloves would be extremely helpful to avoid the rope burn you might get after clutching your straps for dear life on your first ever zip line. (Oh, that was just me? Sorry.)
A heavy t-shirt—tucked in—will keep the mulch out of your pants and prevent wood chips from embedding themselves into your skin if you land like I did. Five times. My mesh backed bicycle shirt was cool, but it didn't help when I thunked into the ground at a rapid speed. Hopefully you'll figure out how to land on your feet. Like Croft does.
Bring a camera, but use a clip to attach it somewhere safe. The nice people at Go Ape warned us that anything kept in a pocket was unlikely to stay there. They can store small items for you at the starting point, but you'll be better off just not bringing anything silly. Keep your purse in your trunk for this one.
Don't worry, they will train you. The first bit of training is on the ground where they show you how the harness works. The second stage of training is on a low to the ground beginner course.
After that, you're on your own! Well, sorta. There are guides walking the course at ground level if you get really stuck. But you're left to puzzle out the best way to complete the obstacles. Ryan and I thought the signs were a bit…amusing.
The course can be completed by beginners–Ryan and I are not normally into high adventure courses. We like to hike, bike and go camping, but this was the first time either one of us had been up a tree. Ok, I think Ryan did a zipline with his Boy Scouts, but nothing like this!
Don't worry, the harness and double safety lines will keep you safe!
You're gonna use some muscles you may not remember having. We found that rope ladders are a lot harder to climb than wooden ones. Who knew? The course might be harder for those of us who rather play video games than work out.
Speaking of which, the course is split into five sections. Each begins with a rope ladder to get you into the tree tops and ends on a zip line to whisk you back to the ground. The starting points have a nice little bench and water cooler so you can take a break. Don't worry about bringing a water bottle, it's just something else to strap to your body.
You will have fun. Ryan and I had a blast on the Go Ape course. It was challenging and maybe a bit scary at times. But more of the roller coaster scary, not the walking through the woods chased by grizzly bears scary.
Lastly, Go Ape in St. Louis is a "big kid" activity. You have to be at least 10 years old and over 4 feet 7 inches for safety. Also, the harness can only accommodate adventurers under 285 pounds.
The age limit makes perfect sense when you realize the ropes can only handle one climber at a time. Platforms can hold up to three people, so you can regroup at each obstacle and figure out the best way across. This was also when I double checked my kid's safety cable–yeah, I'm that mom.
Go Ape in Creve Coeur Park is open seven days a week in the summer and during weekends in spring and fall. They close from December to March. Check the Go Ape website for more details on time.
Ticket prices are currently $55 for adults and $35 for kids from 10 to 17. There are discounts available for groups, military, police and fire, teachers and college students.
(Disclosure: StlMotherhood received complementary media passes to check out Go Ape. All opinions here are my own. )