Halloween is a big deal in St. Louis. We have tons of spooky, scary and downright terrifying haunted attractions to go to in this town. But what about the little guys? Most of our favorite St. Louis family hangouts have jumped on the Halloween bandwagon, with spooky events tamed down for their prime customer: kids.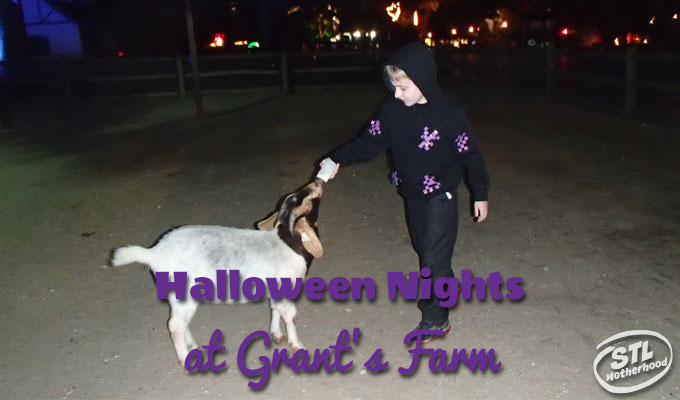 Grant's Farm Halloween Nights
My favorite of all the family Halloween places is Grant's Farm! During select nights in October they'll stay open until 10pm and let the little ones have a ton of not-so-spooky fun! They've been hard at working lighting up the Deer Park with Halloween lights for that special after dark tram ride. They'll have a DJ in the Bauernhof playing kid friendly tunes and a special Halloween themed animal show Tier Garten. The carousel will be running and the goats will be open for petting and feeding. And of course the old barn is decorated for Halloween with spooky scenes!
Last year the parakeets and camels were tucked in bed during Halloween nights, so you'll have to visit them during the daytime. 
And of course the Bauernhof will still be open with plenty of food and drink for sale and sampling. (Wink, wink.)
Dates and Time
This year–2018–Halloween nights are on OCTOBER 5 – 6, 11 – 14, 18- 21, AND 25- 28. That's basically every weekend in October, Thursday to Sunday. They're not open Halloween night.
The night time event is from 6:00 pm – 10:00 pm and the gates close at 9pm. But please give your kids more than just an hour to soak up all this not-so-spooky fun!
If you want to visit during the day, note that Grant's Farm is only open on Friday-Saturday-Sunday during the fall. Click here for complete info on their hours. They normally shut down for the winter November 1.
Do you Need Tickets?
Grant's Farm Halloween Nights is still $20 per car, or $5 per person if you walk in from Grant's Trail. Though, I'm not sure who wants to walk a mile in the dark? 
It's also more crowded during Halloween nights, so be prepared to stand in line to get inside the park. Maybe catch a few Pokemon while you wait?
You can try to beat the crowd by showing up early, but we think it's best to suck it up, stand in line, and be there when it's really, really DARK. The tram ride through the Deer Park is so much better in the dark so you can enjoy all the twinkle light decorations hung from the trees! The beer garden will be running as normal, with food and free samples of Anheuser-Busch products.
Should we Wear Costumes?
Costumes are welcome at Grant's Farm Halloween nights. Bring a flashlight or glow stick for the little guys–more for fun, the place is lit just enough. We've done this event many years, so I can safely say it's pretty tame. As in, your two-year-old might be spooked, while your 10 year old will just roll his eyes at the light up spiders and tons of fog.