Updated 2021
Grant's Farm had SO MUCH FUN with their Halloween At the Farm drive through event last year that they're bringing it back! It's a perfect Halloween event for families, and serves up just the right dose of fright for smaller kids in the safety of their back seat.
Mitch and I drove through Grant's Farm Halloween Night last year night and it was so much fun! Mitch (who was 13 at the time and unscared of skellies) thought the decorations were great and the alien scene was AMAZING.
Tickets went fast last year, so don't wait to RSVP your spot.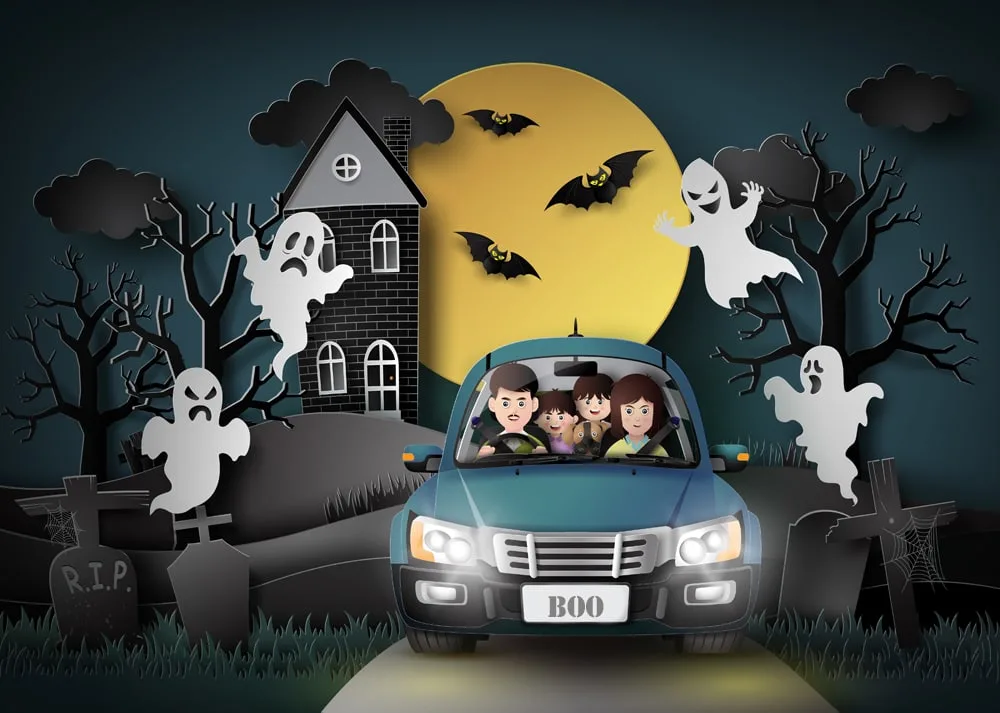 Grant's Farm Halloween Nights is now Halloween at the Farm
Grant's Farm has always been my favorite place to take the kids for Halloween. Pre 2020, Halloween Nights was just your regular farm experience, but after dark and with a few mildly spooky decorations.
But now? Oh my gourd!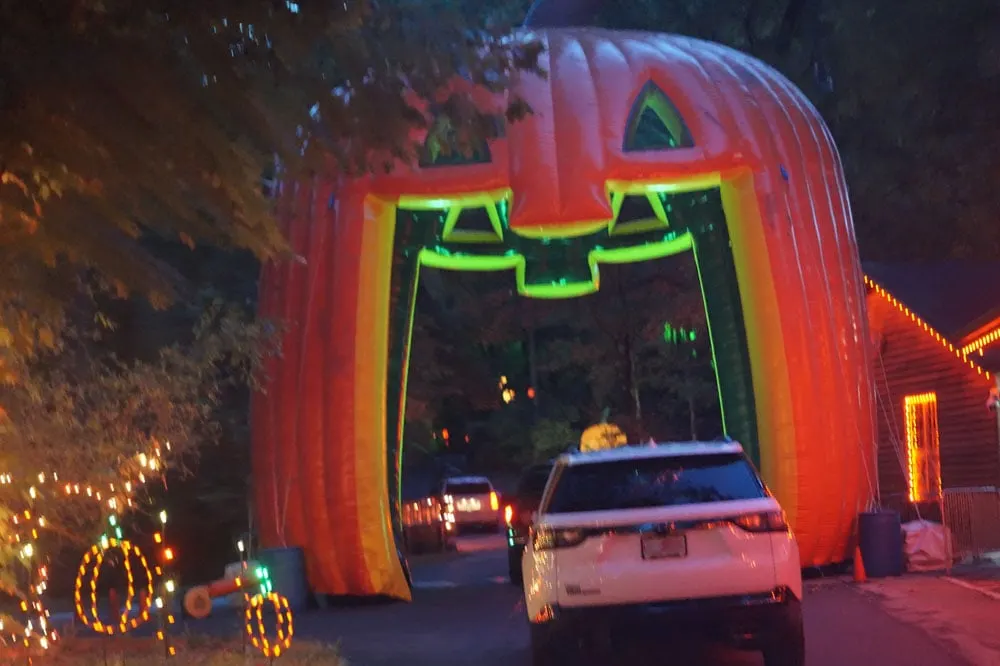 Drive Your Car Through Grant's Farm
They've pulled out all the stops on decorating for Halloween!
Since they are allowing guests to drive their own vehicles through the deer park, they've taken a few safety measures for the critters. The animals will be shoo'd into a separate fenced part of the farm so no one needs to worry about the bison sneaking up on them at night.
This also means the cows and deer can't nibble on the decor, so they can go all out on their scenery.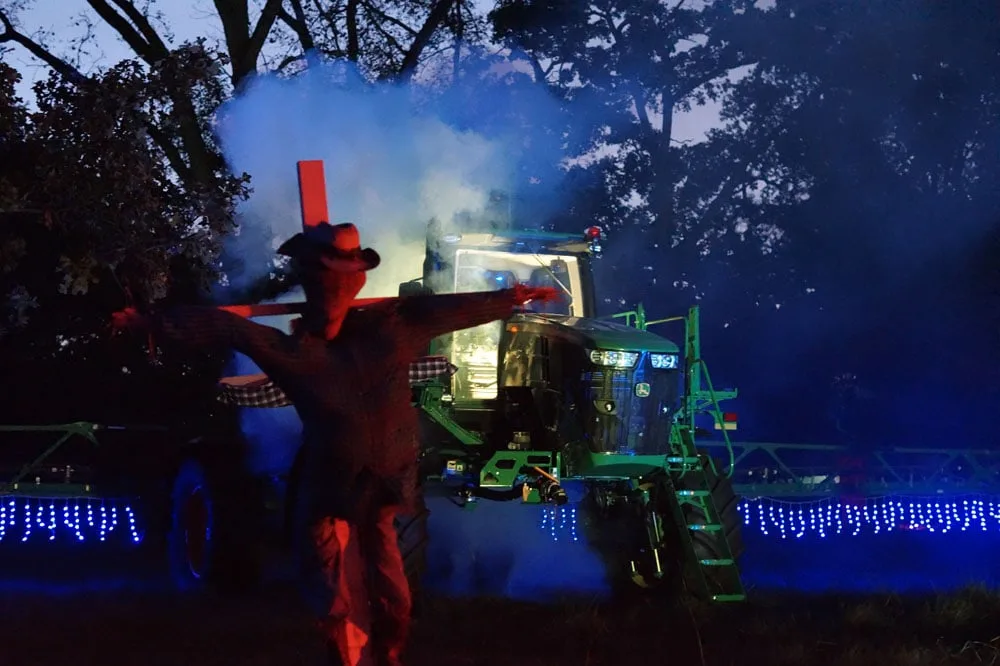 You may not be seeing the cattle and deer, but what you will see are many haunted scenes staged through out the wooded park. Last year we had knights, haunted archeologists, a spooky campground and…aliens!
You'll also get to drive through the Tiergarten and wave at the baby goats and llamas while admiring the Halloween decorations.
What's the Route again?
I was pretty excited to drive through the park…I think I'd want to be a tram driver when I retire!
If you're curious, here's the route: You'll enter the parking lot like a normal visit. Don't try to come from Pardee Road, you'll get turned away by a police officer. They're keeping the road clear for the event, and you're not allowed to sneak into the line without a ticket.
In the parking lot you'll show your ticket and get any extras you might have bought.
New in 2021: the restrooms are OPEN by the Clydesdale Barn. Once you scan your ticket, you can leave your car to use the bathroom. Nothing else is accessible by foot, this is a car only event.
Then you'll EXIT the parking lot the normal way and line up on Grant Road, pointing toward the employee entrance. You'll enter the park and drive by the tram station (no we don't get to drive through it), then up "pumpkin hill" directly to the Tier Garten.
If you're familiar with the tram route, we're basically doing it backwards. You drive past the beer garden — sorry, no samples, you're driving — and go pass the paddocks where you'll see a few camels, horses, cows and goats.
Then around the gift shop building and right into the park. You'll take a right at the covered bridge and enter a part of the wooded park you don't normally see during daytime visits. (The rest of the park has been left open for the animals.)
You'll exit the park at a backgate on Pardee Road and be directed towards Gravois.
Grant's Cabin is not on the route.
But is it SCARY?
This spooky drive is made especially for families. It's similar to what we've seen from the Farm in previous years, but since they're not open during the day right now (and the deer are keep away so they don't eat the decorations) they've put a lot more effort into the haunted scenes.
More smoke, more lights, more torches. More STUFF.
The themes aren't really THAT scary: there's a pumpkin hill, a medieval village (keep your eyes peeled for the Bud Light Knight), a haunted farm and so forth. Real people in dark clothes (and face masks) are standing around the scenes, but they're just there to make sure you don't take a wrong turn or hold up traffic.
The people don't jump out and try to scare you. They might even wave.
Most scenes are populated by Grant's Farm traditional skeleton horde. In fact, I spotted the hearse and skelly horse I've seen in previous years… The nice thing is skeletons are properly spooky, but not bloody.
Oh, an make sure you tune your radio in to 88.5FM. The Farm set up a local station to play a spooky sound track to enhance your journey!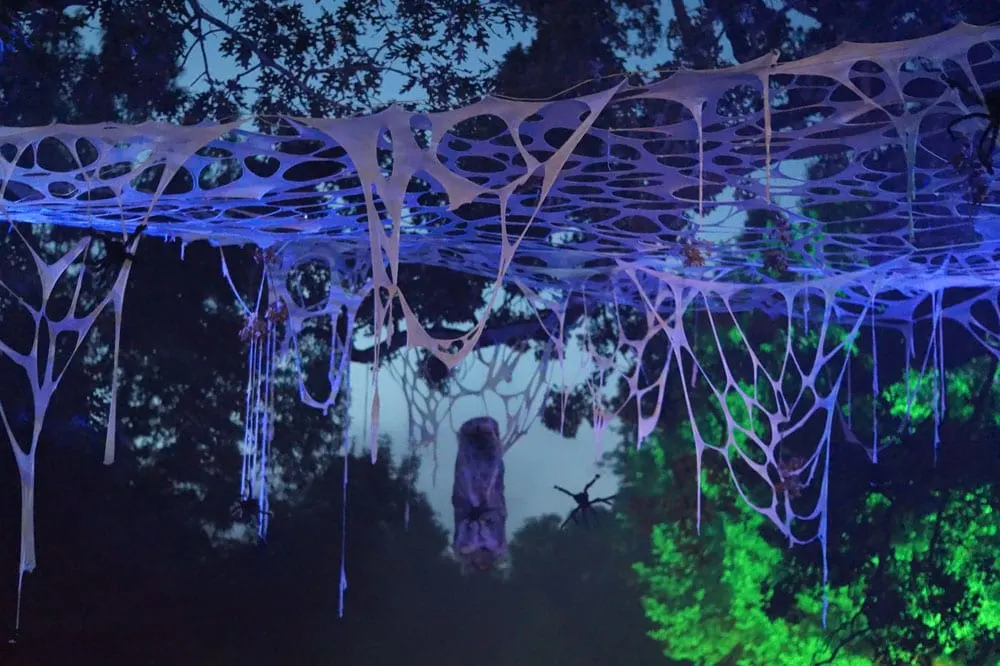 Drive Safe
Mitch and I toured the Halloween experience by ourselves. Probably the scariest part for ME was navigating my big honking SUV through the farm's narrow tram path IN THE DARK WITH NO HEADLIGHTS. BOO!
Yes, for the best experience, everyone is asked to turn off their headlights. The road is lit with tiki torches on the twisty bits, but there was lots of fog machines going…and I wanted to take pictures. (Ah, hem.)
The smart move if you want some pics is to have one person driving and the other gawking with a camera.
Also, make sure your windshield is clean…like on the inside. It helps.
Dates and Time
Grant's Farm Drive-Thru Experience is every Thursday — Sunday starting Sept. 30!
Times vary, with several slots available. All are after sunset.
Do you Need Tickets?
YES! Grant's Farm is traditionally a free place to visit, with a bit of paid parking. They've alway charged a bit more for their Halloween events. This year Grant's Farm Halloween Drive-Thru Experience is $40 per car.
Kids in the car will get a goody bag of treats from Storybook Sweets. You can also buy an optional snack pack that includes light up toys, a six pack of Fanta, Cinnamon Sugar Pretzel Bites and a window cling.
No buses or vehicles over 9 feet are allowed.
Should we Wear Costumes?
Costumes have always been welcome at Grant's Farm Halloween nights. But you're not leaving the car, so…meh.
Is there a Bathroom?
YES! This year a restroom in the parking lot is available after you check in.
Are there beer samples?
Nope again. While we've always enjoyed a few Anheuser–Busch samples in the hospitality room, they're not going to serve you IN YOUR CAR. Think about it.