Pumpkin Patches WILL BE OPEN for 2021 and we're keeping an eye out for all the announcements for opening days.
Halloween might look a little different this year, but the Great Pumpkin has declared that we WILL put on our spooky best and decorate our favorite gourds for the season!! There's plenty of Pumpkin Patches open to visit safely so you don't have to resort to the cardboard bin at Walmart.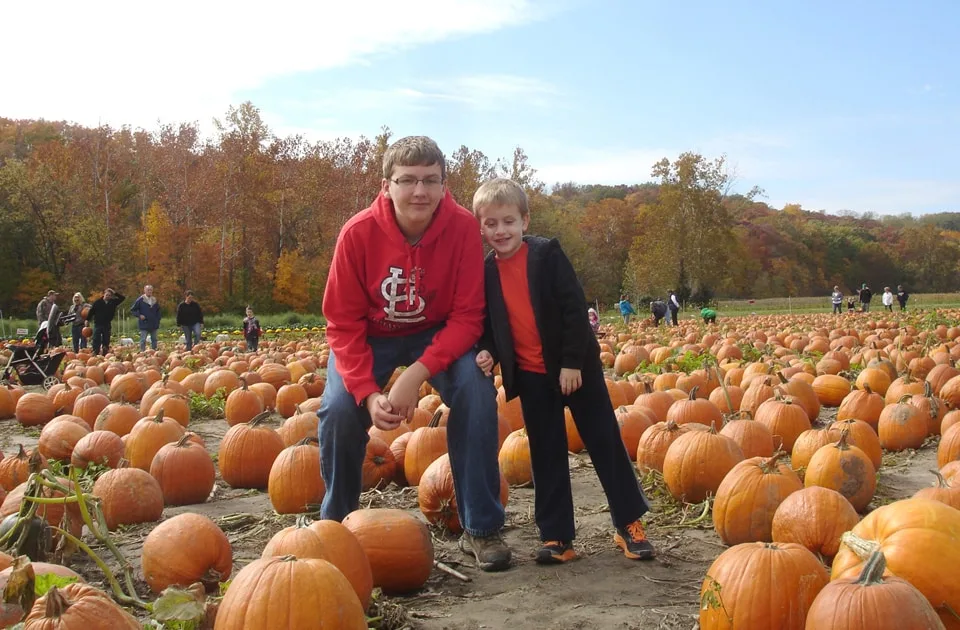 Here's a Map of the BEST St. Louis Area Pumpkin Patches!
Most of the local pumpkin farms we've been to have a mix of pick-your-own pumpkins, pre-priced pumpkins (by size or weight) and a general carnival atmosphere on the weekends. There's food, fall-themed playgrounds, tractor rides and pony rides–for an extra fee.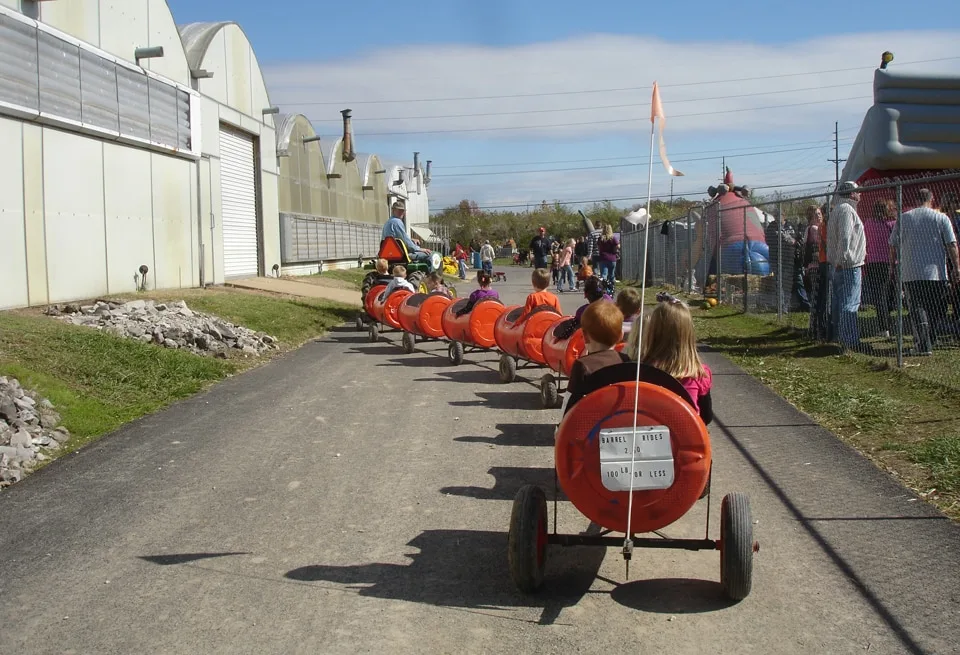 The Best Time to Visit a Pumpkin Patch
In 2020 you might need to make an RSVP or buy a timed ticket before visiting your favorite patch. Farms will be trying to keep crowds to a minimum for extra safety this year.
In the past, I've found that weekends are crazy festivals of pumpkin picking madness, while weekdays (in October) are more relaxed days for the stay-at-home mom with her pre-schooler set.
If you're available during the day and want a nice picture of your kid communing with the pumpkins, go on a weekday. If you want pony rides, kettle corn and maybe some live music you'll want to wait for the weekend.
Looking for fall fun with a few less gourds? Check out the St. Louis Renaissance Festival, going on every autumn in Wentzville!
Can you REALLY "pick your own" pumpkin?
Oh, and here's a tip I learned from a local farmer: you can't ACTUALLY "pick your own" pumpkin.
First, the vines would be too hard for the average kid to deal with, so the farm hands go out and cut the pumpkins loose. Then as the fields are picked over, they restock the pumpkins when no one is looking. Maybe all the farms don't do it that way, but think about it. Hmmmmm.
Here's our Favorite St. Louis Pumpkin Patches!
(Please check the websites for the most current info on admission fees and hours!)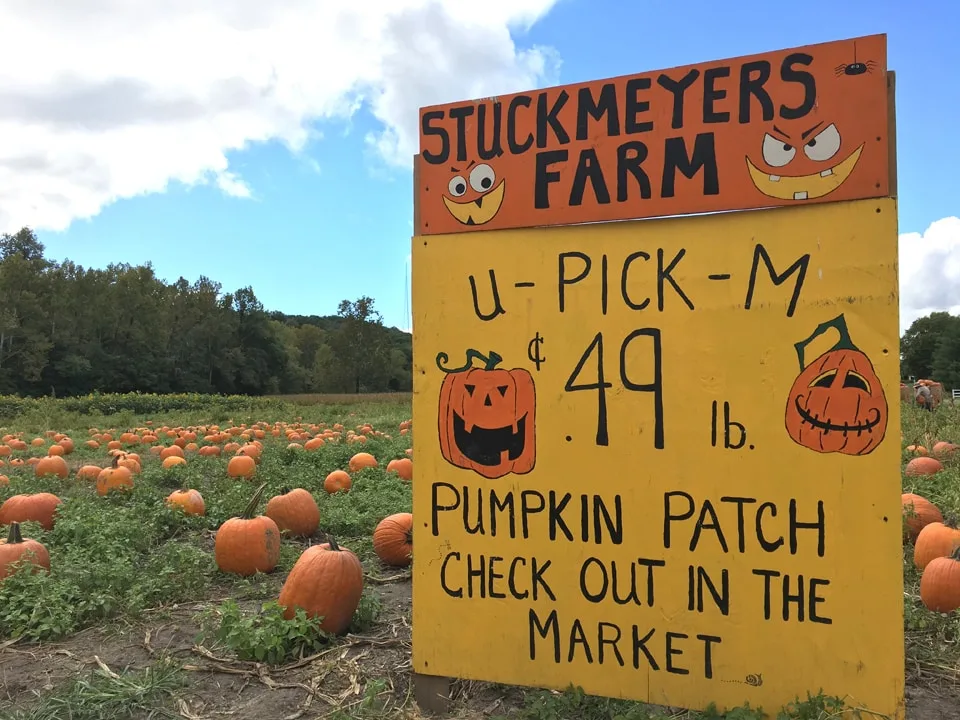 Halloween Days Sept. 26-Oct. 31 2021
Free Admission
TBA: 5th Annual Clydesdale in the pumpkin patch.
An official Budweiser Clydesdale will be in the patch from 11am to Noon for photos.
There's no admission to Stuckmeyer's "Fort Spooky" which is awesome and NOT SCARY for little kids. You do need tickets for things like tractor rides (7 days a week) or pony rides (weekends only).
Fort Spooky is mostly for smaller kids, with some tame hay tunnels to explore, a tot sized corn maze and a nice big Rainbow playset to climb all over. They also break out the inflatables on the weekends and have live music.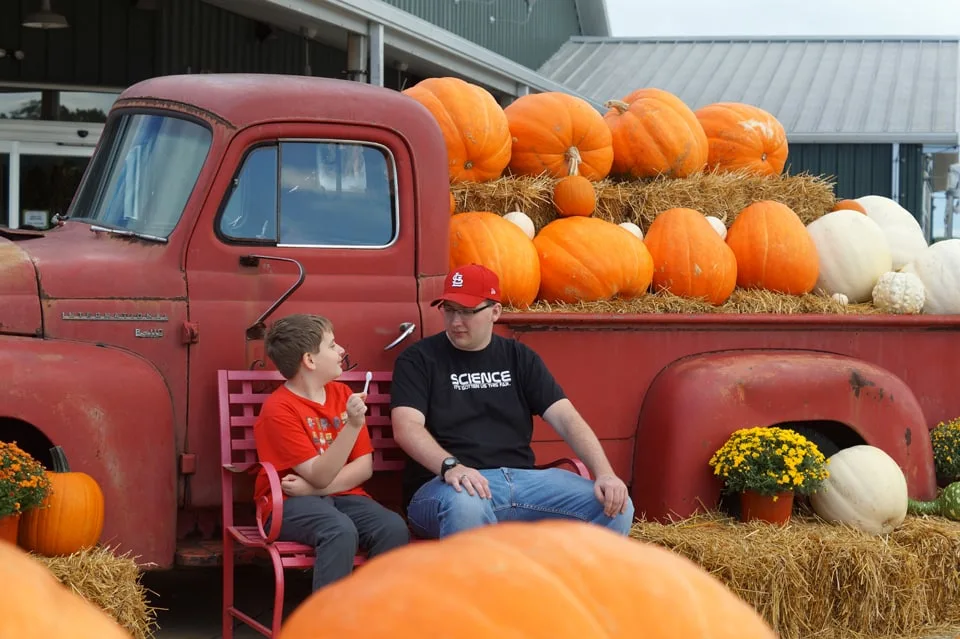 Haunted Hayrides & Bonfires start September 11
Pumpkin Picking starts Sept. 19th
$2 Field Access Pass covers all fruit & pumpkin picking.
Free on Mondays, half price Tues-Thurs, kids under 2 are free.
RSVP FOR FIELD PASS TIMED TICKETS (even on Mondays) to reserve your spot — there are a limited number of visitors allowed in the field every 30 minutes.
Pumpkins are 69 cents a pound. $3 minimum charge and $25 maximum price.
Eckert's is the king of pick-your-own fruit, so it's no wonder they do a great job during Halloween season.
They have more weekend fun than you can shake a stick at and some pretty good pumpkins too. The Millstadt Farm has more entertainment and requires tickets: $13 a person gets you access to all the fun, plus a trip on the Haunted Hayride every Friday and Saturday night from now to Oct. 26. (Kids under 2 are free.)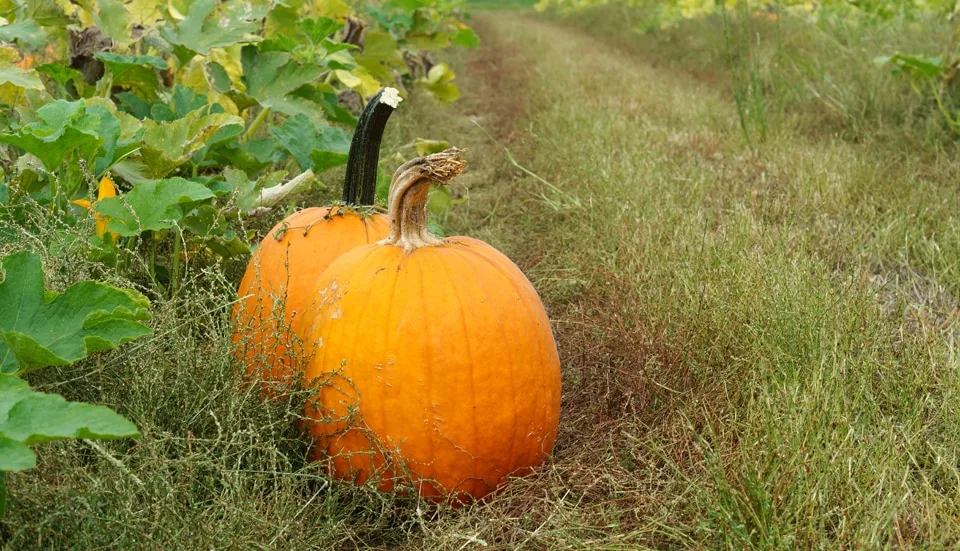 Thies Farm PumpkinLands
Pumpkinland Tues-Sun all October
Admission
$9 per person at City location & St. Charles. (Free for little ones under 2)
$8 for kids under 14, $6 for adults over 15. (Free for little ones under 2)

Thies Farms has split into two separate businesses: the N. Hanley/St. Charles locations (Thies Farm and Greenhouses) and the Maryland Heights location (Thies Farm and Market).
Which ever Pumpkinland you chose, it's a great adventure for older kids.
They both have a fantastic playground made of hay, a corn maze and wagon rides included with admission. You can ride ponies on the weekends.

(There is NO need to RSVP in 2021, just come on down!)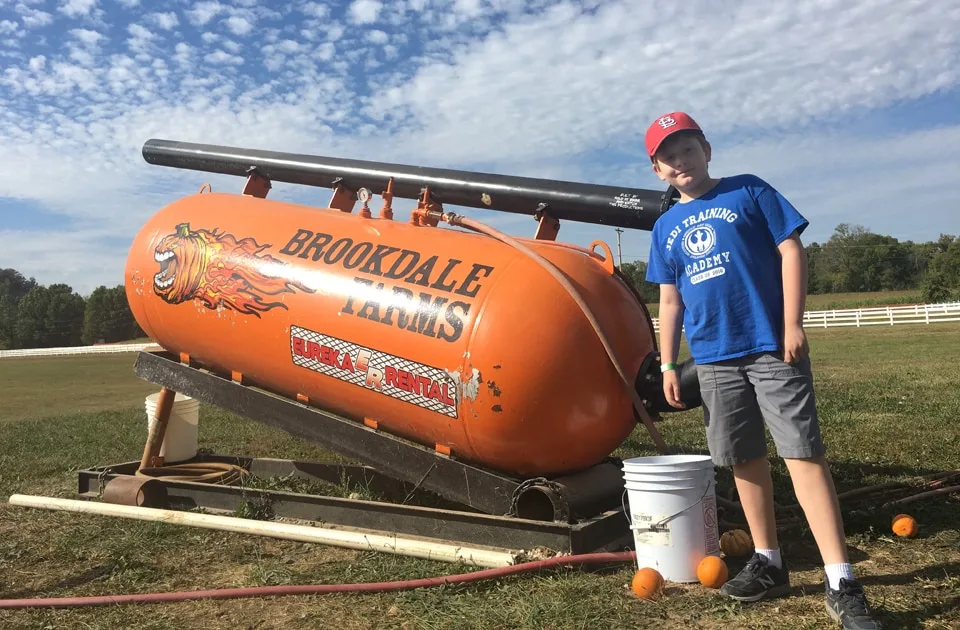 Opens Sept. 10 to Nov. 6, 2021
Admission: $6 for kids 4-11; $9 over 12; free for kids under 3
This is the Dr. Jekyll and Mr. Hyde of pumpkin patches! During the day it's nice place to take the kids with a cool corn maze (the largest in the area), a pumpkin cannon and sling shots and cute farm animals to visit.
The Mr. Hyde part? After dark they switch gears and become "Red's Corn Maze Massacre" complete with actors chasing you through the maze with bloody hatchets or whatever haunted houses do. I wouldn't know, I don't do haunted houses. Ewwww!
Note: the two mazes are COMPLETELY SEPARATE.
The pumpkin patch is usually a bit small here--the emphasis is on the corn maze, wagon rides and pumpkin chunkin'. We always buy our pumpkins at another farm and come here to fling the mini gourdes!
During the day there's no evidence they haunt it up–there are TWO mazes, one for daytime and one for spooky nighttime.
The daytime area is open 10am to 6pm. Admission includes the maze, a play ground, petting zoo, wagon rides and inflatables. Pumpkin chunkin' is extra.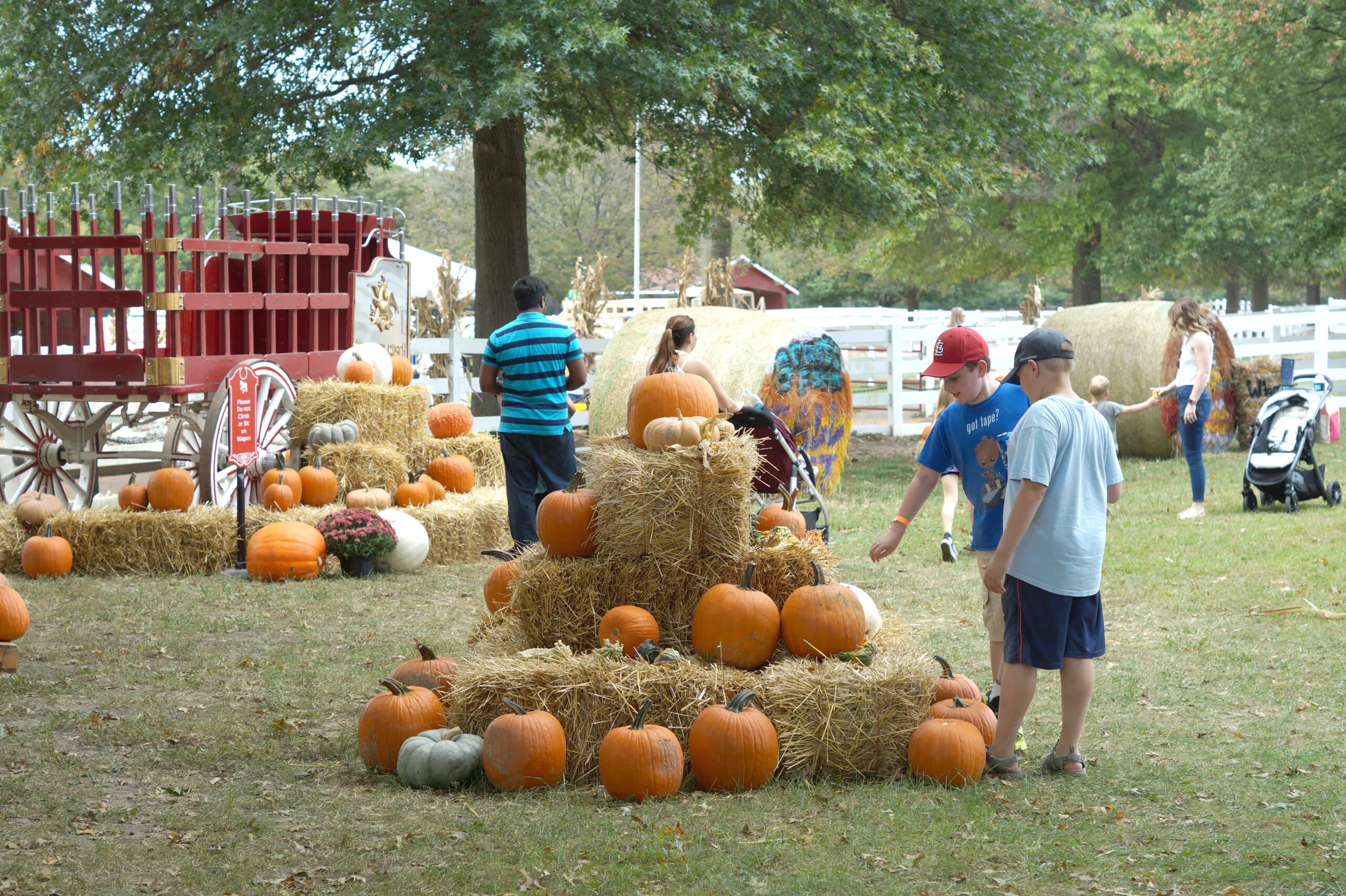 Every Weekend in October
$15 to park, $8 for access to Fall Fun Zone
Grant's Farm has brought back the drive through Halloween event this year AND they're doing Fall Fest with pumpkins and all! Your parking fee covers admission to the entire farm.
Opens Sept. 26, 2020
Free admission.
All my St. Charles friends tell me this patch is the best around! They have free admission and only charge for the activities you want to do.
Because they are located in St. Charles County, Pumpkins Galore is not requiring masks (you can wear them of course) but they are asking visitors to practice social distancing and providing hand sanitizer & hand washing stations throughout the activities area. They've also enhanced their cleaning routine of high touch zones.
They grow about 100 acres of pumpkins on their family farm and have lots of activities, including a play area, petting zoo, horse drawn wagon rides and pumpkin chuckin.
Check out their video!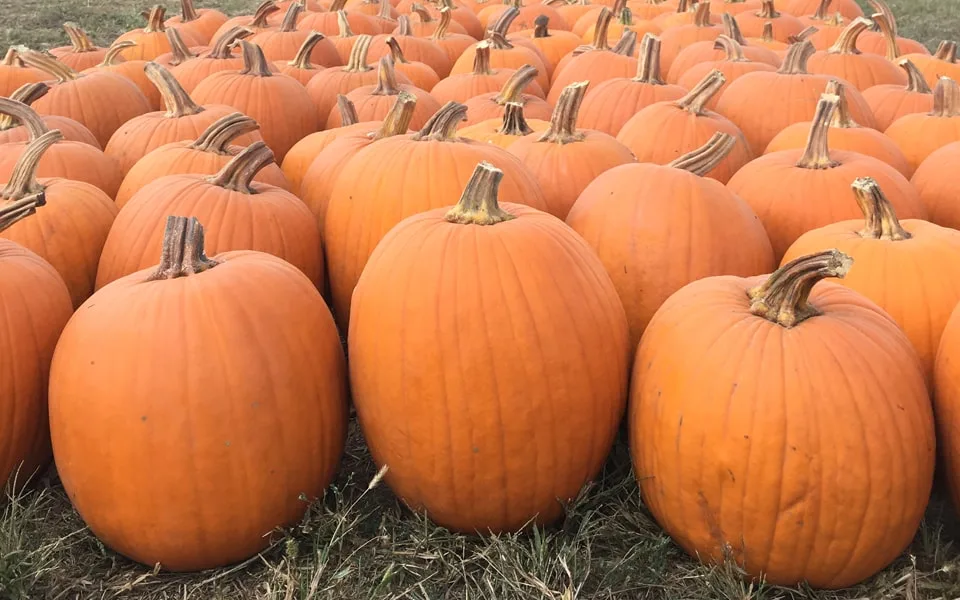 Opens last weekend of September through October
Free admission
This farm turns into "PUMPKIN FANTASYLAND" every fall! Geared towards kids, the place is decorated with pumpkin characters from the movies and storybooks. Plus a crashed alien spaceship and humorous graveyard. They have a play fort, climbing walls and straw tunnels, plus two fields of pick your own pumpkins.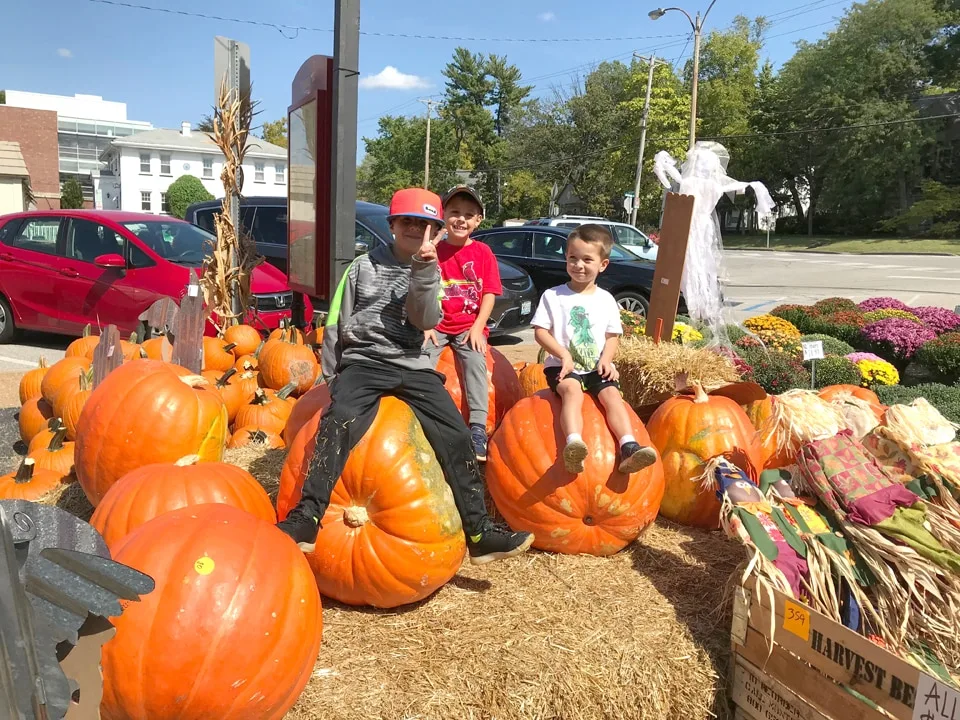 Open Every Day in October
Admission is $5 for kids 2 to 12. Free for grownups and babies.
The guys who own Summit Produce set up a suburban pumpkin patch at the Kirkwood's Farmer Market every year! They have a play with slides and hay, tons of pumpkins and a "mine" where kids can pan for precious gems and fossils.
---
Pumpkin Patches of the Past
You might want to know that Rombach's, Chesterfield Pumpkin Patch and Boone's Crossing are no longer in operation.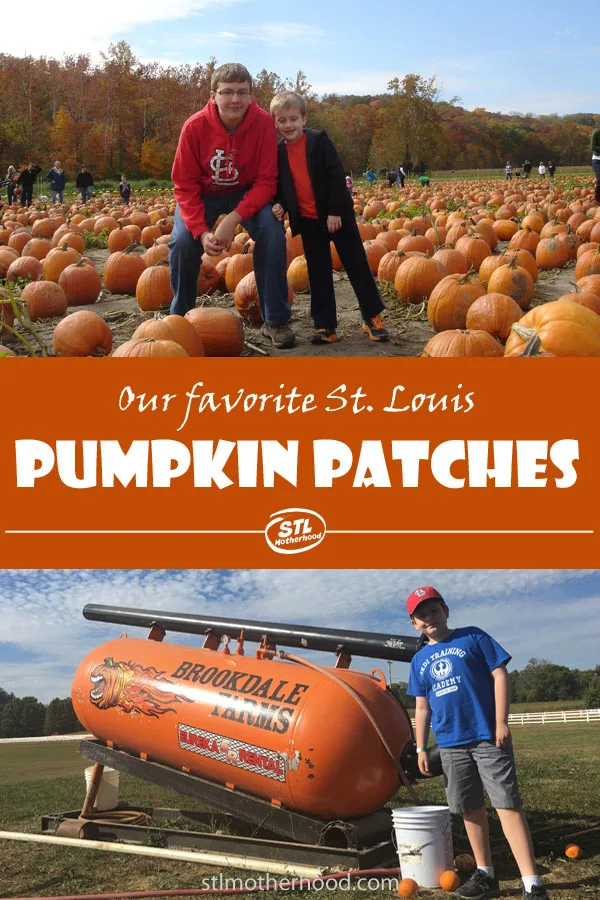 More Halloween Fun:
Free Halloween Coloring Pages
Make Halloween Brush Bots
Ghost Ball bean bag Game
Purina Farms Howl-o-Ween
Boo at the St. Louis Zoo