Did you know the blues are the bedrock of all really good American music? Yep. I never occurred to me that someone whaling on a harmonica a hundred years ago could led to ZZ Top and Adele on my iPod, but it did. Wanna guess where I pick up THAT bit of trivia?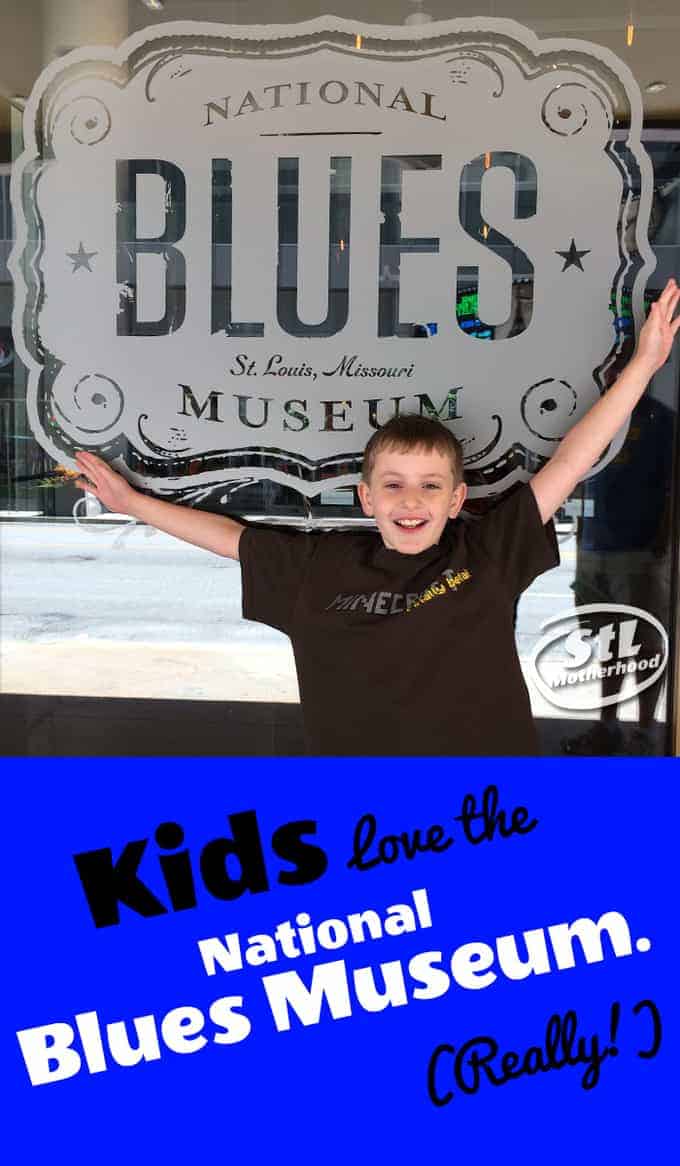 Psst. Lemme tell you something before you read the rest of this, m'kay? This is a sponsored post. About sandwiches–don't worry, you'll get to that bit at the bottom. I was compensated to tell you about all this good stuff, but my opinions are my own. Now, keep reading. Thanks!
Learn about Singing the Blues
The National Blues Museum lets you trace the impact blues music had on American music and culture. Sure, we all know that our hockey team got it's name from a popular W.C. Handy tune…but there's so much more! I mean, if we didn't have the blues, there'd be no Elvis. And without Elvis' shimmy shimmy hips breaking color barriers…Well. White folk might be walking around in calico dresses humming barbershop quartet right now.
Oh, the horror.
The National Blues Museum is the most recent museum to open in St. Louis, and you should definitely add it to your list of places to take the kids. I know, I know, it's a museum. And your kid thinks museums are b-o-r-i-n-g. But this place was thinking about kids when they set it up–there's a huge interactive element to the history lesson! You can walk into the museum a regular kid and step out a Blues Legend.

Record a Blues Song
See, everyone in the family is invited to compose their very own blues song as they work through the museum. You create your song on touch screens placed around the museum. While the kids are working out their parts, you can read the actual displays, so it's a win-win situation in my book.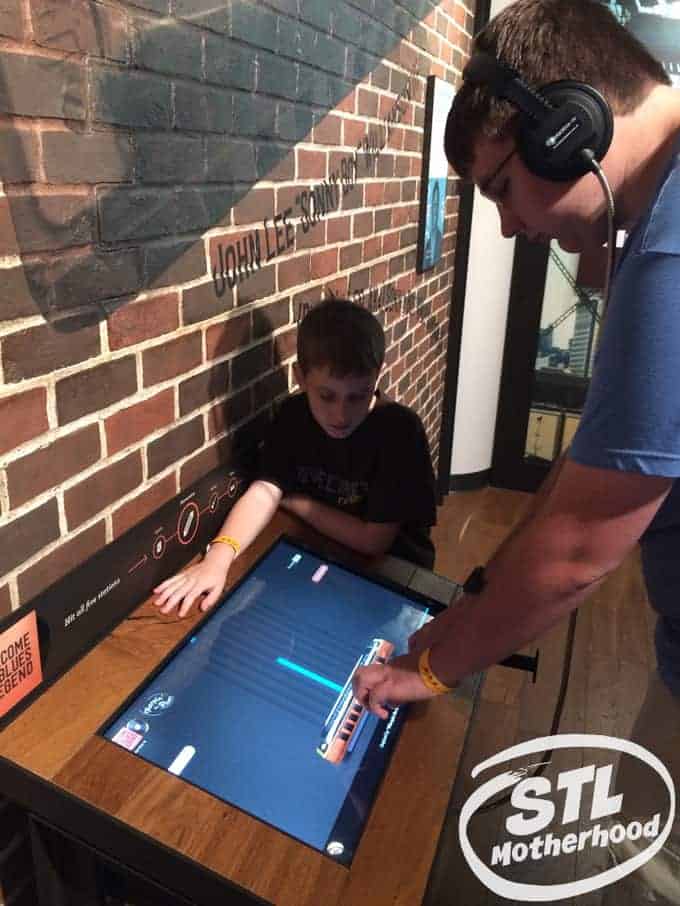 The first station introduces you to the lyrics. You can drag and drop words and phrases like you're playing with a magnetic poetry set. You just need to make one stanza–no biggie. They don't even have to make sense, which some kids will find pretty funny. Here's Mitch's lyrics:
It's you little schoolboy too when someday, you'll play fine outdoors

It's you little schoolboy too when someday, you'll play fine outdoors

'cause you'll be in my car.
(Mmmmm, I can smell the record contract already!)
Next you'll add classic blues instruments: harmonica, guitar and piano. You get to listen to different styles of blues musicians through the years, so you'll be learning about music history while you're at it. But don't tell the kids.
What? You don't play an instrument? Have you maybe played…Guitar Hero? Yep, it's a lot like that. Easy peasy.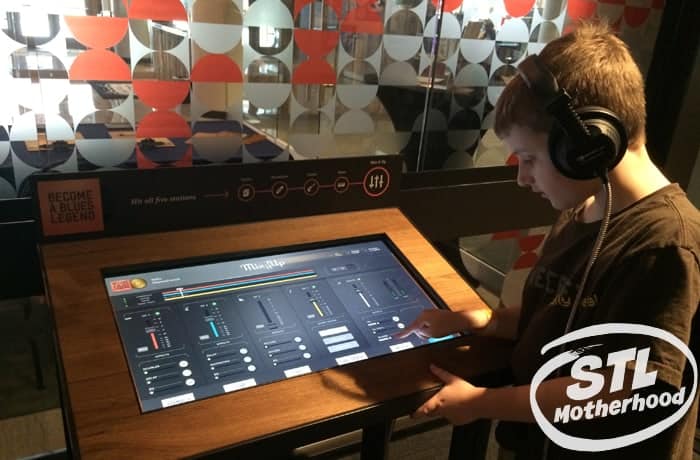 The last step is mixing the tracks and making your album cover. Then you get to email it home to enjoy.
Oh, you also get to play in a jug band with a little webcam magic and if you plan your visit on a weekend, you can catch some live blues in the house.
The National Blues Museum is located at 615 Washington Ave, in the historic Stix, Baer and Fuller building. Which happens to be next to the convention center, lots of parking and some pretty awesome restaurants. Need more details? Here you go: National Blues Museum website.
The Sandwich Blues
I took the boys to see the National Blues Museum around noon on a Tuesday, so we stopped at Snarf's, just across the street. This made me pretty happy because 1) Snarf's is totally awesome and 2) All four of Snarf's locations are in the city. And I live way out in the county. Which is enough to make me sing the blues.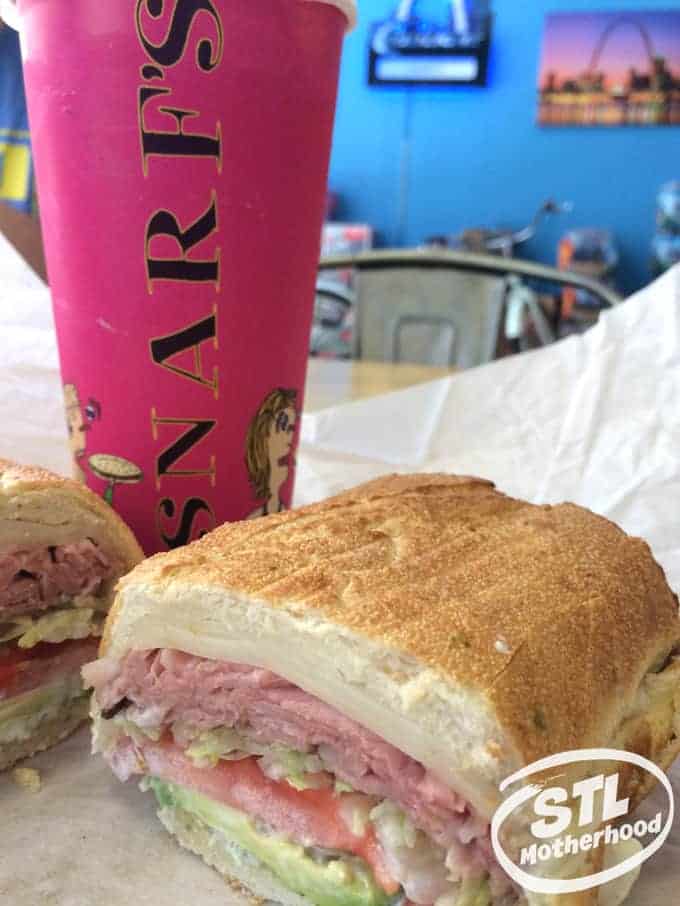 Seriously folks, Snarf's is awesome. I don't know what kind of magic fairy dust they're sprinkling on their toasted sandwiches, but they're reallllllly good. They also serve breakfast…and ice cream. So you're covered no matter what time of day you stop.
In fact, I'm planning the rest of our city field trips around their proximity to Snarf's. The Washington Ave. location is also close to The City Museum, the CityGarden and the Arch. Ok, us suburbanites might need to move our cars around (we're connected to them by umbilical cord, dontcha know), but I think we can handle it. I parked at a garage on 6th Street that only charged a couple bucks while we visited. Well worth it–and you know I hate to pay for parking.
There's a Snarf's in the Delmar Loop, so we might stop in while exploring the planets on the Delmar Loop Planet Walk.
The 3rd Snarf's is at 374 S Grand Blvd, pretty much on the SLU campus. I can't think of anything we need to visit this summer at the moment, but it's near the Chaifetz Arena and just a hop from daddy's office, so we can find an excuse.
Their newest location is on Skinker, just a few blocks north of Forest Park, so lunch is covered next time we do the St. Louis Zoo, History Museum or the Science Center.