Letting the kids build a fort out of bed sheets and pillows is a great way to beat the boredom blues…but it also wrecks your living room! Avoid the giant mess and head over to the Magic House this summer to build the Ultimate Fort–at their house! The latest exhibit from the Magic House is so simple, and yet so AWESOME: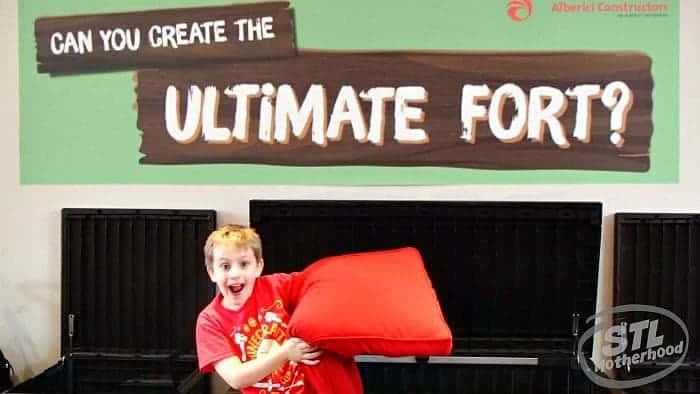 Last year the Magic House invited us to check out their new exhibit, Forts and Clubhouses. And guess what? It's back! Forts and Clubhouses will return on July 2 and run to August 14. Best of all, it's included with your admission!
They've stocked an exhibit room in the Children's Village with all the makings of the perfect fort! Kids will find everything they need to construct a pillow fort: chairs and stools, pillows and sheets…and even large chunks of cardboard. This is probably one of the most silly, most fun, most creative things we've done at the Magic House lately!
You can play along with your kids and take fort building to a whole new level! Build a pup tent, a tunnel or a cardboard castle. All it takes is a little imagination! Who knows, when you get home, you might be inspired to gather up all your blankets and do it again!

The sheets have reinforced button holes so they slip easily onto coat hooks screwed into the chairs, making fort construction a snap. Mitch brought a friend of his to the Magic House recently to check out the Ultimate Fort exhibit. The had a blast stacking pillows, stretching sheets and pushing chairs into just the right spot to make their own ultimate fort!
TeamLab Future Play
A couple weeks ago, Mitch and I checked out the new traveling exhibit: TeamLab Future Play. TeamLab created the Sketch Aquarium installed in the Wonder Works play area last winter–you know, the place where you color paper fish, scan them and a computer animates them in a digital aquarium on the wall. Very cool!
The traveling Future Play exhibit has several areas, all with a computerize twist. You can color a paper car, plane or building, scan it and watch it come to life on a city scape projected on the walls. Take your drawing to another scanner and the computer will print a 3D paper craft you can fold and glue! This was Mitch's favorite part!
Another area has light yoga balls that make sound–great for the little kids–and an electric hopscotch projected on the floor. There's also an interactive map table that pretty neat, but geared for younger kids so we only looked at it briefly.