We're super excited about the return of the Scott Air Force Base Air Show! It's been 5 years since they last opened their gates to the public and you better believe that we'll be there with bells on!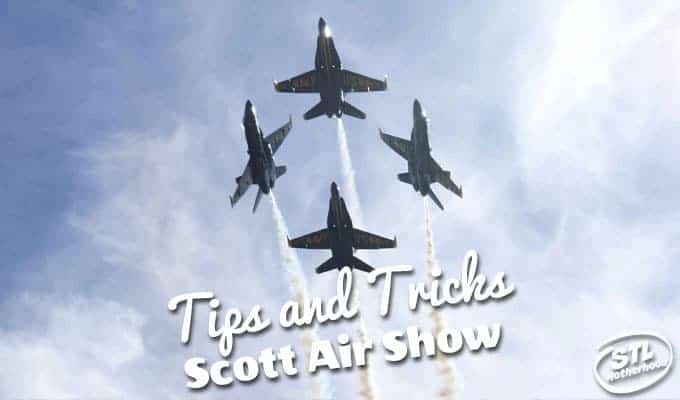 We've been to the air show in years past, and one time Mitch was young enough to be a stroller baby. I know it's been 5 years since that last show, but I don't expect that a lot has changed. Unlike other air shows that are part of a county fair, this show is all about the planes. Oh, and it's free.
What can you expect at the Scott Air Show?
Efficient parking: This is the military we're talking about, and if anyone can organize several thousand people–even clueless civilians–it's our local air base. Last time we were out there they had soldiers all over the place just to point you in the right direction, get you parked and help you find a ride on a shuttle to the air field.  
Shuttles: the base is big and parking is all over the place. Scott AFB will provide buses (think school buses) to get you from your car to the field if you don't find a close parking spot. So plan to travel light. 
Security: This is a military base, so yes, they're gonna look in your bags. You can bring a diaper bag, your purse, camera and lawn chair–but that's about it. See details here.
Food: You can bring plastic water bottles, but no coolers. You can probably bring small snacks that you can keep in your purse, like candy or trail mix. The air show will have lots of carnival type food for sale, usually by local community groups. I think I bought lemonade from the base's Boy Scout troop last time I was there. Don't worry, no one will go hungry, just bring some cash like any other festival.
Shade: there isn't any. Not really…the show is on the air strip not a park. You can duck inside a hanger or under a big plane to get some shade, but be prepared with sunblock, hats and a canopy for your baby.
Noise: Yep, it can get loud. If your kids are sensitive, some ear protection is a good idea. You might want to pack your headache medicine of choice also–last year my hubs got a huge headache between the sun and the noise. (Don't worry, I'll make him drink more water this year!)
Lawn Chairs: You will want to bring your lawn chairs or maybe a picnic blanket for seating. There's plenty of grass to spread out on. And remember, you have to carry everything you bring to the field, so make sure you can lug everything.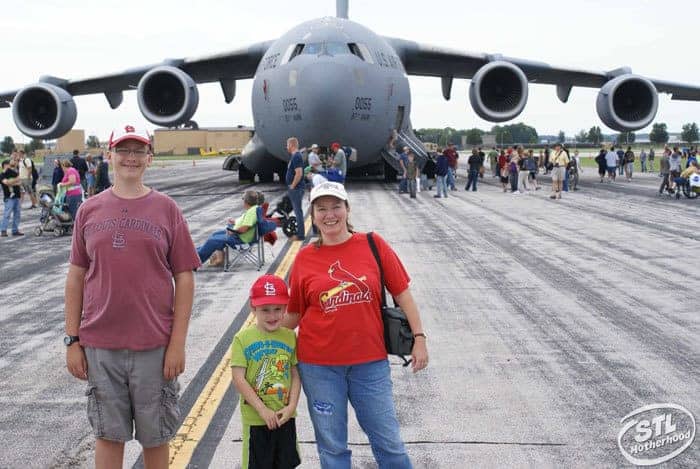 Expect Fun at the Air Show
Ok, so now that you're prepared for the not so fun part of the air show, lemme tell you about the good parts! The show has two elements: a static display and the show itself. The static display are dozens of planes parked around the field that you can walk up to and look inside. We've been inside a C-5 Galaxy, one of the biggest cargo planes around, and a C-17! The crew allowed the boys to sit up in the pilot seat too. It was pretty awesome.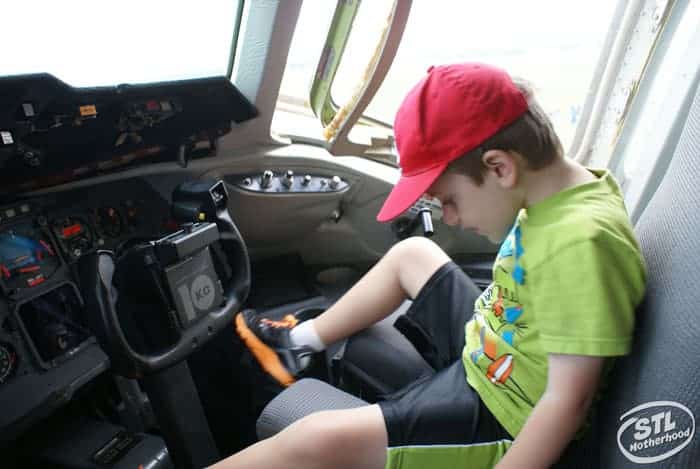 You can expect to see some planes currently in use by our military, plus restored planes from the past. Our favorite, of course, is the B-25. Not saying we named our kids after airplanes, but Ryan does have the Spirit of St. Louis…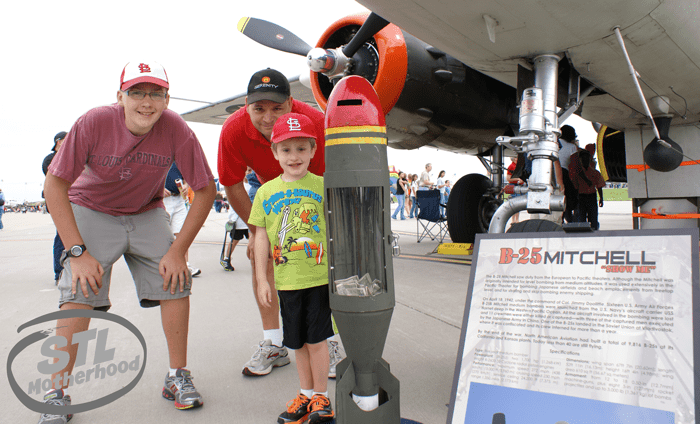 This is gonna take all day…
The gates open at 9am and the show stays open until 5pm. The opening ceremony is at 11:15am, which is when the fly bys will start. Some of the active military planes are just popping over for a visit and will not park, like the B-2 bomber. Others will fly, then land so we can get a closer look. 
If you can't get there right as the gates open, then be SURE to be on base by 12:35 when Tora, Tora, Tora performs! We saw this show in the past and it's a doozy. The show recreates the bombing of Pearl Harbor, using replica Japanese Zeros. These guys are so good, they been used in movies. The show includes pyrotechnics–yep, stuff will blow up. You can read all about this amazing crew, who like to think of themselves as a traveling 3D history museum, here.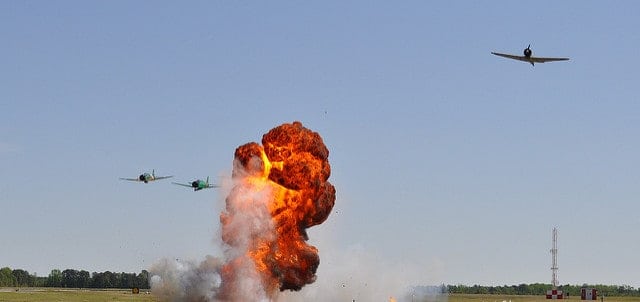 Besides the military planes of past and present, you'll get to see some pretty cool stunt planes, a J4 Jenny bi-plane and the U.S. Army's Black Daggers parachute demonstration team.
Also, look for a special guest appearance by the Budweiser Clydesdale Hitch from 9:30 to 10:30 am. They'll be hanging out in a temporary stable crafted by the 375th Civil Engineer Squadron during the rest of the show–stop by and visit them! 
Air Force Thunderbirds
The grand finale will be the USAF Thunderbirds, scheduled to fly at 2:30. These guys are the best of the best, and your kids will be AMAZED.
It's Free!
And its all free. There's no admission, no parking fees. Just bring money for your lunch, snacks and maybe a souvenir.